For the past few days, I have been spending a lot of time thinking about how to do some kinds of off-axis lens testing with small targets that take up only a small portion of the camera's visual field. There are a host of problems associated with trying to get at the entire field of a lens in one shot:
Target alignment is critical
Target Flatness is equally so
The target size gets to be impractically large if the lenses are short
It's hard to practically impossible to test short lenses at realistic distances.
It's hard to light the target evenly
It's hard to find a space to set up the test with a big target
Big targets are hard to store
Big targets are expensive
Big targets are subject to damage.
What if we were looking to measure astigmatism? We could use a Siemens Star as a target: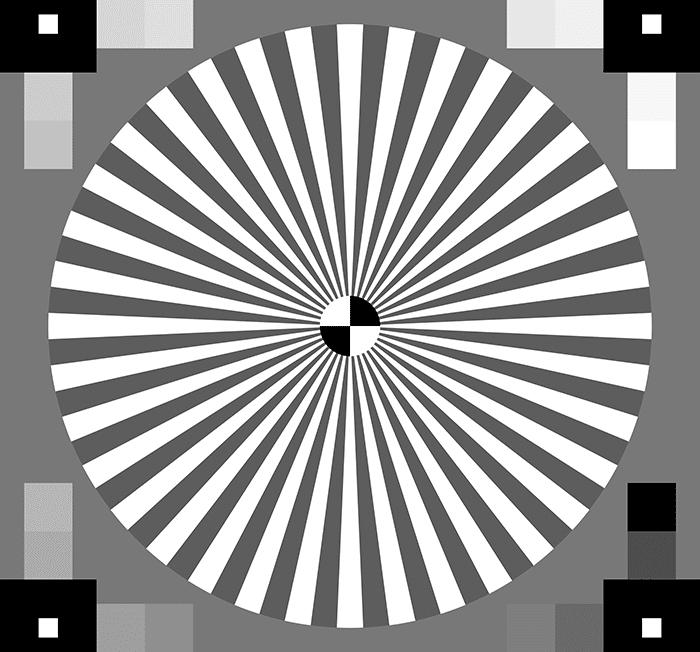 If we wanted to do everything in one shot, we could put a whole bunch of those up on a wall, try to align the camera, try to light it, make a shot, and probably find that we didn't have everything right.
Or, we could just take one such target, put it at a distance from the camera, make an on-axis exposure, then angle the camera up and down and back and forth taking a bunch of shots with the star at various places in the frame.
Sounds simple, huh? Bet you've already seen the problem.
Let's look at a crude diagram looking down with the target on-axis: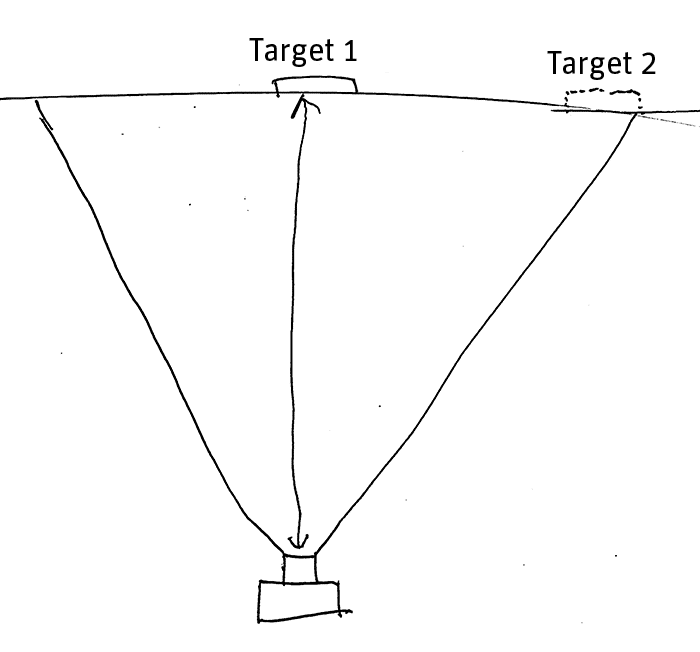 We'll assume a perfect rectilinear lens, so the focal plane is the flat line across the top. Note that if we place a target at the location labeled Target 2, it's still in focus, but it's farther away from the lens than Target 1. If we leave the camera at the focus position which made Target 1 sharp above and swing it to the side, we end up with the situation below: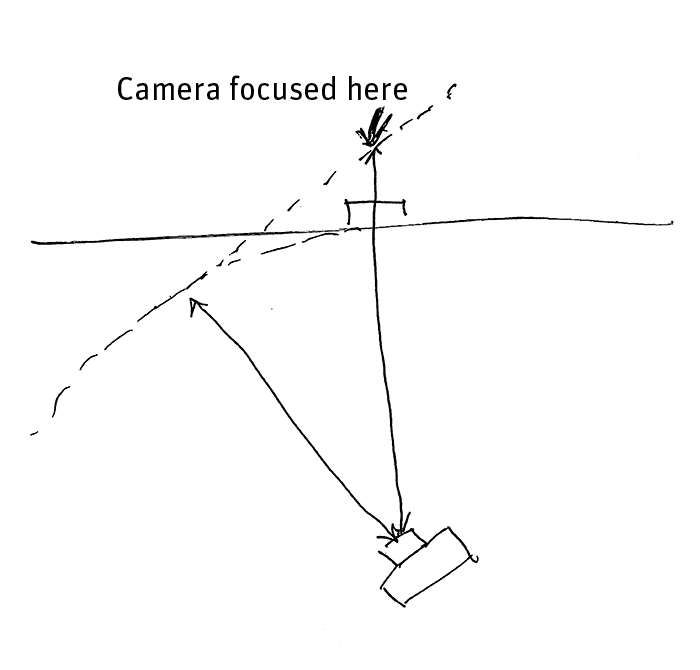 Now the target is out of focus. It's closer to the camera than where the side of the camera is focused.
It's pretty obvious that this isn't a problem at extreme distances. Infinity is infinity no matter where in the frame it is. So depth of field (DOF) can cover up this focusing error. In order to put some numbers on it, I wrote a computer program to compute the circle of confusion (CoC) for this kind of misfocus at the very corner of the sensor for lenses between 18 and 100 mm on a full frame (FF, 24×36 mm)) sensor at f/4 with a target distance of 20 meters.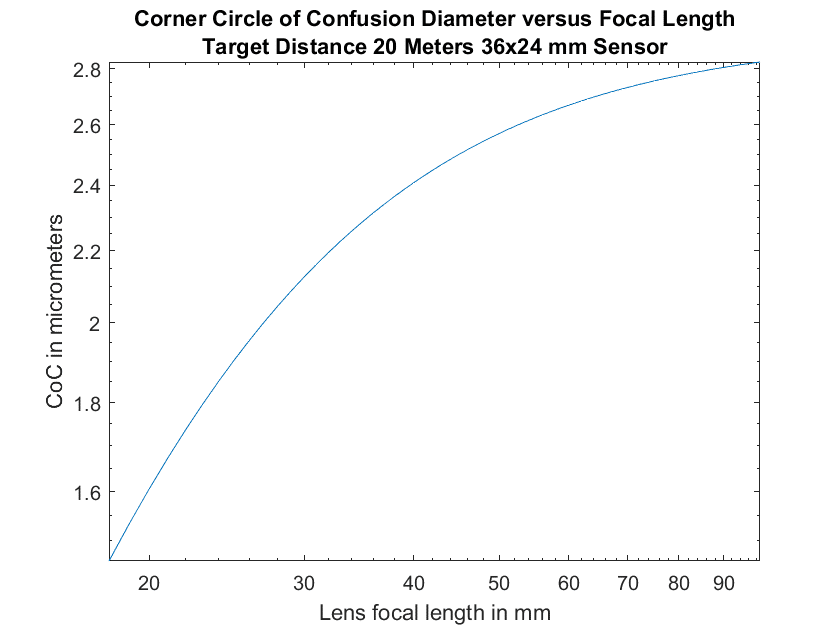 We'd like the CoC to be quite a bit smaller than the pixel pitch. FF cameras of high resolution have pixel pitches on the order of 4.5 micrometers (um), so this distance qualifies for all the focal lengths we're talking about, if only barely for the longer ones.
What if we make the sensor bigger?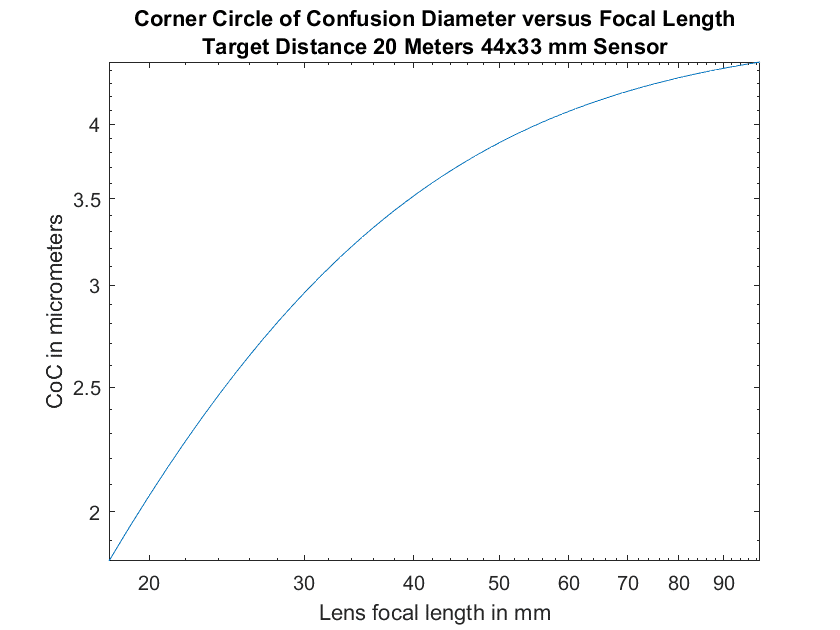 Now the longer focal lengths are getting uncomfortably close the the 5.3 um pitch of the Sony 33×44 mm sensor. We need to back up a bit further: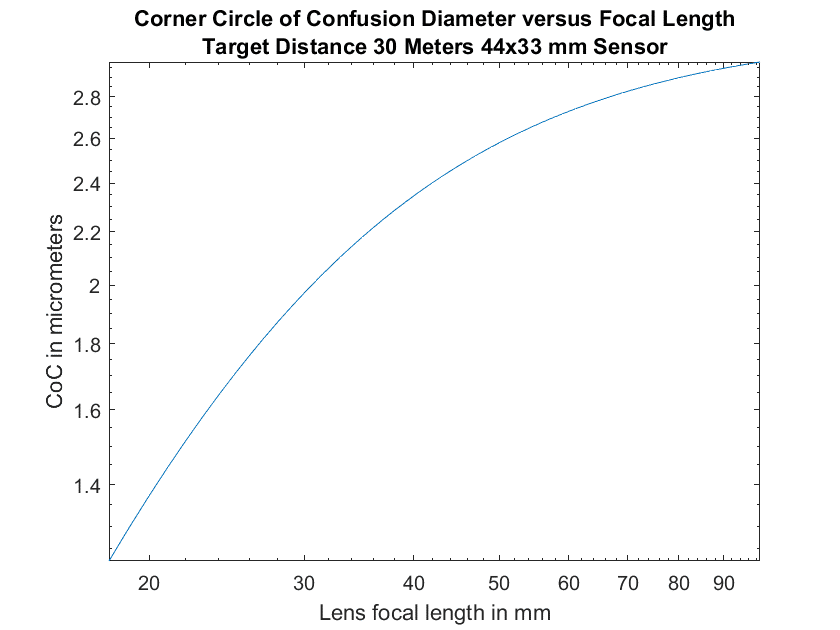 That's probably OK.
Now let's look at how big the target has to be. What if it's printed on a piece of C-size (17×22 inches) paper? Call that 400 mm, and we'll compute the target height in pixels. For the 24×36 mm, 20 meter, case with a pitch of 4.5 um: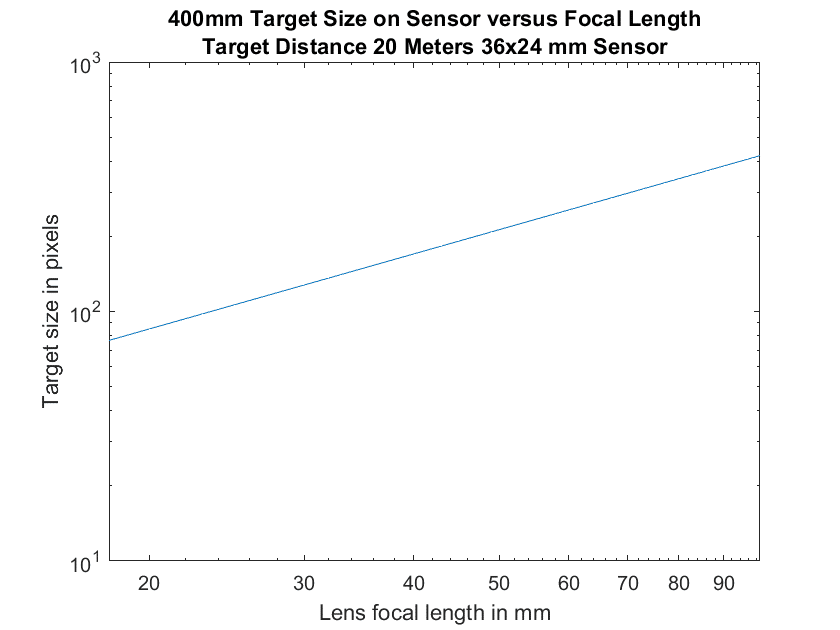 A comfortable target size would be 200 to 300 pixels. We get there for the long focal lengths, but not for the shorter ones.
With a 33×44 sensor and 30 meters (I left the pitch at 4.5 um (oops):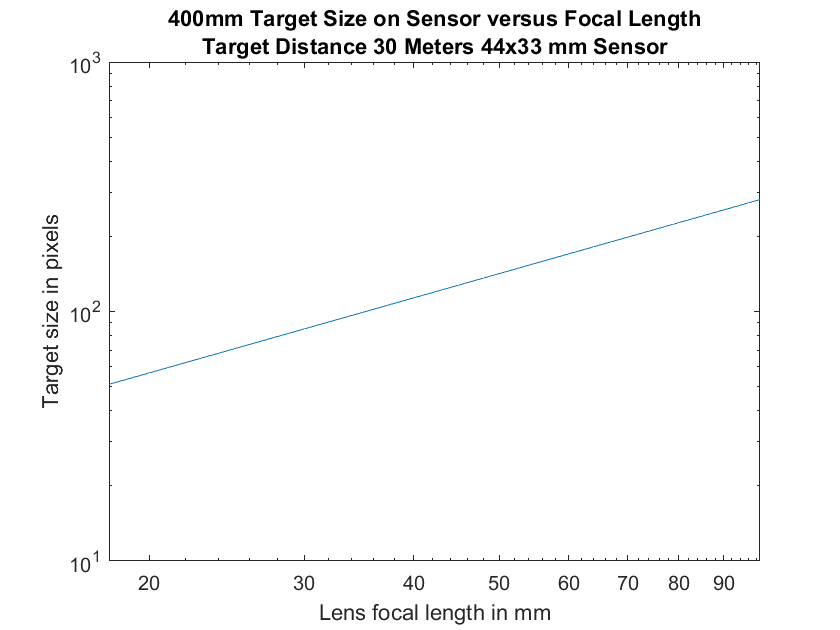 About the same.
It's clear that one size isn't going to fit all in this enterprise. We'll have to get closer to the targets when we're using short lenses. We probably have the room to do that, since we had comfortable small COCs with the short lenses. I'll do some calculations to compute the optimum distances and report soon.