I'm going to show you something completely unnatural: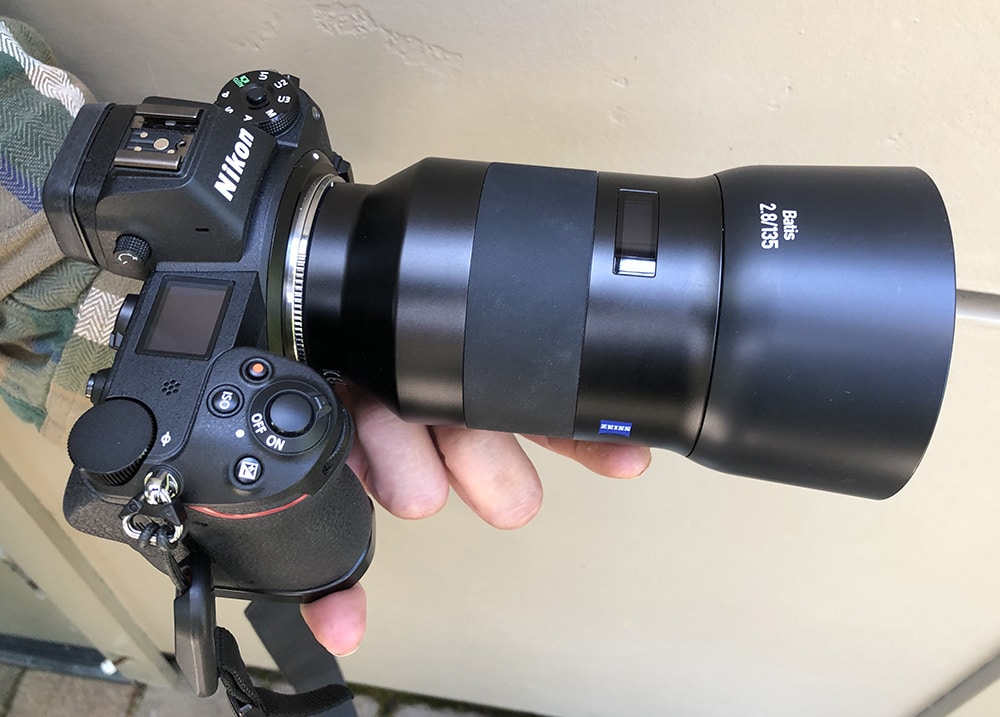 I love the Batis 135/2.8. I really like the Nikon Z7. But never the twain shall meet, I thought. On Friday, the big brown truck delivered a TechArt Sony E to Nikon Z smart adapter. If you don't look carefully at the above image, you'll miss it. It's the stainless ring with the knurling right behind the black lens barrel and in front of the not-knurled shiny ring that's the lens mount of that Z7. It's 2 mm thick, which is the difference between the flange focal distances of the E- and Z-mount.
I mounted a Zony 55/1.8, and found that it wouldn't focus using pinpoint (CDAF) mode. That's not quite right. It focused quite happily, but it consistently focused somewhere other than the place I was aiming it. I switched to single point AF-S, and it seemed to do fine.
Then I mounted the Batis 135/2.8. I consider this a truly delightful lens: sharp, not too heavy, balances well, well corrected. I clipped the camera into an Arca Swiss C1 on a set of RRS legs, aimed it at a tree about 30 meters away, and made a shot wide open using AF-S and single point AF: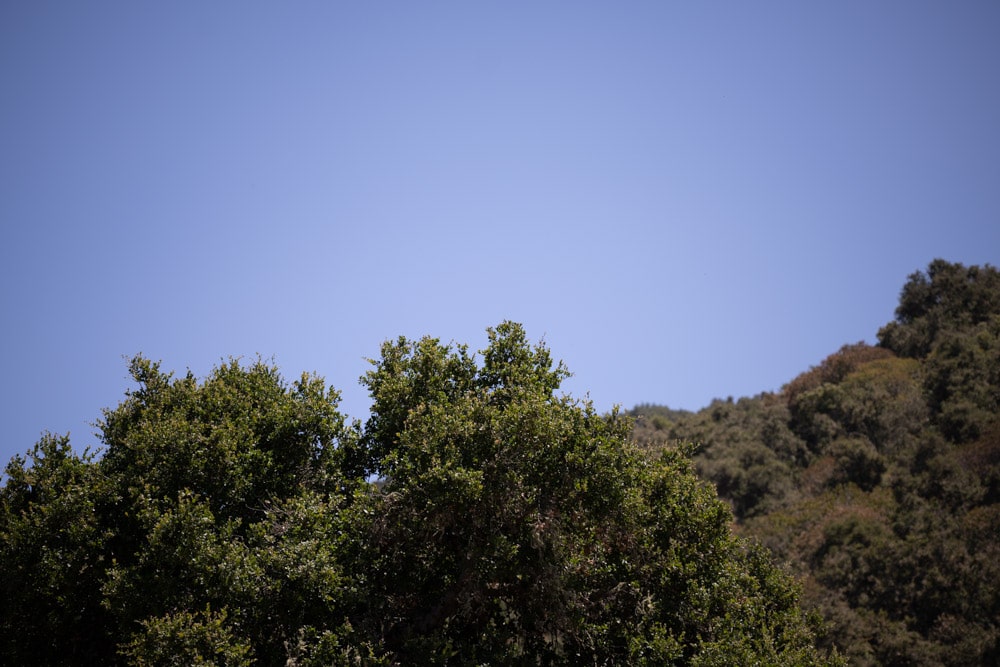 The above is developed in Lightroom with Adobe Color for the profile, Daylight white balance, and sharpening dialed back from the overly-aggressive new Lr default of 40 to 20. A little light falloff, but not bad.
And did the camera focus properly? Let's look at 250%+: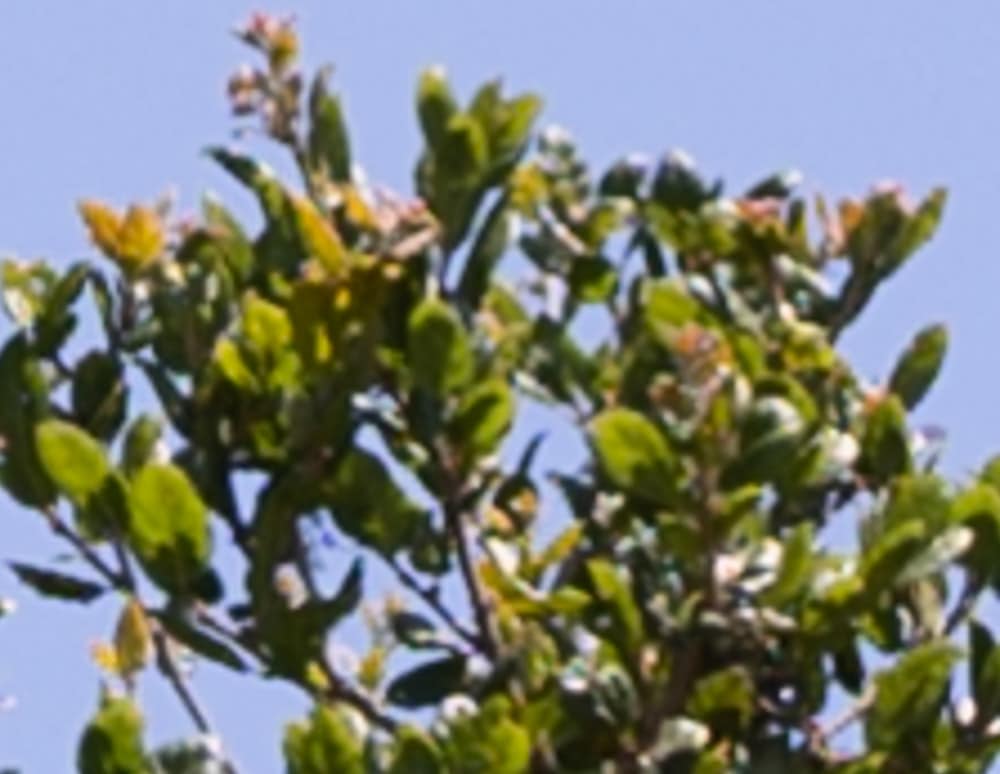 There is single-pixel detail here. The image is darned near perfectly focused.
I banged off a few more shots. All looked good. This is just an informal test, but, at least in good light with a static subject, things look really good. I'm actually kind of shocked. The TechArt Nikon F to Sony E adapter didn't impress me at all.
And here's a bonus; even the Batis distance scale works: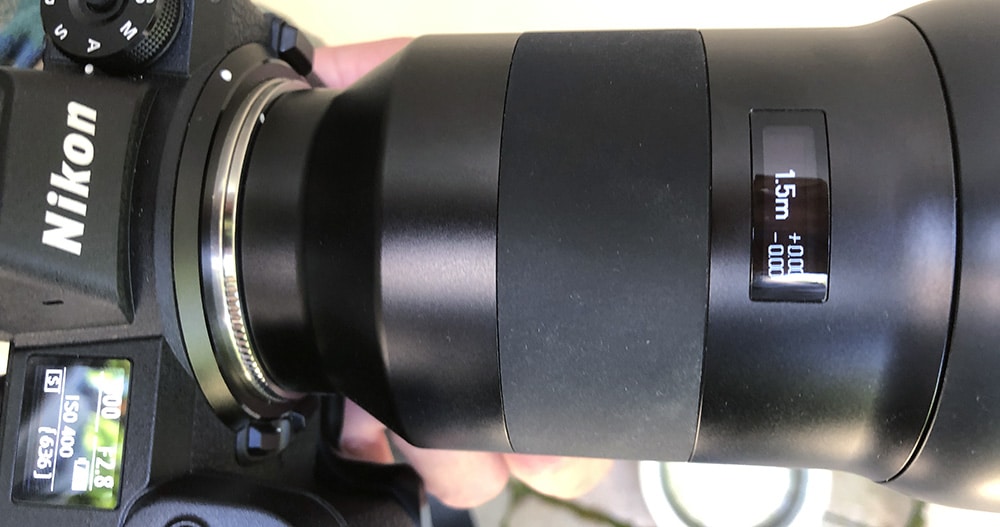 I'll be trying some other lenses, and I may get around to a quantitative focus accuracy test.
Note: The adapter comes with a USB-compatible dock for updating the firmware. It looks at first glance like a lens cap; don't throw it away. Mine came wihth the current firmware (1.0) already installed. You can check your firmware version from the back of the camera. Menu>Wrench>Firmware Version [all the way to the bottom]. The adapter firmware is identified by the letters "MA" preceding it.