Two days ago, I reviewed the SmallRig plate for the Sony a7III/a7RIII/a9 cameras. I found that the shoe that engages the tripod head clamp was wider than the Really Right Stuff (RRS) plates, making engagement with the cam-lock quick-release RRS clamps very tight. Today, I measured the dimensions of the bottom of a group of RRS and SmallRig plates. Here's what I got: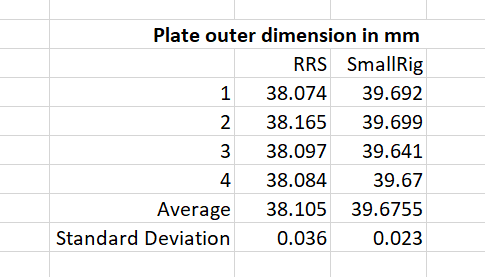 It's pretty clear that the SmallRig design center is greater than that of RRS.
I did not measure the angle and inner dimension of the plates, because I don't have the tools to do that.
Some interesting reading on the Arca-Swiss "standard":
http://www.jobu-design.com/Arca-Swiss-is-NOT-a-standard-time-for-a-change_b_8.html
https://www.tripodhead.com/products/product-details2.cfm?product=arca-swiss-geometry
http://www.afximages.com/stuff/arca-plates-xref.html
http://www.reallyrightstuff.com/patents