This is one in a series of posts on the Fujifilm GFX 100S. You should be able to find all the posts about that camera in the Category List on the right sidebar, below the Articles widget. There's a drop-down menu there that you can use to get to all the posts in this series; just look for "GFX 100S".
With the GFX 50S, GFX 50R, and GFX 100, I had experienced outdoor focus bracketing sequences where the camera ended the series before it was focused all the way to infinity. I've written that use of the feature off and not used it, but I never performed any testing aimed at finding a smoking gun. Several people have claimed that the focus bracketing does go all the way to infinity, and even beyond sometimes.
You know me, I had to test.
The protocol:
RRS carbon fiber legs
C1 head
Tree at 100 meters, background behind it a several miles (I had to make sure to do this early in the morning before the thermal effects messed up the distant parts of the scene)
ISO 100
Electronic shutter
2-second self timer
80 mm f/1.7 lens
f/1.7
1/2500 seconds
With TC and without
Focus bracketing with a step size of 2, number of steps 30 (and making sure it stopped before 30)
Develop in Lightroom 10.2
Sharpening amount 20, radius 1, detail 25
Daylight white balance
The scene: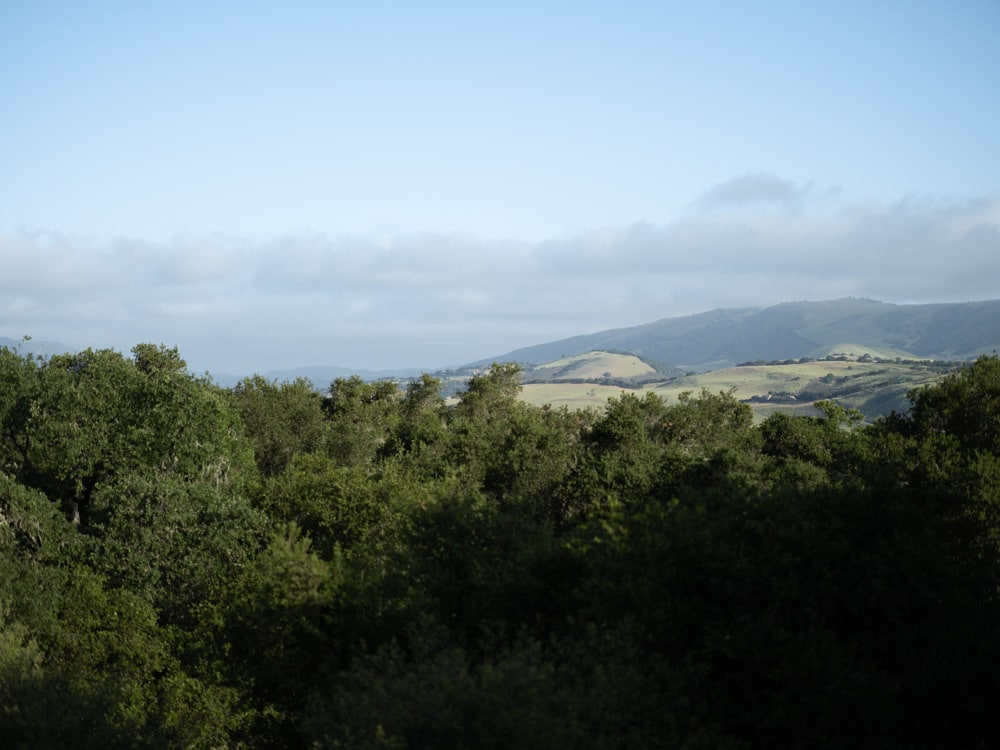 I focused well in front of the central tree, and picked a high number of exposures so that the camera would try to focus all the way to what it thought was infinity. Then I manually focused on the houses behind the tree and made an exposure. I repeated that three times, and all the manually focused images were about the same.
Here are the last 6 frames of the focus-bracketed series in the same order as the camera shot them, at a bit over 200% magnification.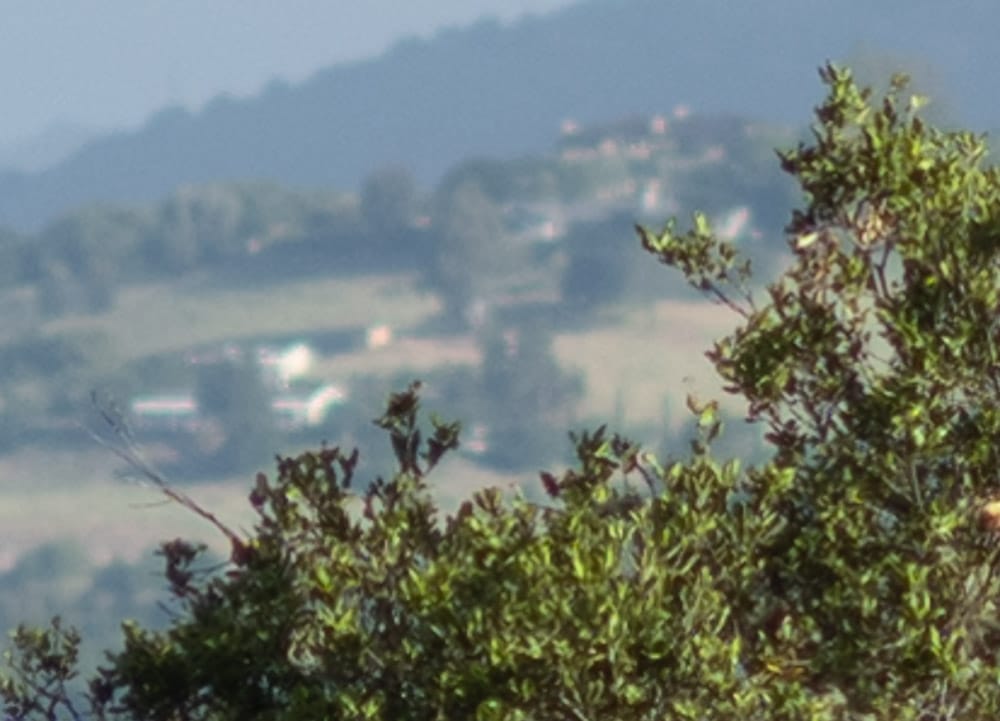 Focus is in front of the tree.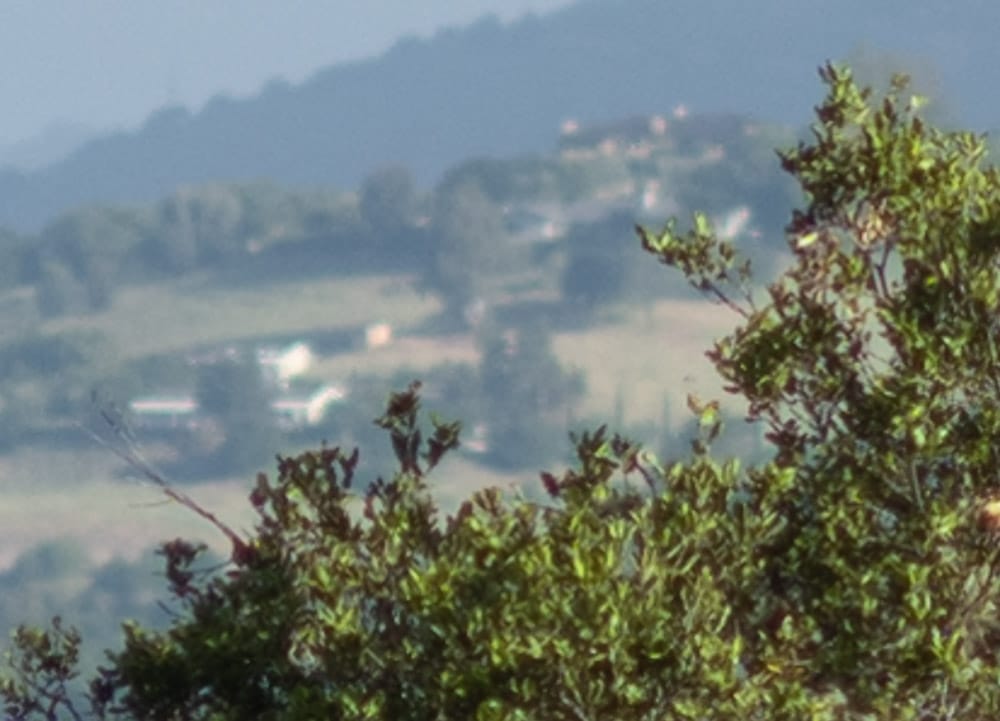 Focus is on the tree.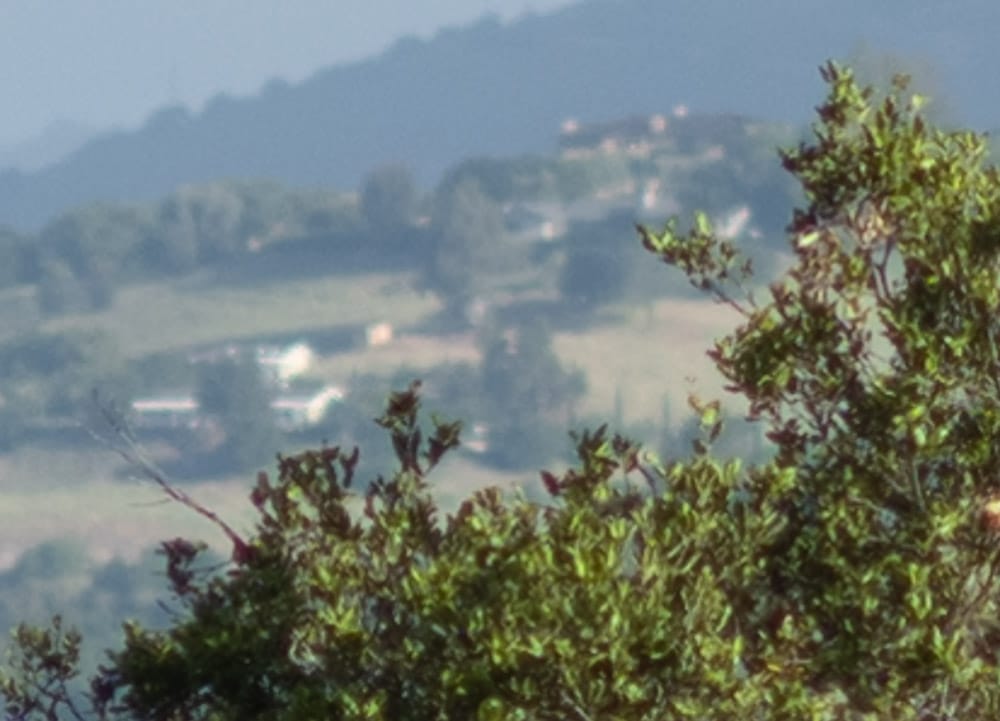 Focus is slightly behind the tree.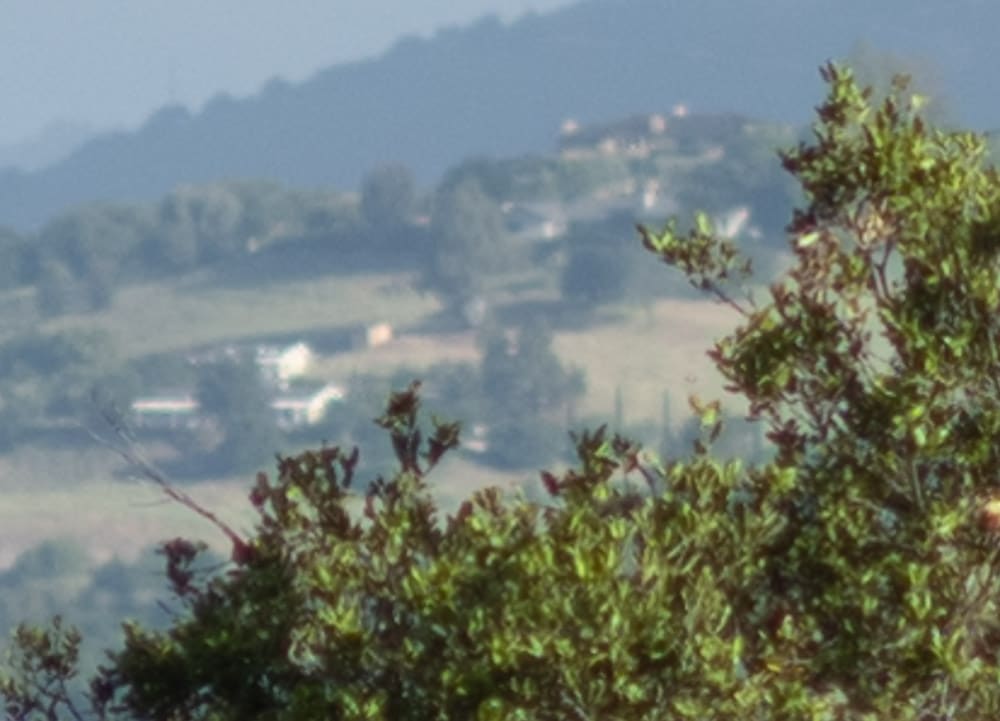 Focus is more behind the tree.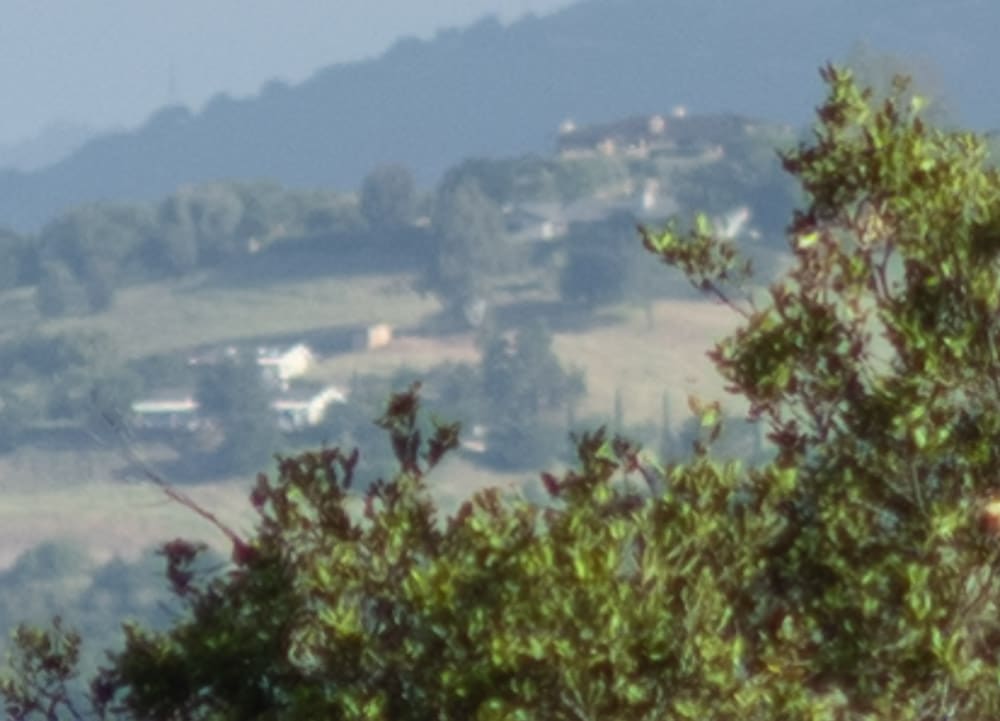 Focus is still more behind the tree.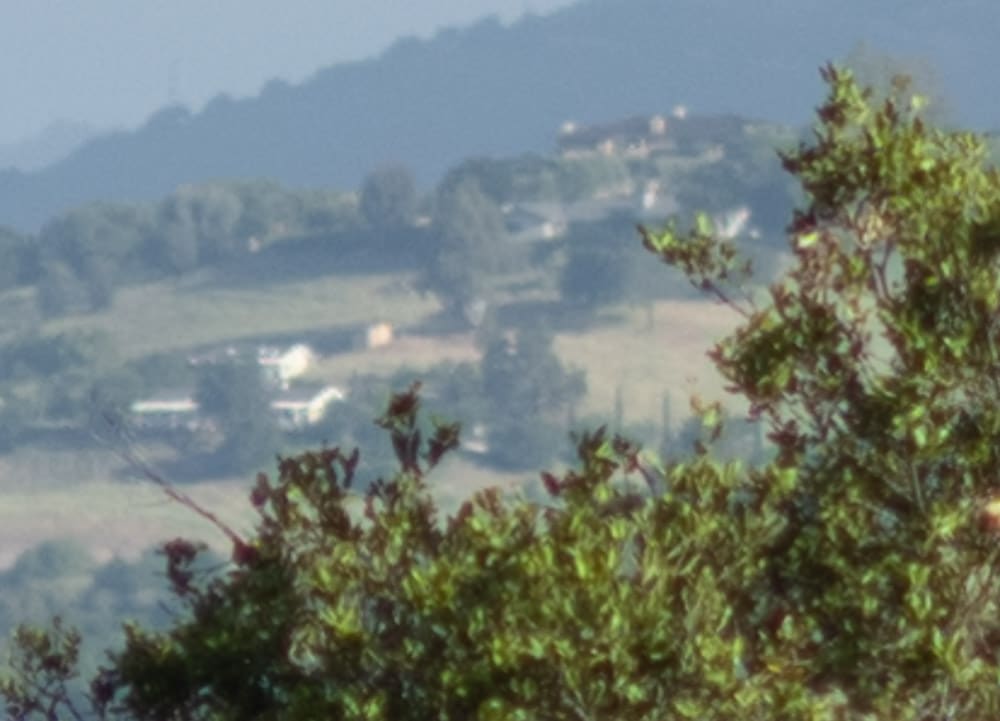 Focus is more behind the tree, but not on the houses.
Here's a manually-focused image: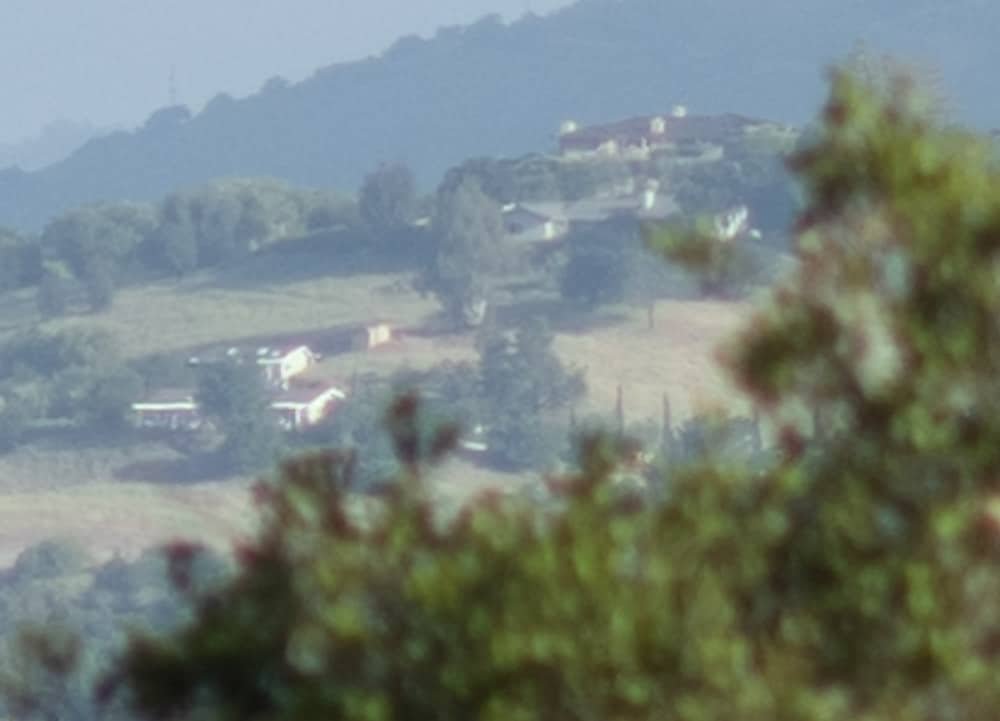 You can see that the houses are much sharper, and the tree is much blurrier, than the last focus bracketed frame.
This is the smoking gun.
When I tried this experiment with shorter, slower lenses, I got the same results, but because of the increased depth of field, the differences were far less dramatic. Admittedly, this is not a realistic use of focus bracketing, but it does bear out what I've observed before.
I think Fujifilm should modify their firmware to allow focus bracketing to go slightly past what the camera thinks is infinity. You can manually focus past infinity, so it's not a hardware issue.