Sloggus interuptus. The RAID controller arrived yesterday. I picked HighPoint as the vendor for no reason other than they're the supplier of the HBA that Western Digital ships with their 3 TB disks.  I plugged it in – it's a tiny PCIe card – and wired up one of the 3 TB Hitachi drives to the handiest SATA connector. Upon booting I got the RAID BIOS screen, hit <Control> H, initialized the drive, and picked JBOD as the RAID type. Windows recognized the hardware, but didn't install the driver. I went into the device manager, clicked "Update driver", and pointed the file browser at the driver. It wanted a reboot. I gave it one. When it came up again, it had recognized the hardware, but wanted another reboot. After that process (which was quite different than what was in HighPont's manual) things looked good to go.
I made sure the disk worked, then added two more 3 TB drives and configured them as a striped array.
Now the file manager shows me this: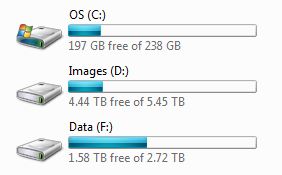 I've never had so much free space on a workstation. It seems like a lot now, but it probably won't be long before it starts to feel cramped.