Previously, I posted a test protocol aimed at discerning focus shift and longitudinal chromatic aberration (LoCA) in camera/lens systems:
This test is accurate, repeatable, and can provide the basis for quantitative comparisons between lenses.
That's the good news.
The bad news is that the test protocol as it has now evolved requires 200 exposures at each aperture, making it labor-intensive, time-consuming, and a general pain in the neck for the tester (that would be moi — I have no assistant).
Is there something that is a lot faster and easier that you could use to get a rough idea of the focus shift in a lens?
Indeed there is, and it comes with every (free) copy of MTF Mapper.
You print out a target that looks like this: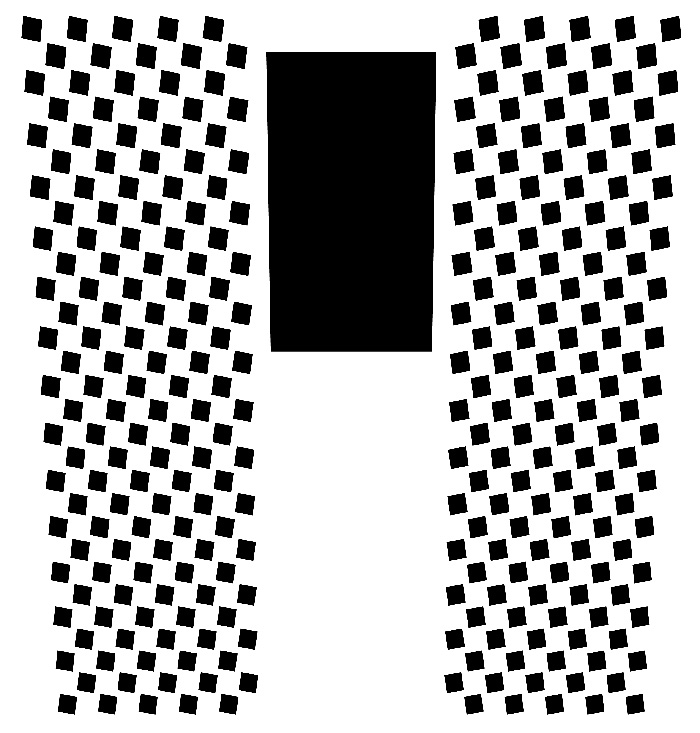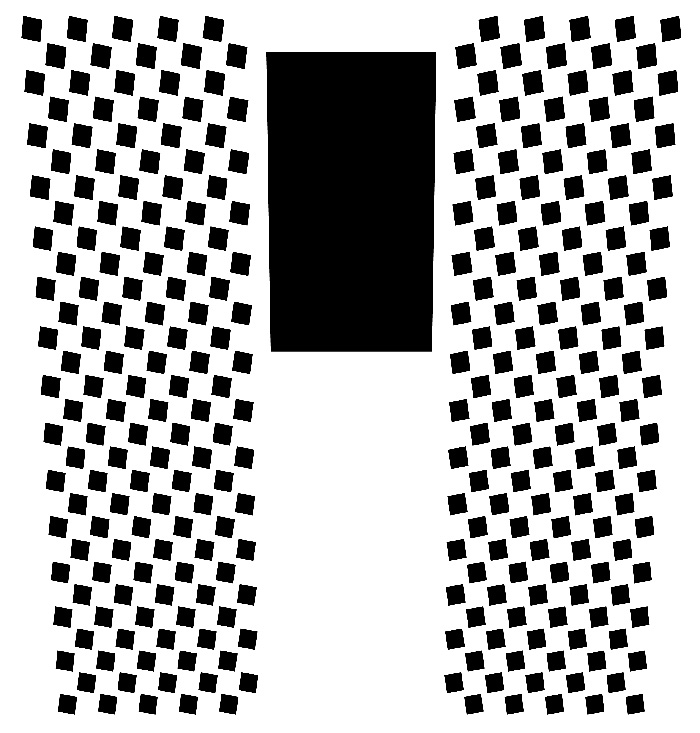 Then you place it at a 45-degree angle to the camera, with the wide edge further away than the short edge. You focus on the lower edge of the big black square, and take a picture that looks like this: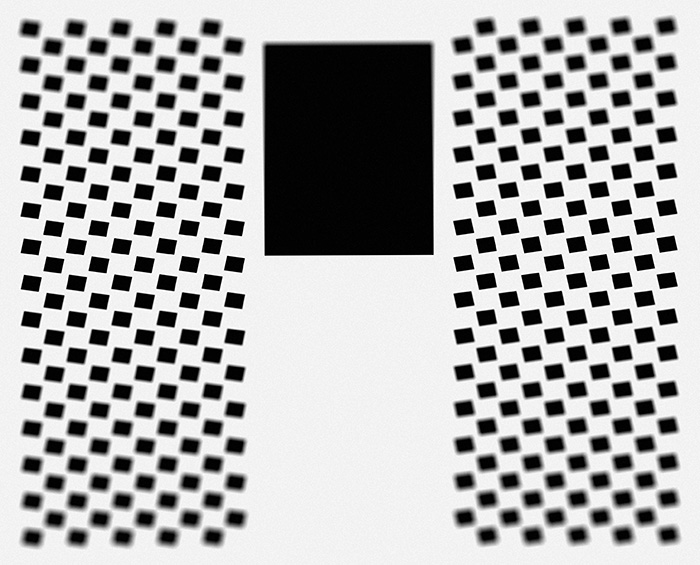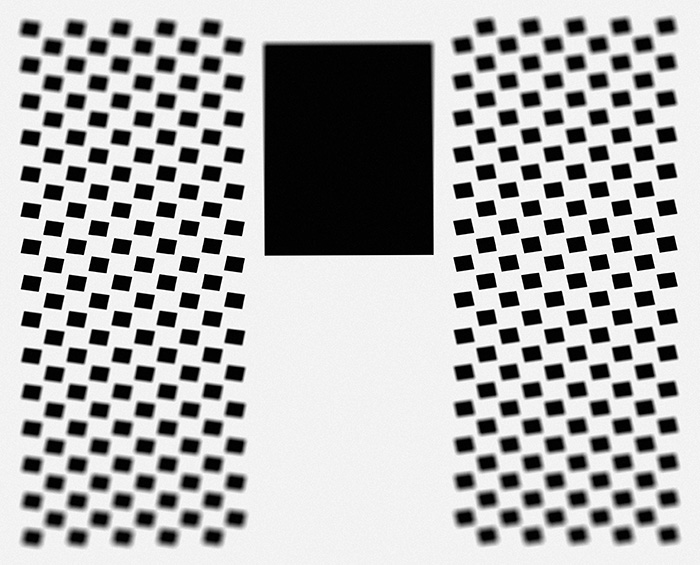 Then you turn MTF Mapper loose on the captured image. It looks at all those slanted edges and produces an MTF50 versus distance chart. It also spits out a text file with all the values that you can import into Excel and graph different results on one chart.
When I did the test with the Coastal Optical 60/4 at a central magnification ratio of about 1:12, this is what I got: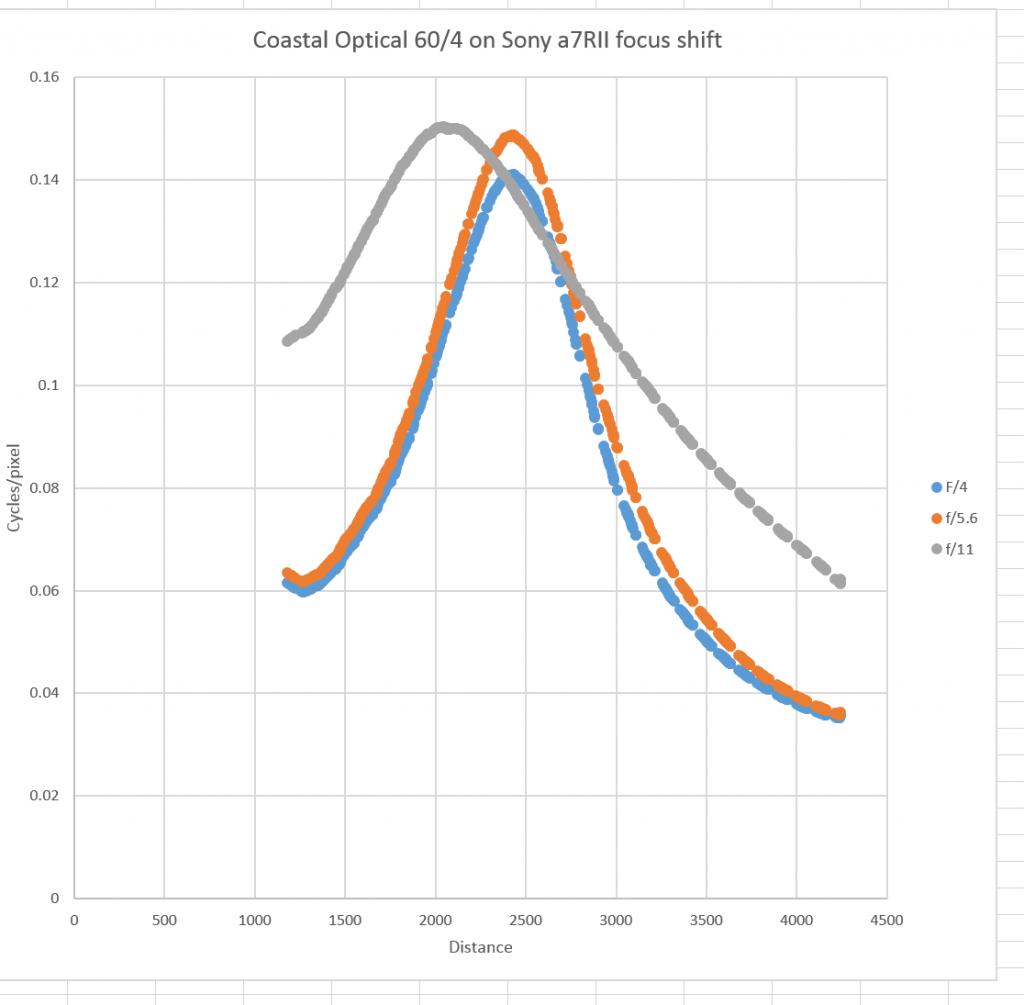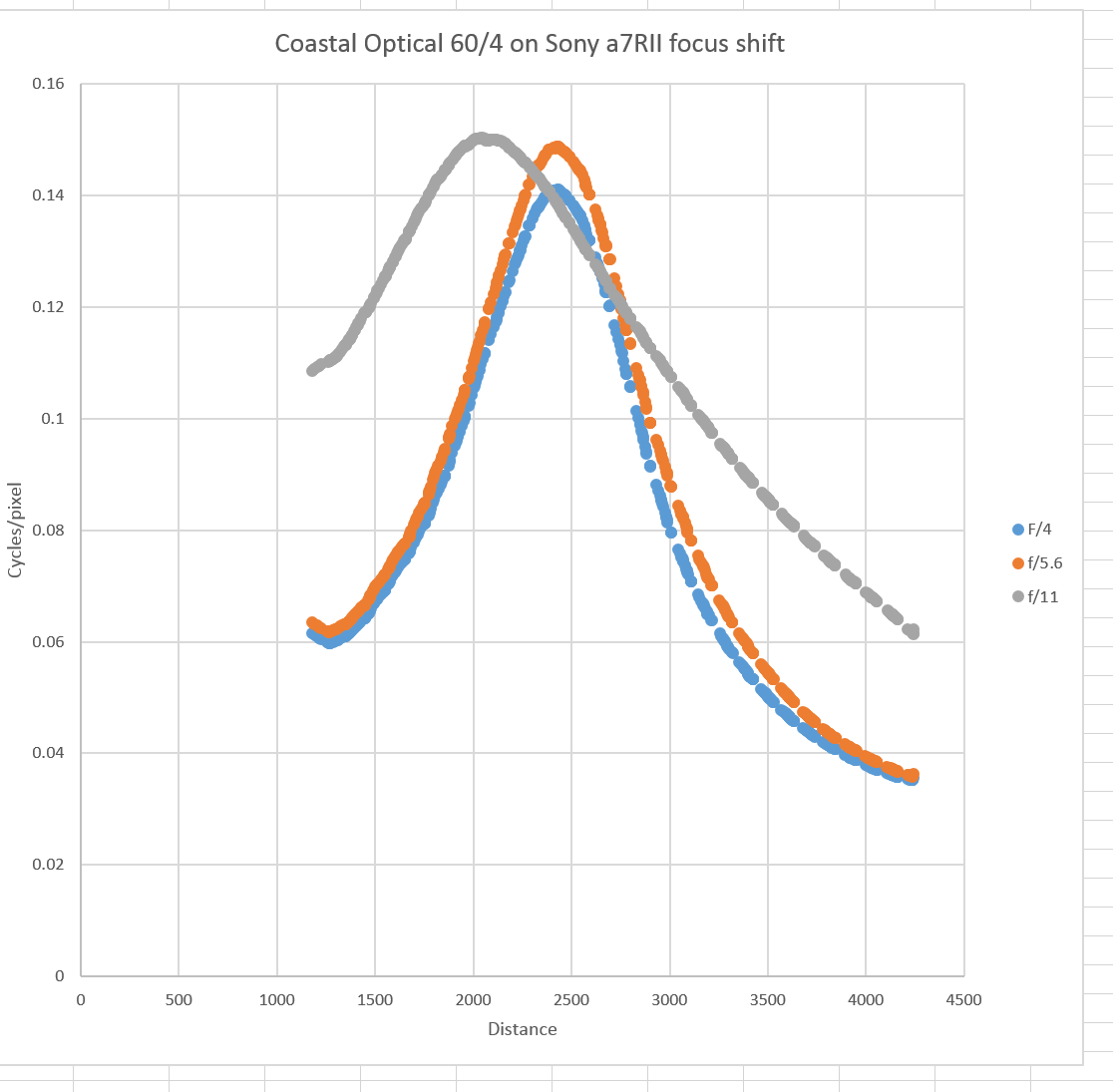 The horizontal axis is in pixels. To convert it to distance, you'd have to measure the distance from the camera to the center edge of the black square, and make sure the angle is very close to 45 degrees. Then measure the chart extent on the image, and do some trig.
The vertical axis is MTF50 in cycles per pixel. The overall numbers are much lower than those measured with the razor blade protocol when those test results are converted from cycles per picture height to cycles per pixel. I think that is mostly because I have no way to print out a target that's much sharper than the lens at macro distances, whereas the razor blade is, uh, razor-sharp. Sorry, I couldn't resist that.
You'll notice that there's no f/8 curve. For some reason that I don't understand, MTF Mapper abended repeatedly and consistently with my f/8 capture.
Let's compare the MTF Mapper focus shift graph to the one I did with the same lens at 1:10: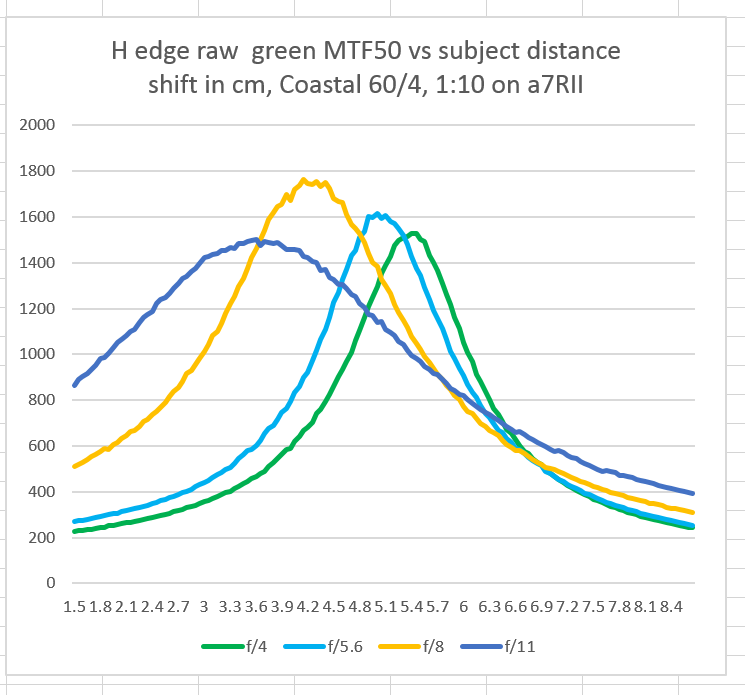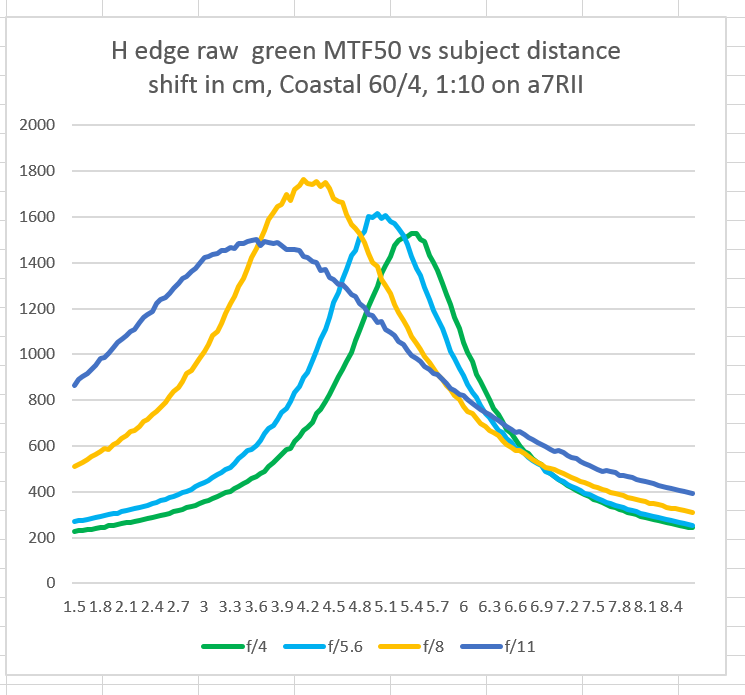 This is for the green raw channel. I'm not sure what channel or group of channels MTF Mapper is measuring. With a lens with as little LoCA as the CO 60/4, it makes little difference.
The general shape of the curves are within spitting distance of each other. I show more shift between f/4 and f/5.6 than the MTF Mapper curves do. I also show f/5.6 being sharper than f/11, whereas MTF Mapper reverses that order. I trust my results more, but I think there's a lot of utility in being able to get a set of curves in 15 or 20 minutes rather than two or three hours.
A few details and caveats:
I just lined the chart up by eye. The camera wasn't completely square to the chart before I applied the forty five degree movement.
I got the 45 degree movement by velcroing the chart (rotated 90 degrees from how it's presented above) to a door, squaring up the camera, and opening the door roughly 45 degrees.
There is a lot of noise in the MTF Mapper results. The plot above was made using a smoothed curve option that MTF Mapper provides. My razor blade curves have no smoothing at all.
Here's what the f/4 MTF Mapper curve looks like with no smoothing: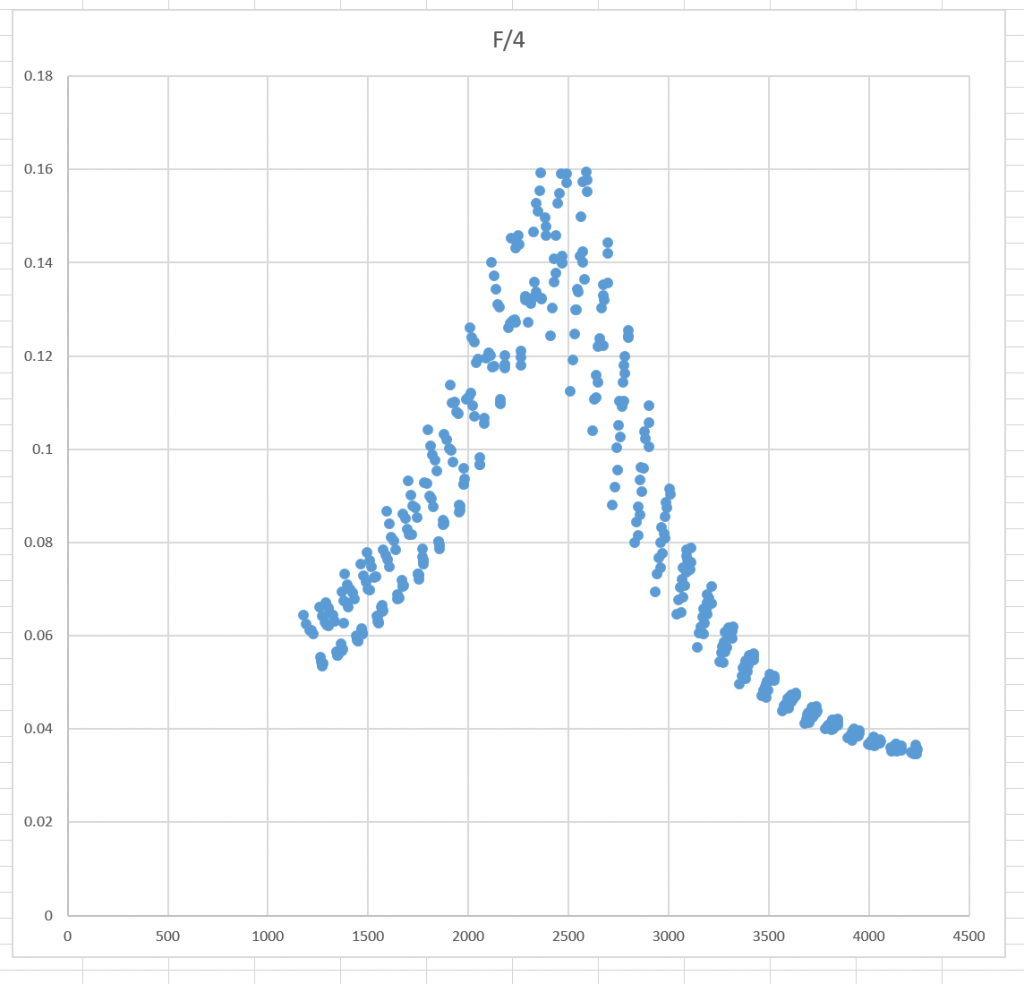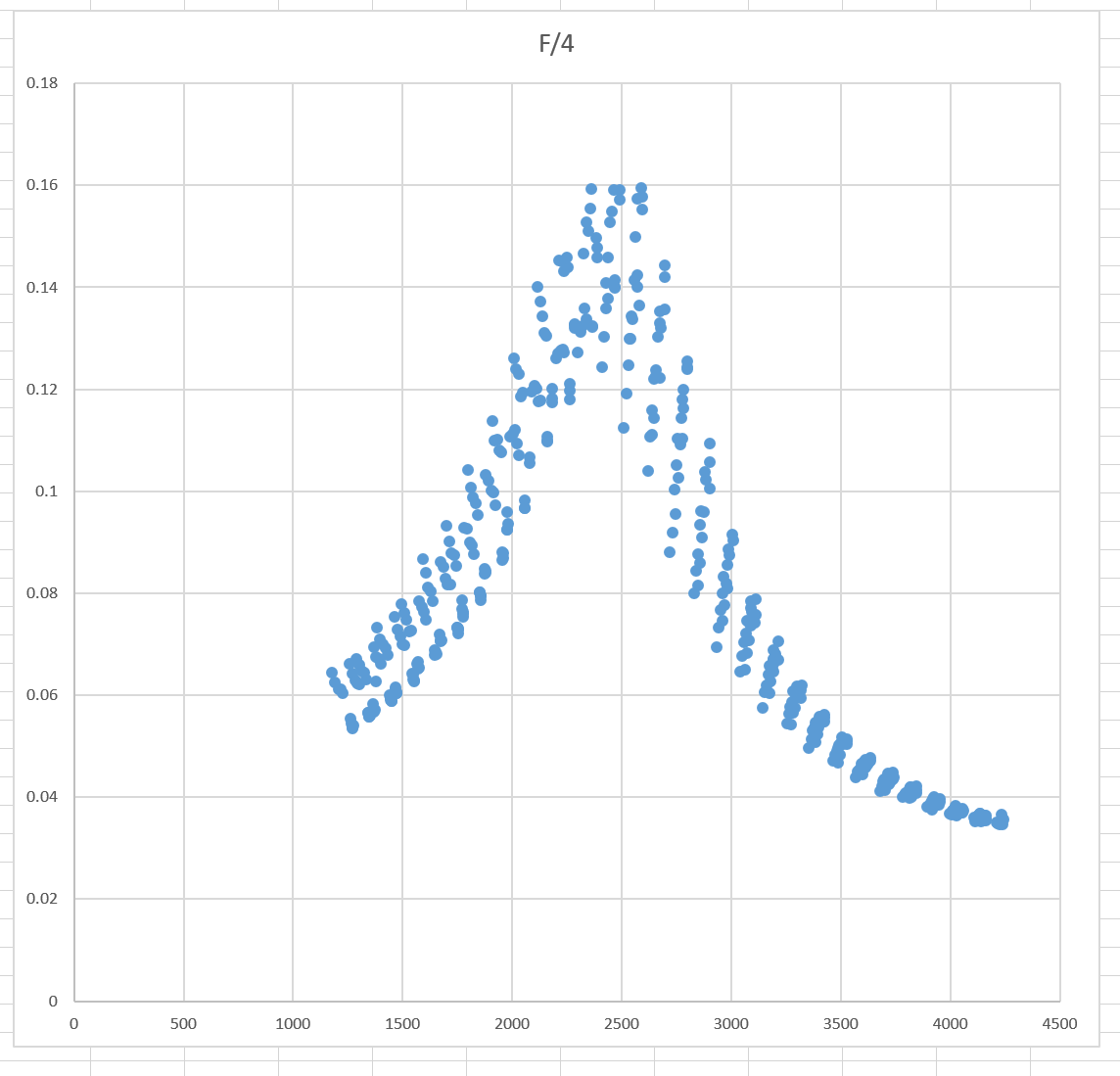 In the above, I'm distinguishing between the MTF Mapper one-shot method and my razor blade method by calling the former "MTF Mapper". My razor blade method uses MTF Mapper, too, just in a different way.
I think there's a lot of promise here, both for some of my tests, and for some of you out there that wish to measure focus shift on your own lenses and don't want to fork out close to a thousand bucks for a motorized focusing rail and a controller.
I'm sure it has occurred to you that It wouldn't be hard for the author of MTF Mapper to modify the focus shift graphing code to yield LoCA curves. I plan to be in contact with him to see if he's interested in doing that.
Oh, and what are the seven shots? I figure f/1.4, f/2, f/2.8, f/4, f/5.6, f/8, and f/11 should be enough data points to nail down focus shift for most lenses.
Added 5/16:
Frans van den Bergh, the author of MTF Mapper, asked me for a copy of the raw files that I used for the above measurements. He found that the f/8 file, the one that caused his program to abend, was corrupted. He will be fixing MTF Mapper so that a corrupted raw file won't cause a crash.
I went back and looked at the file that I sent him. It, too, was corrupted, indicating that the problem is not the Internet. Fearing a bad SD card, I looked at the file on the card. It was fine. So the problem was the reader. I'll order another.
Adding the uncorrupted file to the data set produced this result: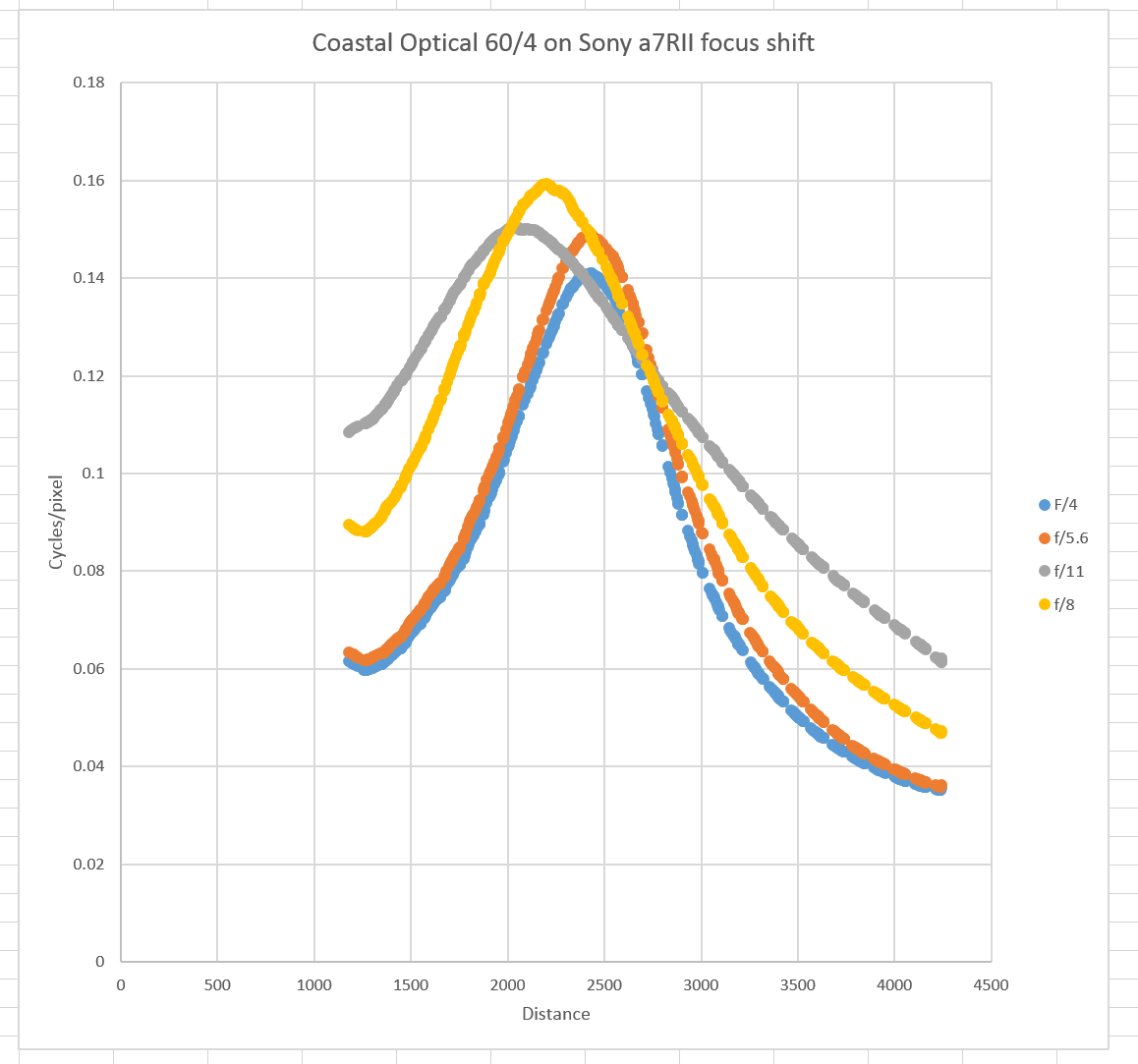 Again, with the same kind of caveats as for the graph further up the page, this is consistent with the results obtained with the razor blade and moving focus rail.
I am now a little concerned that the results with the razor blade show a focus shift, albeit an admittedly small one, between f/4 and f/5.6, and the results with the 45-degree chart do not.
Changing the horizontal axis scaling of the simpler test gives a hint of what may be going on: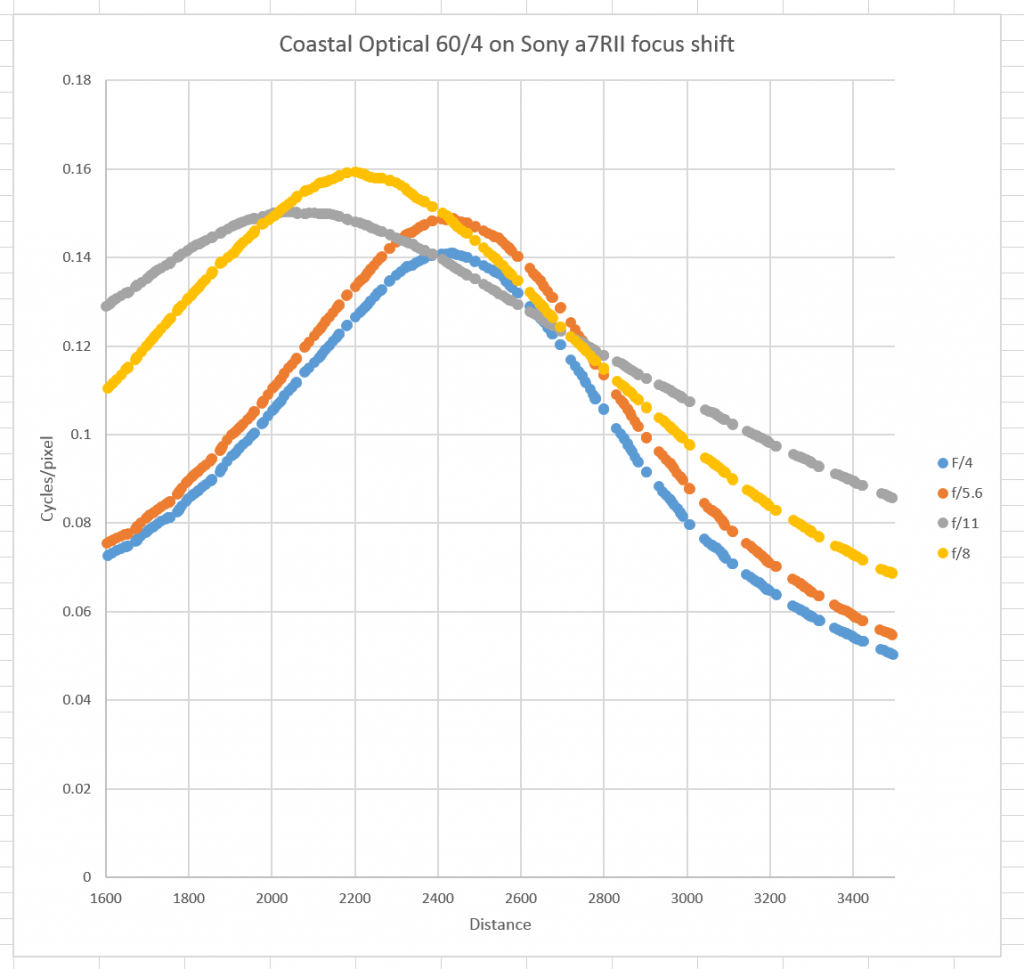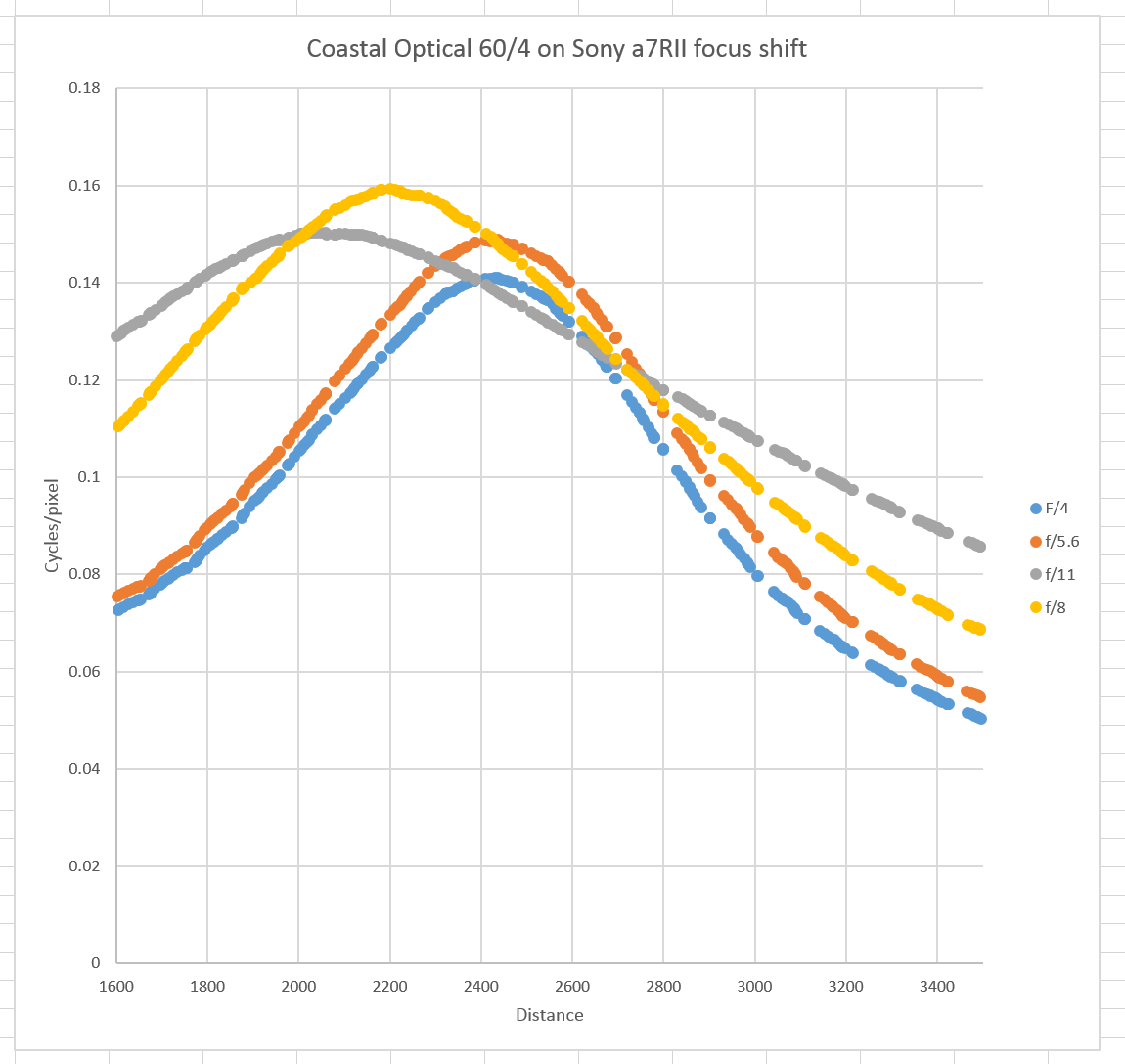 The f/5.6 and f/4 curves are not as peaky as they should be. In other words, they show too much depth of field. This may be related to target sharpness, or there may be something else going on. For example, it could also be related to the small difference in magnification for the two tests. We have seen earlier, in the comparison fo the 1:2 and 1:10 focus shift results, how magnification can affect focus shift strongly with this lens.
My thanks to Frans for his help on this.
[Added 5/18]
Frans has identified the source of the broadening of the f/5.6 and f/4 curves in the 45-degree shots as field curvature in the CO 60/4 lens. He has modified his code to concentrate on more central edges, and has produced a set of curves that look very much like the razor blade curves, except for some geometric horizontal axis stretching. He will be releasing the new version as rel 0.5.2. When he does, I'll test it and report here.
Also, Frans gave me an incantation to get this test done on any give raw color plane. That should be the basis for one-shot LoCA testing. Whoopee! I'll report of that when I get rel 0.5.2 of MTF Mapper.