Posted on DPR recently was an interesting question:
Is an AA filter necessary for wide aperture and deep DOF photography?  That is, will lens aberrations for wide open photography and diffraction for deep DOF photography do the job of the AA filter?
I've beat the diffraction issue to death in the past, but I hadn't considered aberration as an aliasing preventer.
I took a Zeiss Otus 85mm f/1.4 ZF.2 lens that had peaked out wide open at 1200 cycles per picture height on a Sony a7RII in a recent test. Under those test conditions, with a target not as sharp at the razor blade that is now my gold standard, that resolution was very good, but substantially below what the lens could do if you stopped it down to f/2.8.
I aimed it at an ISO 12233 target at a distance of 15 feet. The height of the meat of the target was 920 pixels. That means that the monochromatic Nyquist frequency is slightly higher than the patterns marked with a "9". Any patterning you see in the areas marked with the number "10" or higher are aliased for sure. The point on the chart where Bayer color filter array aliasing occurs is harder so say. "5" is safe, but it may be too conservative.
I illuminated the target with a pair of Wescott LED panels, with the intensity set to "stun" (actually, 100) and the color temperature set to 5000K.
I put the camera on a focusing rail, and made 51 exposures over a distance of 190mm. That means the distance between exposures was 190/50mm, or 3.8mm.
I brought the images into Lightroom, with everything set to default except a custom color balance to the white ares in the target. Then I looked for aliasing.
Boy, did I find it. In fact, I found it in every single picture, which proved to me that defocusing isn't such a great way to reduce aliasing, either.
Here, at 1:1 are some examples.
At one end of the rail: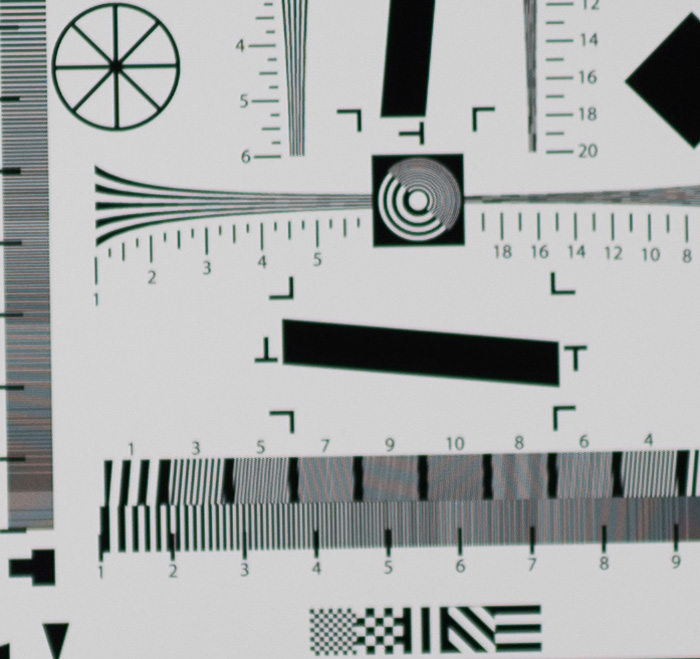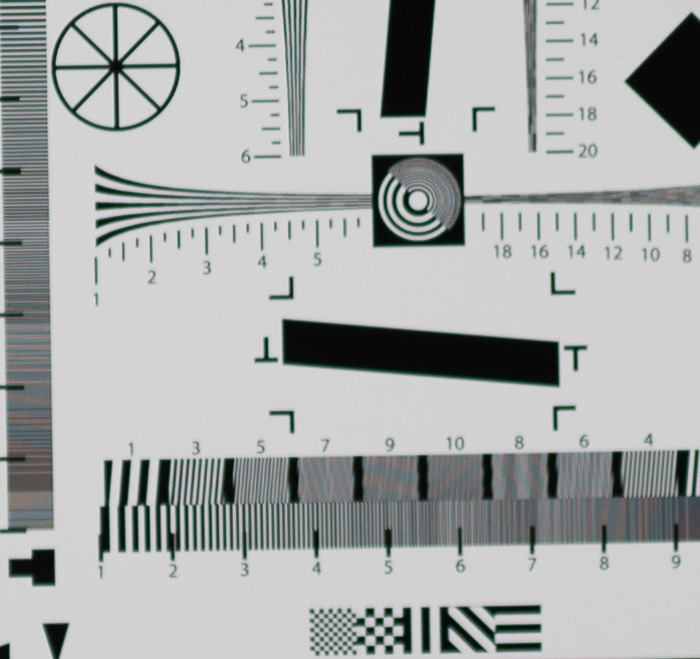 At the other end: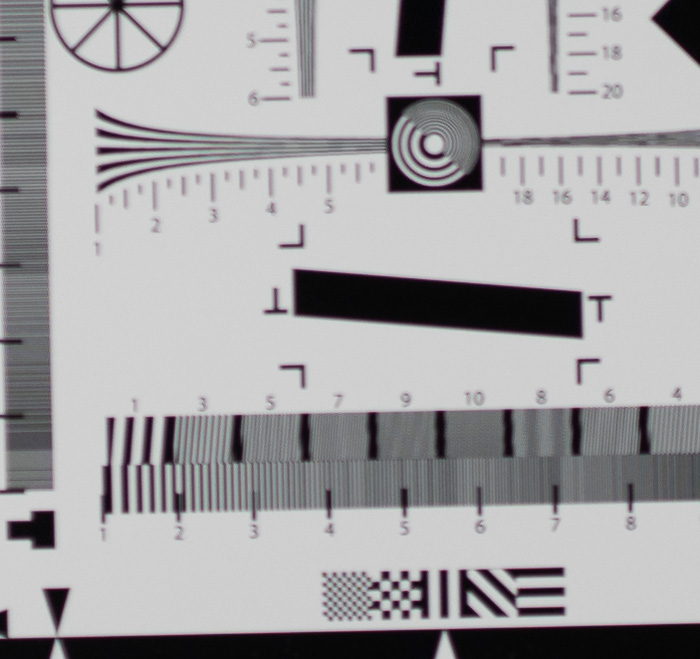 At a few places in the middle: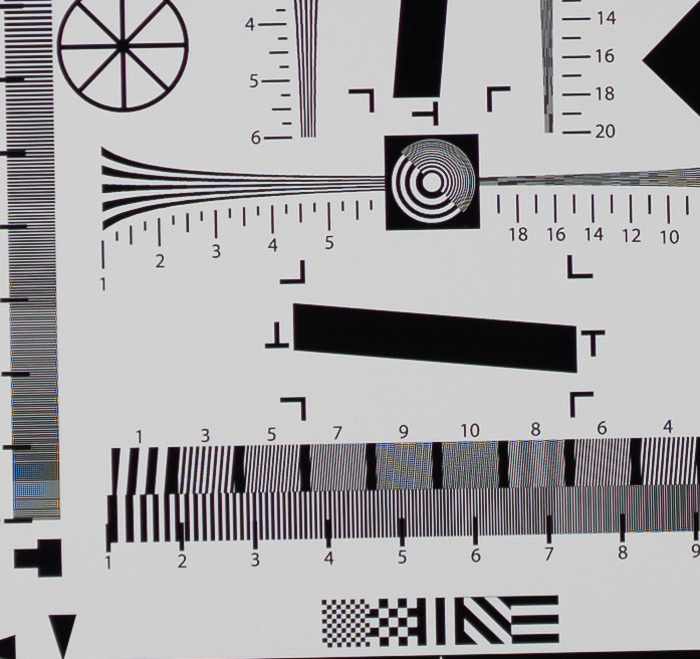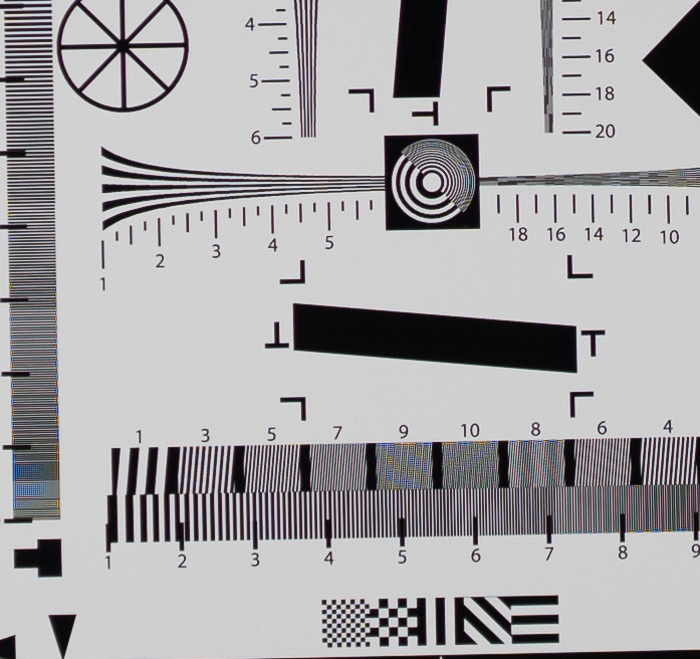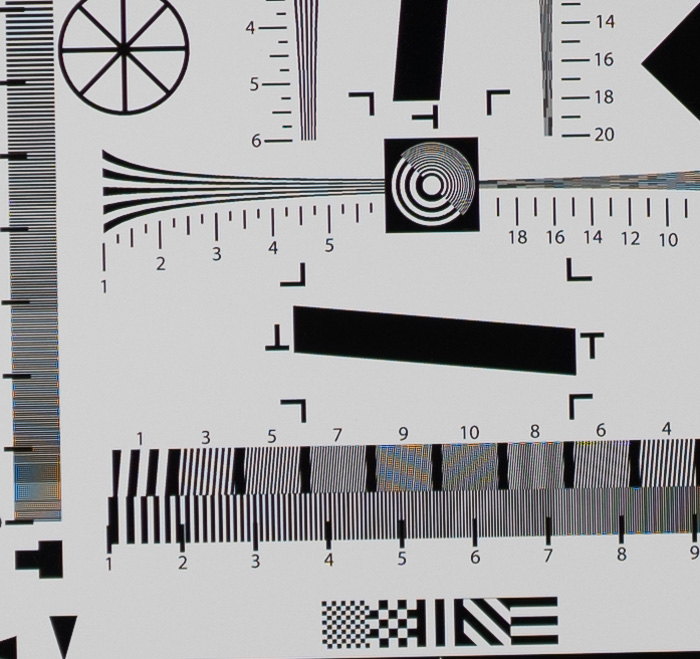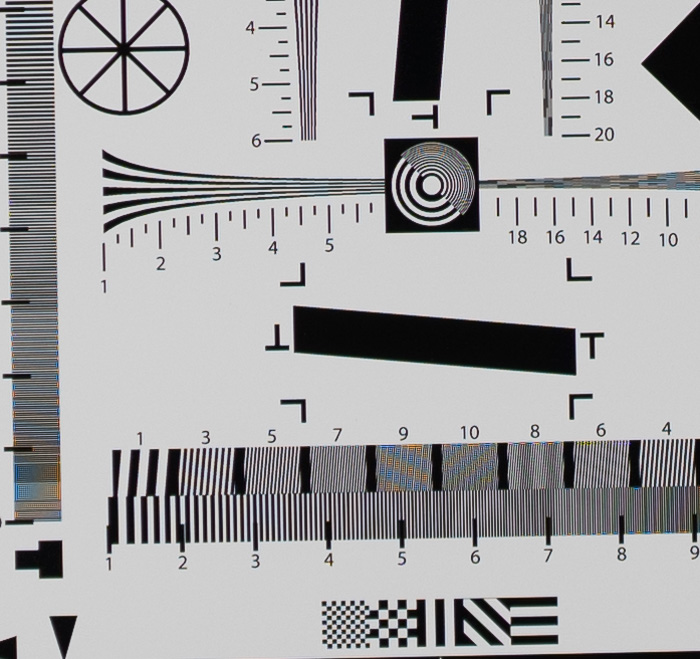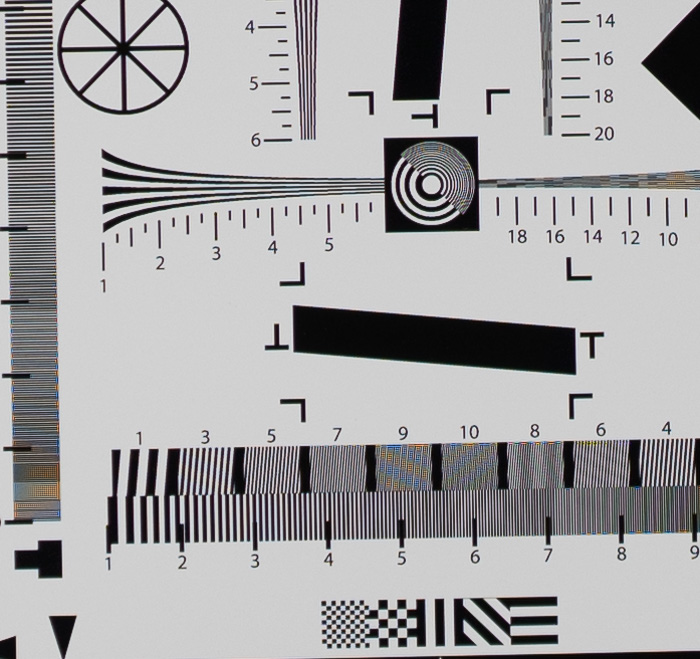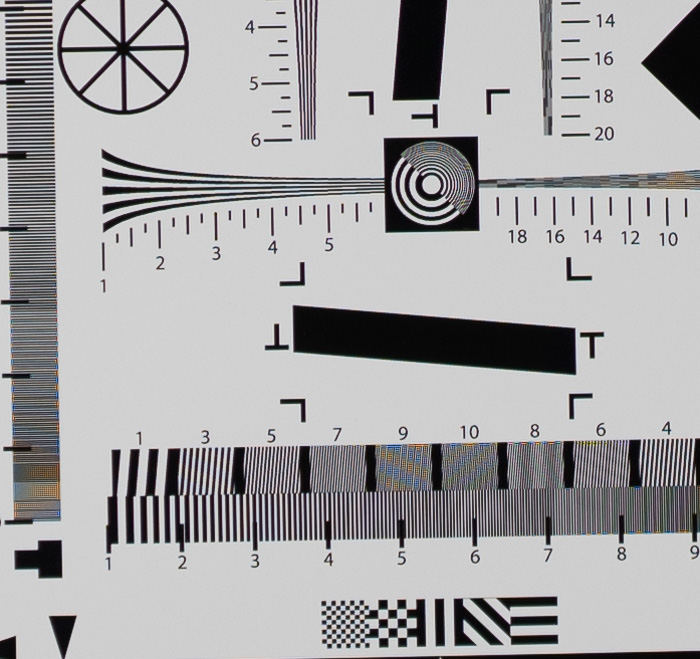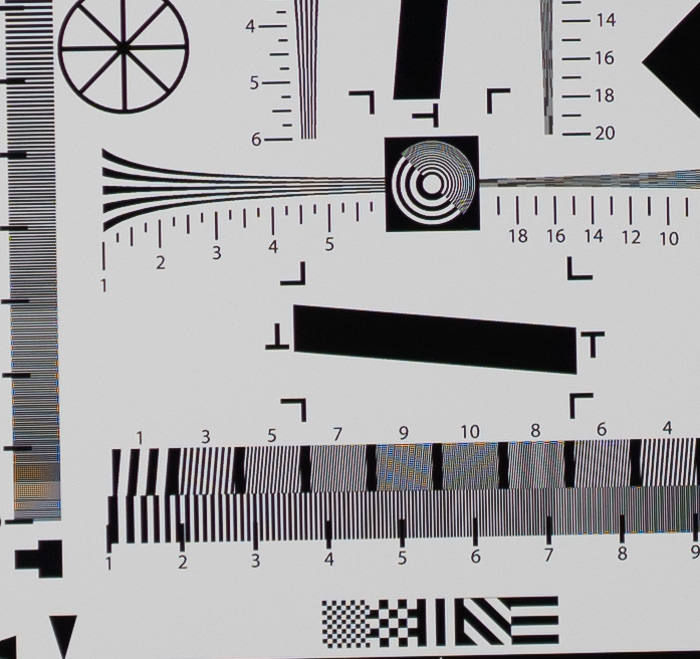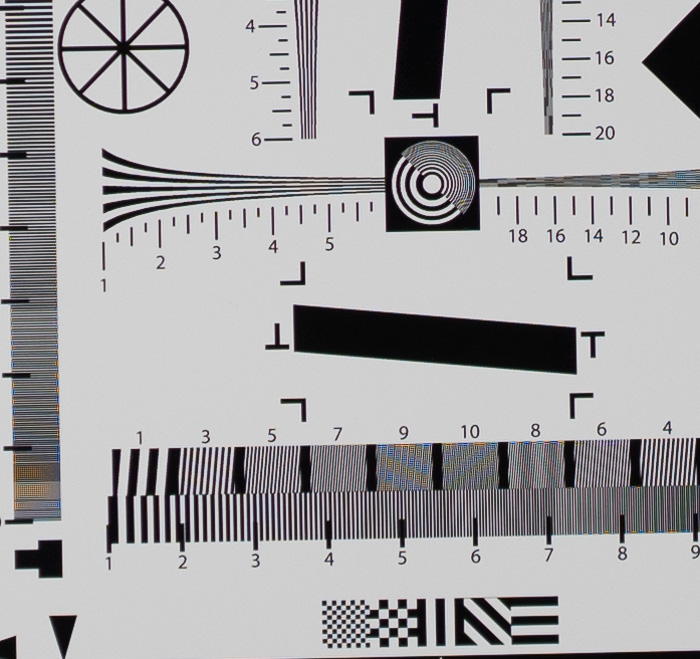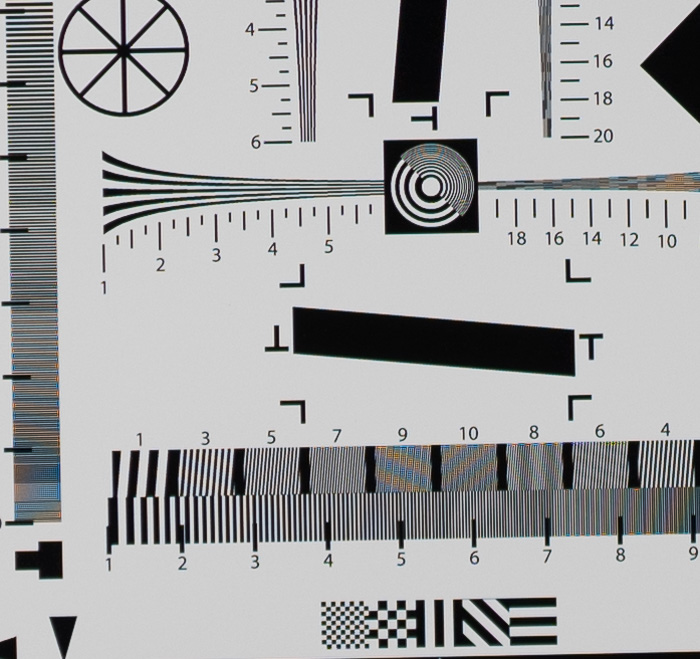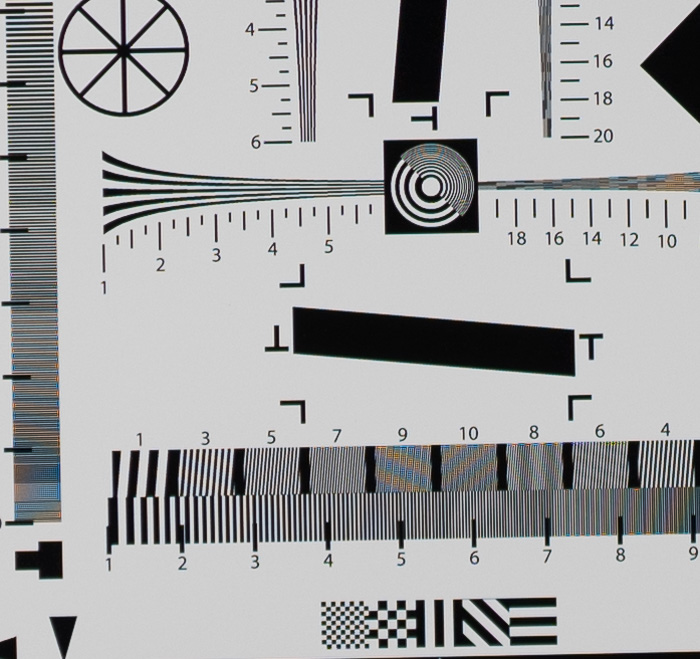 With a good lens, even wide open, the lens won't blur things enough to eliminate aliasing.