This is a continuation of a series of posts about blur management for landscape photography. The series starts here.
In the last post, I looked at blur circle profiles that resulted from a mixture of diffraction, pixel aperture, and defocus, and compared those profiles to the blur circle limits that I had derived from approximations. In this post, I'd like to add precision to the comparison by plotting the encircled energy as a function of distance from the center of the blur circles.
Let's look at one such graph: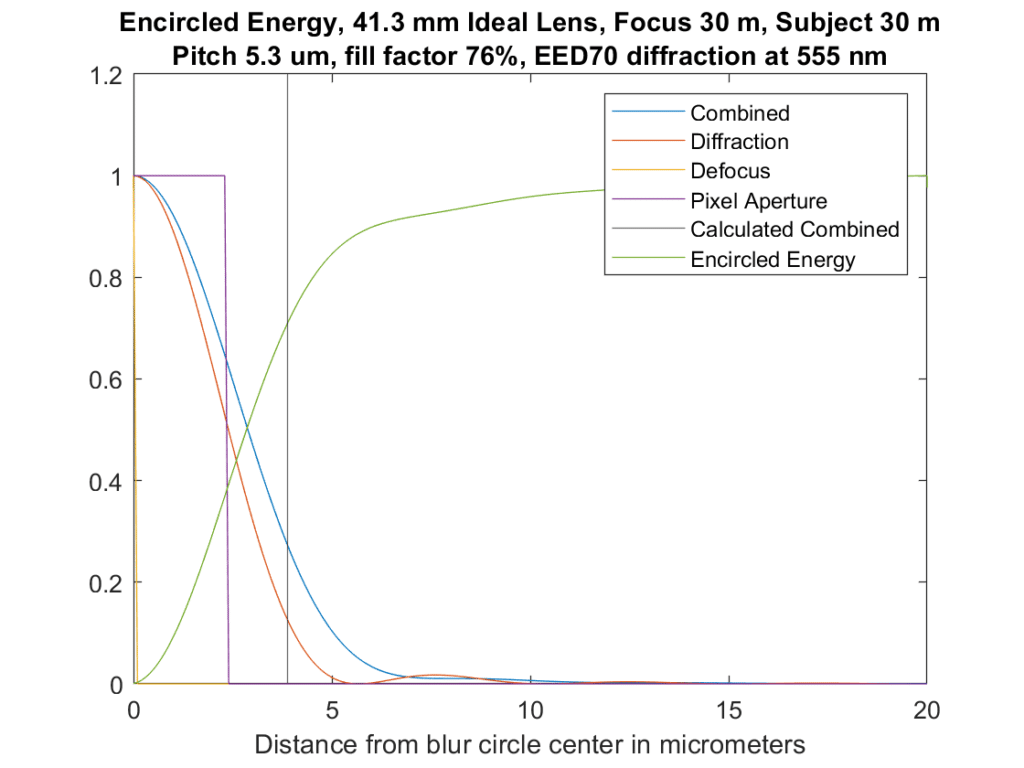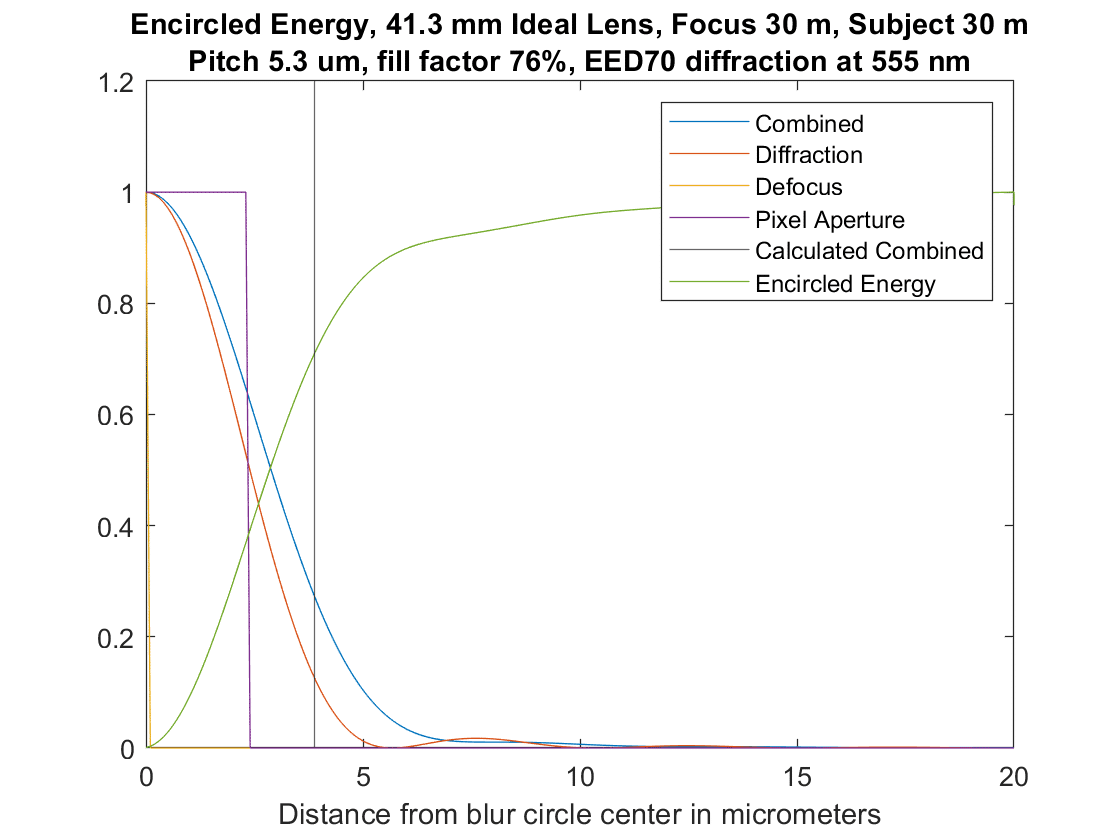 This is similar to what you saw yesterday, but I've only plotted the right half of the profile. We don't lose any information by doing that, since the profiles are symmetric about their centers. The modeled aperture is f/8. What you're looking at above is a cross-section of the blurs from each source. The yellow spike near the y-axis is the defocus blur, and in this case there's none of that since the subject is perfectly in focus. The magenta box is the blur from the pixel aperture, which is assumed to be a pillbox with a diameter of the pixel pitch times the square root of the fill factor. The red curve is that of the diffraction. I convolved all three to get the blue curve, which is the combined effect of all three modeled blurs. And finally, the vertical line represents the limits of the blur circles that I've been showing you, using something called EED70 for the Airy disk diameter. The blur circle limits cross the convolved solution at about a quarter of the peak value.
There's a new curve in the above graph. It's green, and it's the amount of energy that is encircled as you get further away from the center of the blur circle. It crosses the limit line at about 70%.
Here's the same setup with the camera focused at 1000 meters: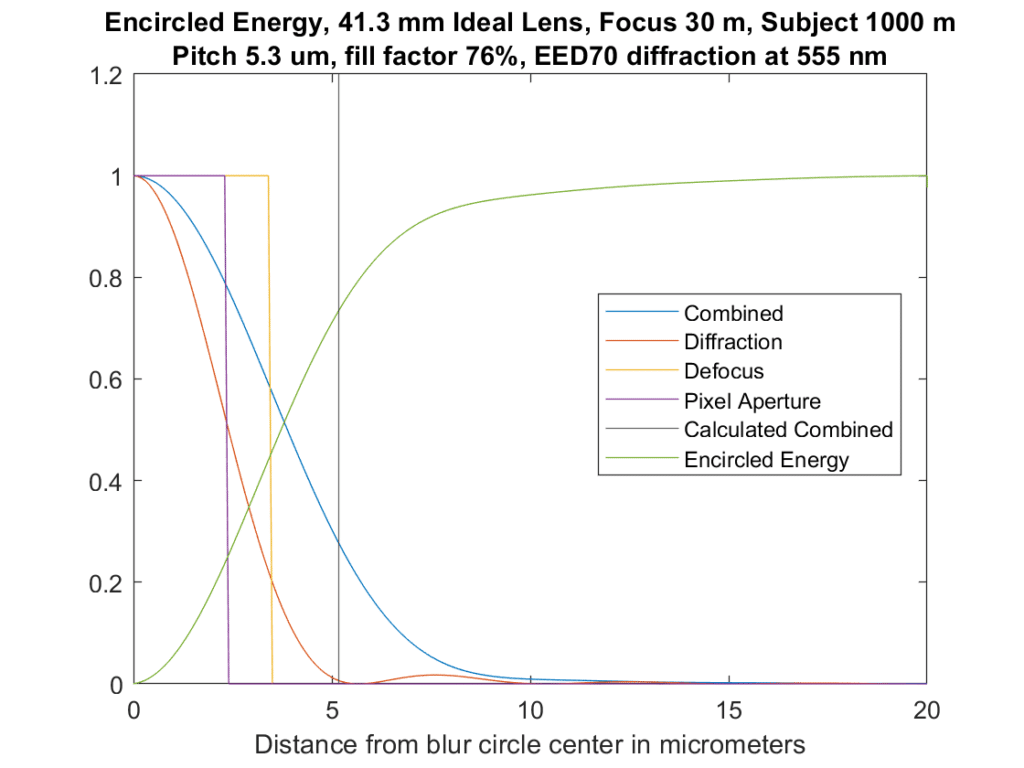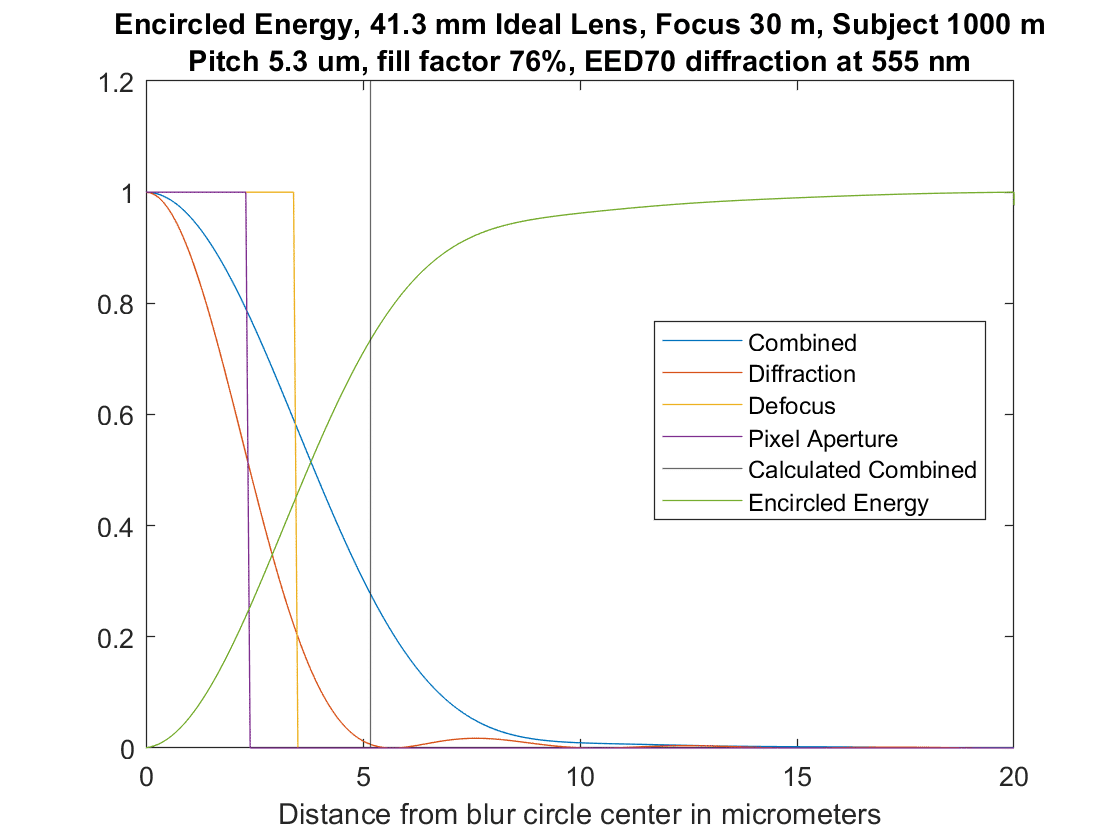 Again, the encircled energy line crosses the limit line at about 75%.
One more, with the lens focused at 8 meters, so that defocus dominates.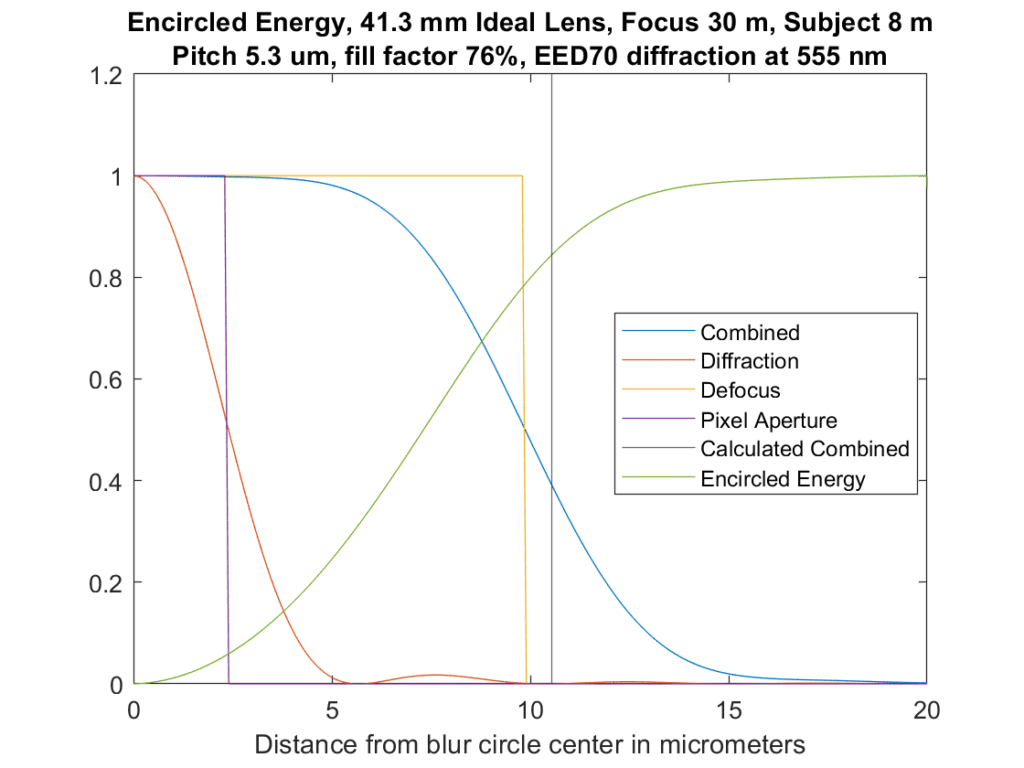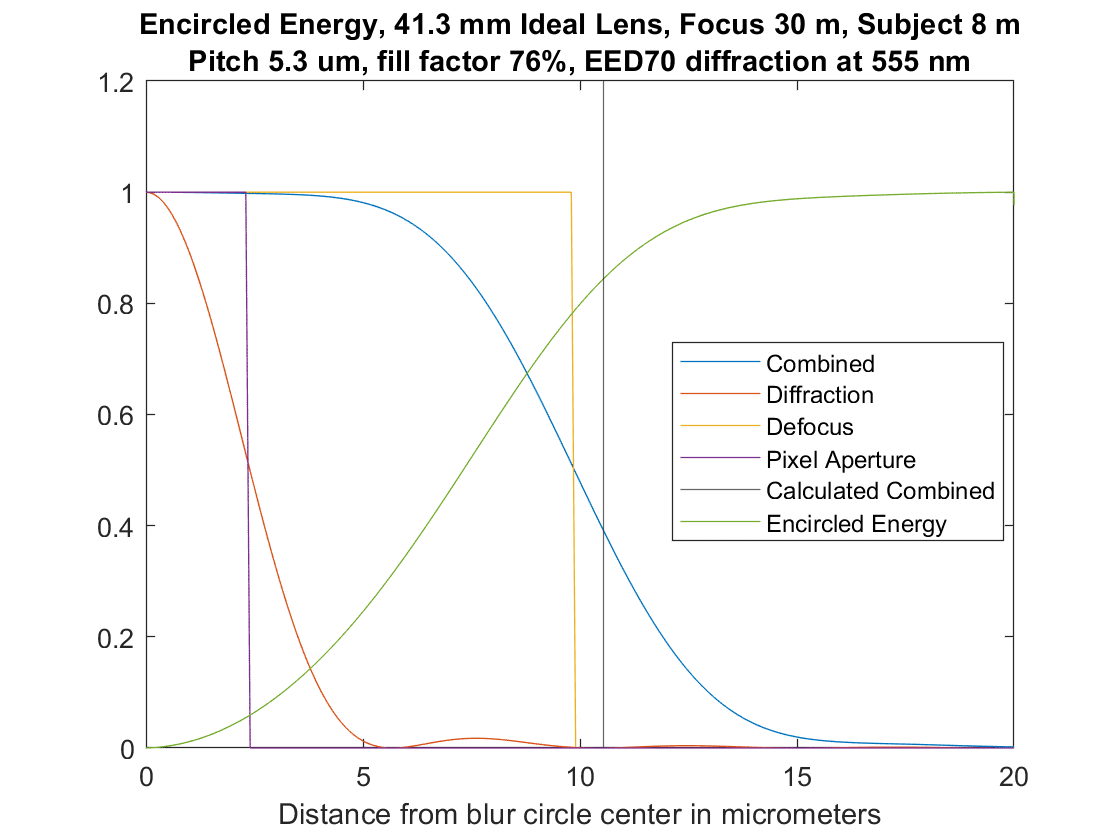 Crosses at about 85%.
What's a good encircled energy to use for the DOF optimizer? It doesn't make any difference to the optimal f-stops and focused distances that are found. I'm not uncomfortable with the way these graphs look. In the limit as the image becomes progressively more unfocused, the limits I'm using will converge to the normal CoC diameters.
As a check, I did a run with the focal point and the subject at 30 m (which provides no defocus blur), and the fill factor set to 0.00001% (which provides no sampling blur):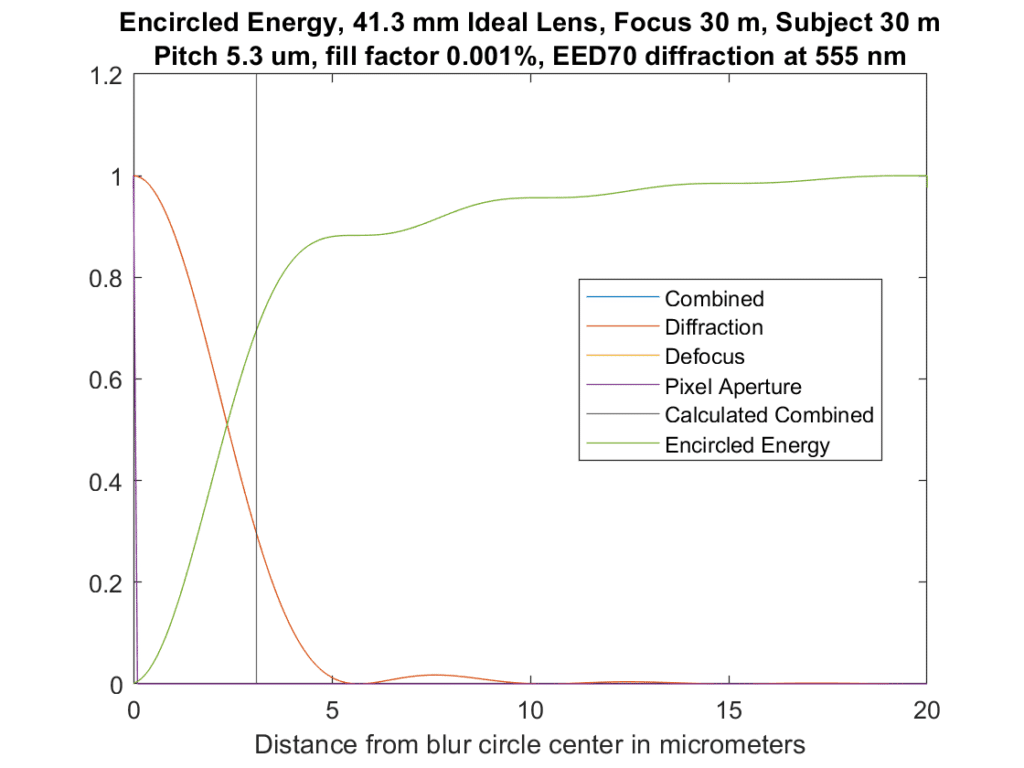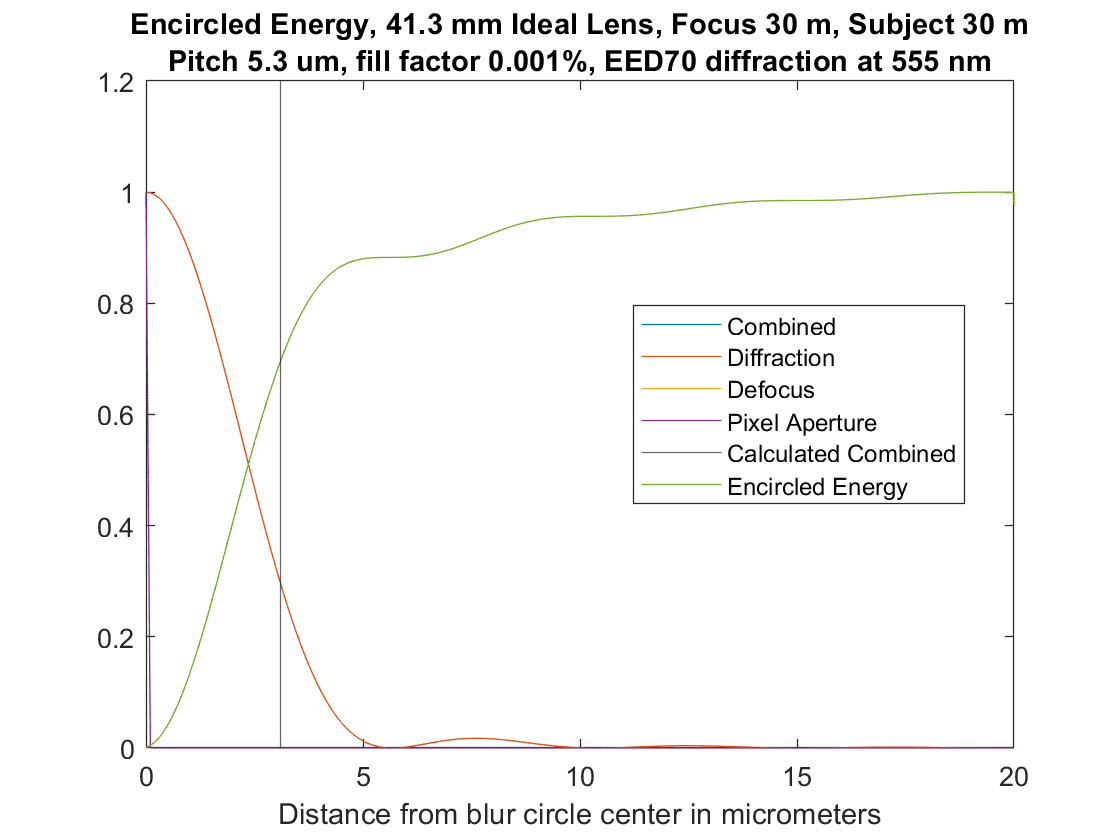 Now all we have is diffraction, and this curve is substantially the same as the one in this document.
I can make it even closer by increasing the range of distances, but that's good enough.