This is a continuation of a series of posts on the Nikon D850. You should be able to find all the posts about that camera in the Category List on the right sidebar, below the Articles widget. There's a drop-down menu there that you can use to get to all the posts in this series; just look for "D850". This is equally a post about the Sony a7RIII, and is also tagged as such.
Yesterday I published some of the autofocus data in a form designed to make the D850 and a7RIII easier to compare. I plotted what I consider two comparable results with both cameras on the same graph. I plotted the three Adobe RGB color channels yesterday, but it got to be a lot of graphs, so I'm only showing you the green channels today. I've omitted the f/1.4 and f/1.6 points for the 58 mm f/1.4 lens on the D850 since they have no counterpart with the Zony 55. Yesterday's data was for face detection on the D850 and eye detection on the a7RIII. Now I'll show you what happens with the spot PDAF on the D850, and the spot hybrid PDAF/CDAF on the a7RIII. I set the Sony spot size to medium. First, I'll show you what happens with both cameras in AF-S mode. In all cases, the D850 results are the dotted lines. The D850 AF adjustment was set to +5, which turns out to be a pretty good compromise for this camera and lens. The a7RIII does not permit AF adjustment.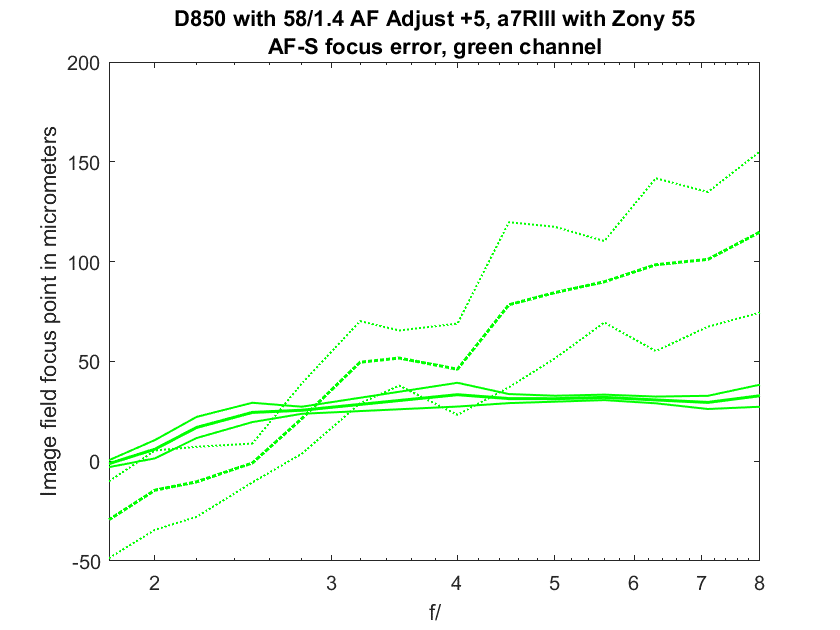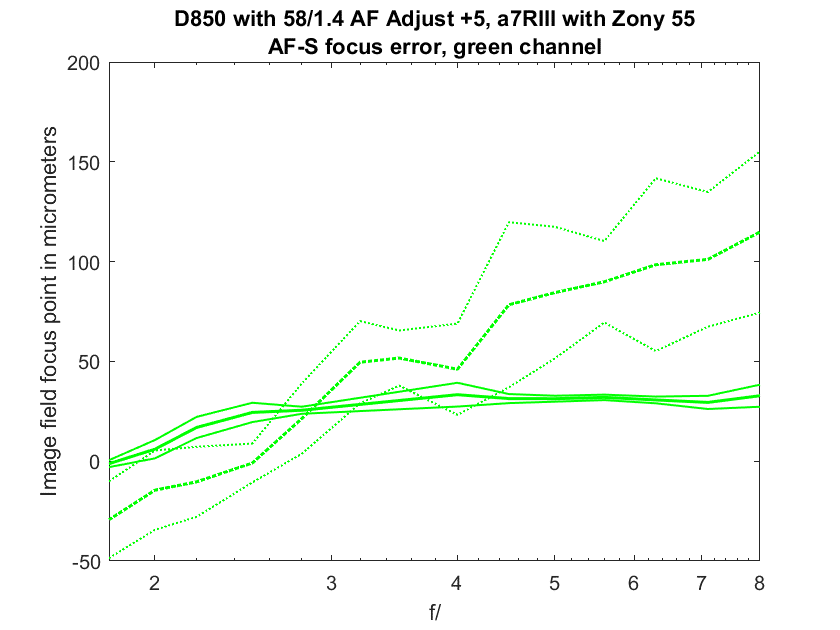 The graph presents displacement of the image projected on the sensor from the desired green-channel focal plane. Negative numbers indicate front-focusing. The image-plane shift is in micrometers (um). I've made lines indicating the average (aka mean or mu) of the sample set bolder and added thin lines above and below the means that are one standard deviation (sigma) away from it.
The circles of confusion (CoCs) that result from the above: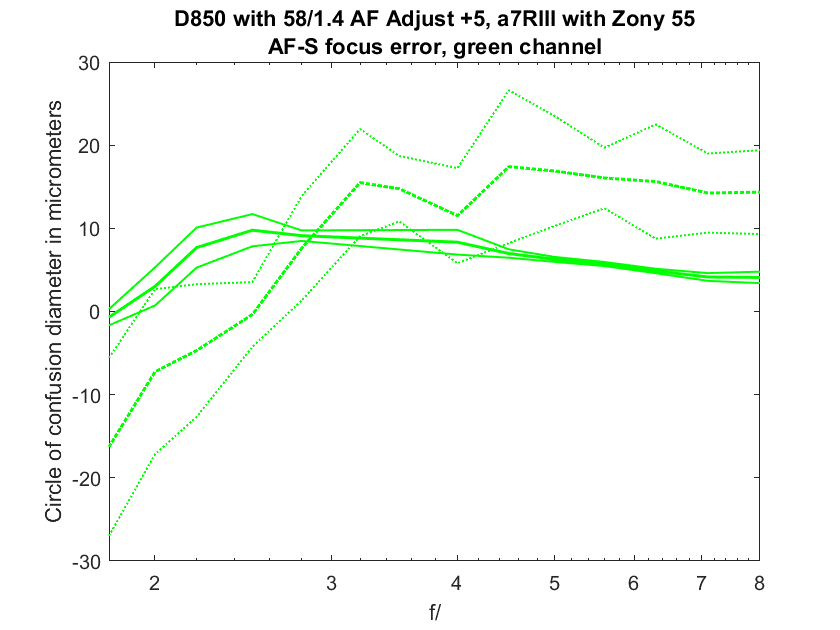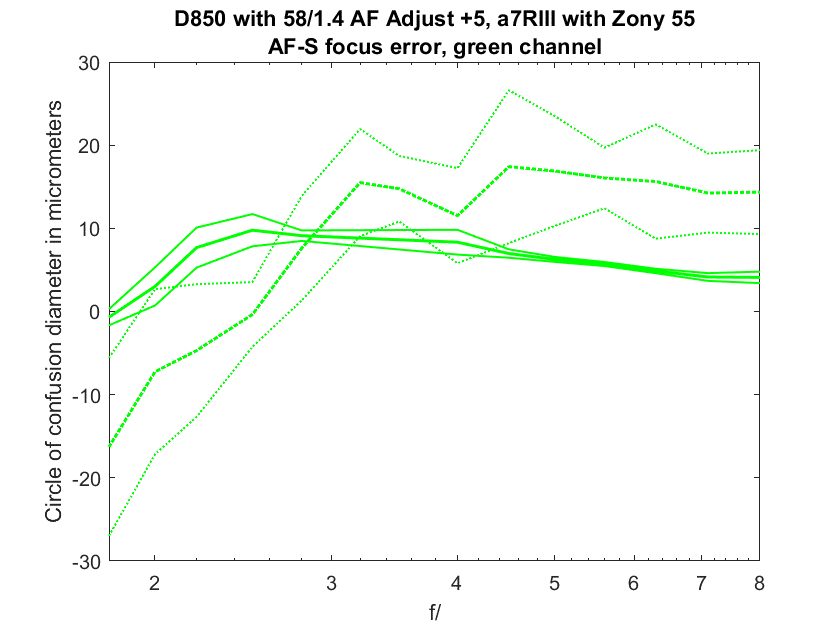 As we have noticed before, the Sony shot-to-shot variation of the focus plane is much less than the D850 when both are in AF-S mode. But as we saw yesterday, the Nikon's variation is comparable to the a7RIII when the Nikon is using Auto AF mode with face detection.
In AF-C mode: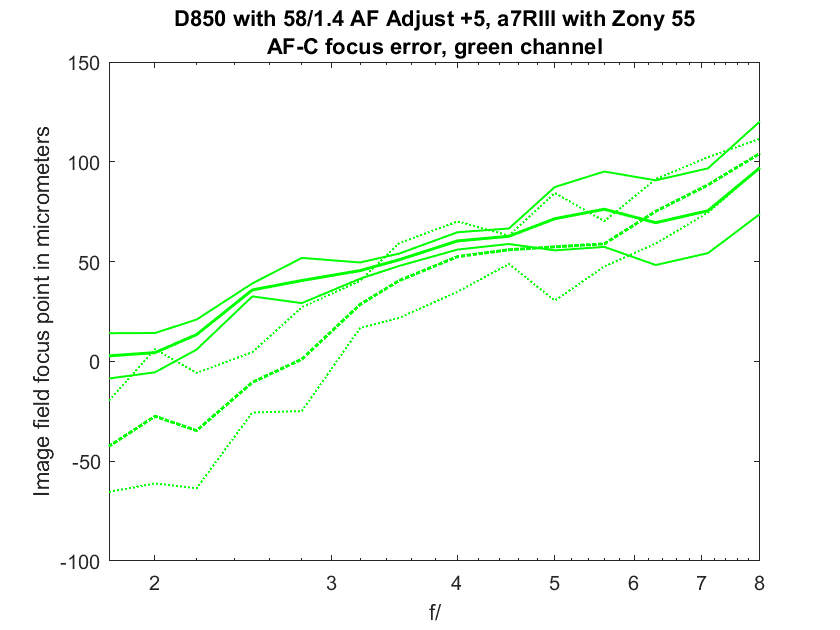 In AF-C mode, the Sony's shot-to-shot variation gets worse. The D850's does not. The D850 also becomes a bit more front-focus biased, which is a good thing here.
In terms of CoC: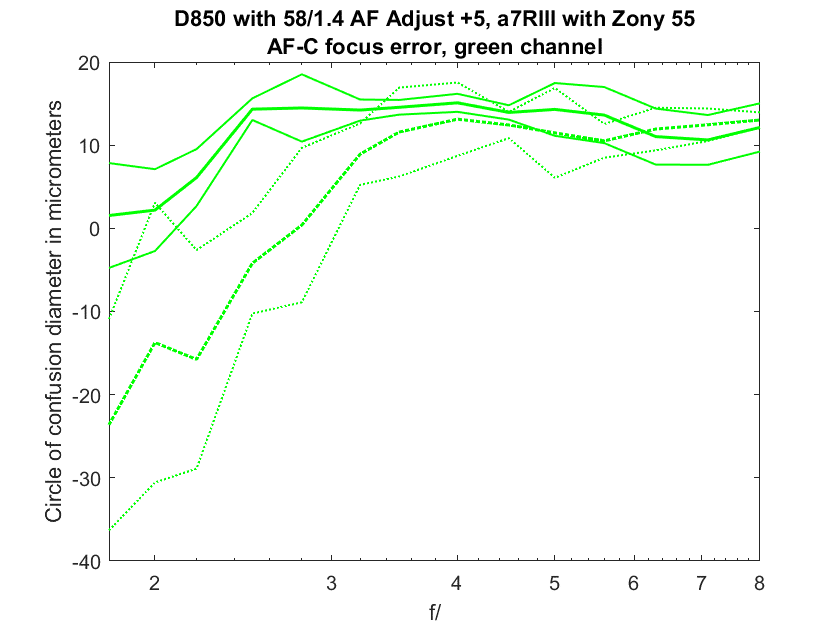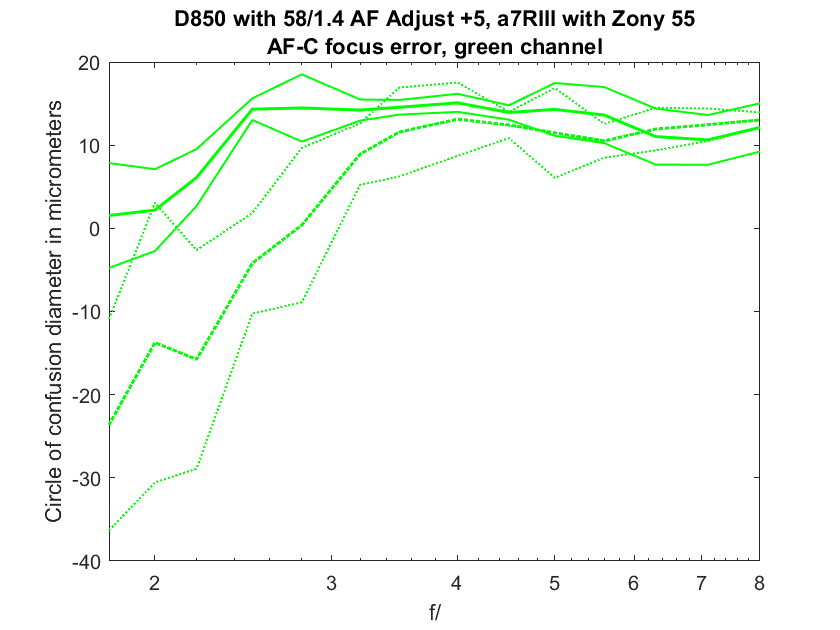 The Sony is better at wide f-stops, but about the same at small ones.