This is the 25th post in a series of Nikon D850 tests. The series starts here.
I did a test of the effect of vibration on image sharpness in the D850 with an 85 mm lens here. There were a few mild surprises, but nothing earth-shaking. I wanted to try the Nikon 200 mm f/2 VR I in a similar test, to see what happened when the shake magnification by the lens increased, and also to see what happened if the direction of shutter and mirror motion were side-to-side, where a tripod is not as stiff. The rotating collar on the 200/2 makes that easy.
As before, I used these shutter modes:
Normal operation, with flapping mirror and mechanical shutter
Mirror up operation with electronic first-curtain shutter (EFCS)
Live view operation with EFCS
Live view operation with electronic shutter
Here's the target in portrait mode: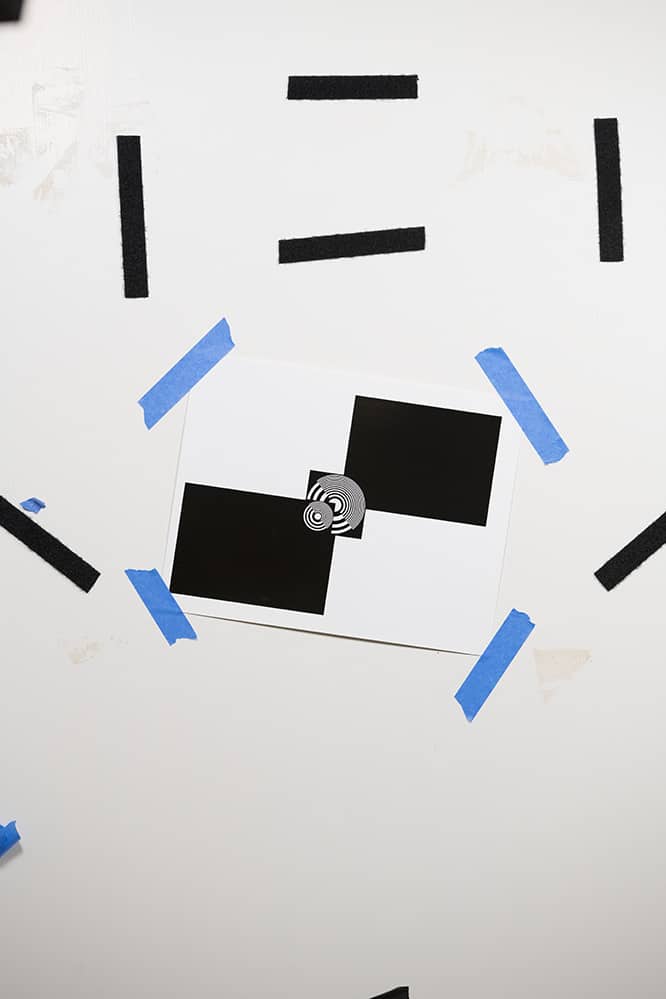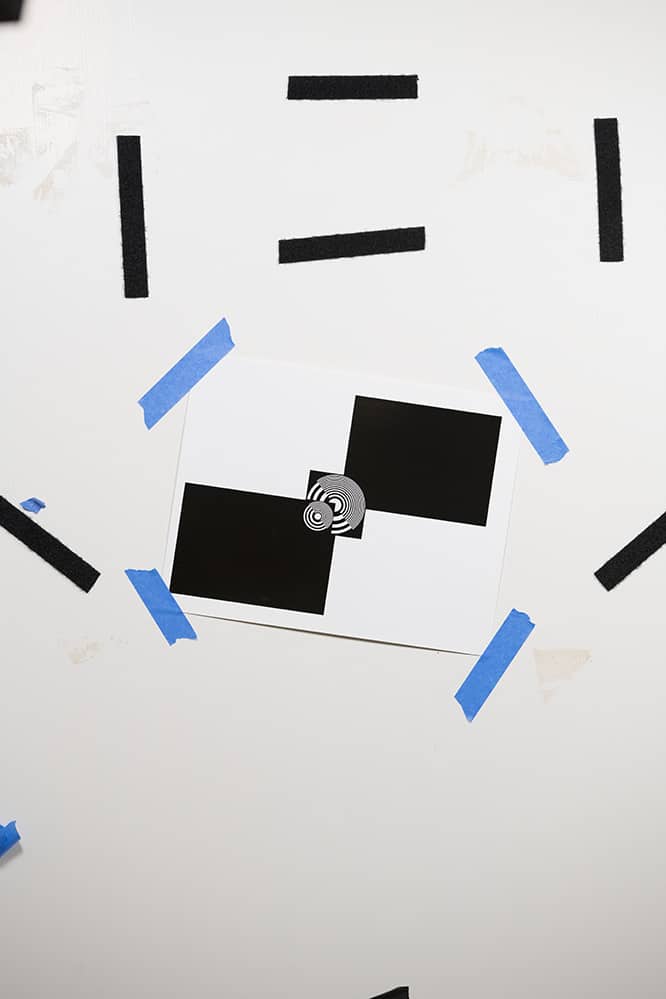 In this case, I used the vertical edge, which should see the greatest effects of vibration. In the case of the landscape mode shots, I used the horizontal edge, which should also suffer the most.
I set the lens to its sharpest on-axis aperture, f/4. I focused using live view, peaking, and maximum magnification. I used a Nikon intervalometer to make 32 exposure with each shutter mode.
Here's the rest of the particulars:
Vinyl tile on 8″ concrete on grade floor
Gitzo Systematic 4 legs
Arca Swiss C1 head
1/100 second exposure duration
ISO 64
Here's what I got in landscape orientation: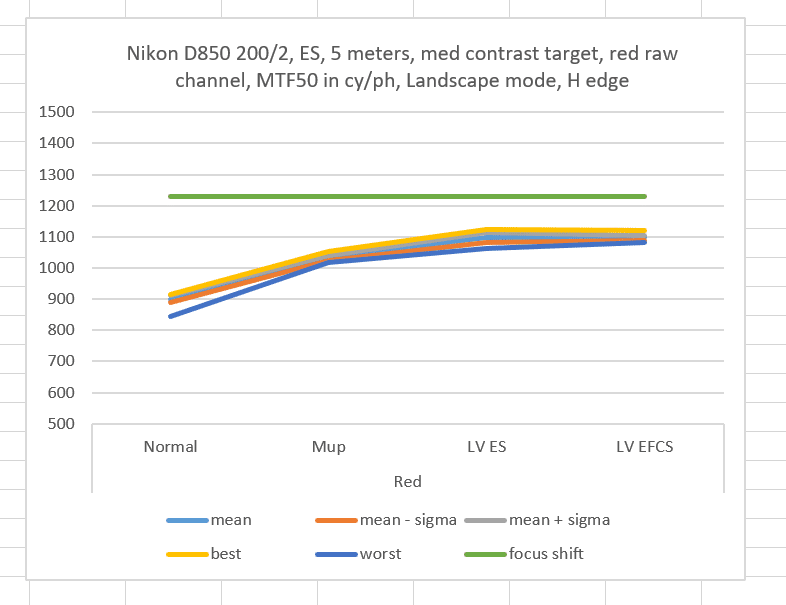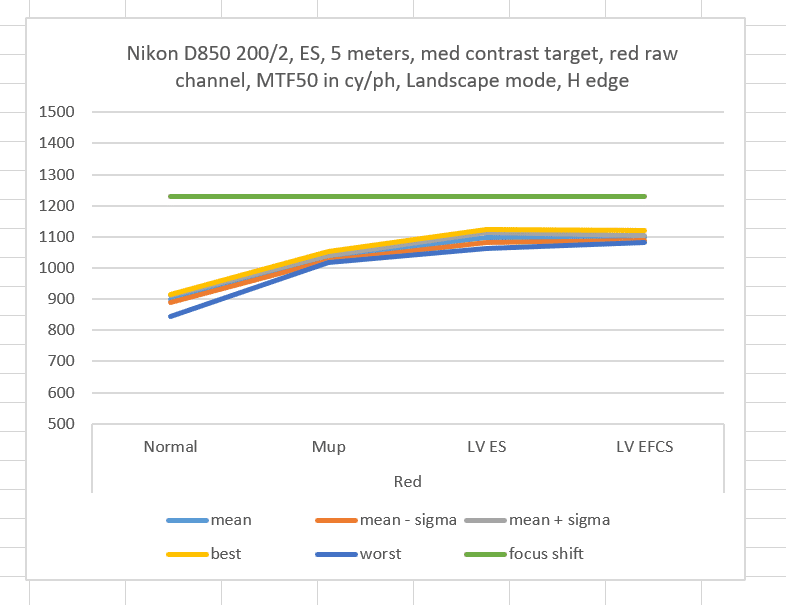 The vertical axis is the MTF50 measured in cycles per picture height, a standard measure of sharpness. Higher is better. I've plotted the worst, average (aka mean), and best results, and also the mean plus and minus the standard deviation (aka sigma). As expected, the normal mode of operation, with the mirror flipping up when the shutter release is depressed, is the worst. The green line is the best sharpness found in the test in an earlier post for that lens and target. That protocol used a combination of manual focusing and the D850's Focus Shift Shooting feature (which uses the electronic shutter) to find the plane of sharpest on-axis focus.
Note that the trailing curtain of the EFCS mode degrades the sharpness more than the fully electronic shutter.
The other two raw channels: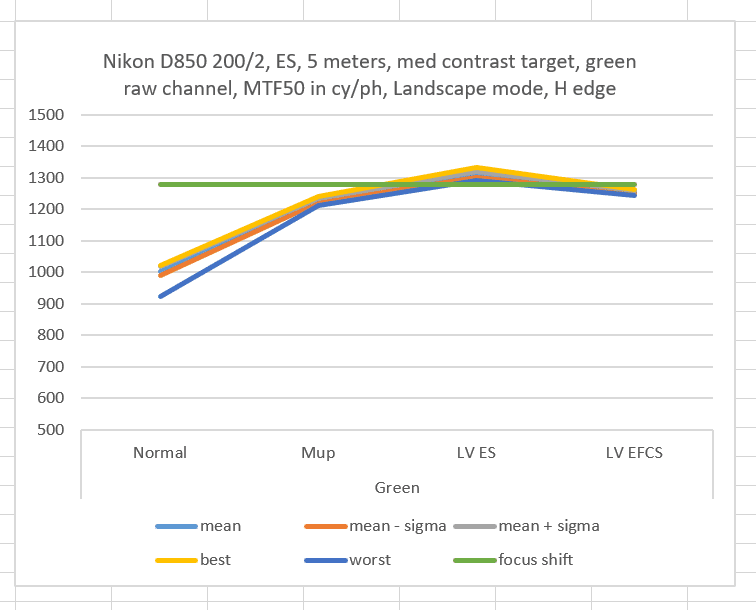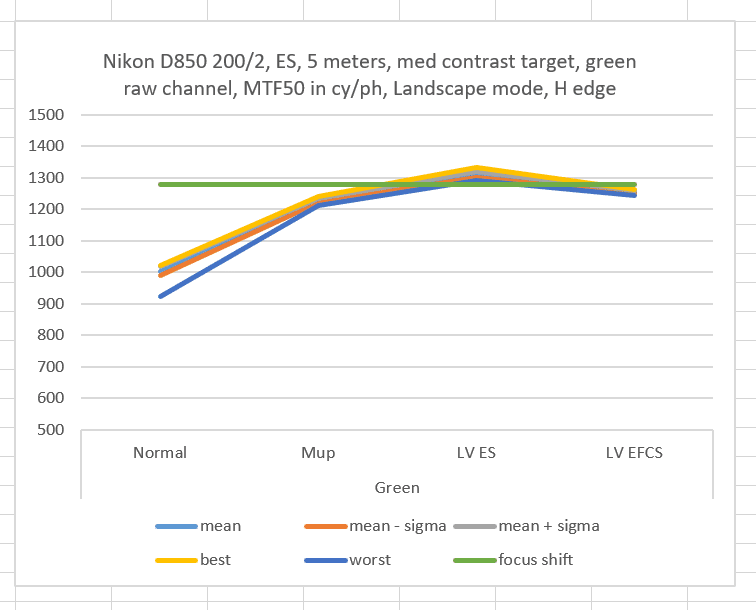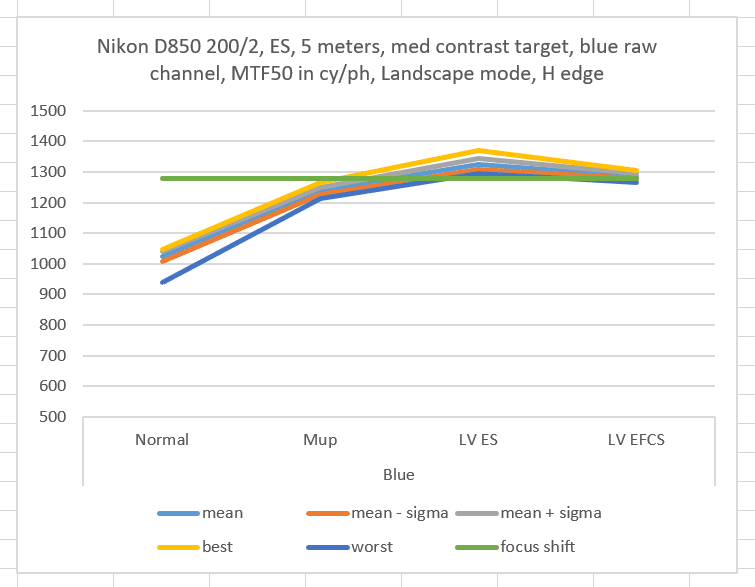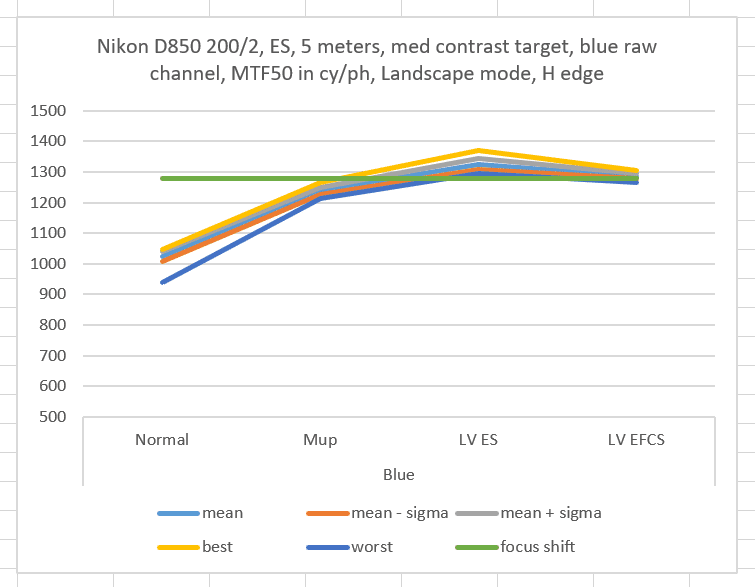 They are similar.
In portrait orientation, the flapping mirror makes things so much worse that I had to change the vertical scale: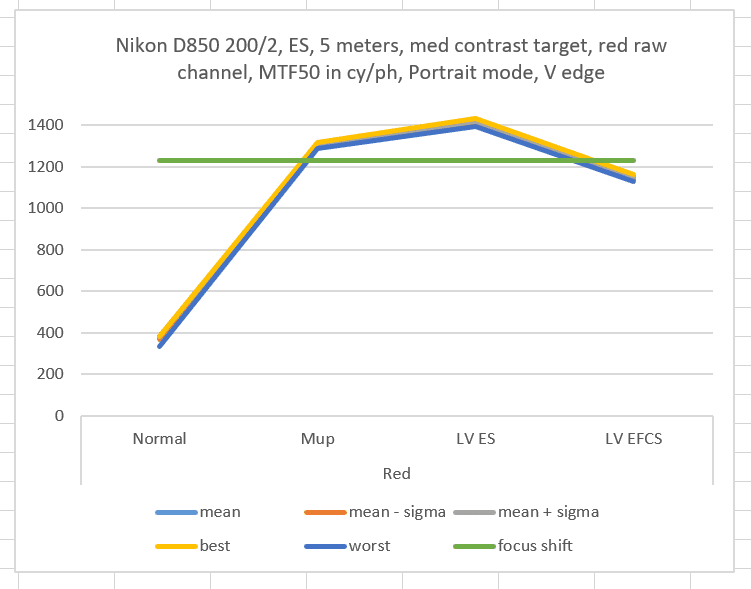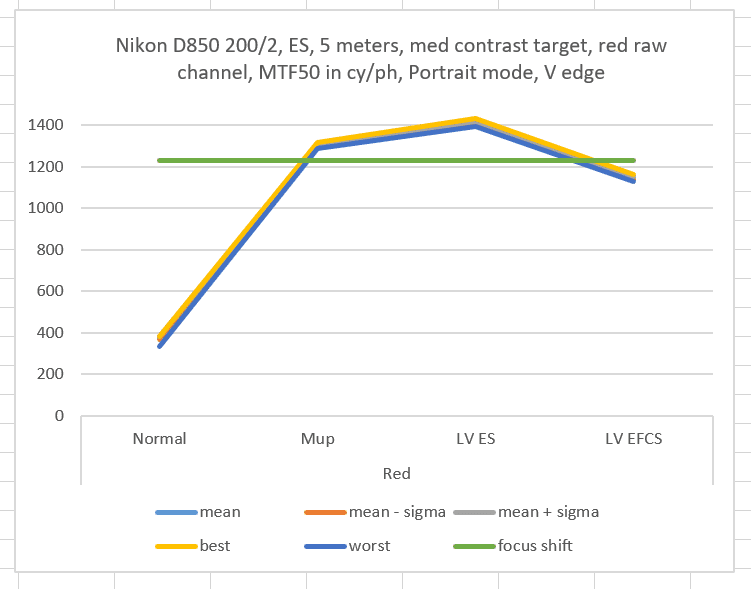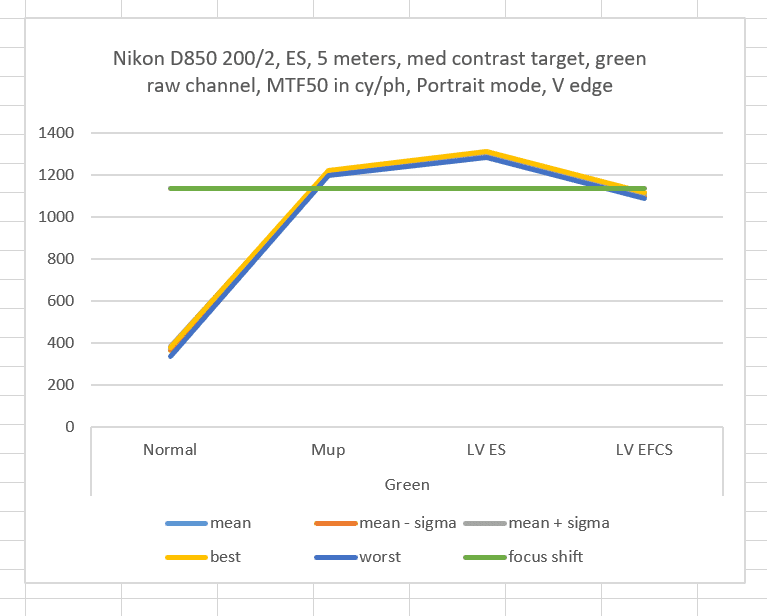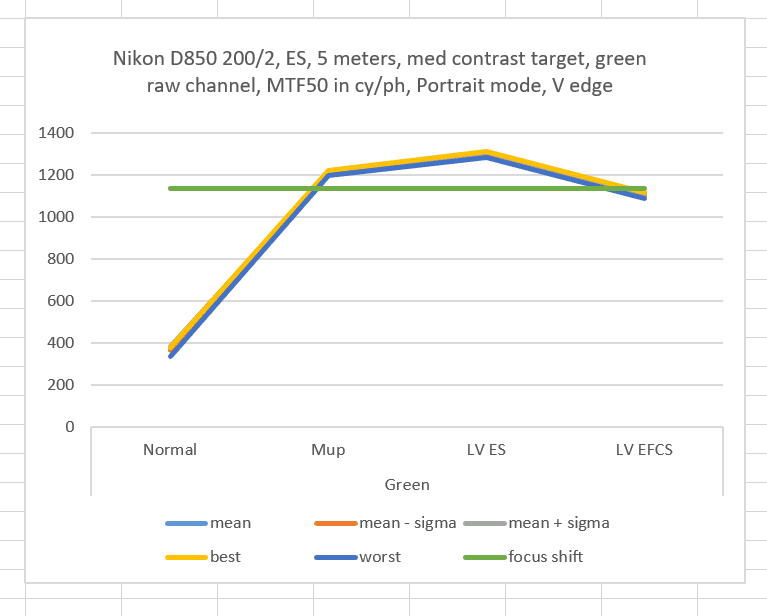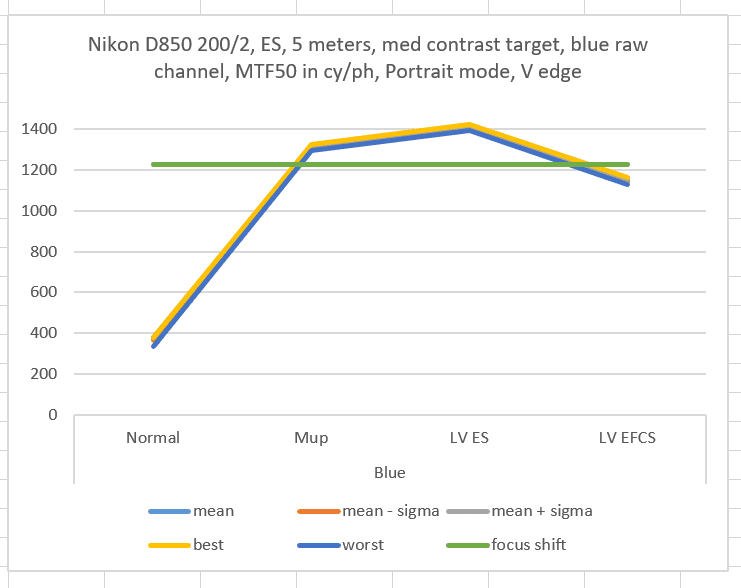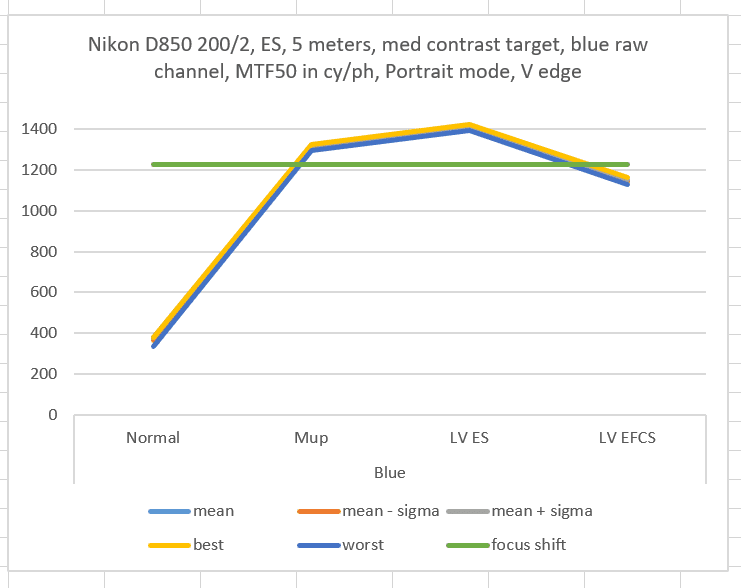 In portrait orientation, there is one thing that is different in the relationship between the four modes. LV EFCS is not as good as Mup EFCS. I'm not sure what that's about.
If you want a feel for what the portrait mode numbers mean visually, here are tight crops of the zone plate in the middle of the target, enlarged to a bit less than 200%: