This is one in a series of posts on the Fujifilm GFX 100S. You should be able to find all the posts about that camera in the Category List on the right sidebar, below the Articles widget. There's a drop-down menu there that you can use to get to all the posts in this series; just look for "GFX 100S".
I have a long and tedious test I use to check for longitudinal chromatic aberration (LoCA). The test involves a backlit razor blade, a computerized, motorized focusing rail, and a lot of messing around. It also has the disadvantage that is needs to be performed at short focusing distances, which may not be representative of the most common use cases. When I performed that test on the Fuji 110 mm f/2, it did great.
Imatest has a chromatic aberration test that, while incapable at distinguishing between LoCA and lateral chromatic Aberration (LaCA), can be performed at longer distances — I used about 14 meters for this test for the 110 and 8 meters for the 80 — and is much faster to run.
The protocol for the test:
f/4
C1 head
RRS legs
Sinusoidal Siemens star for focusing.
Slanted edge above it
Electronic shutter
The new result, developed in Lightroom 10.2 with sharpening turned off, and white balance to the gray of the slanted edge.
Here's what the Imatest results were for the 80 mm f/1.7 lens used with 16-bit pixel shift on the GFX 100S.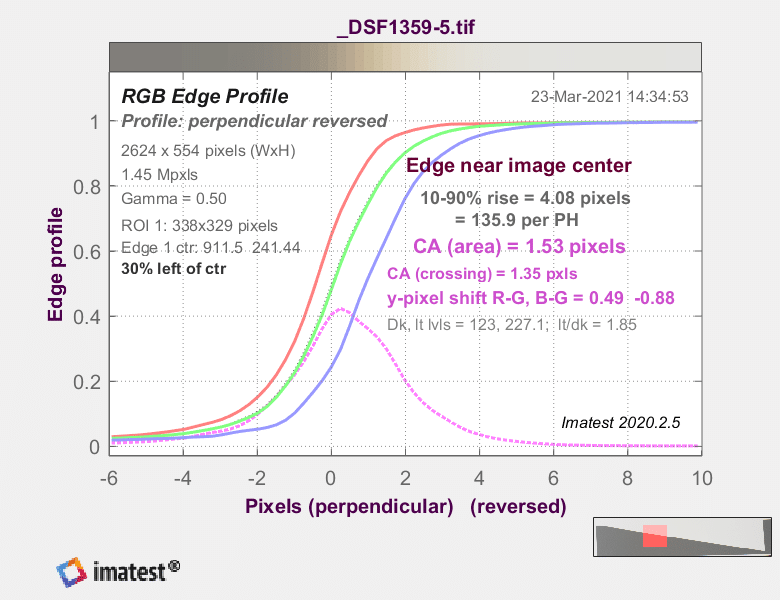 And here's what it looks like for the 110/2: