This is one in a series of posts on the Fujifilm GFX 100. You should be able to find all the posts about that camera in the Category List on the right sidebar, below the Articles widget. There's a drop-down menu there that you can use to get to all the posts in this series; just look for "GFX 100".
I received a request to look at the effects of self-heating of the Fujifilm GFX 100 on the read noise. In the past, with MILCs without IBIS have had very little self-heating effects, but some Sony's with IBIS have had a bit more, probably due to less-effective heat-sinking because of the isolation between the sensor and the chassis.
Using the internal intervalometer, I made 120 1-second exposures 30 seconds apart, with the LCD enabled. The camera blanks the display for part of each 30-second cycle, and may not be scanning the sensor during that time. However, at the end of an hour, the camera had gone through most of one of the installed batteries, and the body was quite warm when I picked it up, indicating that there was considerable self-heating. Fuji does not report camera temperature in the EXIF data, unlike Sony, which in this case is a shame.
I measured the rms read noise in counts (or Data Numbers, if you prefer) for a 600×600 patch offset just enough from the center of the frame so that it avoided the center column.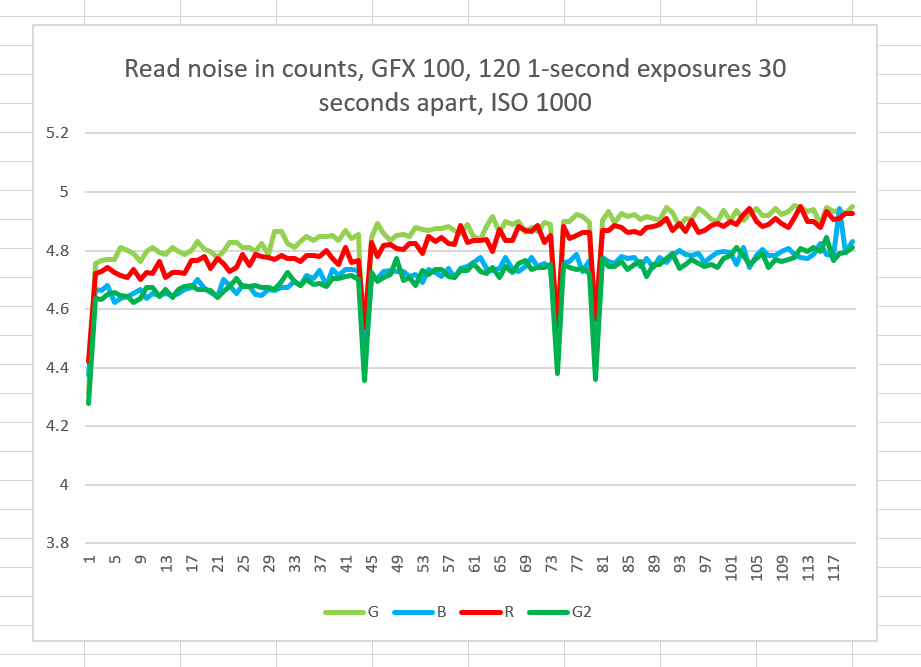 There is a very small gradual increase in the noise, amounting to about 0.2 counts. This is nothing to worry about.
The flip side of noise is engineering dynamic range (EDR) at a SNR of 0. Here's what that looks like: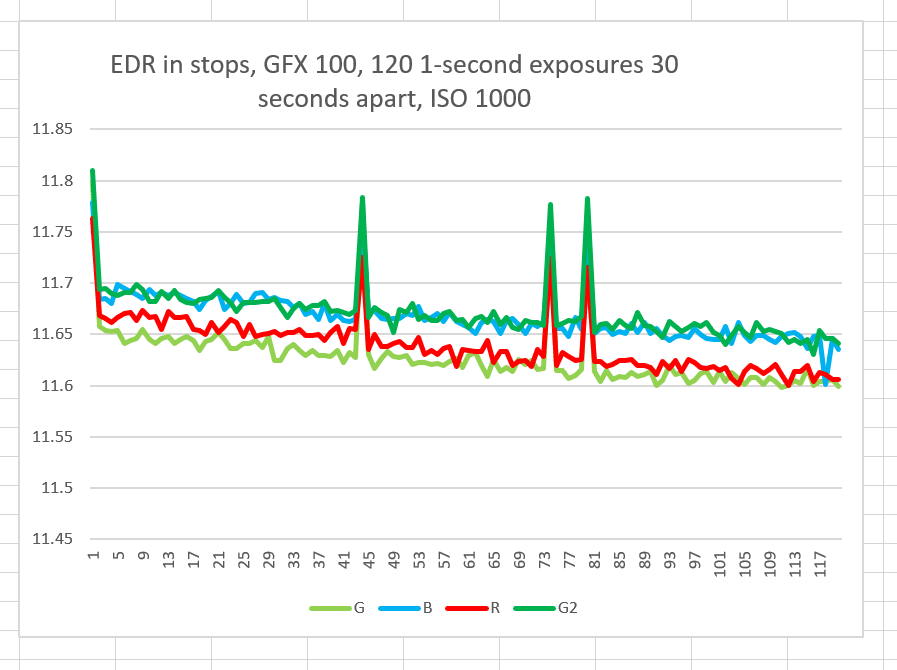 About a 0.05 stop change. Again, this is benign.
What caused the four outliers? I have no idea.