There has always been interest in how much improvement is possible through increasing format size. Manzur Fahim, a frequent contributor to the medium format DPR forum, recently posted a series of distant landscape images from the following camera/lens combinations:
Fuji GFX 100 + Fuji GF63mm F/2.8 R WR (49.77mm equiv.)
Sony A7R IV + Sony Planar T* FE 50mm F/1.4 ZA (50mm equiv.)
Sigma SD Quattro + Sigma 30mm F/1.4 DC Art (45mm equiv.)
Sony A6000 + Sony Distagon T* FE 35mm F/1.4 ZA (52.5 equiv.)
The equivalent focal lengths are by diagonal, but I, being a fan of images squarer than 3:2, normalize by image height. Manzur developed the images, but I'm not clear on the details. I started with his full-sized JPEGs, and up-sampled (or, in the case of the a7RIV 16-shot pixel shift image, down-sampled) them to 10,000 pixels high with Topaz GigaPixel AI at default settings with face detection turned off.
Here's the scene, with the GFX 100: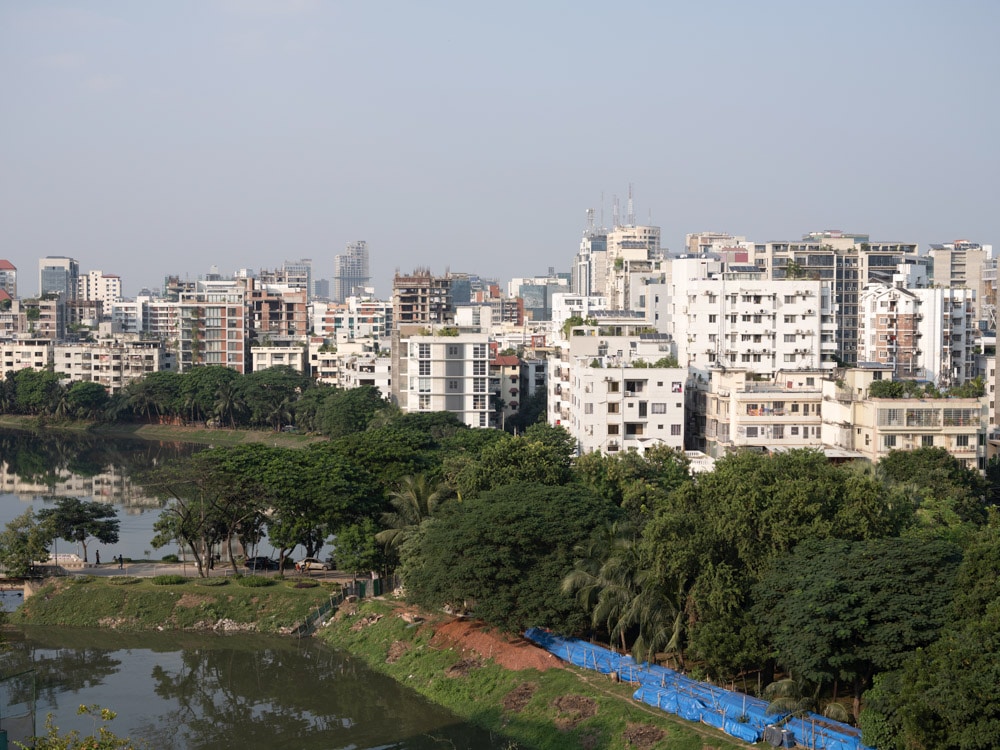 This is not my favorite vehicle for comparison tests, because there is the possibility of atmospheric distortion invalidating the results, but, with some garing exceptions that I'll point out as we go along, the images look pretty clean to me, so that is probably not too significant here. The captures were all at f/4 except for the GFX 100 image, which was made at f/5.6. Thus equivalence of aperture prevails for the FF and MF images, but not for the others.
Some tight crops of what I consider to be a revealing area of the scene, shown here are about 200% of the 10,000-pixel-high image. The order is by increasing format size.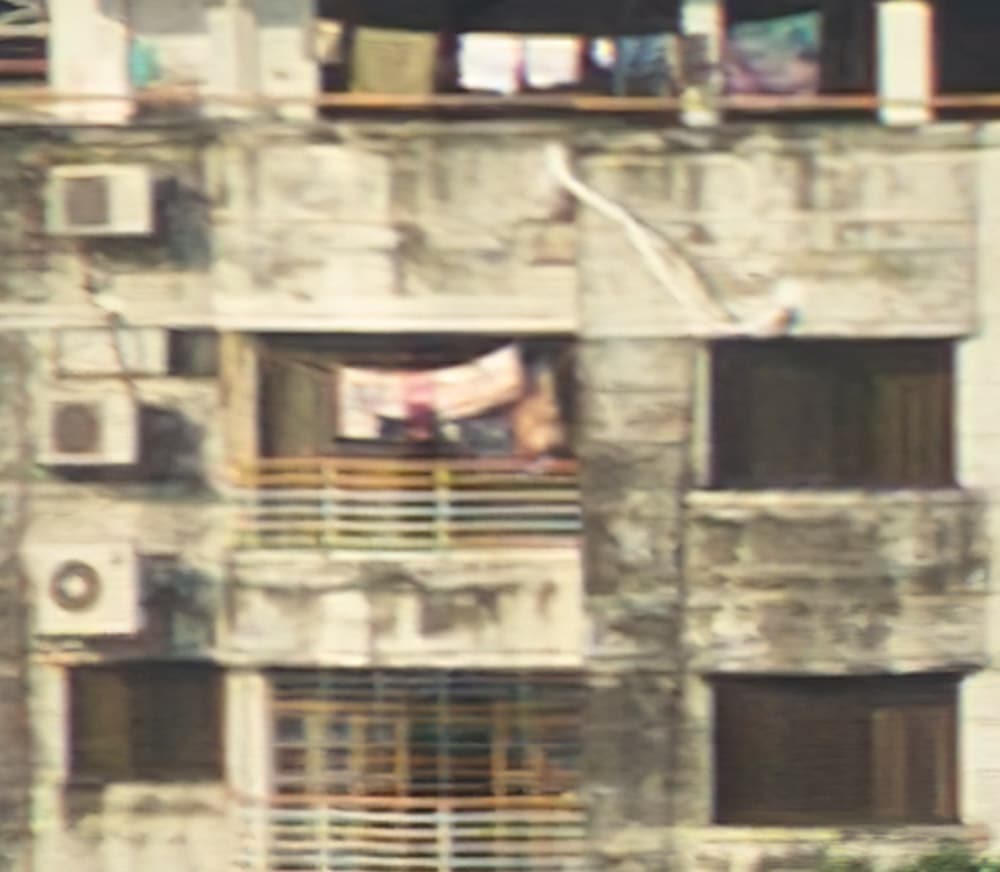 Even Topaz AI technology can't fix this one.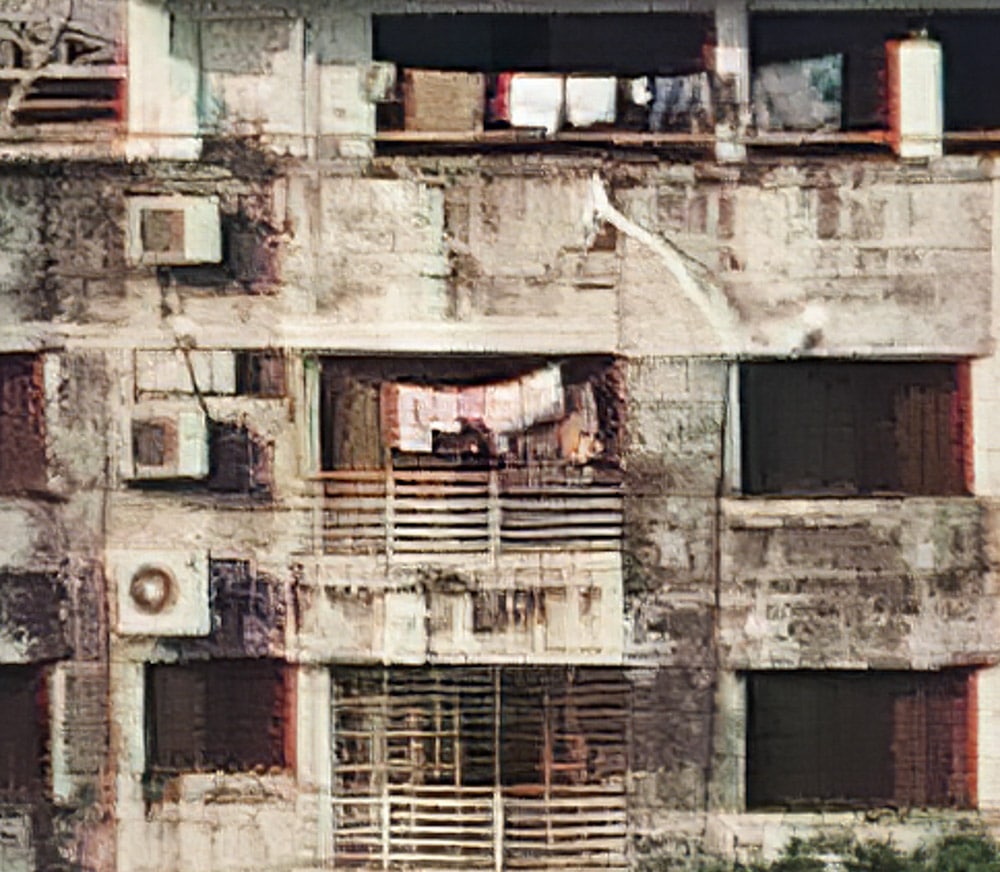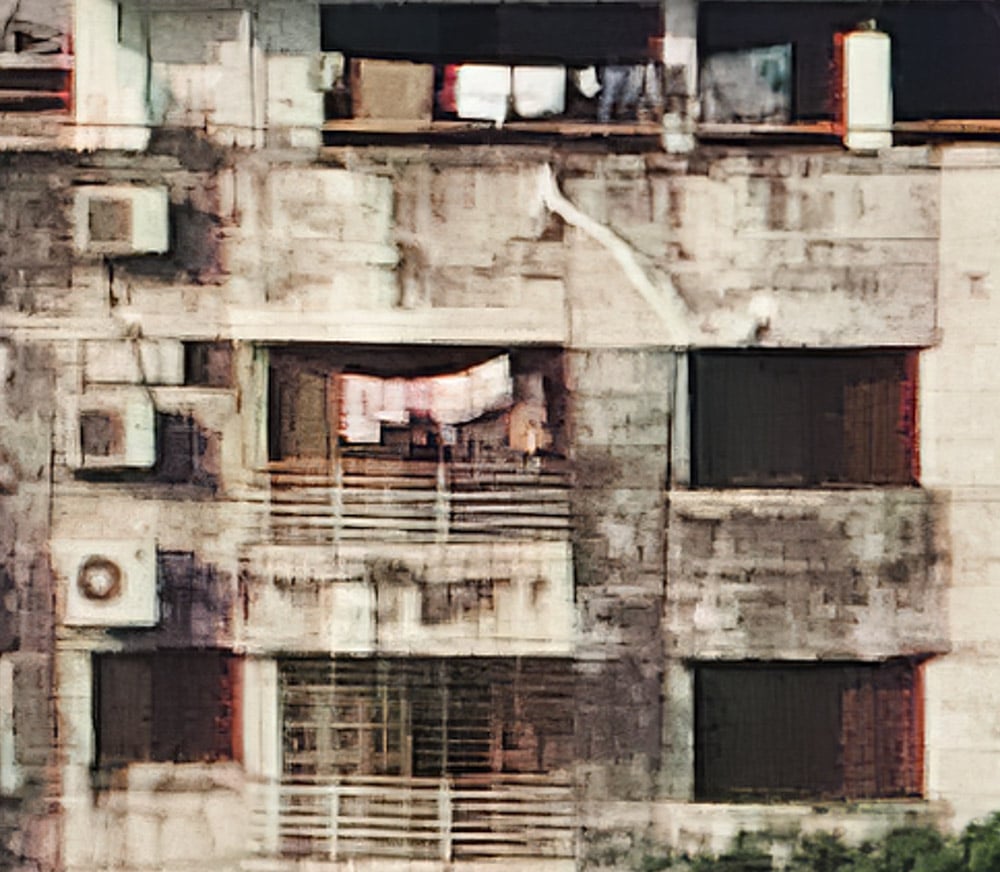 There is a fair amount of lateral color in the Sigma images, but they have clarity and verisimilitude that eludes the a6000. There is what looks like distortion in the railings, as GigaPixel AI struggles with the relatively small amount of data available.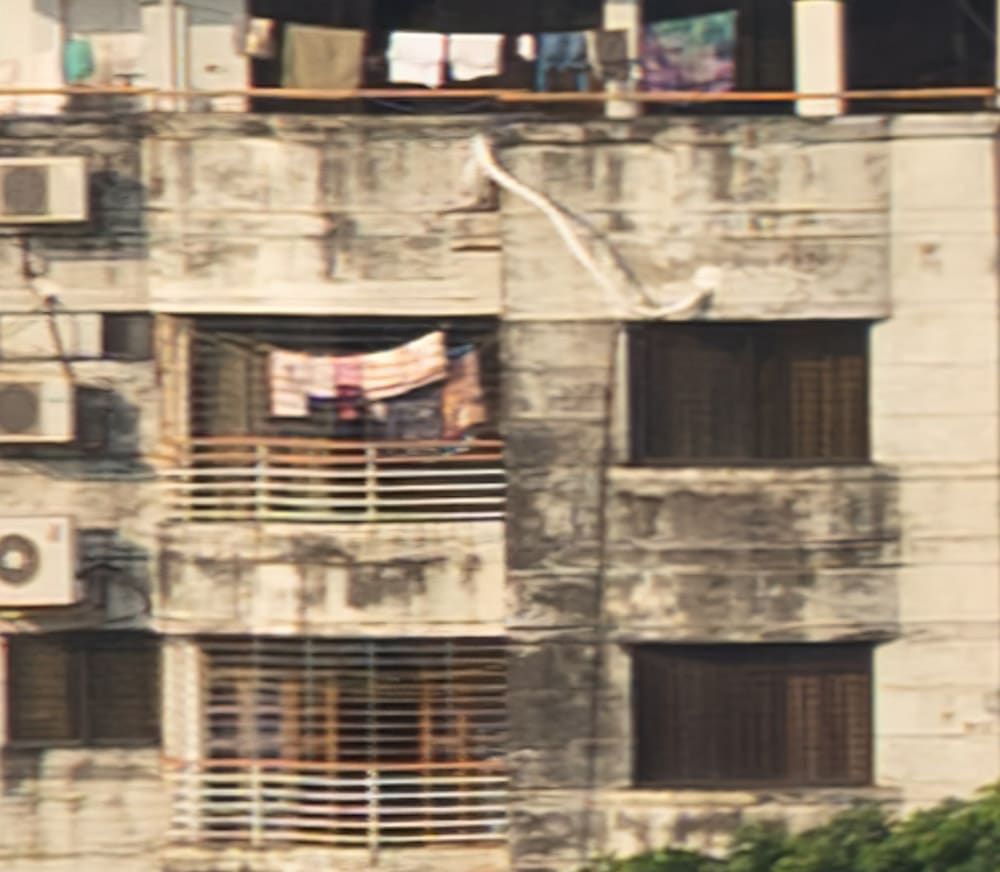 This is quite a credible image.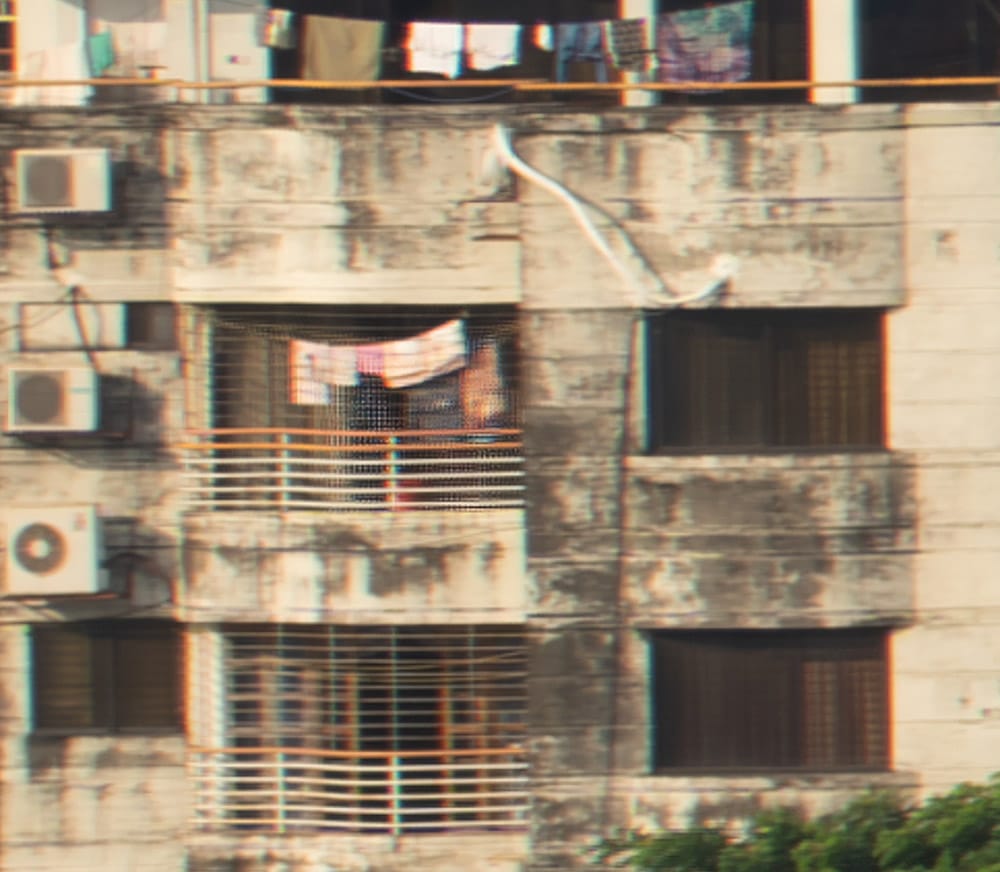 It's interesting that there is more lateral color in this image than in the single-shot image. There is an artifact under the lower clothesline. Note that in some areas of the image, the multishot photo is less sharp than the single shot a7RIV capture. I think that's probably due to atmospheric effects.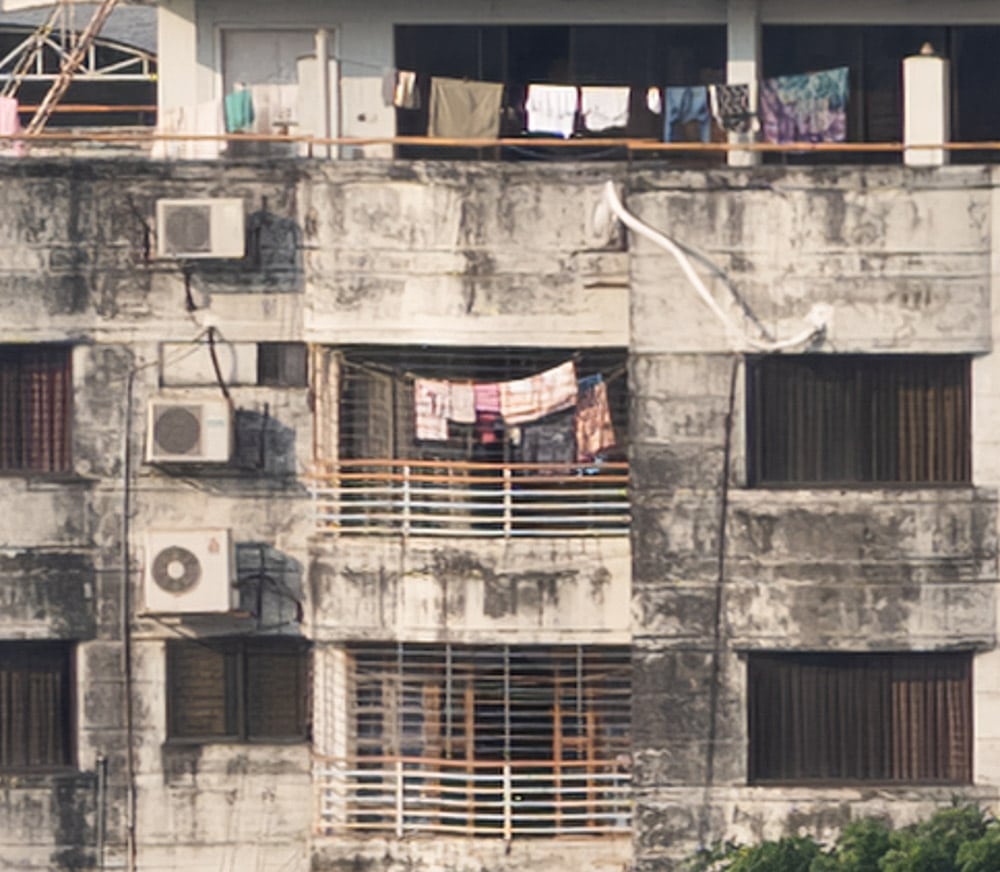 I don't have any difficulty picking a winner here, and it's the image directly above. And the Fuji 63 is not the best lens in the Fuji lineup; if I had to rank them, I'd put it next to last. Not that it's bad, by any means; you can see that above.
DPR just posted an article anointing the a7RIV as the best landscape camera. I would quarrel with that. They didn't consider the GFX 100, but I think they should have done so.