This is one in a series of posts on the Nikon Z6 and Z7. You should be able to find all the posts about that camera in the Category List on the right sidebar, below the Articles widget. There's a drop-down menu there that you can use to get to all the posts in this series; just look for "Nikon Z6/7".
Marianne Oelund looked at what I did here, and made two suggestions:
1. Increase exposure time for the larger point spreads so they don't become so dim. She said that, when she does these series, she typically use a 5- or 6-stop exposure range.

2. White-balance the camera, using a preset, to the artificial star color. "It looks like your source is based on a white LED, which will have a strong blue cast. That makes it difficult to detect some of the color rings due to LoCA or spherochromatism."
As is usual with Marianne's comments, both are points well-taken.
I tried to white balance the star, but it turned out to be too blue to be within the range of the Lr white balance tool. How blue? I took a look: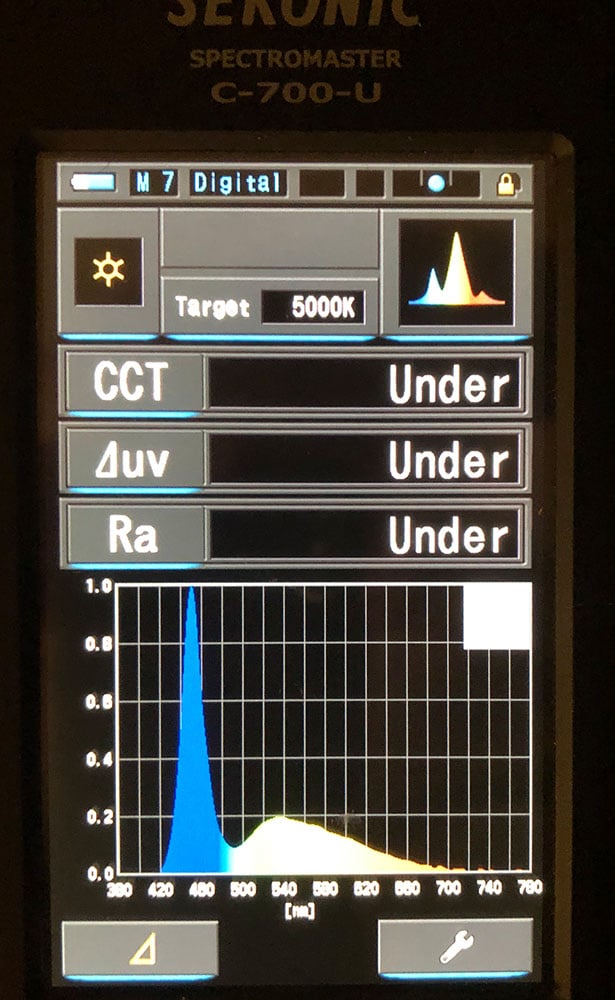 Pretty darned blue, alright. Can I gel it into submission? I found a likely candidate: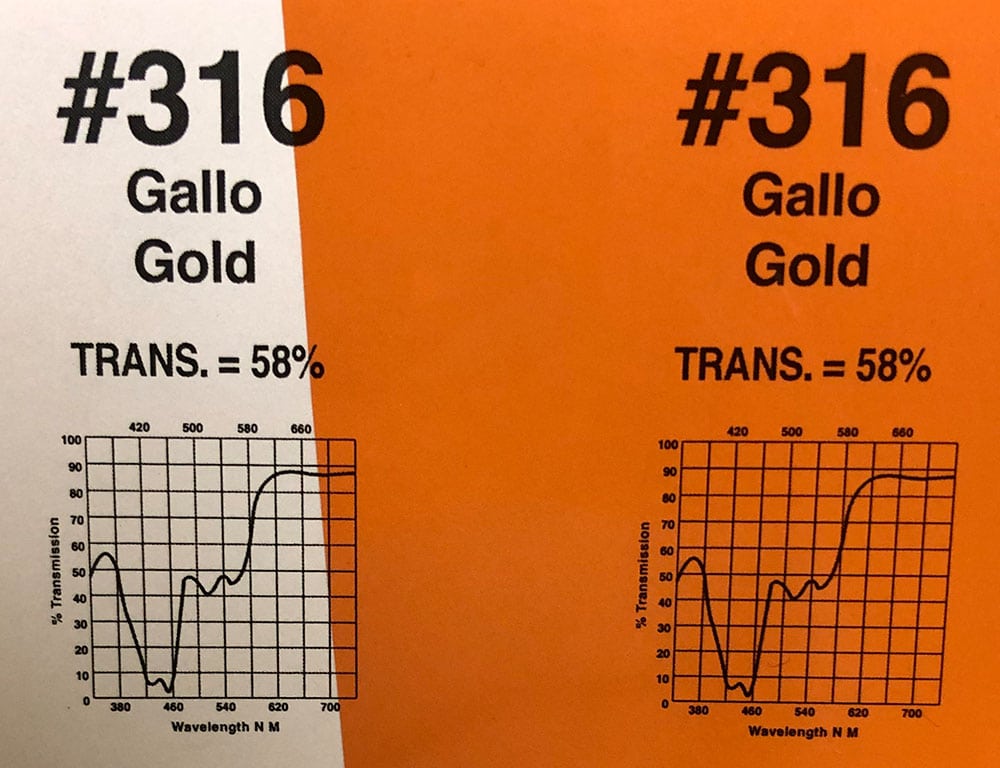 I gelled the star with a piece of Rosco #316. I wish I could show you the result, but it was now too dim for the spectrophotometer to work right. But the color balance of the images in Lr looked pretty neutral: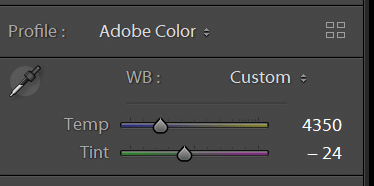 I took Marianne's advice and made exposures 2 stops apart spanning 4 stops, and assembled them in Photoshop. Here's the center set, starting with the camera front-focused on the upper left, and ending with it back-focusede by quite a bit aththe bottom right: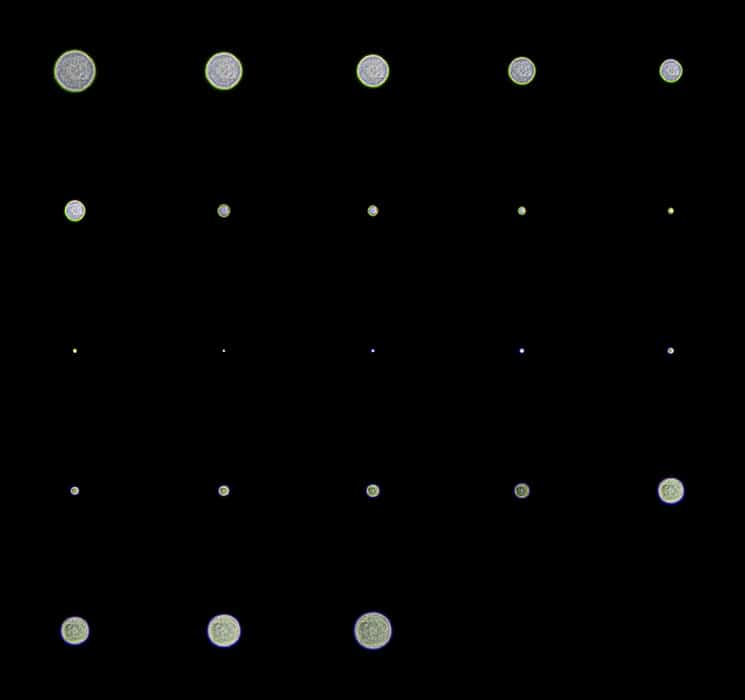 There is a bright green ring in the periphery of the front-focused images, and a dimmer blue one in the back-focused ones. The blue ring intensity might be reduced because of the gelling I did, and that will combine with the eye's diminished sensitivity to blue light.
Here's the same thing with the target at the extreme left of the frame with the camera in landscape orientation: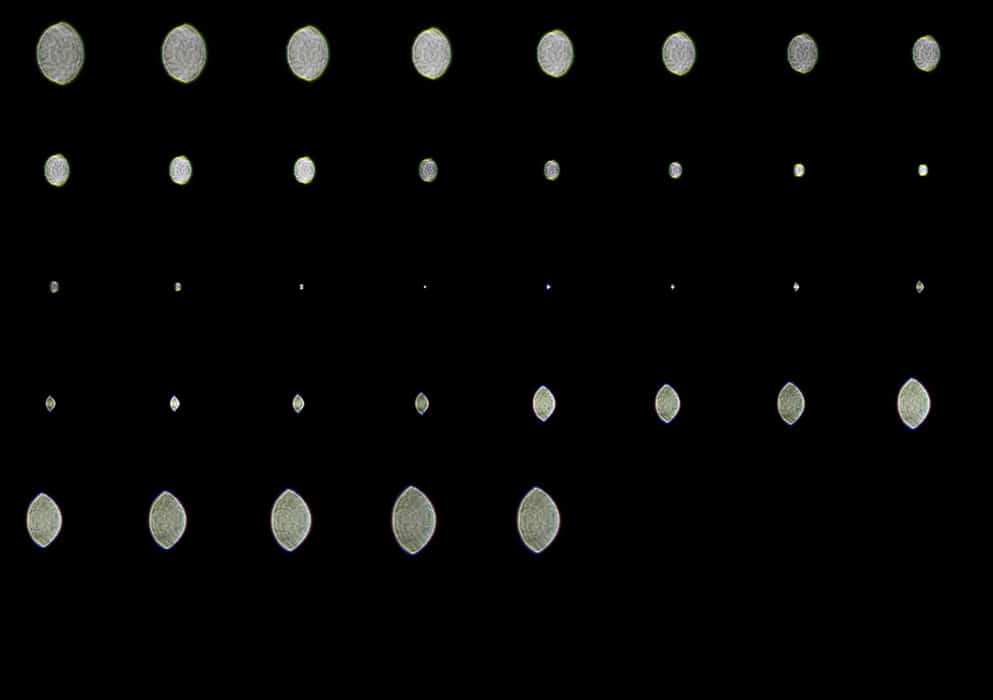 Both the front- and back-focused rings are more neutral. The shapes of the PSFs is quite different for the front- and the back-focused images, with the back-focused ones exhibiting classic mechanical vignetting, and something else combining with that for the front-focused PSFs.
It's hard to see what's going on in the above images when the image is nearly in focus, so I'll blow that up. First, for the on-axis target:

And for the far-left target:

The shape of the PSF is dramatically different on the two sides of the focal plane for when the target is far off-axis.