This is one in a series of posts on the Nikon Z7. You should be able to find all the posts about that camera in the Category List on the right sidebar, below the Articles widget. There's a drop-down menu there that you can use to get to all the posts in this series; just look for "Nikon Z6/7".
I made a series of FSS exposures with the Nikon 24-70mm lens set to 70 mm, at f/4 with the step size set to 1, 2, 3, 4, and 5, and figured out the focus position in the image field, or, if you prefer, at the sensor plane.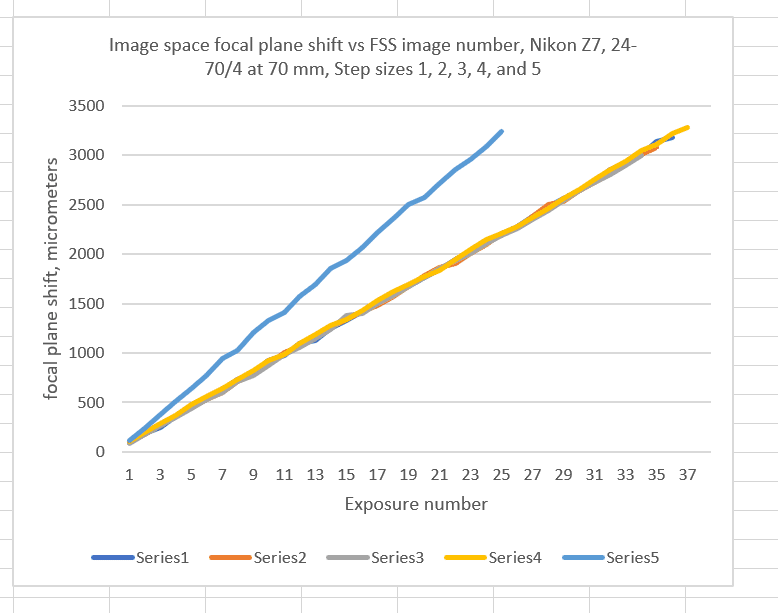 The steps seem to be about the same size for step sizes of 1 through 4, and that step size is about 88 micrometers. The step size starts growing only at the 5 setting. The Z7 takes into account the lens aperture when it picks a step size. It doesn't need to take the focal length of the lens and the subject distance into account because it works in the image field, not the object field. In the image field, the blur circle diameter is simply the amount of focal plane displacement divided by the f-stop.
The smallest step size expressed in terms of the size of the circle of confusion that results one step away from a perfectly-focused image is 22 micrometers. That is about 6 times the pixel pitch, which is pretty coarse, and even worse than the D850. I will need to do some more testing.
[Added 10/16/2018]
Here are results for the Sigma 105 mm f/2.8 macro lens at f/4 and at 2 meters: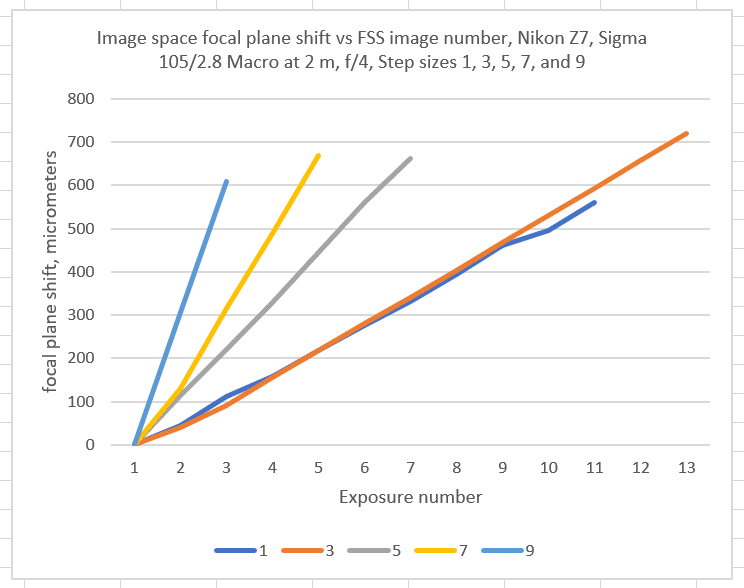 It looks like the camera picked the wrong step size when set to 3.