OK, so your autofocus works under controlled conditions, but you're still getting some misfocused pictures. The camera thinks it's focusing properly, but it's not focusing on what you want.
If it's really dark, most likely that's just the way it is; take comfort in the knowledge that, with modern DSLRs, the AF can focus in situations too dark for you to focus manually.
If what you're focusing on is of low contrast, and there's something of high contrast on which the camera wants to focus, try moving the focus point away from the high contrast thing to a similarly far away point on the low contrast thing, and use focus lock.
Your camera probably has several different AF sensors. They probably don't all have the same capabilities. Try using the center one and focus lock.
Focus on something else, and then refocus. Take a picture. Do that several times and hope one is correctly focused.
Do these suggestions sound lame? Well, they are. When AF is off a lot, you can often find a way around the problem, and you'll know it's a problem right away. When it's off a little, you'll have no clue that it's off until you hit playback and zoom in on the subject, or bring up the images later in your favorite photo editor.
There's a way around all these AF problems. It doesn't work if your subject is moving. It is awkward unless your camera is on a tripod. It's available on most newer high end DSLRs. It's called live view. When you turn on live view, the screen on the back of your camera shows you information taken right off the main sensor. You can zoom in to your subject and focus. No AF errors. No dim light problems. No lens-dependent misfocusing.  No misalignment between the ground glass and the sensor.
If you're outdoors, you'll need something to keep the light off the screen. You can go traditional and pull out your old dark cloth, but I recommend this, or something like it: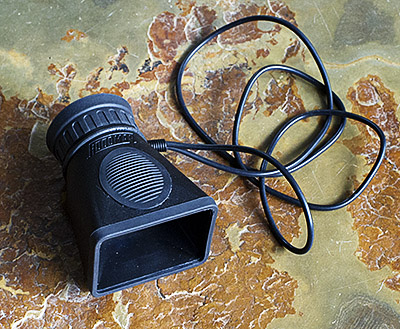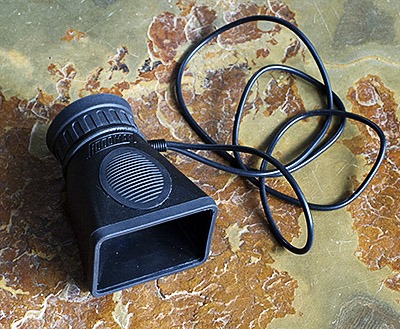 Once you are set up to see the screen well, the basic operation for picture taking is: turn live view on, let the AF focus on what you most want sharp, frame the picture, zoom in on the area you want in critical focus, tweak the focus ring until it's nice and crisp (if you're using a typical AF lens, swear at the crappy focusing feel), and trip the shutter.
Using the AF to pre-focus is more than just a convenience. If you can't improve the focus over what the AF did, which happens a lot if you've got things set up right, you've just learned that you can trust the AF in that particular situation, and you don't have to mess with live view.
You old view camera users may be thinking that live view is just the thing to use with a tilt/shift lens. You're right, but live view (on the Nikons, anyway) wasn't designed with that in mind. To take advantage of the Schleimpflug (love that word) effect, you usually want to pick two points that define the plane of sharp focus and, through a combination of tilting and focusing, make them both sharp. Live view only lets you zoom in on one point at a time, and it's not either quick or simple to toggle back and forth between two points. This cries out for a fix from the camera manufacturers.
There are many high end DSLRs that don't offer live view: Hasselblad and Leica are two prominent examples. Leica doesn't offer it on the M9, where it would even be more useful. What these cameras have in common is that they use CCD sensors instead of the CMOS ones in the cameras that do support live view. Some people have said that there's an inherent limitation of CCD technology that doesn't allow live view. I don't buy that, and offer as a counterexample all the video cameras whose electronic finders are essentially the same thing. It is possible that all of the CCD sensors used in still cameras happen not to support live view.
There is serious question about whether, in the absence of live view, cameras with 20 megapixel and larger sensors can consistently deliver in the field all the image quality inherent in their sensors and lenses.