Where was I before I got distracted by all that resampling stuff? Oh, I remember: focusing.
The first thing to do about focusing is to find out if the focusing aids in your camera are doing their job. Whenever I'd get a new autofocus lens, I used to take a newspaper, open it to a page with mostly text, make a pen mark on it about halfway across, spread it out on the ground, lie down on my stomach and aim the camera obliquely across the newspaper aiming the focusing point at the pen mark, and take a picture with the aperture wide open. Most of the time, but certainly not all the time, the pen mark was in the center of the plane of focus. Sometimes, the sharpest part of the image was in front of or (less often) behind the pen mark. When that happened, I'd go into the camera's AF compensation setup screens and fiddle with compensation settings until the pen mark was indeed in focus on retests. I'd do that with every camera body on which I planned to use that lens.
Now I use this device: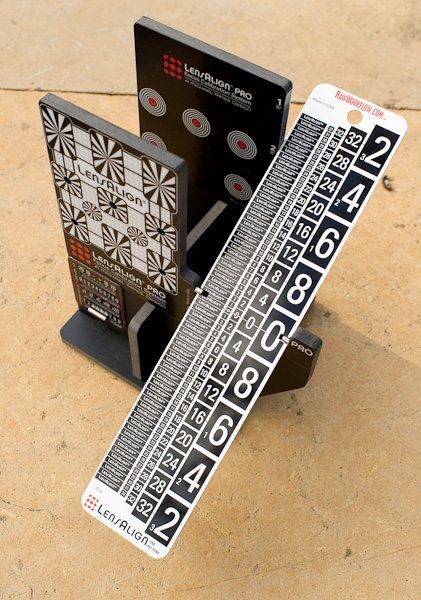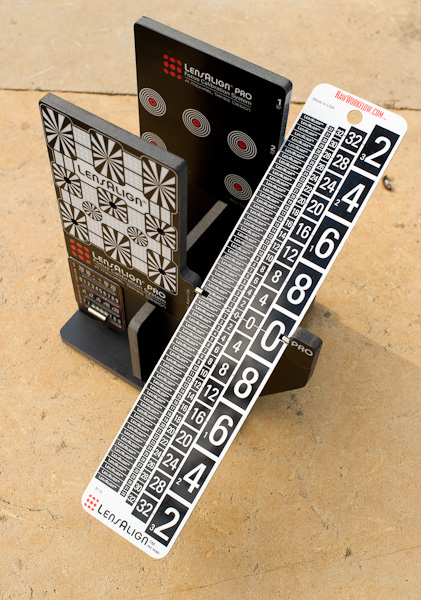 It's called LensAlign Pro. It'll cost you $180, which is really expensive considering how simple it is. You can buy the plain old LensAlign for $80, or the Datacolor DC SLC100 SpyderLensCal for less than sixty bucks. I haven't tested the last two, but I suspect they'll all do the job pretty well.
Here's an example of what things should look like, using a Nikon 35mm f/1.4 lens on a D3s: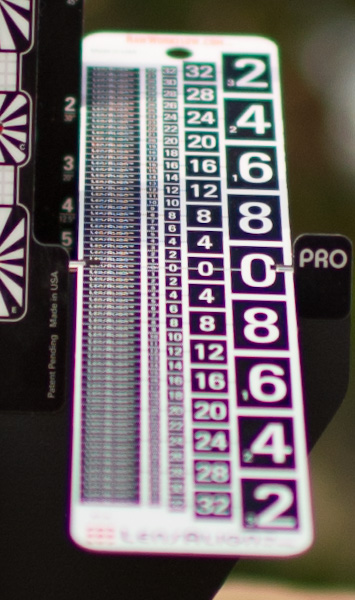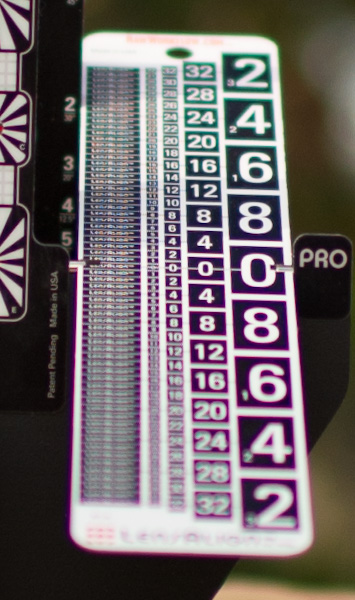 You can use the same setup to test the accuracy of the rangefinder/lens combination on a Leica. Here's what you get with a 50mm f/1.4 Summilux ASPH on an M9 when both are almost perfectly set up (I say almost because of the tiny bit of front focus present):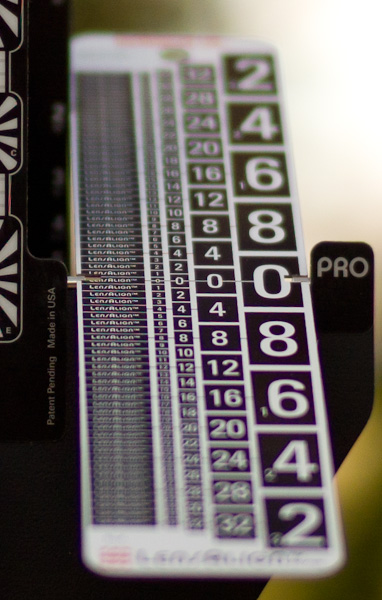 And here's what it looks like when there's severe front focusing using a Zeiss 35mm f/2 Biogon (in all other respects a good performer) on the same body: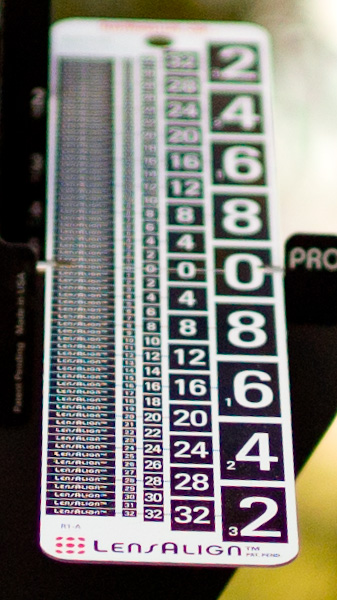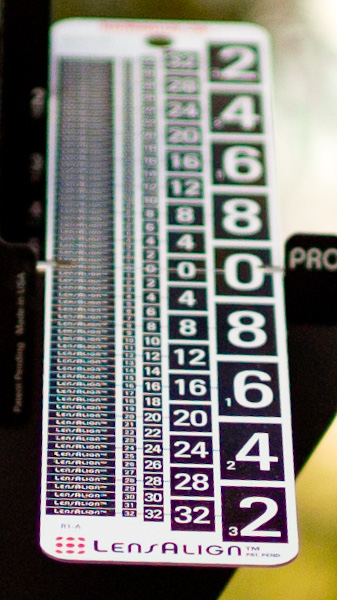 Note that the Leica pictures are a bit sharper. That's partially because of the greater resolution of the M9 over the D3s, but mostly due to the lack of an anti-aliasing filter on the Leica. You can also see the downside of omitting the AA filter: there's definite spurious color in the sharp parts of the Leica images.
Caveats and limitations
With autofocus, it's possible that errors can vary with focusing distance; with rangefinder cameras, it's more likely. Therefore, you should do the checking at distances approximating those at which you will be using the camera. This means that, for wide angle lenses, the target may not occupy much of the visual field of the lens. Pick a distance that gives enough resolution of the target to judge the accuracy of the focus. With lenses of long focal length, that's not usually a problem.
With extreme wide angle lenses, you will probably find out that, at reasonable working distances, that there's so much depth of field, even with the lens wide open, that the whole target is sharp and you can't evaluate focus accuracy. If you want to see exactly what's going on, there's a longer ruler available as an option to the LensAlign Pro, but I suggest that you just don't worry; that means that your focusing accuracy is good enough. Here's an example with an 18mm f/3.8 Super Elmar, with lots of Bayer pattern aliasing: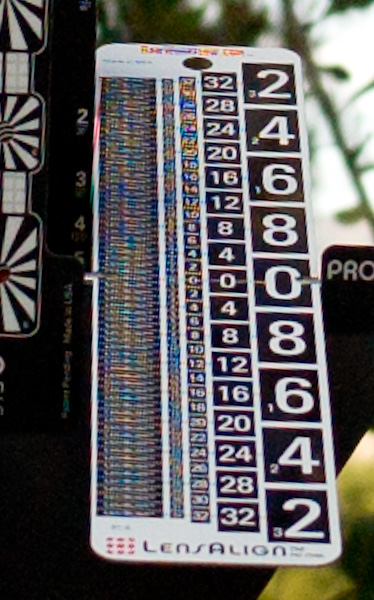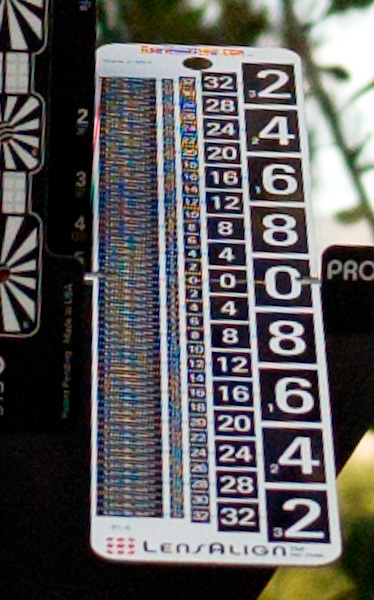 You should do several tests with each lens and look at all the results with an eye to evaluating the AF consistency for AF lenses, and your consistency for manual focus. There is likely to be more slop in the latter than the former.  Putting your camera on a tripod and doing the testing in dim light may yield worse results for both automatic and manual focusing.
What to do if you find problems with your hardware
With Canon and Nikon high end SLRs, you can make a correction in each body for systematic errors with any particular lens, and, when that lens is mounted again, the camera will remember the correction.
With other cameras, the Leica rangefinders being examples, if you find that all lenses exhibit focus errors in the same direction, it's probably a problem with your body. If you send the body in, the error can probably be corrected.
If you have a lens like my Zeiss 35mm Biogon that focuses in the wrong place on a body that produces good results with other lenses, you can send that lens in for repair, or learn to compensate for the errors.
Next up: achieving accurate focus with cameras and lenses that are properly adjusted.