This is a continuation of a series of posts about reworking my website into one that is entirely WordPress based. The series starts here:
I will get to my experiences yesterday and today with Photocrati, but first I'll talk about the relationship between Photocrati and Imagely.
When I installed the Photocrati theme, I noted that It required one Imagely gallery plug-in, and recommended another. When I went to the Imagely site to get the plugins, I noticed similarities between the Imagely and the Photocrati logos. Turns out they are the same company. They originally got started as Photocrati, developed some WordPress themes, then some gallery plugins. Now the company is Imagely, and Photocrati is one of their products.
Imagely also offers hosting. By coincidence, several weeks ago, before I had decided that I wanted to separate the theme/plugin decision from the hosting one, I had gone to the Imagely web site and asked them a bunch of questions:
How do you count visitors? Unique over a month? If it's hits, I'll be over the 250K/mo limit. I am currently running about 200K unique visitors/mo and a couple of million hits.
I've been using WordFence to restrict countries from which I receive nothing but spam. Can I continue to do that?
Do you supply security reports?
Do you use fail2ban?
Who owns the templates and the site content if, perish the thought, you guys go belly up?
Is there provision to transfer the site to anyone with an AWS account at that point?
What do you use for downloadable site backups?
Can I do a site backup to my own AWS account?
How long have you been around? Are you making money? Who are your VCs?
In the event of a security breach, is recovery included in the monthly fee?
When you say you'll do the transporting of an existing site, is that only for WordPress sites? My present site has both WordPress and other content.
Are you using Flash or all standards based host/client protocols?
What are you doing, if anything, to prevent user downloads of images?
I never got an answer. Not real promising for support from Imagely/Photocrati, I fear. [Added 9/21: Maybe I spoke too soon. In the first comment below, you'll see complete answers to all the questions. Thanks, Scott.]
Setting that aside, on to my experiences with Photocrati. I'll show you screen captures to illustrate my points, since I'm changing the web site a lot.
The Photocrati theme works like most WordPress themes, except that it's really a bunch of themes in one. The first thing you do is pick a sub-theme: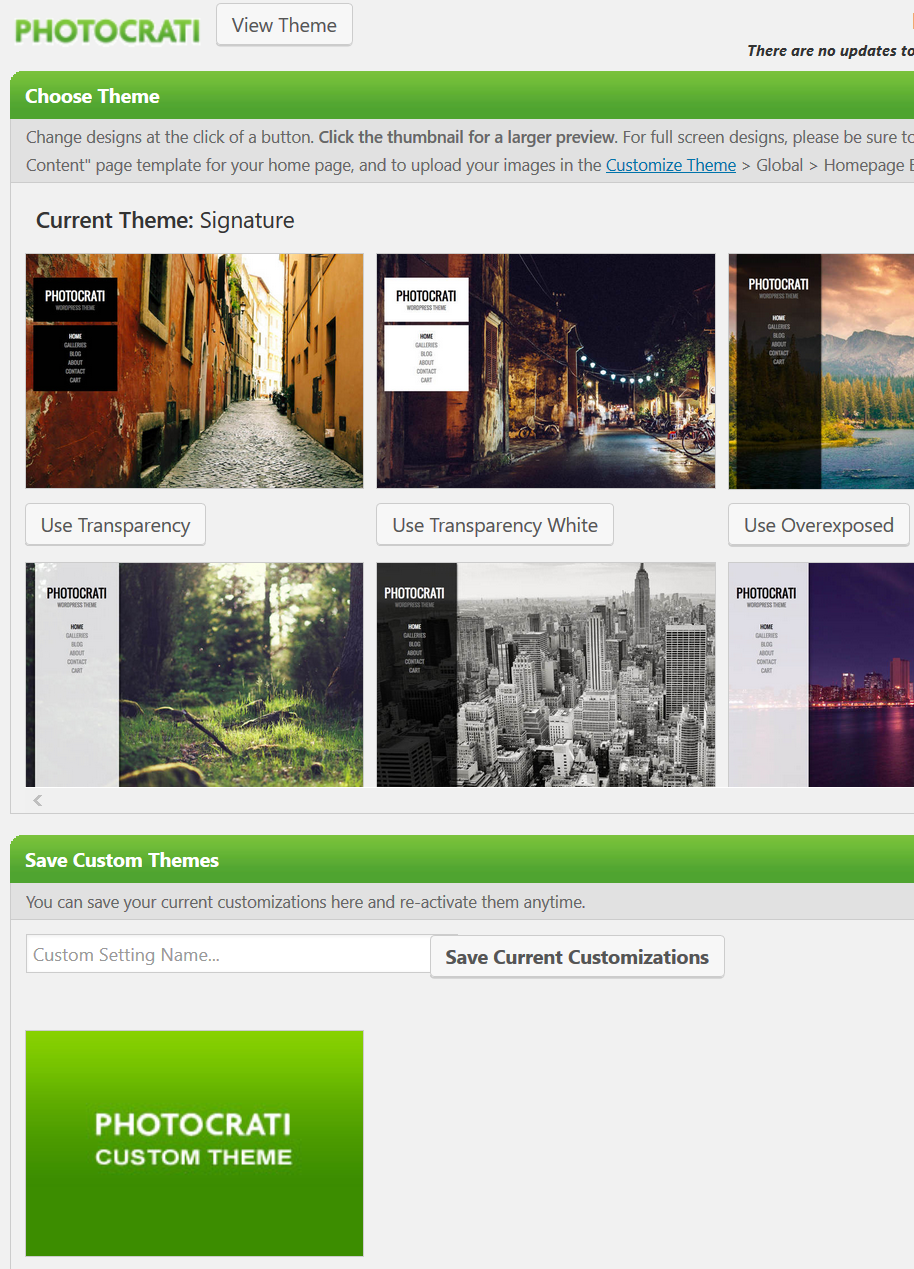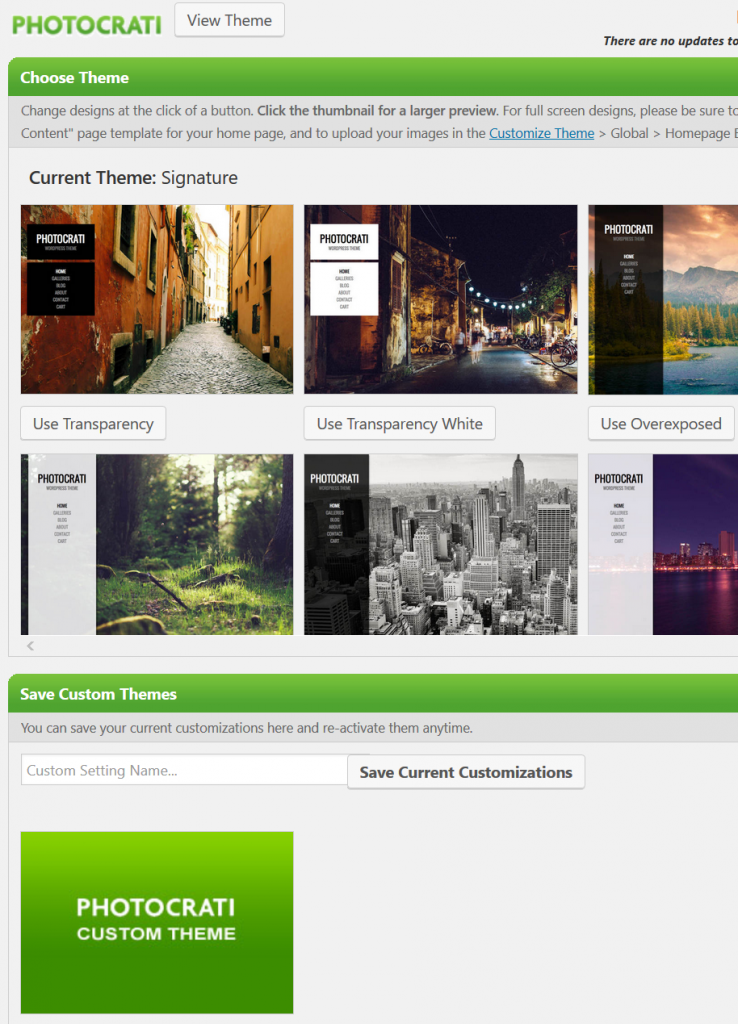 Just like switching between different themes can break things, so can switching between the Photocrati sub-thems, so it's good that the uber-theme provides a way to save and restore your customization (see the bottom of the above image).
Once you pick a theme, you can use the usual WordPress Dashboard tools to add and link pages. When you pick your sub-theme, Photocrati will create a set of dummy pages if you like, and link them to a top-level menu.
You can put the usual things in pages; it's fundamentally WordPress. But, since you've installed one or more of the gallery plugins, you can put galleries in pages: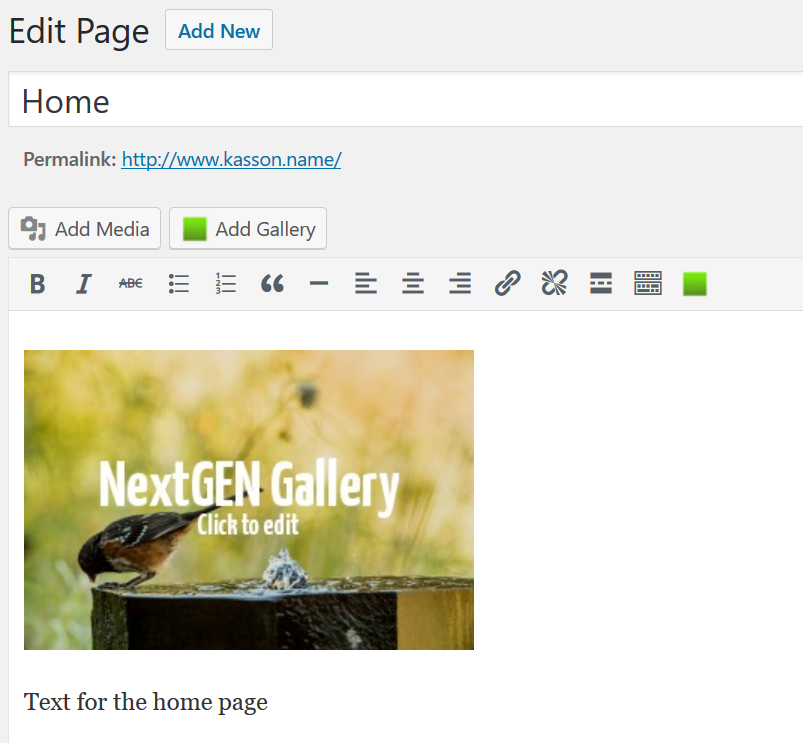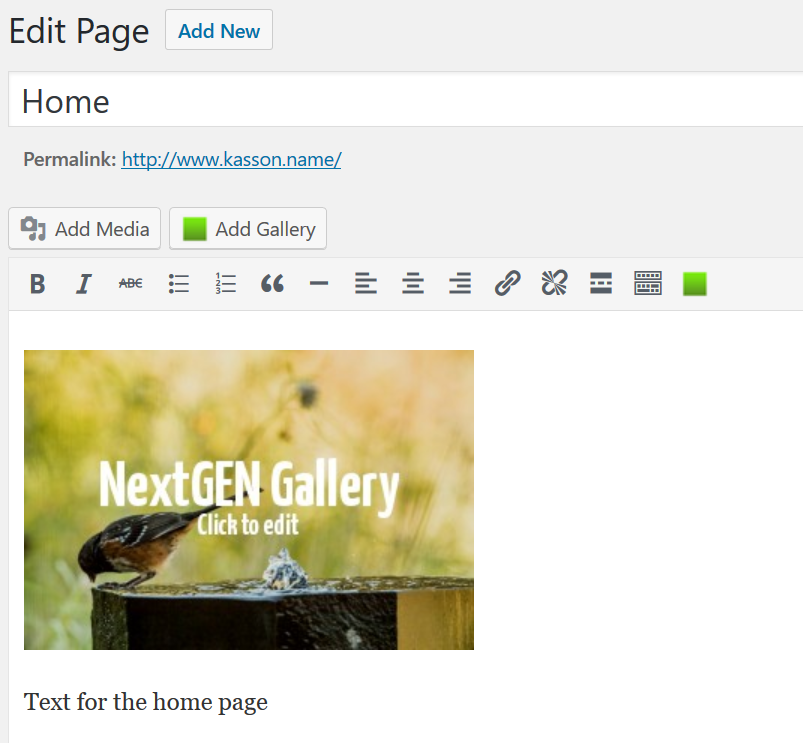 With any of the gallery plugins installed, there's a button next to the Add Media button to create a gallery. Many of the gallery styles support captions, and if they do, they automatically populate the caption fields from the image metadata when you upload the images. That was one of the things on my wishlist, and it works well.
The above page looks to users like this: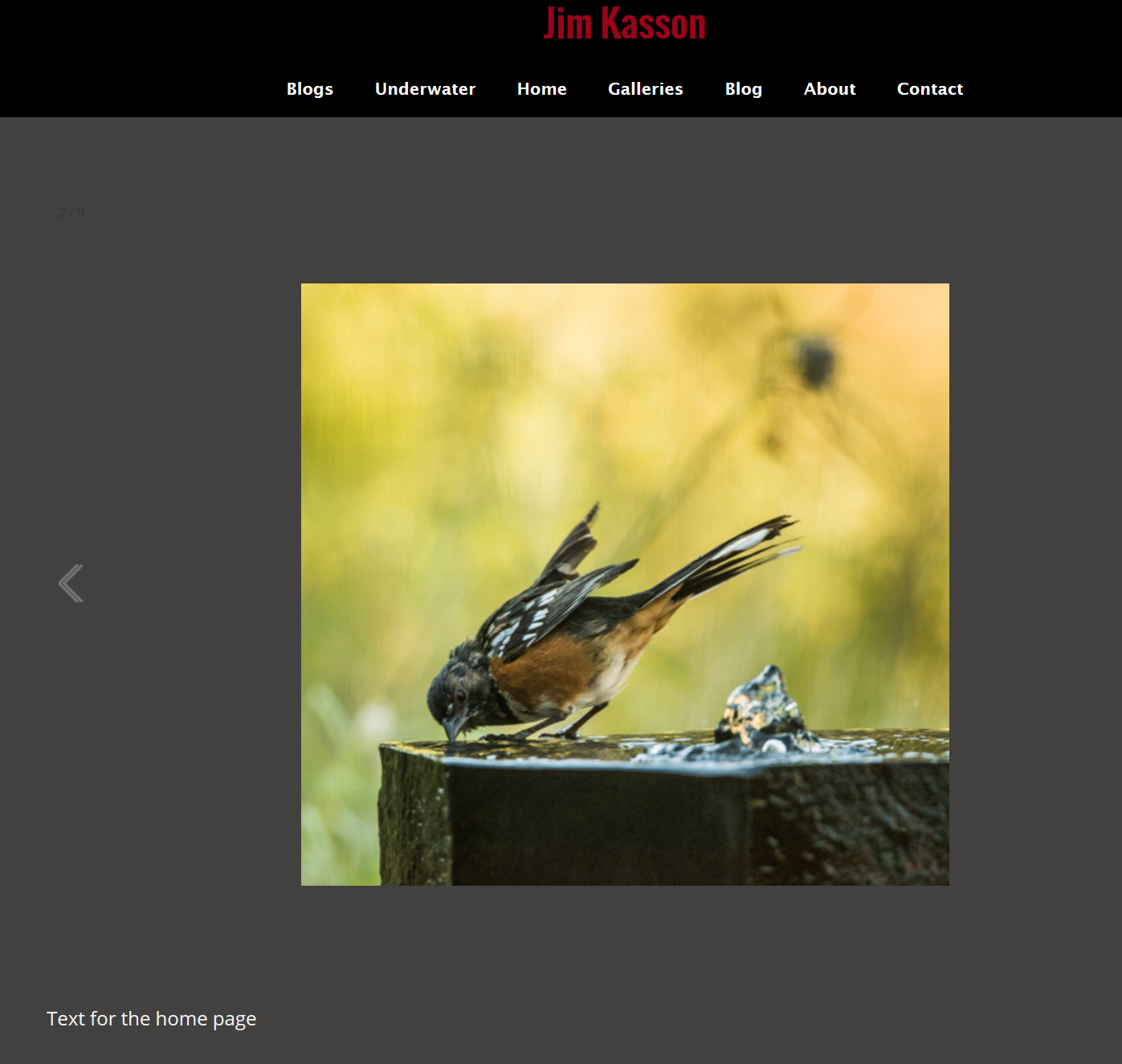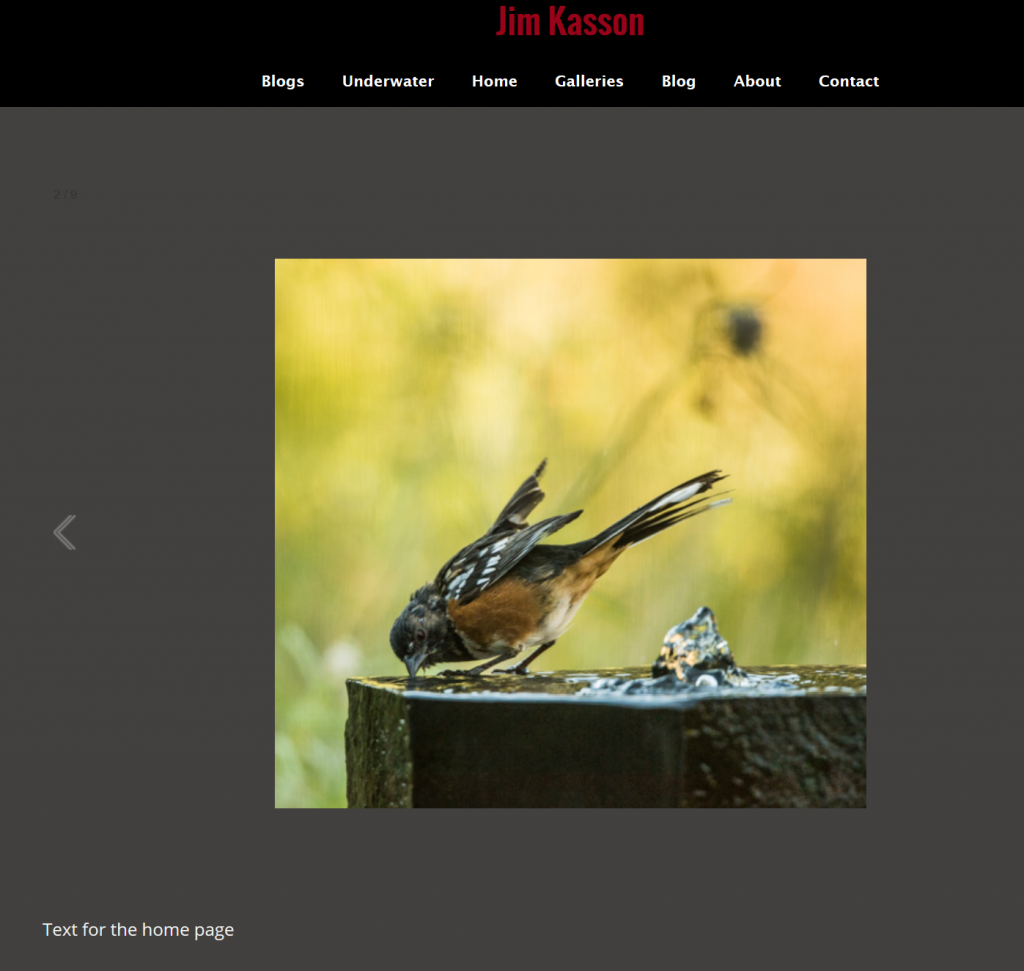 The theme is fully responsive. If your users have a cell phone, here's what they see: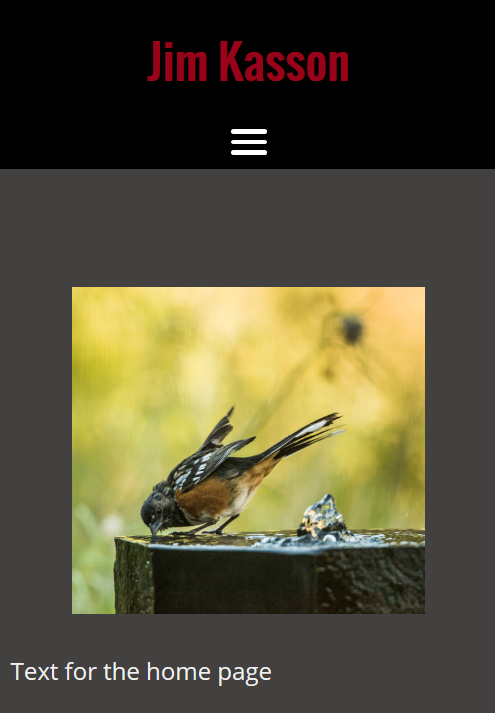 They have to figure out that they need to tap the three-bar icon (My friend Huntington Witherill calls that icon the "hamburger". I think I'm going to pick up on that.) to get the menu, though. Once they do that, here's what they see: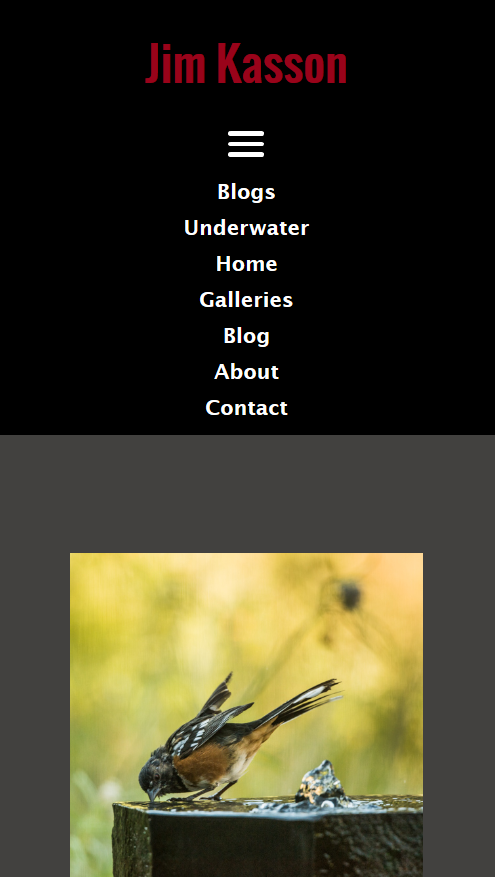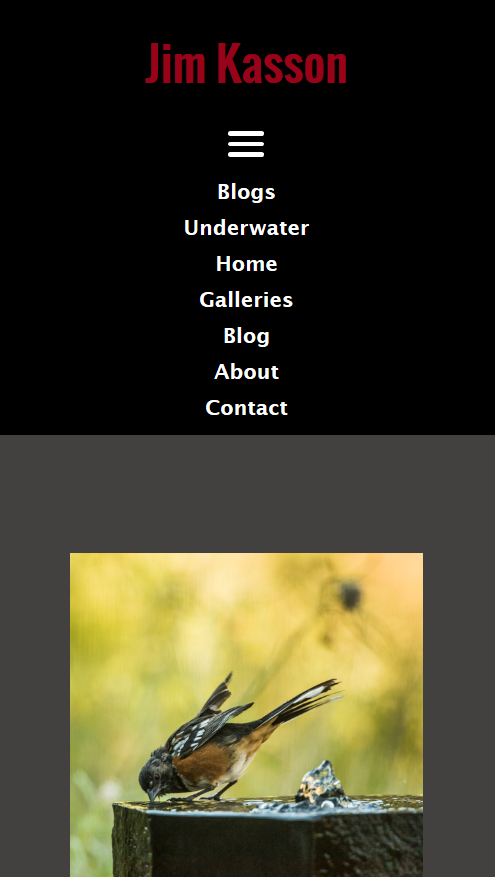 All in all, the basics look pretty good.