I still want to use the Sony a7R for macro work. So today, I set out to discover how long the exposures have to be before shutter shock doesn't matter. I mounted a Zeiss 135mm f/2 Apo Sonnar ZF.2 to the camera with a Novoflex adapter. I mounted a RRS L-plate to the camera, clipped it into an Arca Swiss C1 head which was attached to a set of RRS TVC-44 legs. I wanted to see how the camera did without any special lens-bracing hardware, which make it less convenient to use.
I mounted a Singh-Ray variable ND filter on the lens, my Heliopan filter being broken. I lit an Imatest SFRPlus target with a Fotodiox 5500K variable output LED source. I set the ISO to 100, focused wide open, and set the aperture to f/5.6. Using the ND filter and the light together to control the illumination, a made a series of exposures of durations from 1/50 second through 15 seconds at 1/3 stop intervals.
I processed the images in Lightroom 5.3 with default settings except for cropping and white balance, then I processed them in Imatest, measuring the MTF30 and MTF50 for both vertical and horizontal edges. I converted the Imatest cycles/pixel data to cycles/picture height, and made plots.
MTF50 (V is for vertical edges and H is for horizontal ones):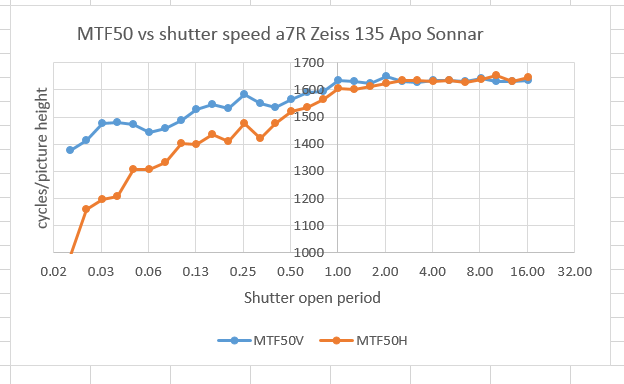 MTF30: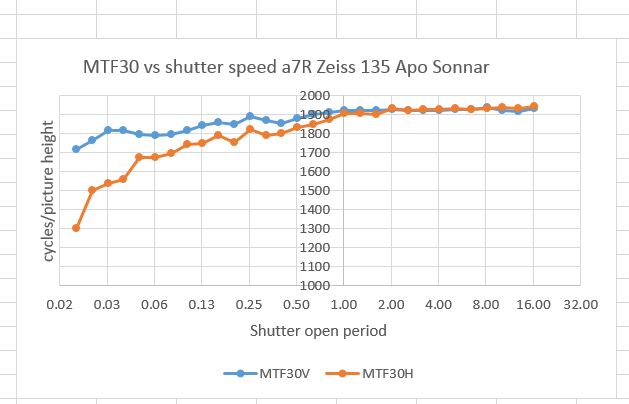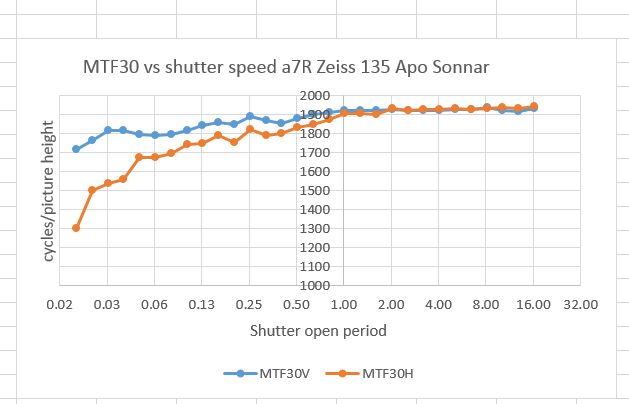 This is quite promising. I think I'll be fine if I use shutter speeds of one second or longer. I can use ND filters as necessary to get there.