A photographer on a board that I read gave some anecdotal comparisons of the Nikon D4 and M240 as low light cameras. That prompted me to try to do some analytical comparisons of my own. It didn't turn out to be all that simple. Stay with me and see.
I thought to compare signal to noise ratio (SNR) in the two cameras at various ISOs. I chose 5 stops down from clipping as the signal level. Here's what I got: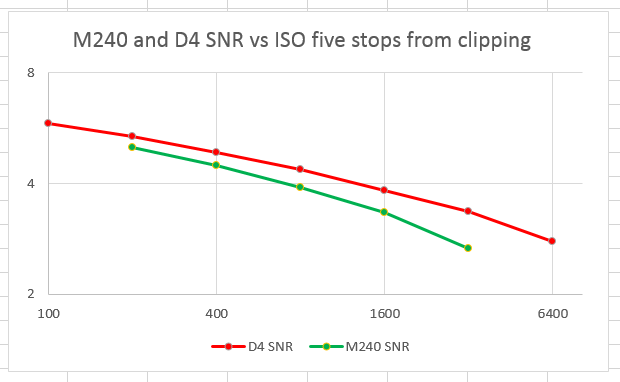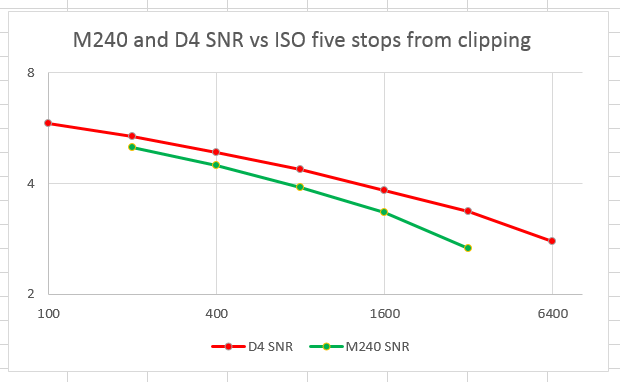 The M240's performance is about a stop worse than the D4 up to ISO 1600. Note that the D4 has a disadvantage here because its native ISO is 100.
But the above curve really isn't fair to the D4. It has a pixel pitch of 6.8 microns versus the M240's 6.0 microns, so each D4 pixel will have a SNR that's 6.8/6.0 = 1.133 times the M240's SNR by virtue of the pixel size. And if you res the M240 images to the D4 resolution, that advantage will disappear.
Correcting for the pixel pitch, we get: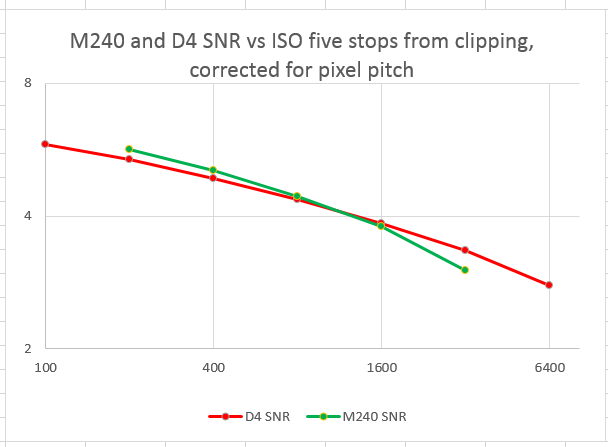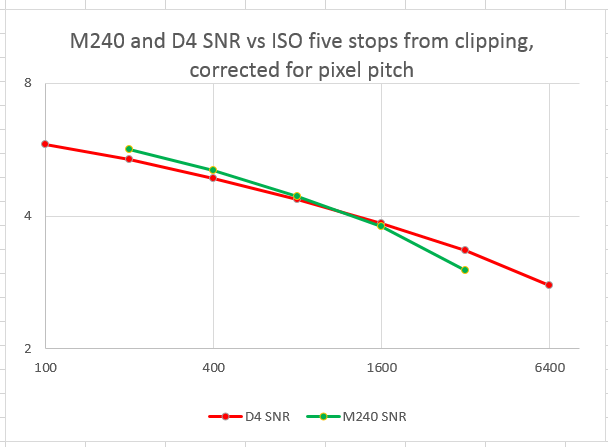 Now the M240 looks really good compared to the current low-light champ (although, to be fair, the D800 is as good as the D4 in low light if you res the D800 images to the D4's resolution).
But there's another thing that needs to be taken into account. The M240 is not as sensitive to light at a given ISO as the D4 (or the D800 or the Sony RX-1, for that matter). My sample D4 is 1.54 times more sensitive than my sample M240, based on looking at raw values of exposures made a the same ISO settings, same f-stops, same shutter speeds, and similar lenses (Nikon 35mm f/2 D on the D4,and Zeiss 35mm f/2 Biogon on M240). To remove the transmission of the lens as a variable I'd need to get a M-mount-to-F-mount adapter and use the same lens on both cameras; maybe later.
When the difference in sensitivities is taken into account, the curves look like this: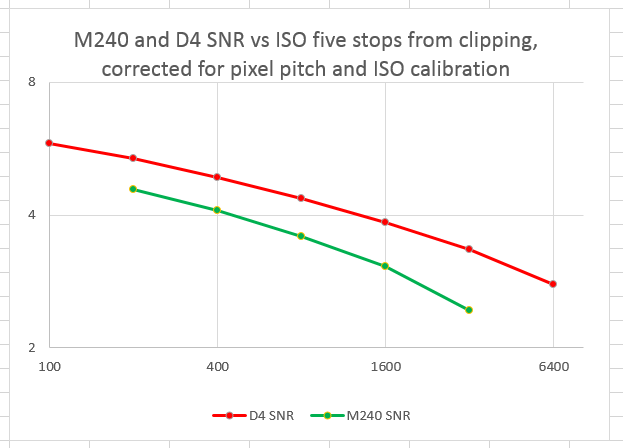 Which reflects most people's experience with the M240. It is a credible low-light performer, but a bit off the state of the art.