A few posts ago, I showed you the results of running slanted-edge modulation transfer function tests on the Sony a7 and a7R, both handheld. Since the cameras have different resolution, and the test results for MTF50 were in terms of cycles/pixel, I multiplied the a7R values by 1.22 so that the MTF50 results were in terms of cycles per a7 pixel, and the sharpness values would predict what you'd see in similarly sized prints from wither camera.
My intentions were good, but I confused a few people. One person seemed to think that I had it in for the a7R by changing its results. Since I was making them better, that didn't make sense to me. Others, while less suspicious, didn't know quite what to make of my adjustments. I went in search for a better way to present the data.
I didn't have to look far. I'm not the first person to want to make comparisons between different resolution sensors, and I now know it's common in such cases to present the results in cycles/picture height.
So, I removed the correction factor, multiplied the a7 MTF50 in cycles/pixel by 4000, and the a7R MTF50 in cycles/pixel by 4912, and here's what I got: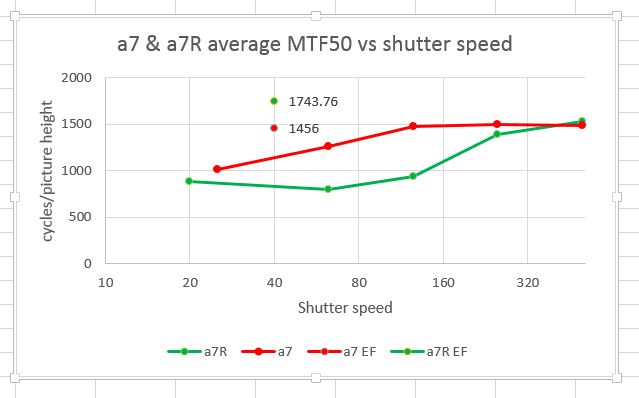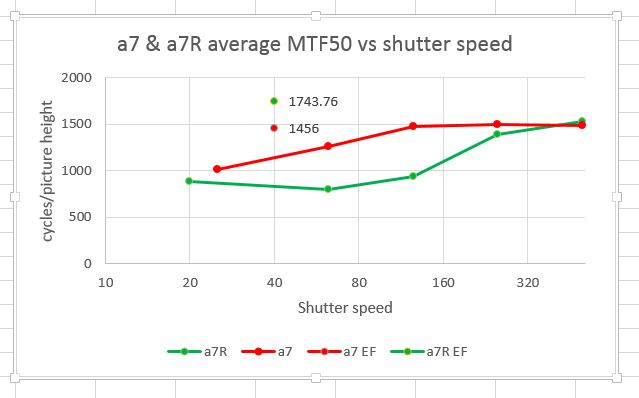 The curve shapes are the same, but now the results are easier to explain, and, even better, they're in standard units.