I recently got into a discussion with a photographer who was saying that most people don't make big prints anymore. Since I had just spent the day running an entire 50-foot roll of Legacy Baryta through my Epson 9800 making 24x30s for an upcoming exhibition — more on that in good time — I didn't immediately agree.
I got to wondering how many big prints I'd made in the last 10 or so years that I've had the 9800. It occured to me that all I had to do was look at a nozzle check: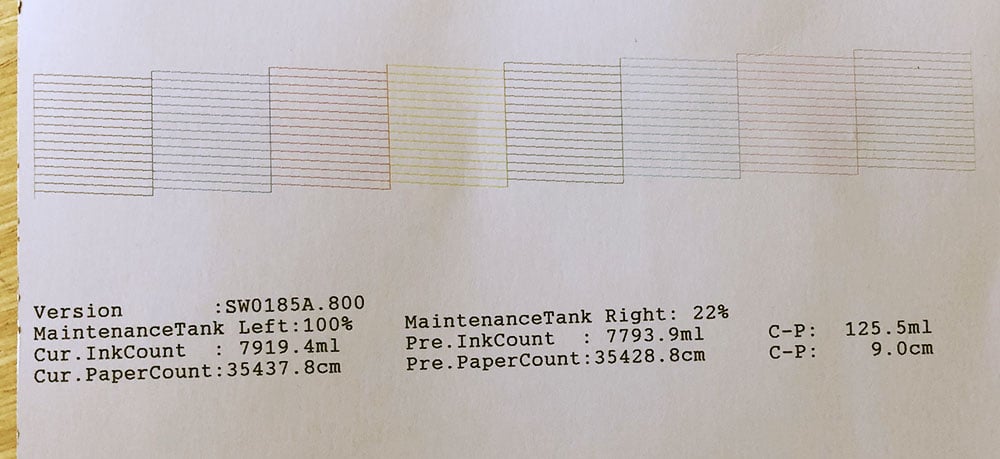 35437 cm is about 1160 feet of paper. I normally print on 36-inch rolls, with 2-inch margins, which allows me to print 32 inches wide. I print on 44-inch paper when I need to go bigger, and the is the first time I've used 24-inch paper. I used to print on 24×30 flat sheets, which I arranged in the printer with the short direction up and down. I have a P800 for prints C-size of smaller, and it is the latest in a long line of 17-inch printers, so I've never made small prints on the 9800.
If I put all of that together and apply Kentucky windage, my guess is that I've made about 400 big prints.  Since the printer cost me about $5K, that means that I've spent about $12.50 a print for the hardware. Less if you include the fact that the printer came with about $600 worth of ink.