This is part of a series about developing a quick qualitative lens tilt test. The series starts here.
I thought more about the target for the lens tilt test, and realized that I had the wrong one. The target that I was using was optimized to give large amounts of image contrast over a range of defocusing. That's precisely the opposite of what I want. I want a target that gives constant contrast across its extent, and one whose contrast varies highly with the amount of defocusing.
I thought that a simple checkerboard would be good. I created one, and added a center indicator in a color that would contrast with any of the Sony a7x focus peaking colors so that the rotational accuracy could be assessed.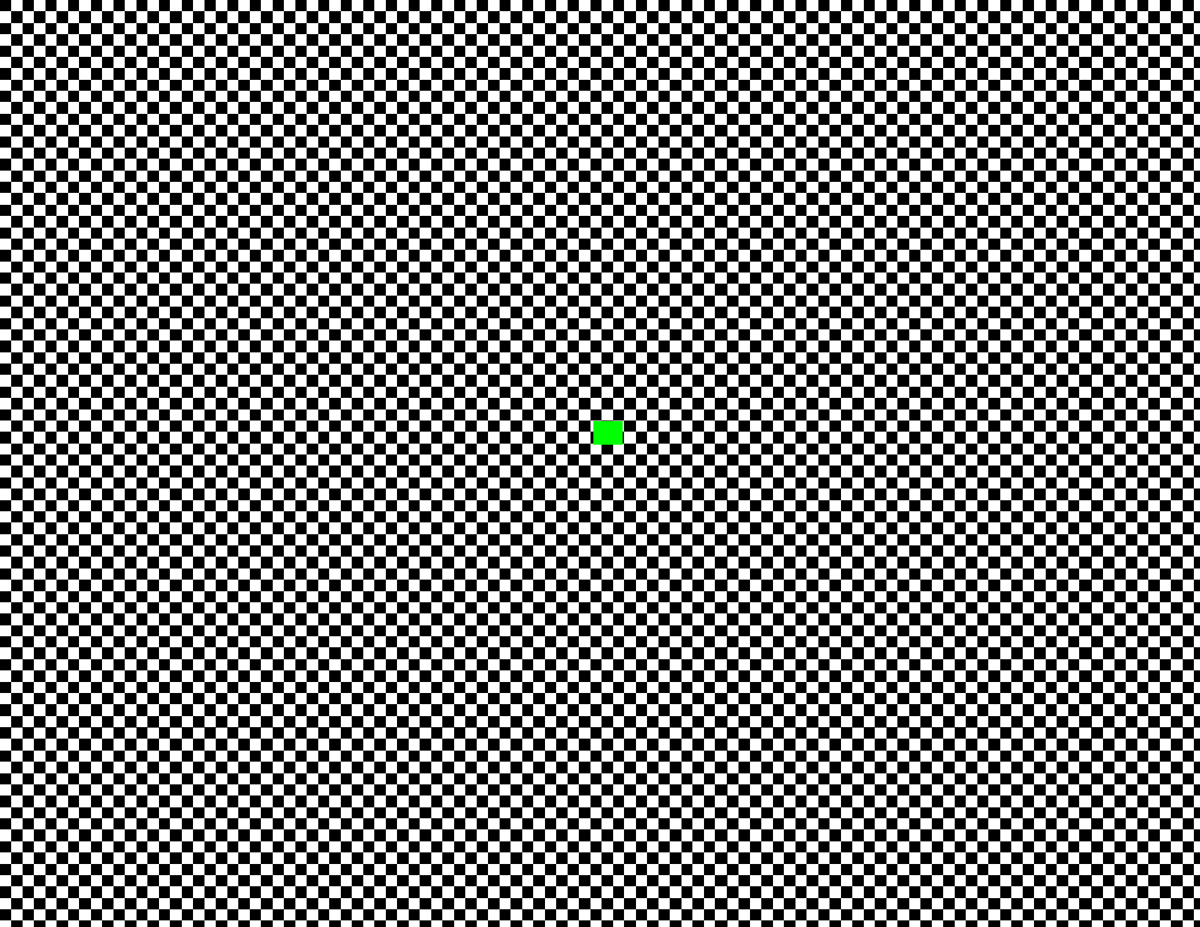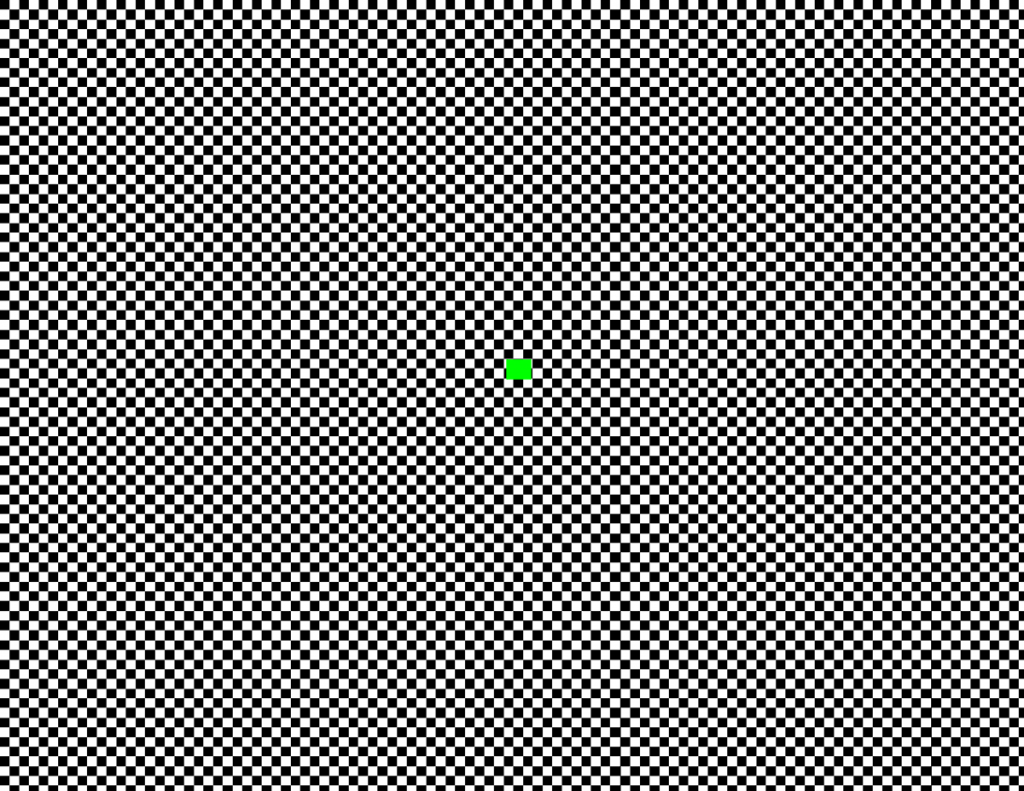 I removed the Vello adapter that I suspected of creating the tilt that I observed yesterday in the Nikon 70-200 f/2.8E test, and replaced it with a dumb Novoflex adapter. Now the lens had one usable aperture: f/2.8. I set it to 135mm for this test.
Then I looked at the back of the a7RII for two lens rotations 180 degrees apart from each other: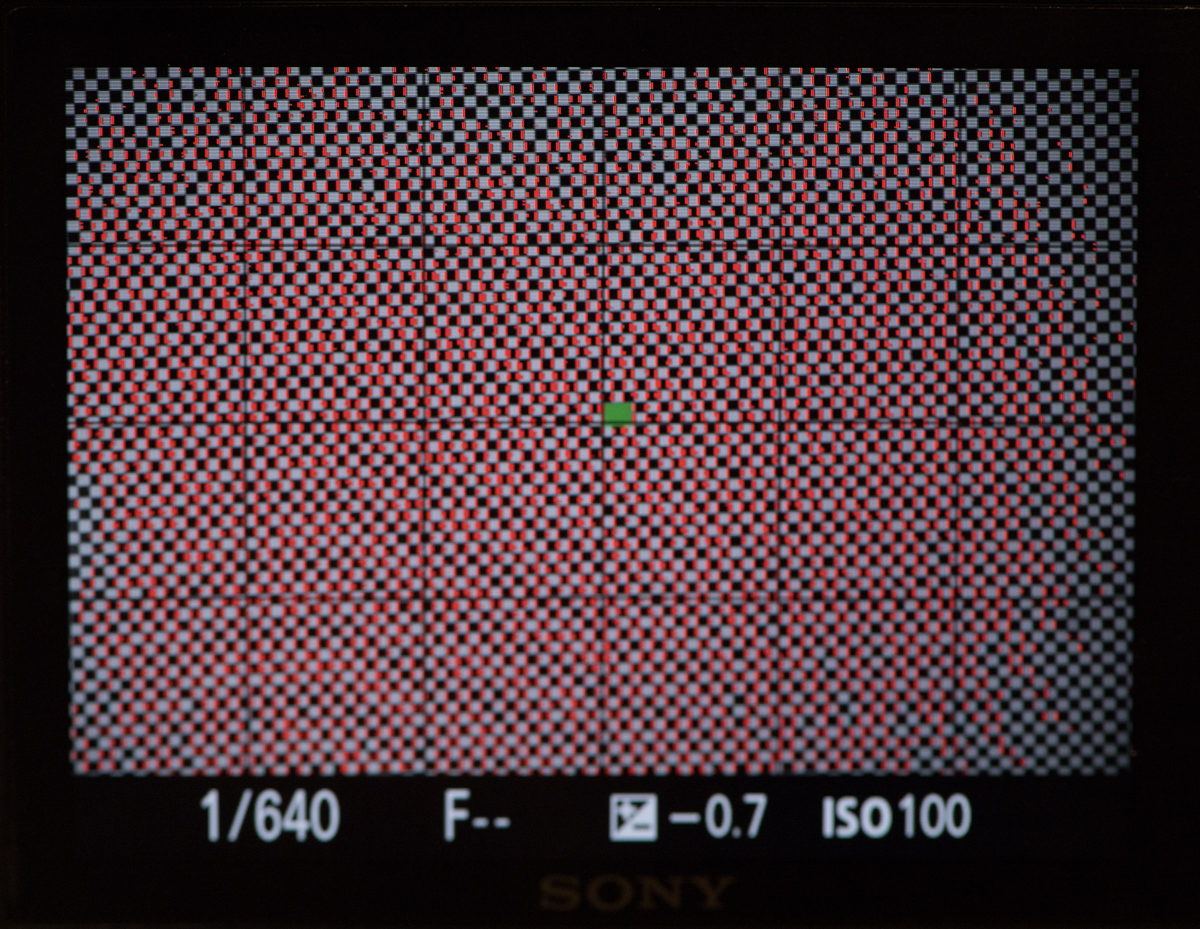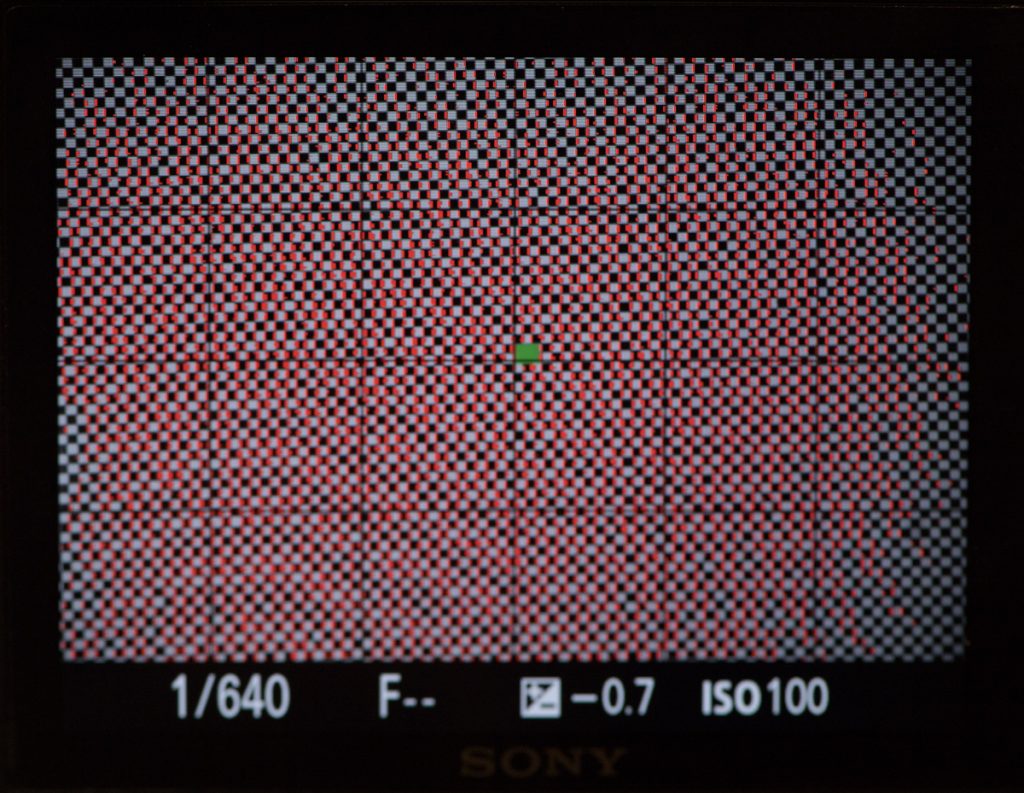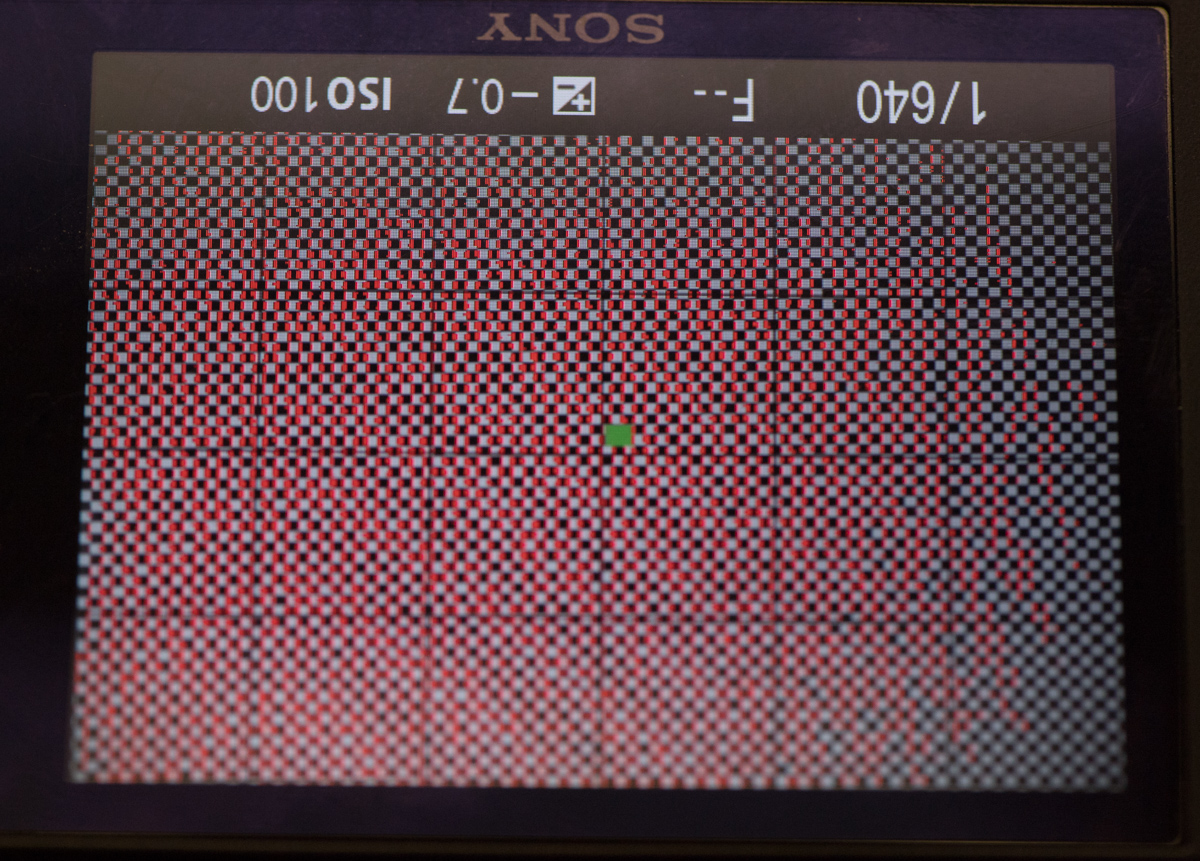 The camera wasn't perfectly square to the target, as indicated by the dearth of redness on the right side of both images. But the less colorful areas are on the right side of both images, indicating that the lens is not tilted. If it had been tilted, the less red area would have moved as the camera was rotated.
Here's the same test with the lens set to 200 mm: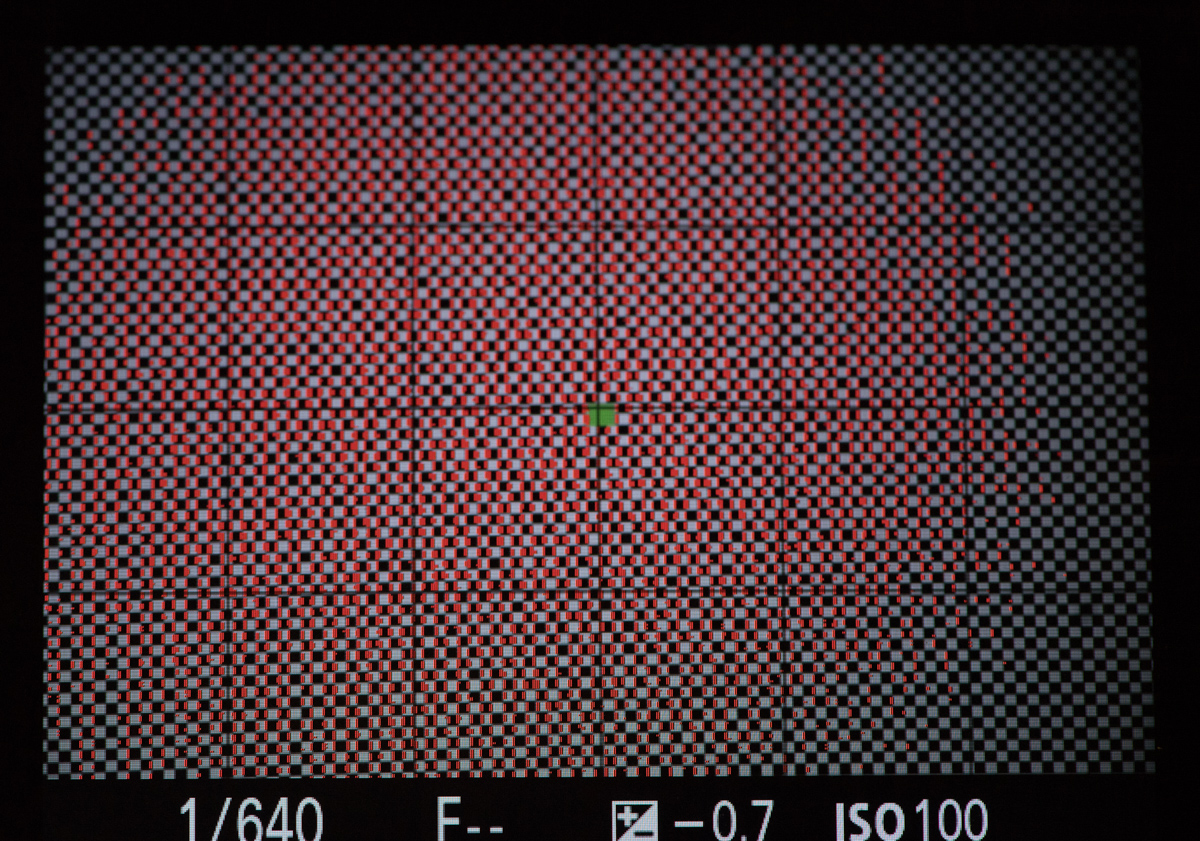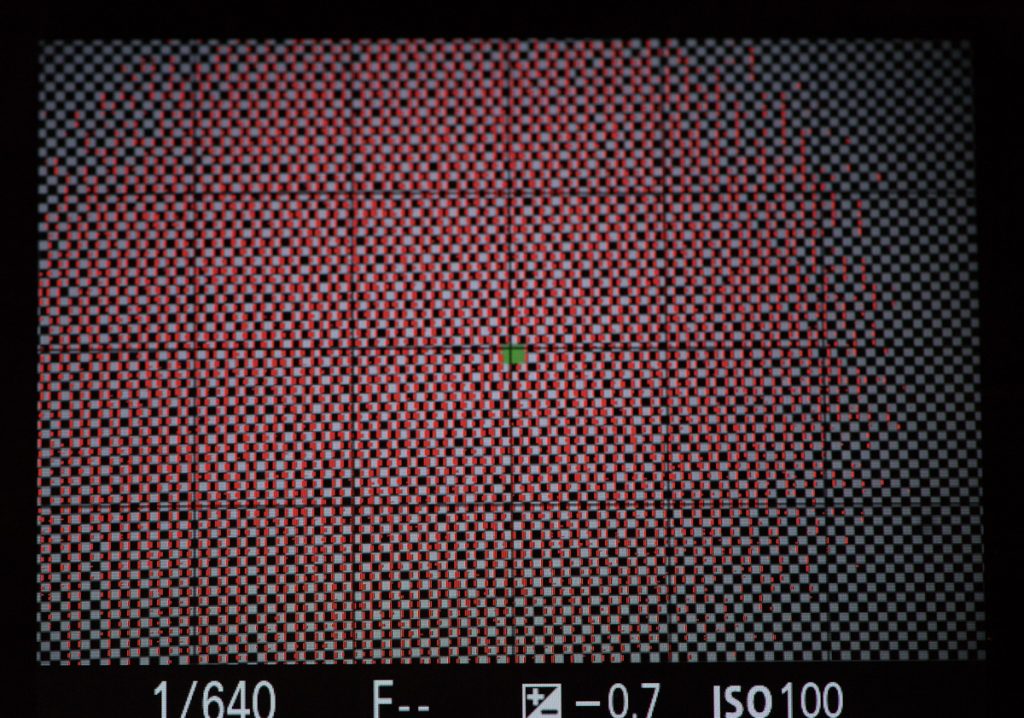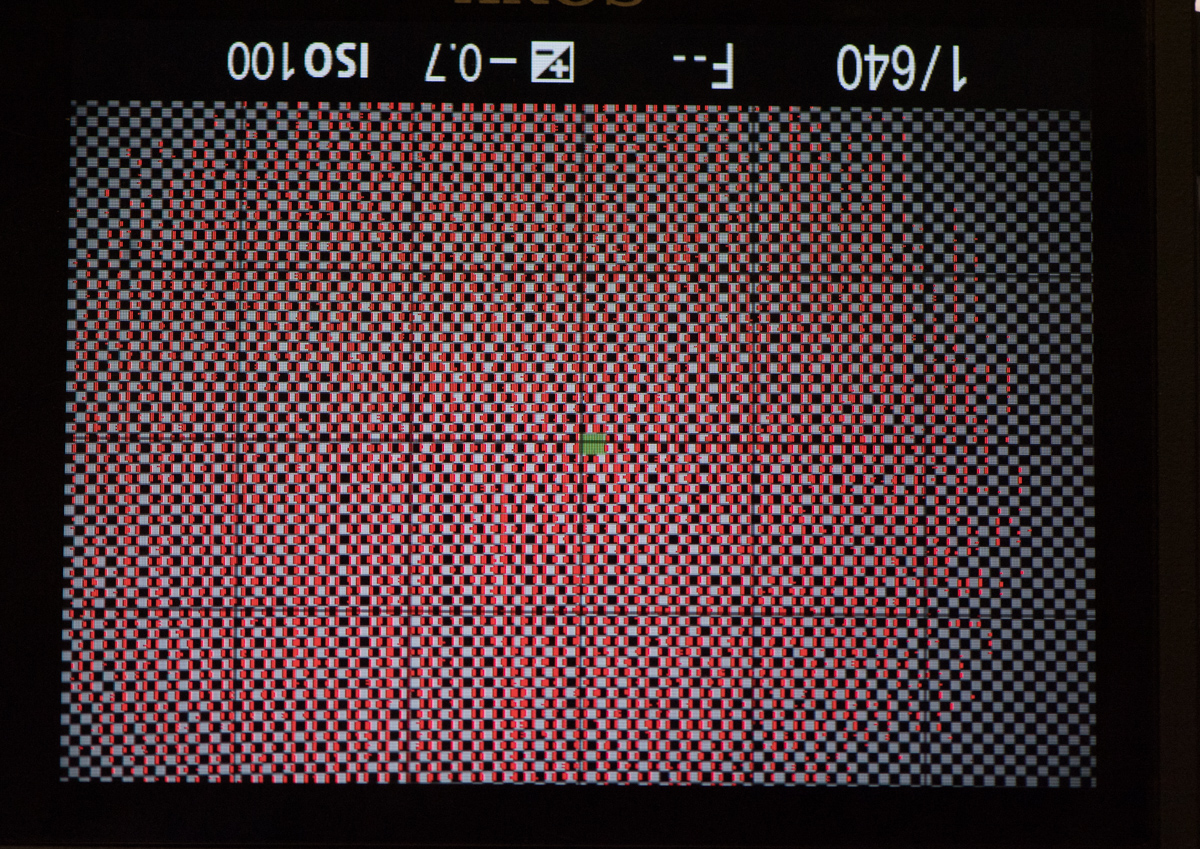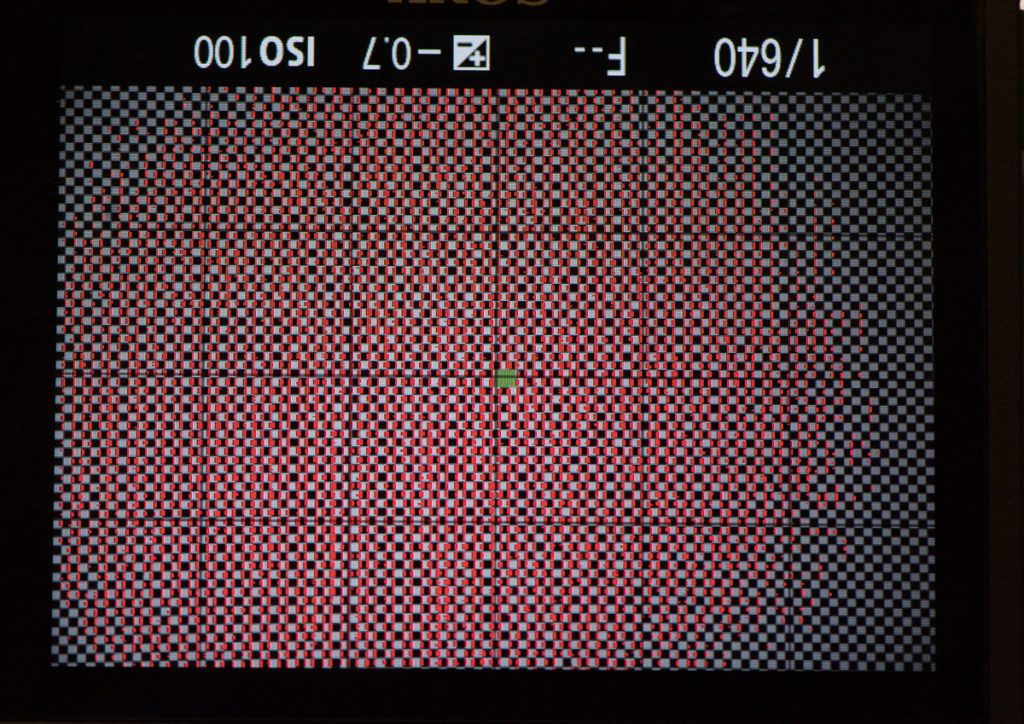 Unsurprisingly, the conclusion is the same. The lens is not tilted.
I performed a similar test with a Sony 70-200 f/4 FE lens set to f/4. Here's what I saw: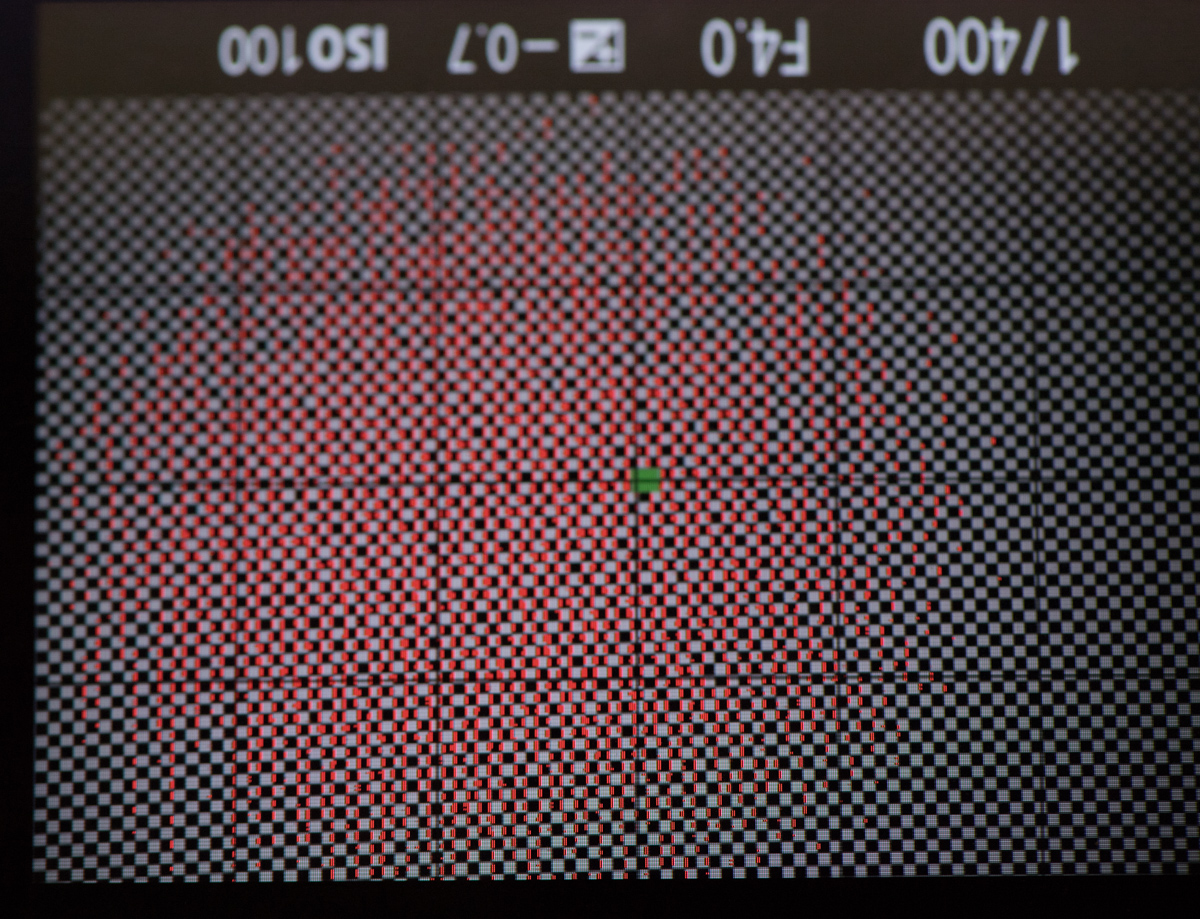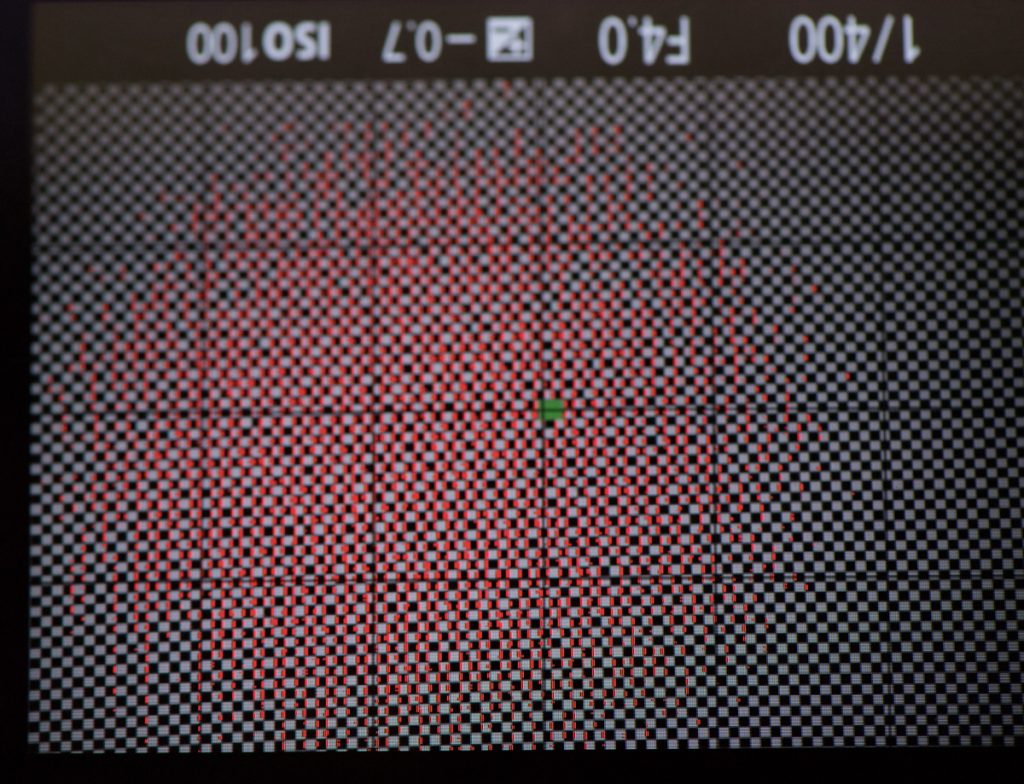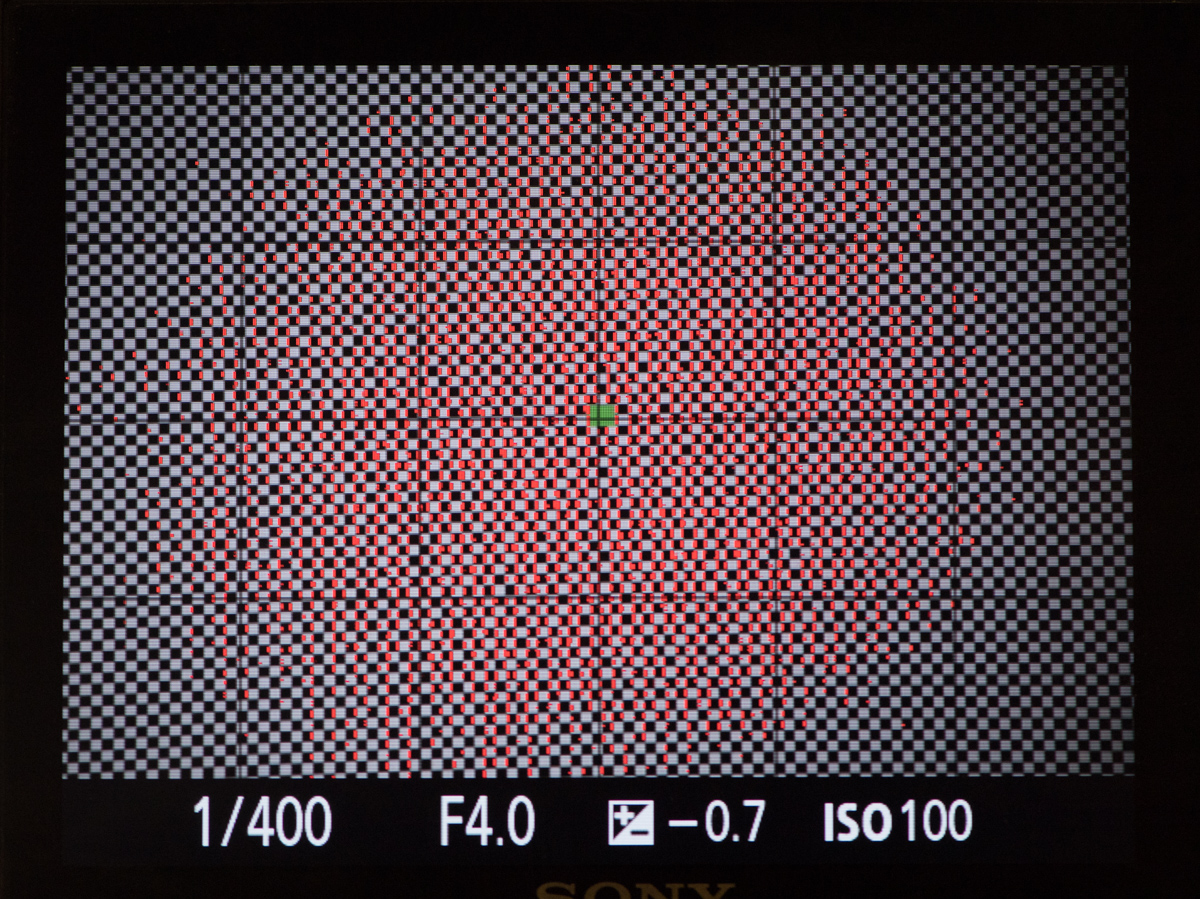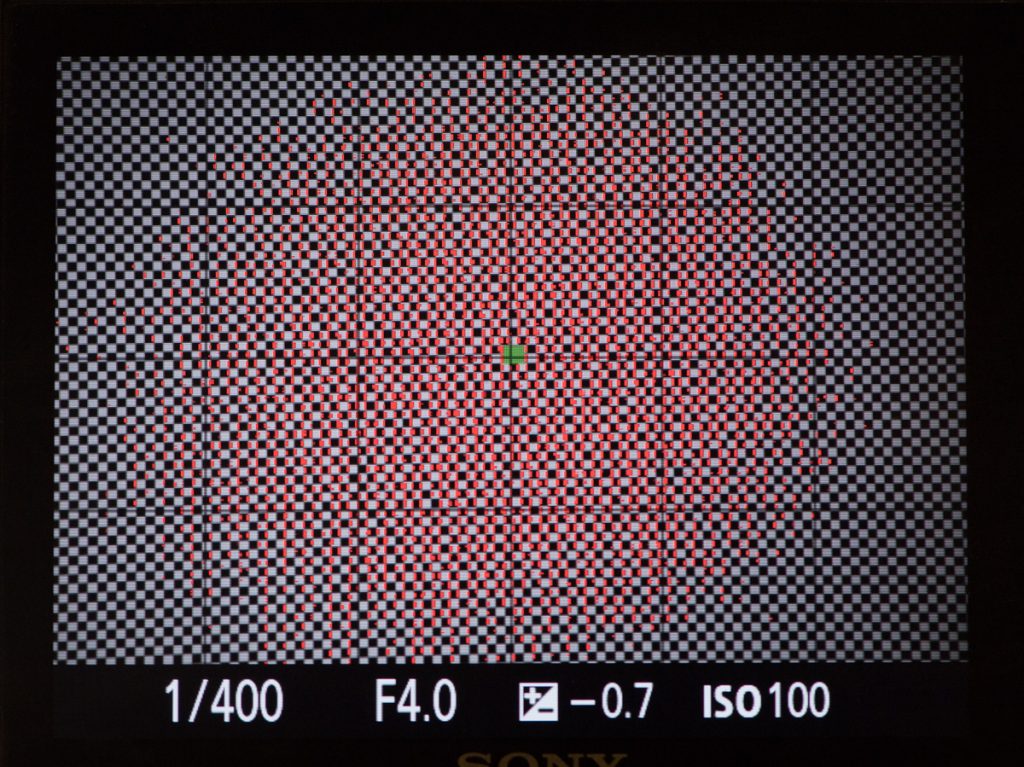 The bottom image is the one I used when I lined up the camera. The top is what I saw after rotating the camera through 180 degrees. There is a lot of off-axis falloff in sharpness. That's due to a combination of field curvature and the fact that this lens does not produce very sharp corners wide open at 200 mm. I'm guess more of the latter than the former, and I think I can prove that. If most of the softness were due to focus curvature, then there would be some position of the focus ring that showed a red doughnut-shaped pattern. There is not.
The top image does not show the same radial symmetry, indicating that the lens is tilted slightly in the left/right direction. I have tested this particular lens previously and found the tilt not objectionable, so this test is pretty sensitive.
I should note that the results for the Sony zoom are not as repeatable as those for the Nikon lens, since there is a bit of play in the Sony removable lens collar.