Ever since the Sony alpha 7R (let's call it the a7R) came out in late 2013, a furor has raged about its shutter shock, or, more precisely, on whether it had any. One group of people — and that includes moi — were analyzing its effects and developing ways to ameliorate it. Another group vehemently defended the position that a7R shutter shock was as real as the Easter Bunny, and posted lots of sharp-looking pictures made with the camera.
The battle continues, albeit at reduced intensity. I expect it will pick up again when and if a new version of the camera is introduced with electronic first curtain shutter (EFCS). Lots of people will trade up. Then there will be lots of the old cameras on eBay, and lots of posts on dpr asking whether the old camera is a good deal, and what about that shutter shock?
I have always maintained that the root of the disagreement was that many of the shutter-shocked images made with the a7R have only modest sharpness impairments, and that they are plenty sharp for their intended purpose, and, without a picture of the same subject with the same lens at the same time with no shutter shock (something impossible to set up until the D810 shipped), there was no way to tell how much, or even whether, the a7R image was degraded.
It occurs to me that, with the images from yesterday's post, we now have a way to, through the magic of simulation, do that very comparison.
Consider these MTF50 curves for the a7R on a tripod with a Sony 70-200mm f/4 OSS FE lens, with OSS on and off: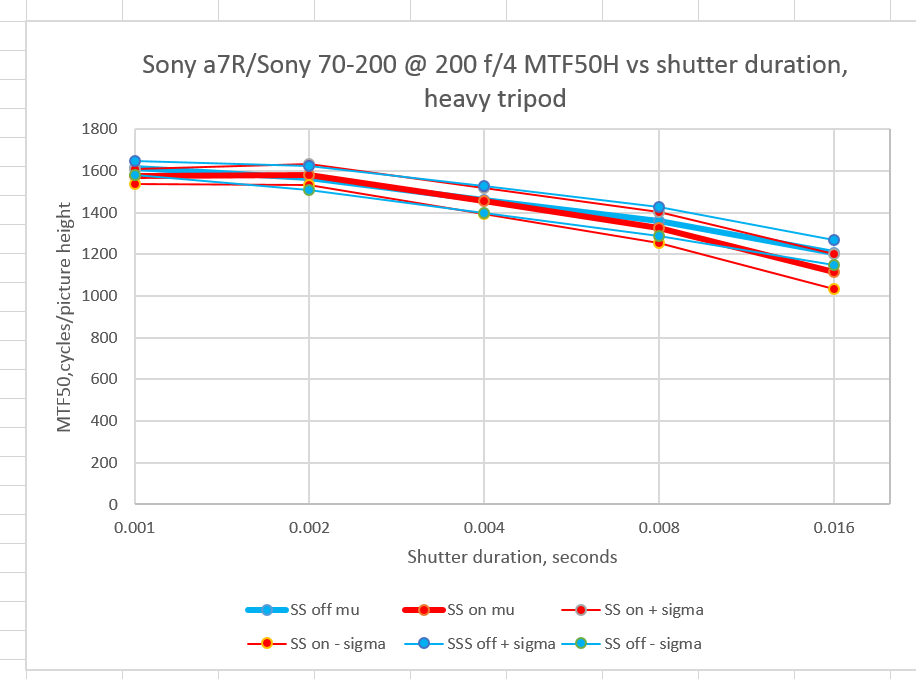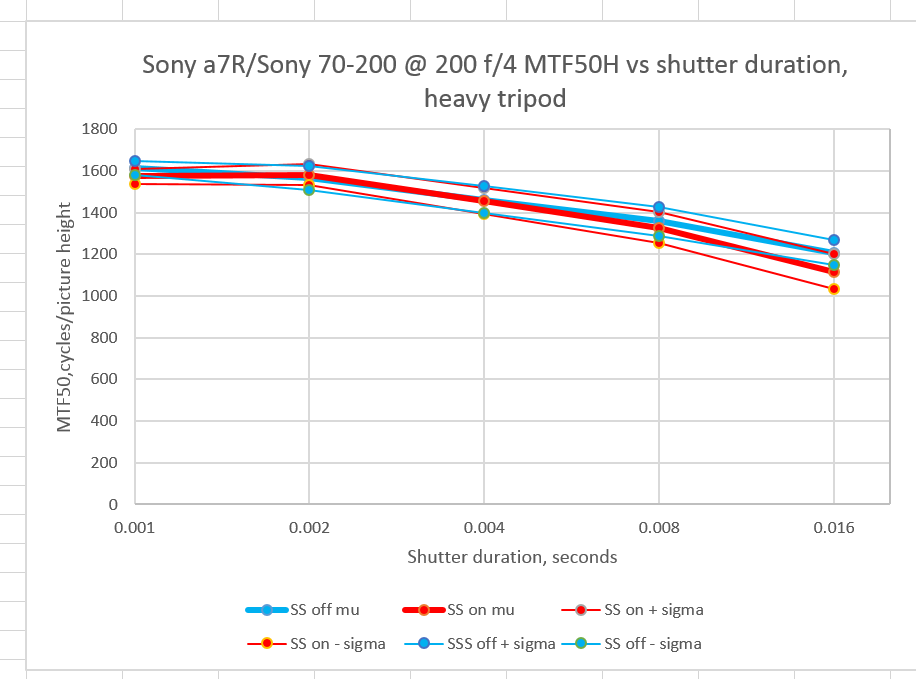 We can see that shutter shock reduces the MTF50 from about 1600 cycles/picture height (cy/ph) to about 1200 cy/ph as the shutter speed changes from 1/1000 second to 1/60 second.
Let's look at the 3x blowups from yesterday's post that are closest to those MTF50s: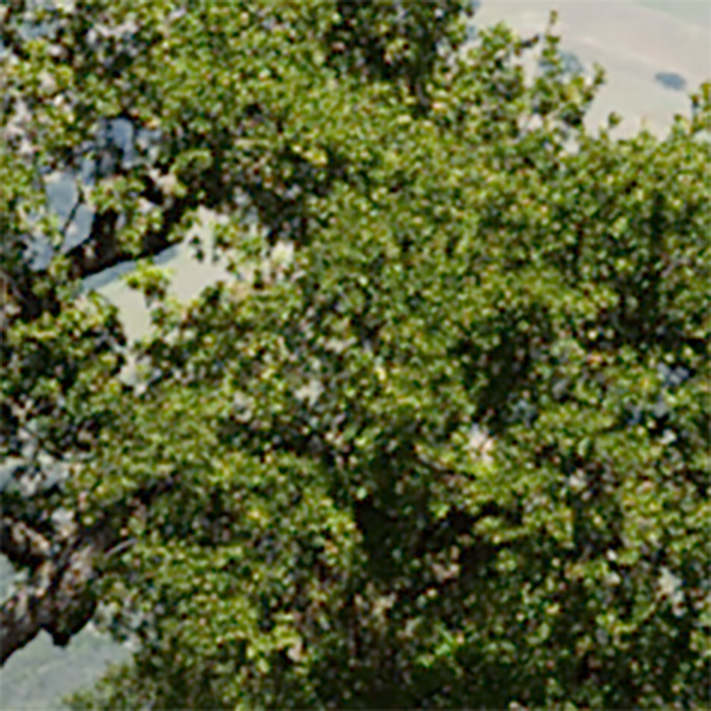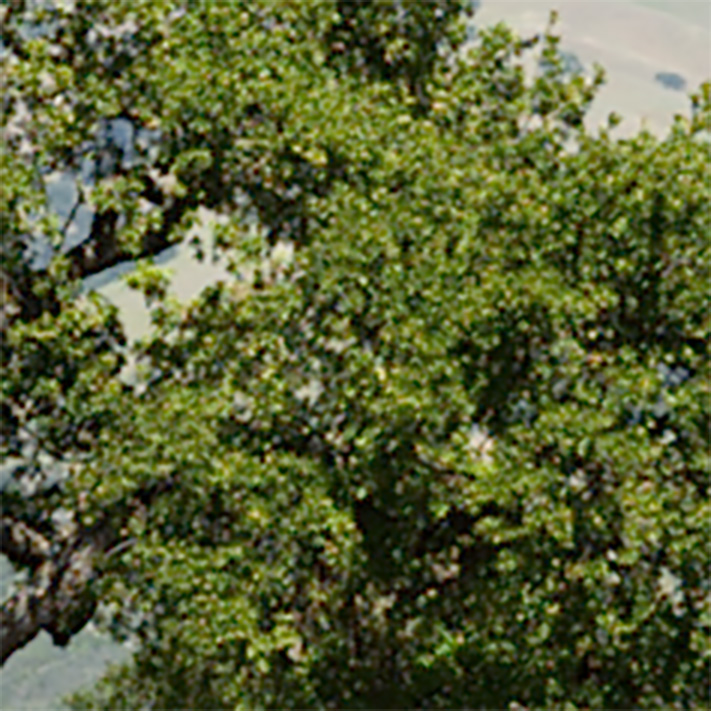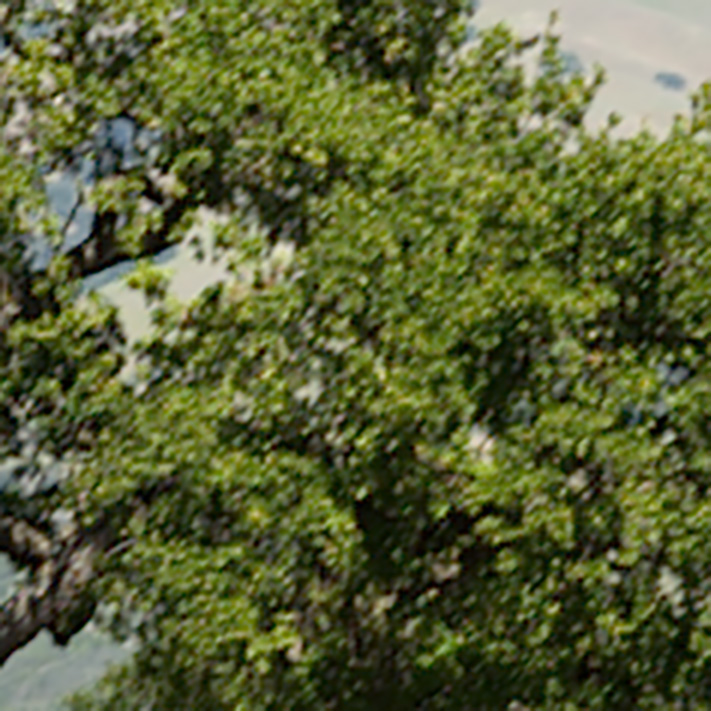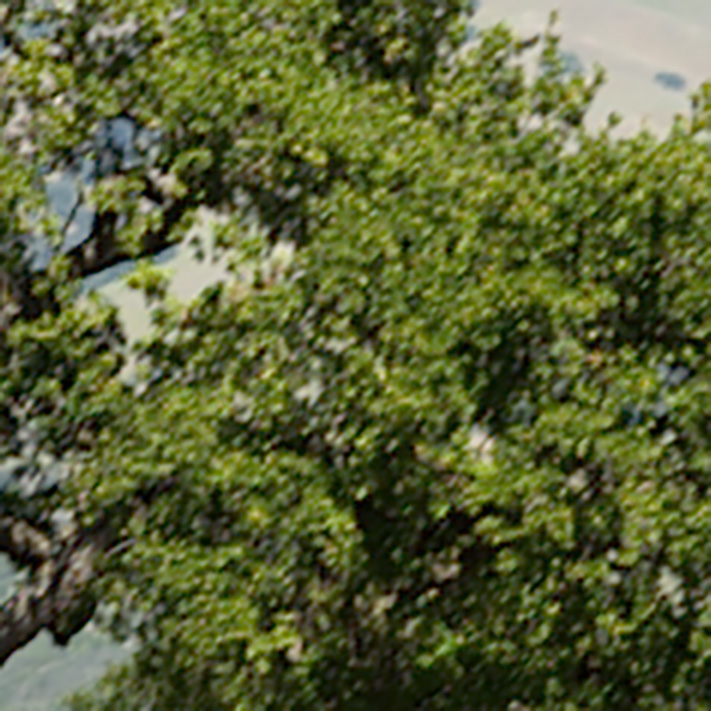 Yes, there's some difference. No, it's not striking. You'd have to look hard to see it in a print of this detailed image. You'd probably never see it in a print of a wildlife or sports subject.
Therefore, when people claim that the a7R has no shutter shock, they may be saying that it doesn't affect their pictures in any way that they can see. And they could be right.
I believe that there is another group of people who are a7R shutter-shock deniers, who are affected by what I call the dancing bear view. Proverbially, if you see a dancing bear, you're just blown away that a bear can dance, and you don't ask how well it can dance. If you've never had a 36 MP camera before, you may be amazed at all those pixels, and not question whether they are perfectly sharp.
By the way, the MTF50 numbers in the graph and the ones in the simulated photographs weren't measured in exactly the same way. It's not an important point, but I mention it in the spirit of full disclosure. I'll have more on that nerdy little point in a future post.