This is a continuation of a series of posts on the Sony a7RIII. You should be able to find all the posts about that camera in the Category List on the right sidebar, below the Articles widget. There's a drop-down menu there that you can use to get to all the posts in this series; just look for "a7RIII". This post also references the work I've been doing with PDAF on the Nikon D850, and thus I'm tagging it for that camera as well.
Yesterday, I came up with a compromise calibration for the AF Adjust on the D850 for the Nikon 70-200/2.8E lens. Here's what the correction did for the lens at 105mm: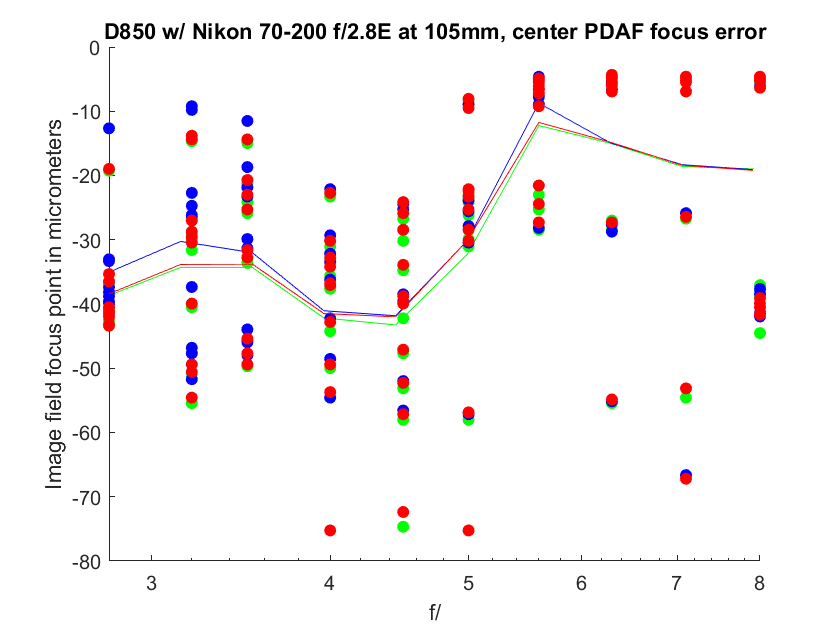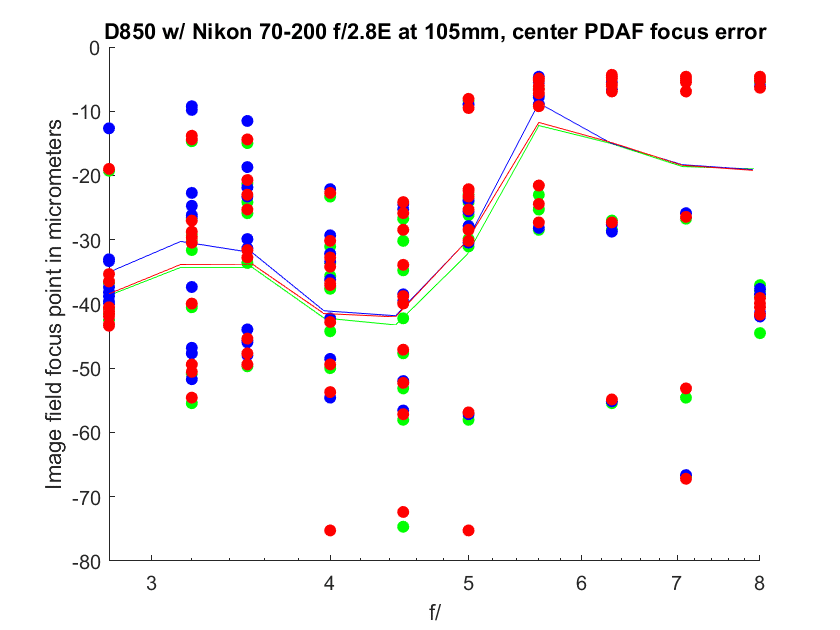 This shows the location of the focal plane at the sensor as an offset from perfect focusing. Negative numbers indicate front-focusing. Each Adobe RGB color plane is plotted for 10 samples at each f-stop in the series. In case the tiny movements of the focal plane don't mean much to you, let's recast the above data into the circles of confusion (CoC) that will result from the measured misfocusing: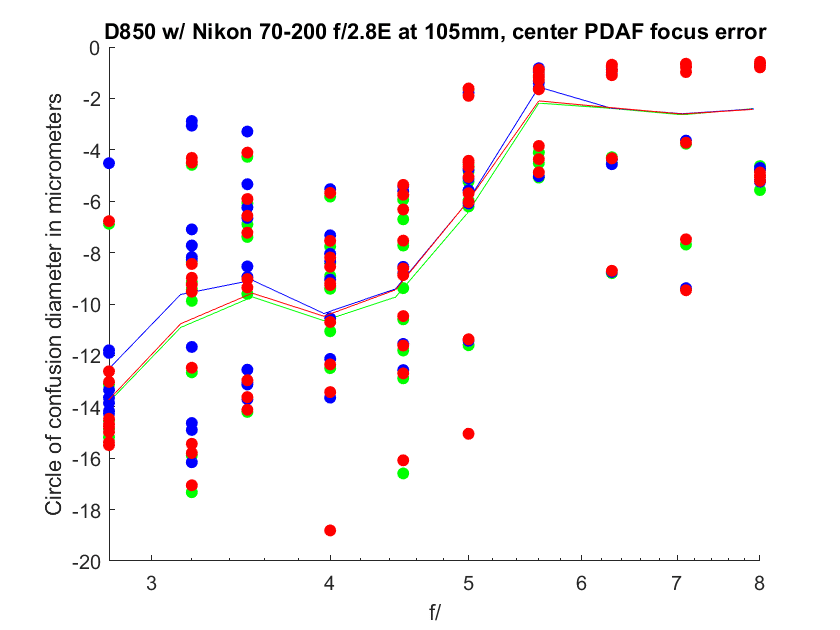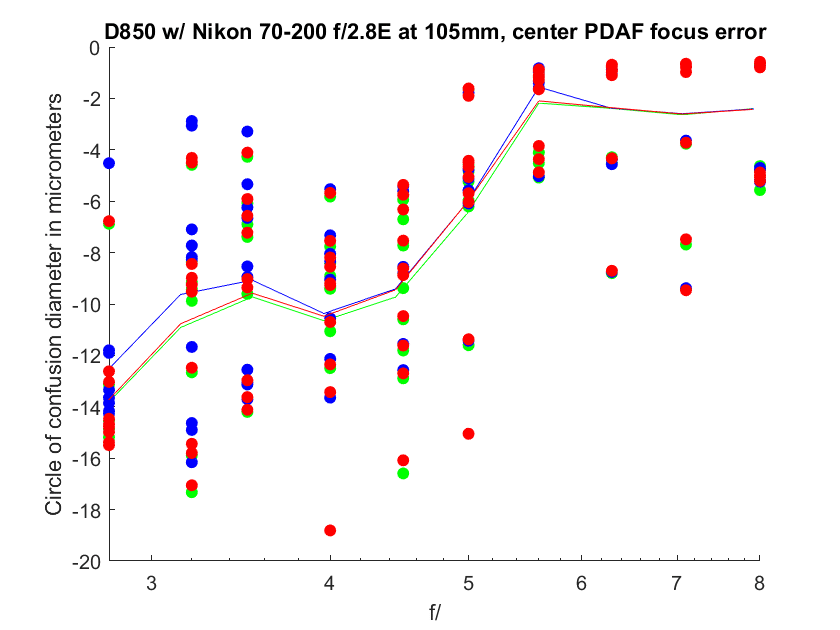 The pixel pitch of the D850 is about 4.3 micrometers (um), so we're looking at CoCs between negligible (at the narrower f-stops) to 3 pixels (at the widest stop).
The Sony a7RIII uses contrast detection autofocusing (CDAF) tweaks after it initially does phase detection autofocusing (PDAF). The conventional wisdom is that it always does the CDAF tweak at the taking aperture so that focus shift in Sony lenses is not a problem. The a7RIII does not support manual AF Adjustments for native lenses. The conventional wisdom is that it doesn't need to, because of the CDAF tweak. I have been a believer in the conventional wisdom, but, since I had written the code to measure and plot focus plane errors, I thought I'd run it on some a7RIII samples.
Here's what I got with the 100-400 at 100 mm (spot, medium, AF-S, Setting Effect on):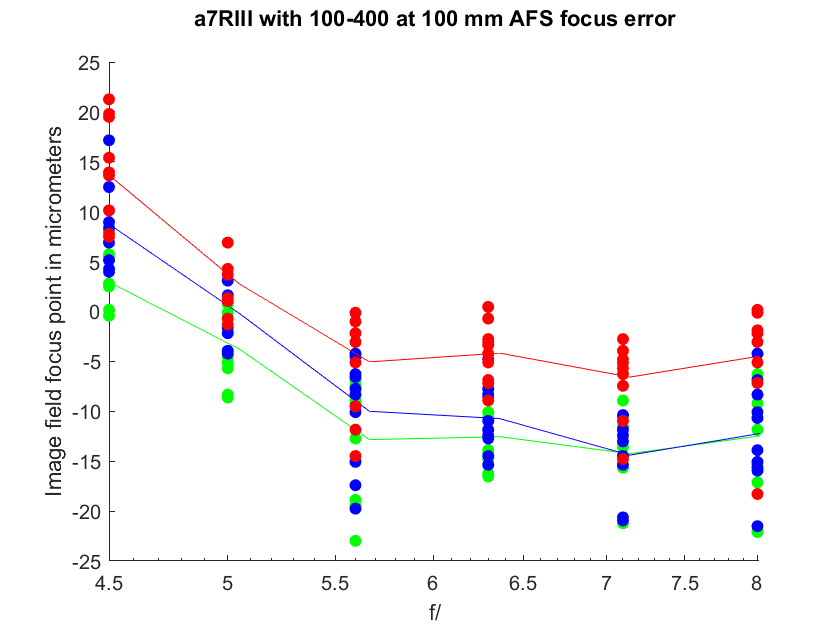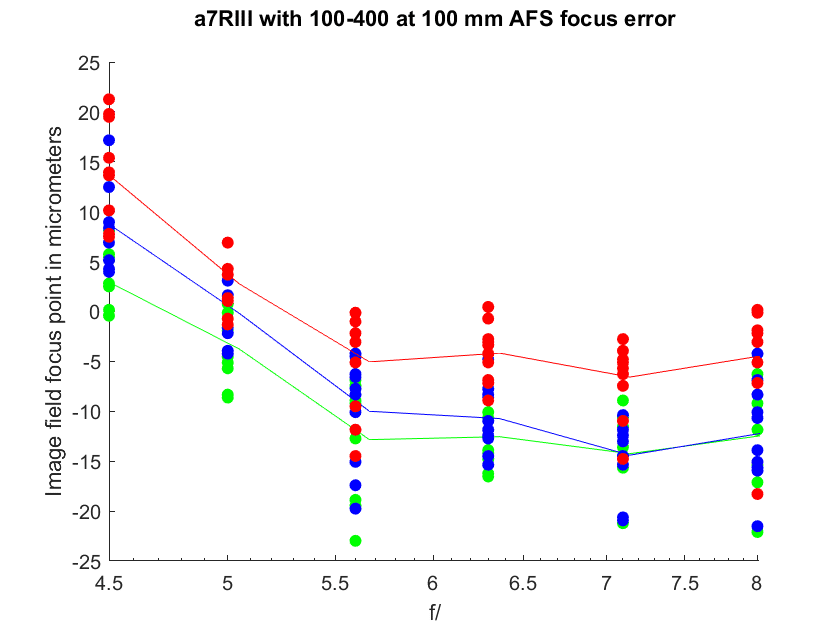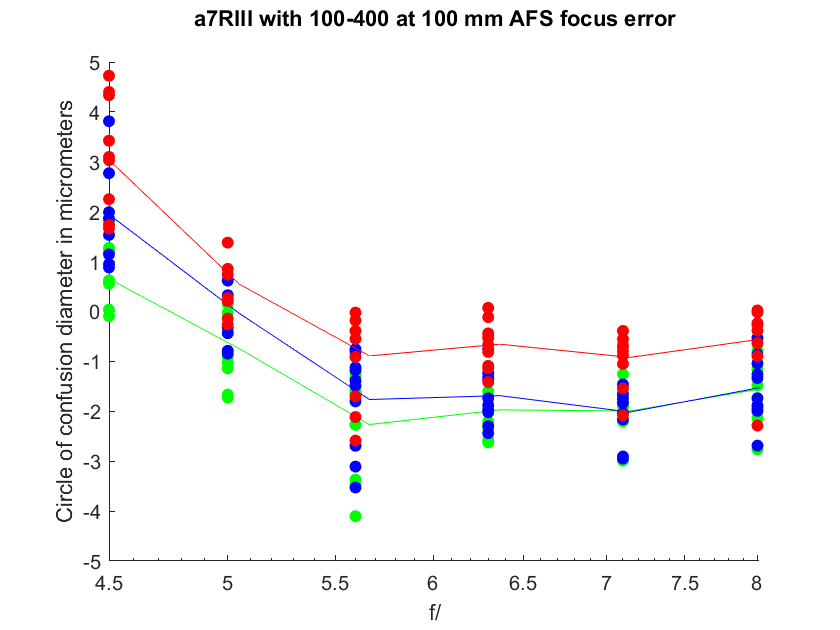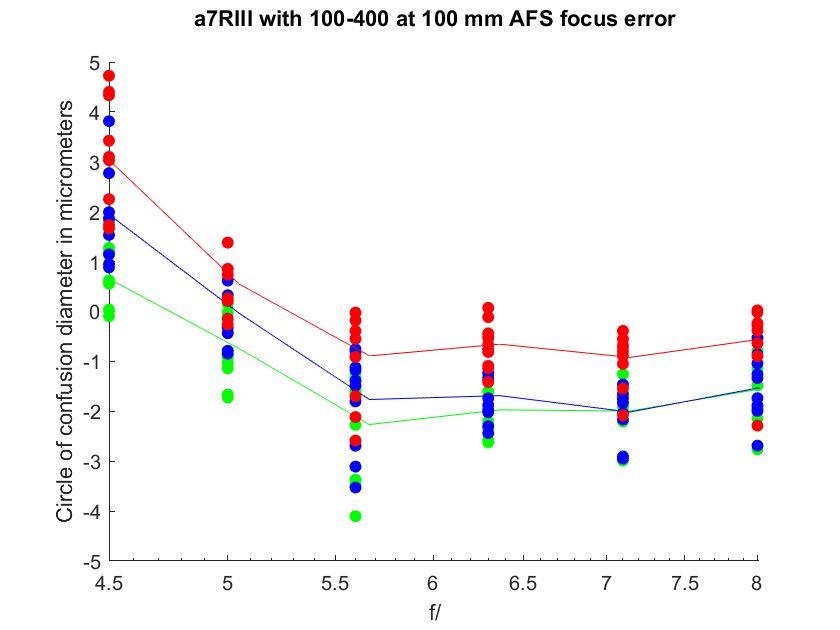 That looks pretty good. The CoCs are under one pixel. But there seems to be a systematic error, which shouldn't be there.
With the 70-200/4 at 100 mm: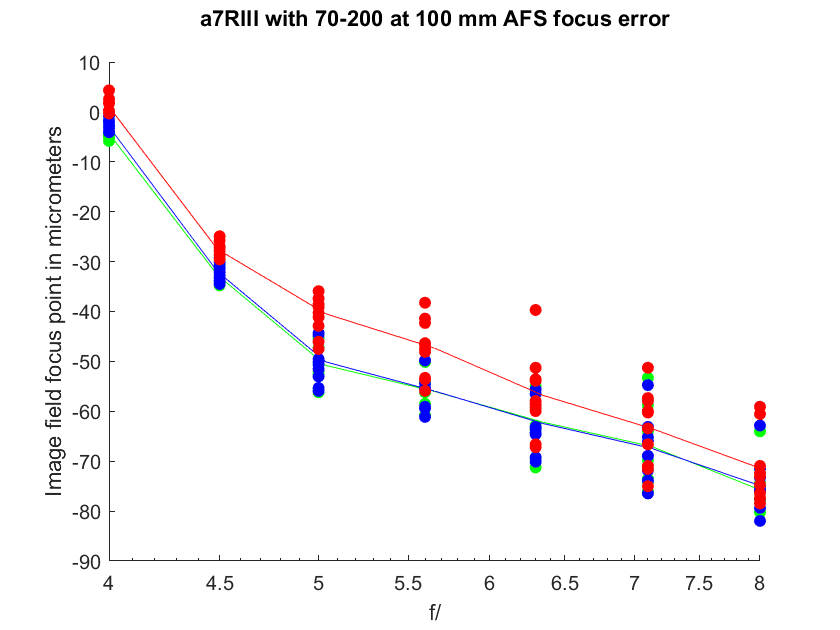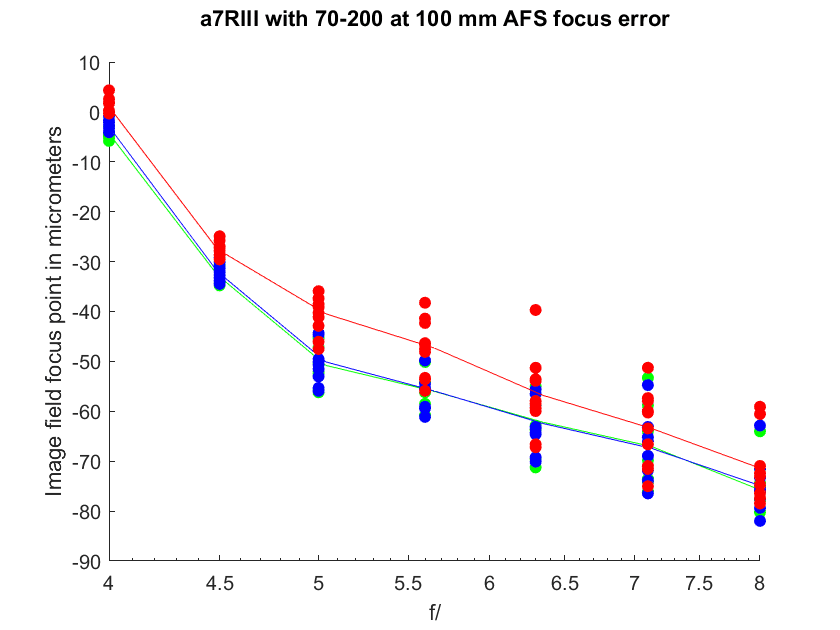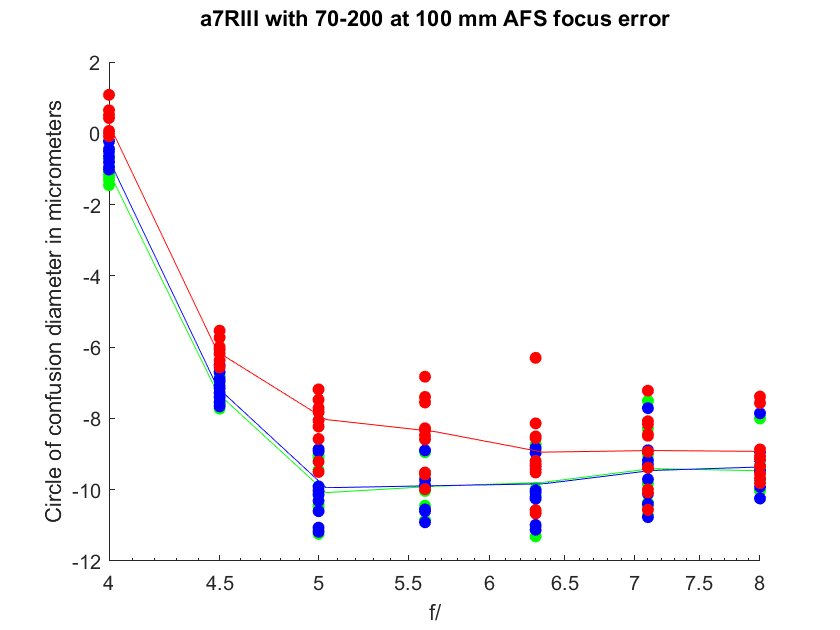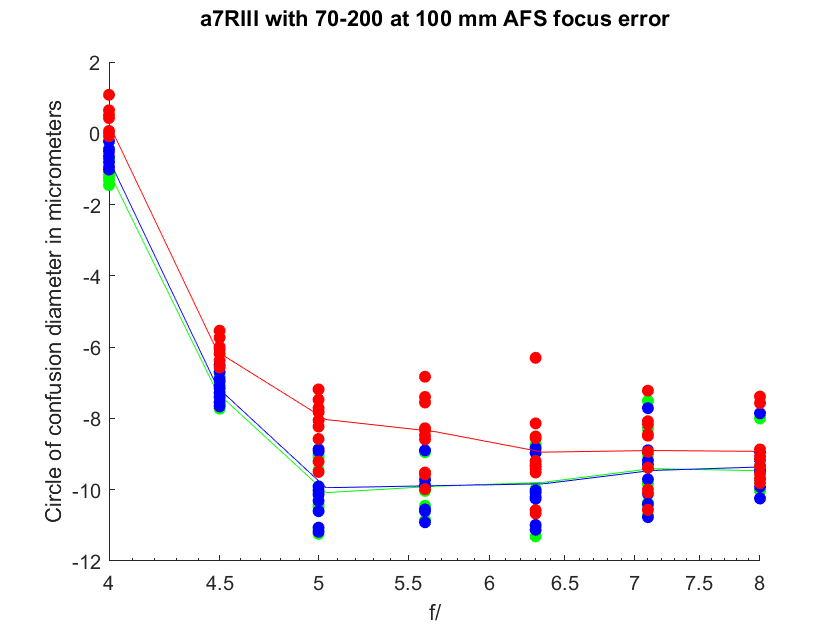 Bang on wide open, but off by two pixels by f/5.6.
This shouldn't be happening, should it? By the way, I tried AF-C and got results that were all over the place compared to the AF-S ones.