Sony has announced a 61 megapixel (MP)  successor to the hugely-successful 42 MP alpha 7R mark III (aka a7RIII), with the unimaginative moniker of alpha 7R mark IV (aka a7RIV). The wording of the announcement has some people saying that the new camera will have far greater photographic dynamic range than the previous version.
Time will tell, but I don't think so. The reason is that Sony has introduced a line of sensors with the same 3.76 micrometer (um) pixel pitch in three different sizes, and the pixel designs of the two versions that are currently shipping (or maybe, in the case of the GFX 100, dribbling would be a better word)  appear to be very similar, if not identical.
Let's start out by comparing GFX 100 simulated normalized signal-to-noise ratio (SNR) plots based on Bill Claff's read noise measurements  and mine (I used samples provided by Lloyd Chambers).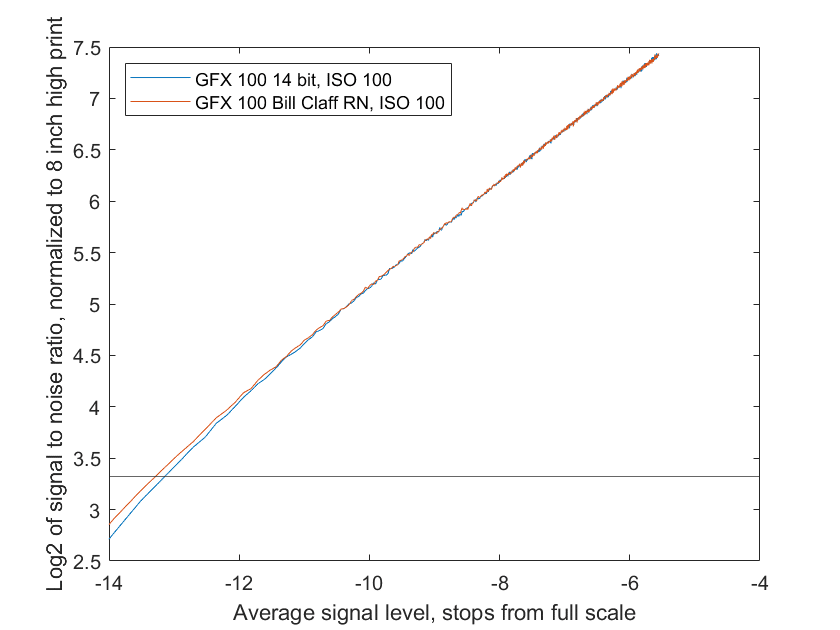 I assumed a full well capacity (FWC) of 47000 electrons for both cameras. The horizontal axis is the signal level in stops from clipping. We are looking at the shadows here. When you get down to 10 stops or so below full scale, you're looking at shadows so dark that they will appear black in the absence of applying boost in postproduction. The vertical axis is the SNR, normalized to that seen by an average person with an 8 inch high print about 18 inches away from the eyes. The black horizontal line defines the Claff Photographic Dynamic Range (PDR). Both cameras are close, but Lloyd's test camera has more read noise.
Now let's look at the curves for Bill's measurements of the Phase One IQ4 150 MP and mine for the GFX 100.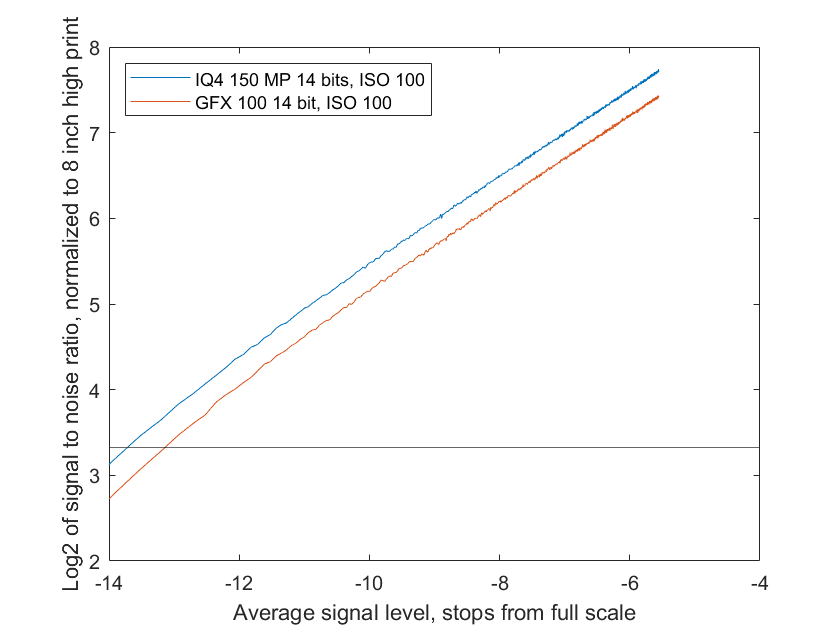 What if we crop the IQ4 150 MP to the same picture height in pixels as the GFX 100?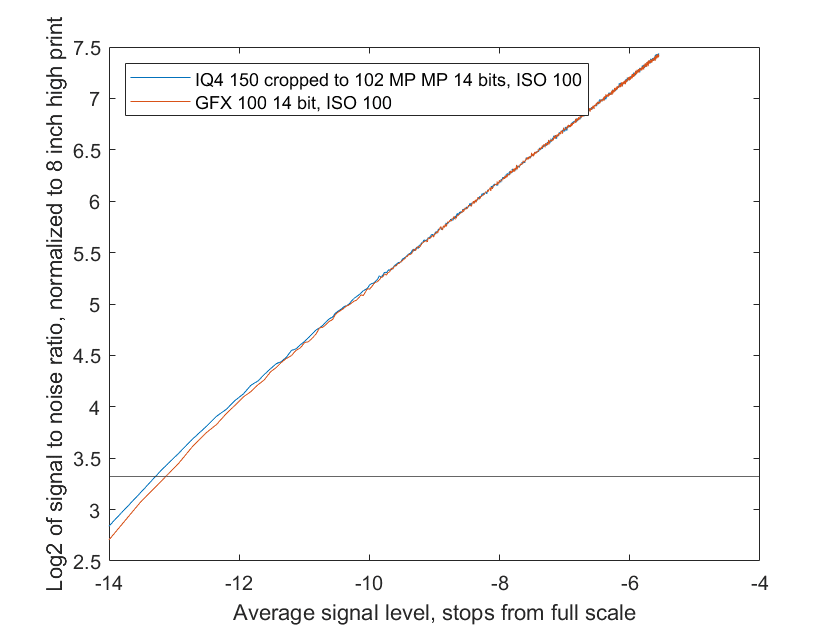 The differences are just about the same as the differences between my numbers for the GFX 100 and Bill's. If I'd have used Bill's read noise, they would be right on top of each other.
Now I'll assume the same pixel design indicated by my measurements of the GFX 100 and simulate what would happen if that design were used in the a7RIV, comparing that with my measurements of the a7RIII.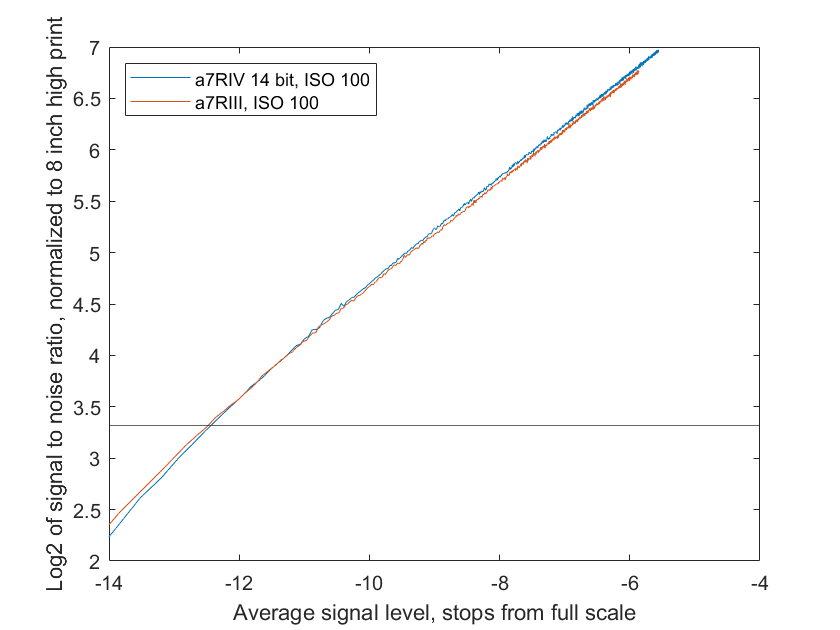 The cameras have very similar SNR curves. If Bill's test results are more indicative of the typical GFX 100 than mine, the  SNR in the deep-shadow end of the a7RIV will very slightly exceed that of the a7RIII. But even then, there will be no material difference between the two cameras in terms of shadow noise.
So, unless Sony has a trick up their corporate sleeve, the photographic dynamic range of the a7RIV is going to be about the same as the a7RIII.
Note: all the comparisons are done at 14-bit precision. The GFX 100 and the IQ4 150 MP do very slightly better at 16-bit precision.