The announcement of the 61 MP a7RIV has reignited the oft-heard arguments that photographers don't need any more resolution in their cameras than they have now. There is a variation on this argument that says that a reason why greater resolution brings no benefits is diffraction.
It is undeniably true that there are pixel pitches and apertures beyond which diffraction will limit resolution. A relevant question is: "What pitches and what apertures?"
I constructed a spreadsheet to answer that question, using the criterion the the pixel pitch should be the same as the Sparrow distance, which is the distance at which the sum of two Airy disks develops a flat top.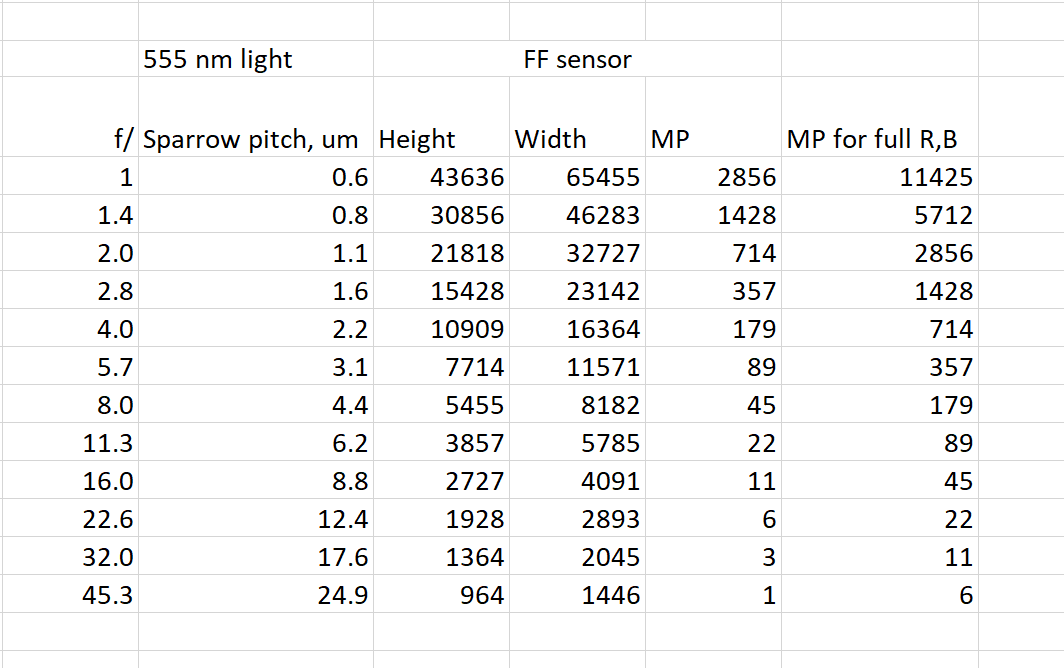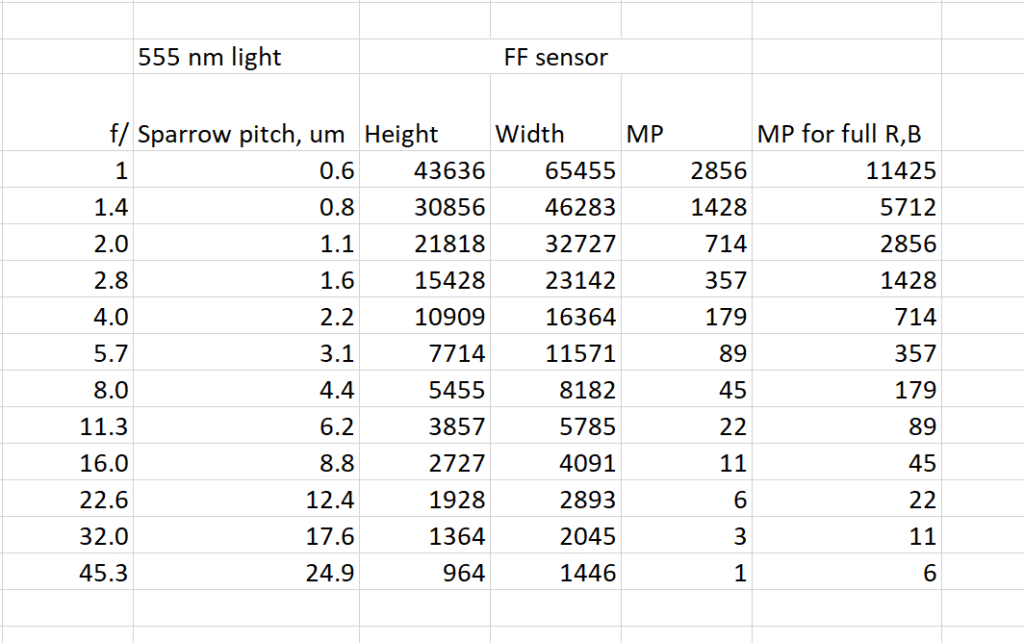 I assumed 555 nm (green, mid-visible spectrum) light, and computed the Sparrow distance. Then I calculated the number of Sparrow distances that would span a FF sensor horizontally and vertically. I multiplied those two together to get how many MP a FF sensor would have to have to sample a diffraction-limited lens at the Sparrow distance. That's the column labeled "MP". Finally, to get adequate sampling of the diffraction-limited image by the red and blue pixels of a Bayer color filter array camera, I created the far-right column.
Then I looked at a more stringent measure.
The people designing and building satellite-based earth imaging systems have diffraction-limited lenses at their disposal. They are interested in those lenses being light in weight and small in size, so they don't want to put into orbit a lens which is faster than it needs to be given the pitch of the sensor. They have devised a criterion that requires the diffraction to act as a anti-aliasing filter with zero response at the Nyquist frequency of the sensor. The criterion is twice as stringent as the one I used for the table in the first post of this thread. Here's the table that that criterion implies: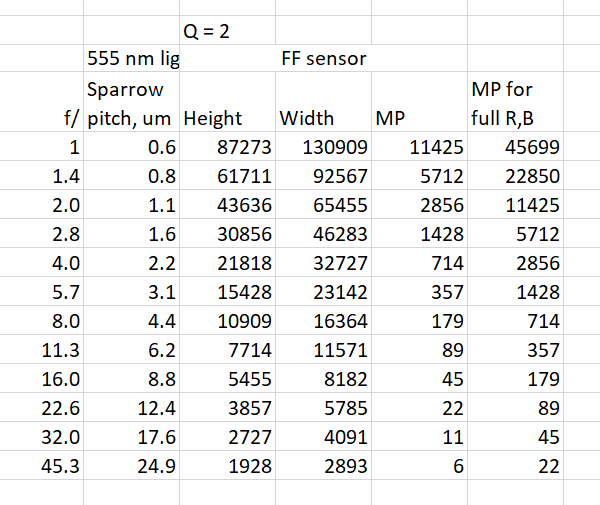 Here's a link to a derivation of the metric:
https://www.nesdis.noaa.gov/CRSRA/files/Resolution_Metrics_ACCRES_rev2_OTR.pdf
Here's a write-up I did about the standard:
https://blog.kasson.com/the-last-word/whats-your-q/
This is calculated assuming point sampling. Fill factors of greater than zero themselves act as AA filters.
Consumer diffraction-limited lenses are thin on the ground, but these numbers serve as  an indication of the physical limits, absent techniques such as are used in making semiconductors and in microscopy.