This is the ninth post in a series of Nikon D850 tests. The series starts here.
In this post, I reported on the autofocus accuracy of the Nikon D850 using both contrast-detection (CDAF) and phase detection (PDAF). As Horshack pointed out, in AF-S mode with PDAF, the camera does not refocus if it likes the phase detection readings it gets when the shutter button is depressed. He suggested racking the focus between each shot to force the camera to start over. That was a good idea. I did it.
Here's the setup, same as before: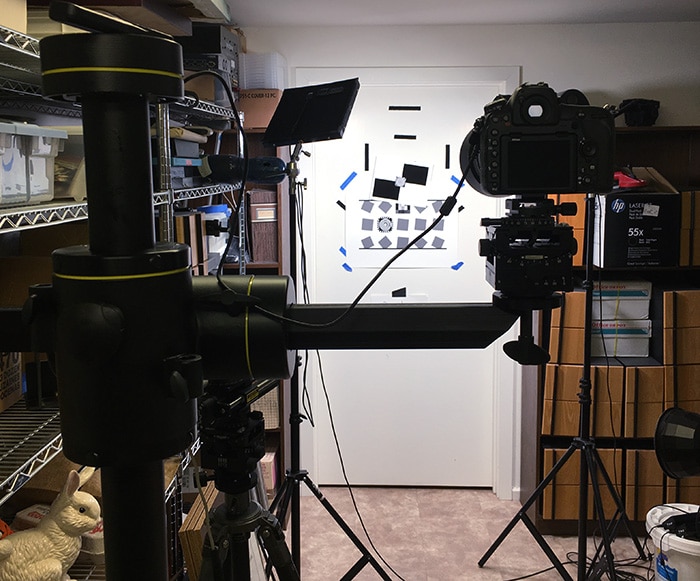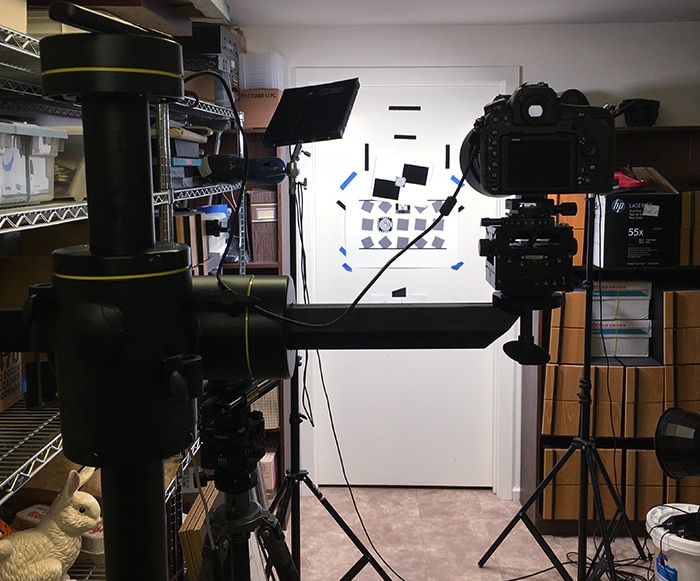 Here's the protocol:
Nikon 105 mm f/1.4 on D850.
ISO 64
AF-S, single servo mode
Release priority: focus
Aperture exposure mode
f/1.4 through f/5.6in whole stops
32 exposures at each f-stop
EFCS on
Mup used
Nikon remote release in intervalometer mode
Lens ring racked between shots
Wescott LED panels set to 5500 K.
Target distance, 3 meters.
I measured the MTF50 for the three raw color planes using dcraw in document mode, MTF Mapper, Matlab, and Excel.
Here's what I got for the green channel: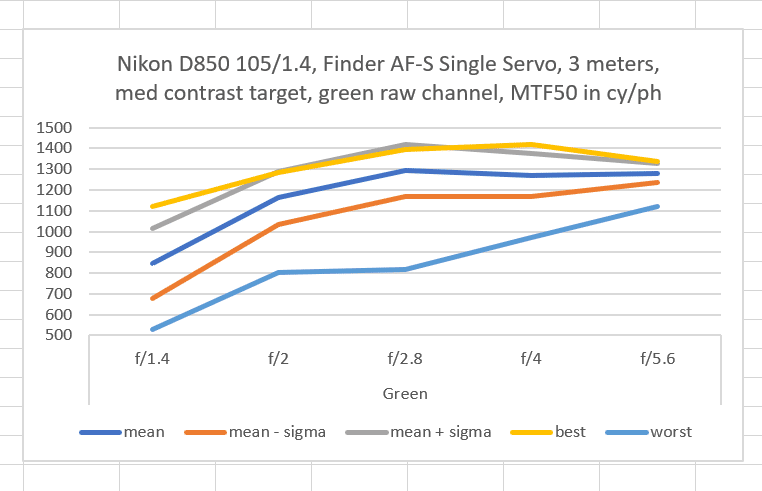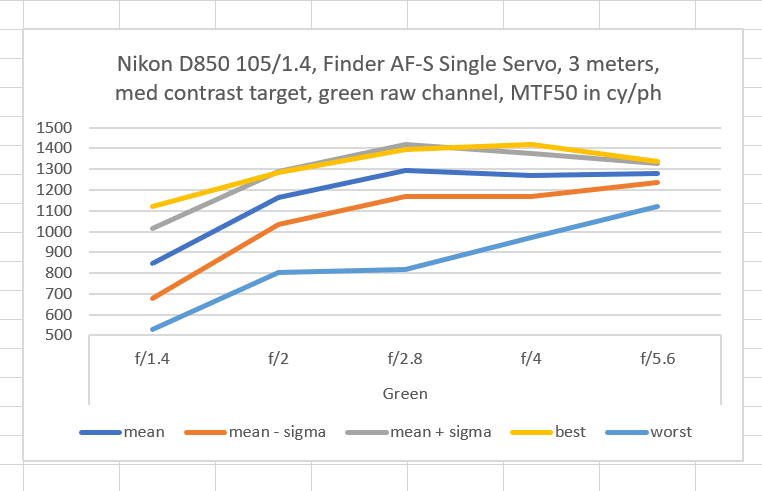 The vertical axis is MTF50, measured in cycles per picture height (cy/ph). I plotted the average of the 32 images, the average plus the standard deviation (aka sigma), and the average minus sigma. I also plotted the best and the worst results of each 32-image set.
Compared to the CDAF focusing, at wide apertures, this is not very consistent at all.
Here's a plot of the sharpness of each exposure of all but the f/5.6 series: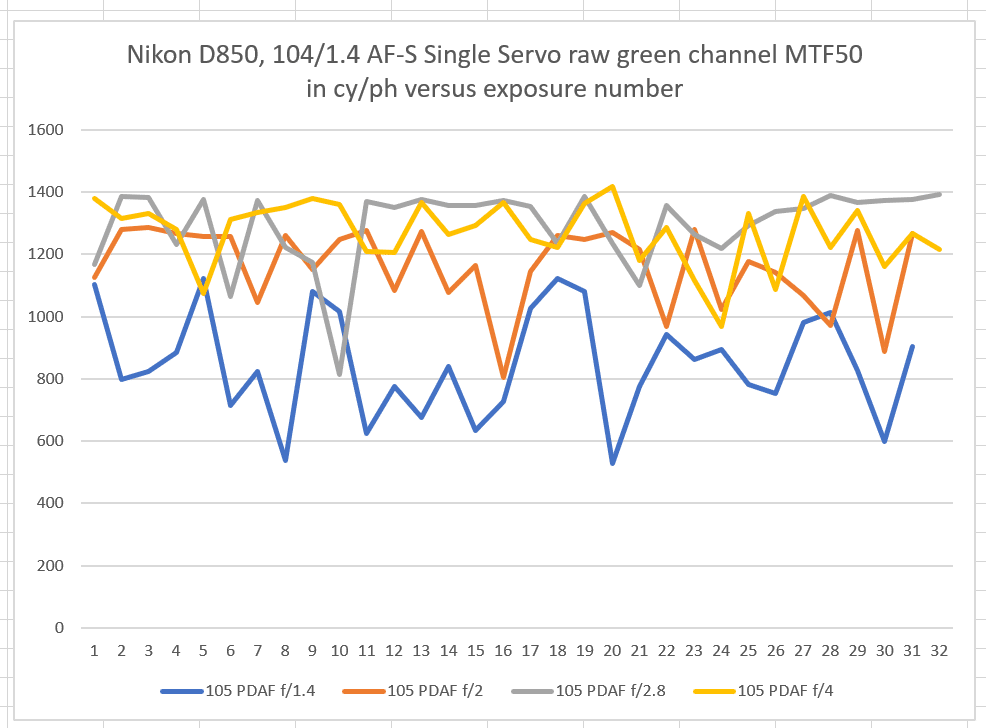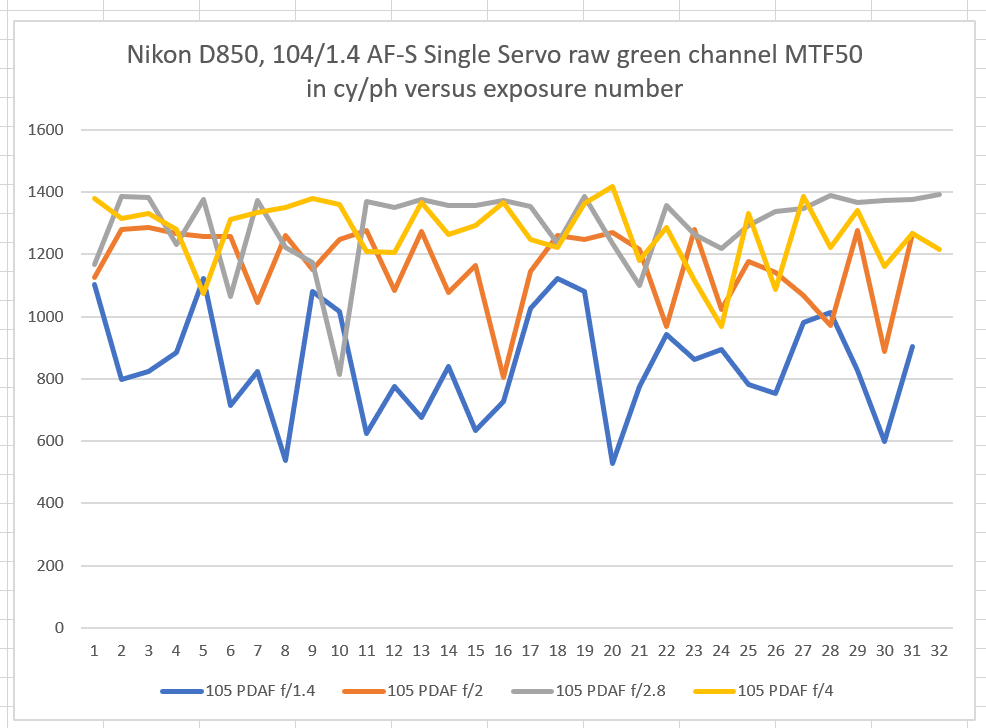 I switched the focus mode from single servo to auto, and reran the test for the four widest apertures. Now the camera was using the whole chart, and not just the central Siemens Star.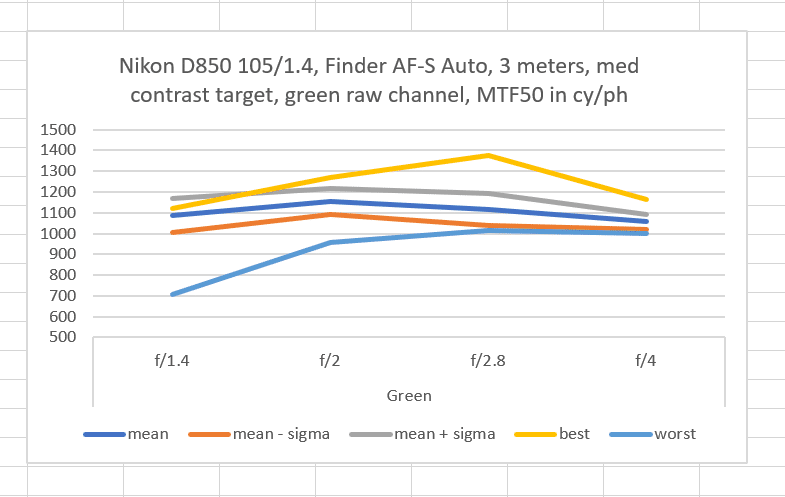 Consistency has improved, but it's nothing to write home about. By the way, I removed a few data points where the image was hopelessly OOF.
I thought that maybe the way the intervalometer was working was not giving the lens enough time to focus, so a reran all the single servo mode tests manually half-pressing the shutter release on the remote and verifying that the lens had indeed focused before pressing the button all the way down to raise the mirror, releasing it, and pressing it again to trip the shutter.
The results were no better.
This inconsistency can't be the result of miscalibration of the PDAF system. That would yield consistent, but wrong, focus points. Well, it turns out that there is an interaction, which Horshack points out in a comment to this post. I will have more to say about this. To see how the PDAF results compare with manually focussed (or, more properly, robo-focused) ones for the same setup, look here.
I will try again with another lens.