This is the twelfth post in a series about the Leica Q2 Monochrom. You can see all the other posts in the series by looking in the Category List drop-down menu on the right side of the page.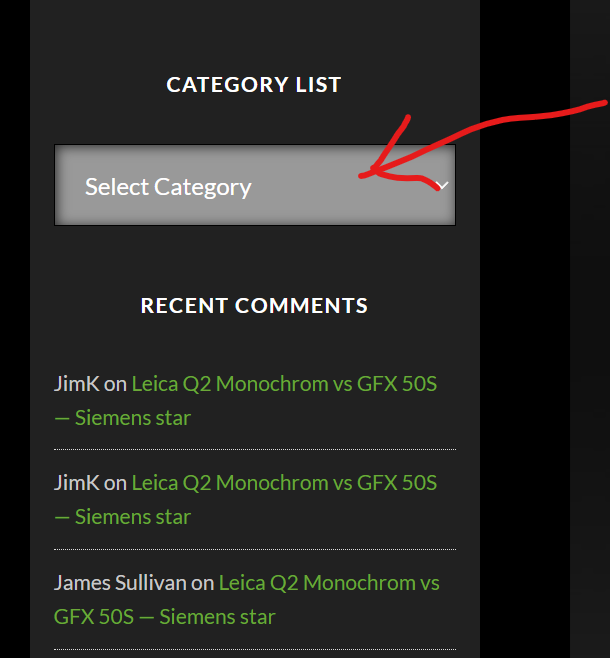 I've had the Q2 Monochrom long enough to have formed some impressions. I have by no means completed my testing, though. Still, I think it's time to start a list of what I think are the good things and bad things about the camera. I'll be updating this post to keep it current.
Pros:
The reduced aliasing that the lack of a color filter array is noticeable, and useful.
The extra stop of sensitivity is welcome.
Good size.
Solid feel.
Not too heavy. Not RX1 like, but not bad.
28mm is a good lens choice, especially in a camera with so much cropping potential.
f/1.7 is a good speed choice. I'd prefer f/2 and a somewhat smaller lens, but that's a niggle.
Quiet, low vibration shutter.
Fairly simple menus, achieved mostly be restricting the feature set.
Lens ring/shutter speed dial with A positions is a good way to handle exposure control
Engaging autofocus with the focusing ring is a good way to handle that.
Decent handling with Leica Thumbs-Up-like hot shoe thumb rest.
It is not a good thing for testing, but I like the fact that the shutter speeds and ISOs are in whole-stop steps.
Image quality is good, and aliasing is reduced compared to that from normal Bayer-CFA cameras.
Decent battery life. I think one of the major failings of the RX1 is the battery.
Raw highlight blinkies are great at other than IOS 100.
Battery life is OK.
EVF is sharp
Composition lines work well, even if they are a bit too wide and bright.
Focus distance and DOF markings on the lens barrel are useful.
Nice small lens hood.
Cons:
I don't like battery and flash card access on the bottom of the camera. I know that's a Leica thing, but it reduces the options for tripod-mounted usage, and complexifies what should be easy operations.
The focus throw is way too short. It's just short of 90 degrees, like Leica rangefinder lenses, and you can achieve approximate focus quickly, but precise focusing is needlessly difficult.
The DOF and focus distance markings preclude a precision focusing mode.
The button that switches the focus rack from manual focusing to automatic focusing is small and difficult to activate quickly. I understand that Leica wants to make it hard to take the camera out of AF mode by accident, but I think they went too far in that direction.
Aperture and focusing ring are too narrow, especially the aperture ring. It's too easy to change the focus distance when you're trying to change the aperture. It seems like there's room enough to make those rings wider, but maybe there's something in the lens construction that prevents that.
Weather sealing on the bottom plate is practically nonexistent. If you use the RRS plate, you'll be less likely to get water in the camera if you set it down on a wet surface.
Raw highlight blinkies are wrong with ISO 100 selected.
No losslessly compressed raw files.
No dedicated EC dial.
Thumbs-up interferes with access to right side programmable wheel
I find the 2D menu, like the Fuji Q menu, difficult to navigate. I put the most used functions on the Fn menu.
In summary, a delightful little camera.