A reader asked the following:
…did you find that AF focusing in the dark conditions with a nominal ISO locked @ ISO100 works worse than ISO for example being way higher ?
Good question. Only one way to find out. Start with an a7RII and a Sony 90mm f/2.8 macro lens. Proceed as follows:
RRS L-plate on camera base.
RRS TVC-34 heavy-duty carbon fiber tripod.
Arca-Swiss C1 Cube head.
Landscape orientation.
No filter.
A single Fotodiox LED-200WA-56 daylight balanced variable-output flood, turned way down.
Manual exposure mode, with ISO set to 6400, f-stop set to f/2.8, shutter speed to 1/320 second.
Focusing using single shot autofocus, flexible spot mode with the smallest spot size. The focus point is a Siemens star on the target.
Drive set to single
EFCS on
Self-timer set to 2 seconds
OSS set to on. This turns on IBIS. This was an error, and probably caused the average values to be smaller and standard deviations to be larger than would have otherwise been the case.
Make 16 exposures with new focusing for each, triggered by a wired electronic release.
Turn the ISO to 3200.
Repeat exposure sequence.
Keep turning the ISO down a stop at a time until it gets to 100.
Develop in Lightroom 5.7.1 with standard settings, except, for Exposure.
ISO 6400 images get Exposure slider set to 0, ISO 3200 images get Exposure slider set to 1, ISO 1600 images get Exposure slider set to 2, ISO 800 images get Exposure slider set to 3, ISO 400 images get Exposure slider set to 4, ISO 200 images get Exposure slider set to 5, so do the ISO 100 images, since the Exposure slider doesn't go any higher than 5.
Crop, export as TIFFs, analyze for horizontal edge MTF50 in Imatest.
Export the results to Excel, crunch the stats, and graph.
This is a test designed to stress the AF system. The lens is wide open. The light is not very bright. The spot size is set to small, so the AF system can't do a lot of averaging.
The results: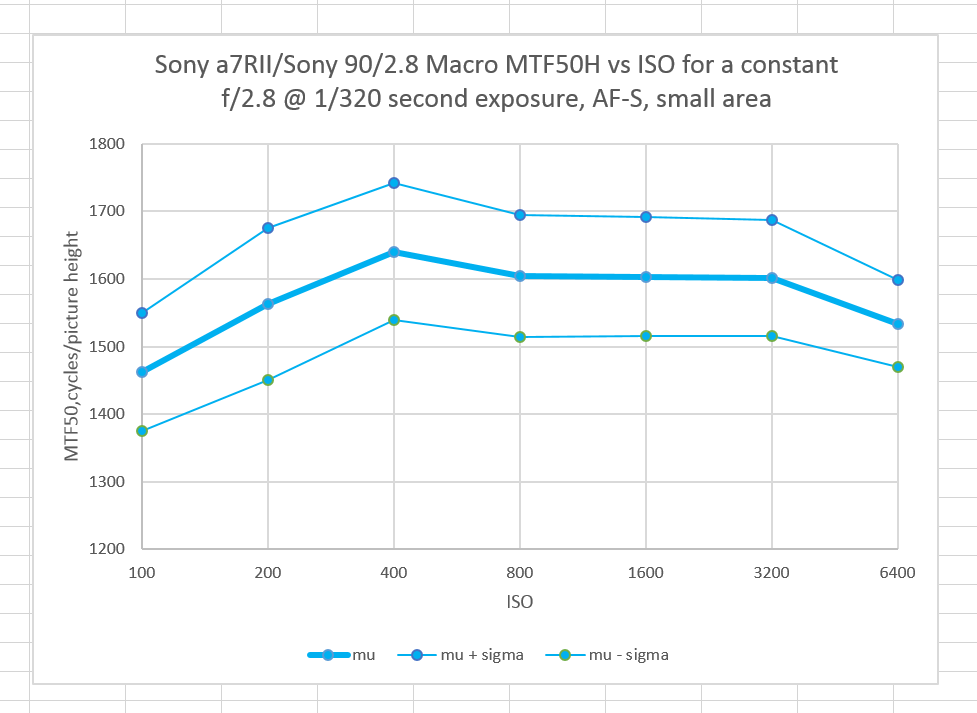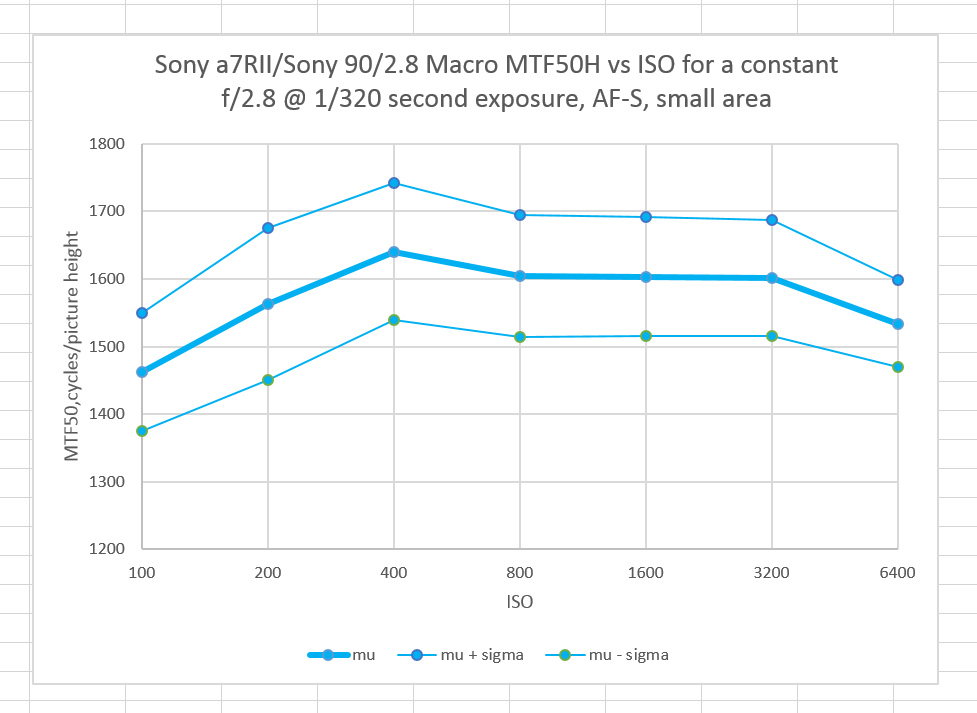 The bold line is the average (aka mean, aka mu) values. The lighter lines are the average value plus and minus the standard deviations (aka sigma). If the statistics are Gaussian, about two thirds of the expected results will lie between the two pair of lighter lines.
You can see that the images that weren't pushed at all in post are not quite as sharp as the ones that were pushed 1, 2, 3, and 4 stops.  There is a small falloff in sharpness for the 5-stop push, and a little more for the 5-stop push that should have been a 6-stop push (but Lr wouldn't let me do that).
My conclusion is that one to five stop underexposures aren't going to affect autofocus performance much. I might rerun this test with the light even dimmer (and OSS/IBIS off) to see if that makes a difference.