I tested the on-center resolution of the subject of yesterday's post, 2007 Leica 50mm f/1.4 Summilux and the 1952 Nikon 50mm f/2 Nikkor-H on the Sony alpha & Mark II (a7II).
Here's the protocol:
Camera, lenses, RRS  generic plate
Landscape orientation
Arca Swiss C1 head
RRS TVC-44 legs.
Imatest SFRPlus target
 Focused using live view at the taking aperture.
Paul Buff Einstein strobe set to 5 watt-seconds, for the f/2 shots, 10 ws for the f/2.8 ones, 20 ws for the f/4 ones, following that progression until I got to f/16. The f/16 results were substantially identical, so I threw them away.
Hot shoe to PC adapter for synching
EFCS.
Images developed in Lightroom 5.7.1 with default settings, exported as TIFFs
measured on-axis MTF50 for horizontal and vertical edges in Imatest
The results, first for the horizontal edges:
The Summilux: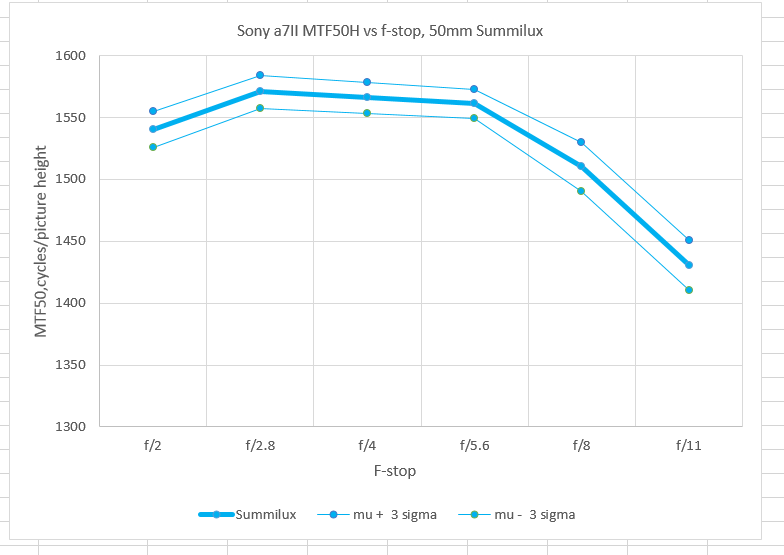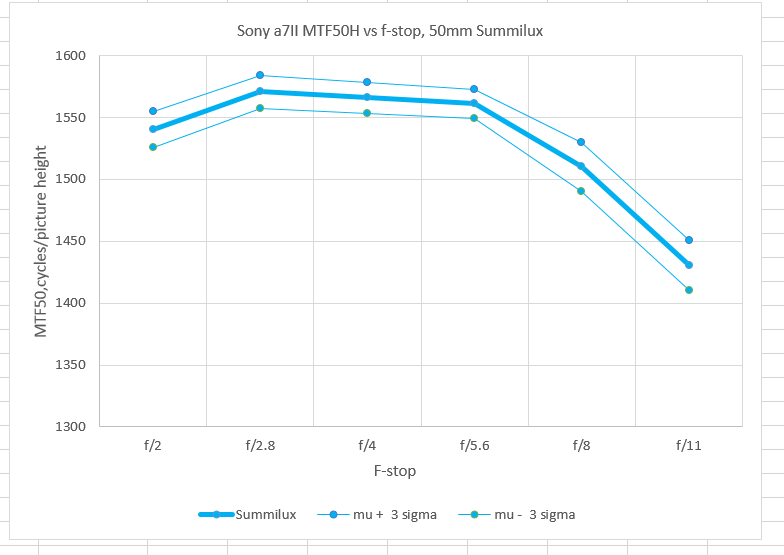 The Nikkor (note that the vertical scale is different: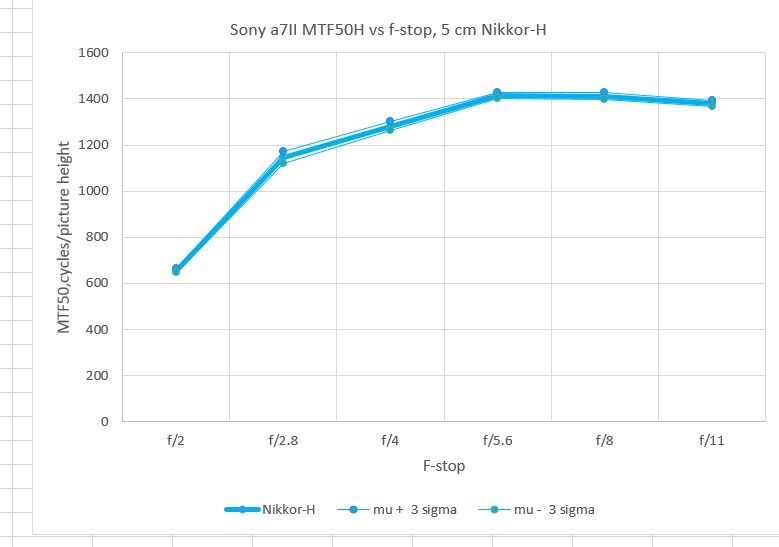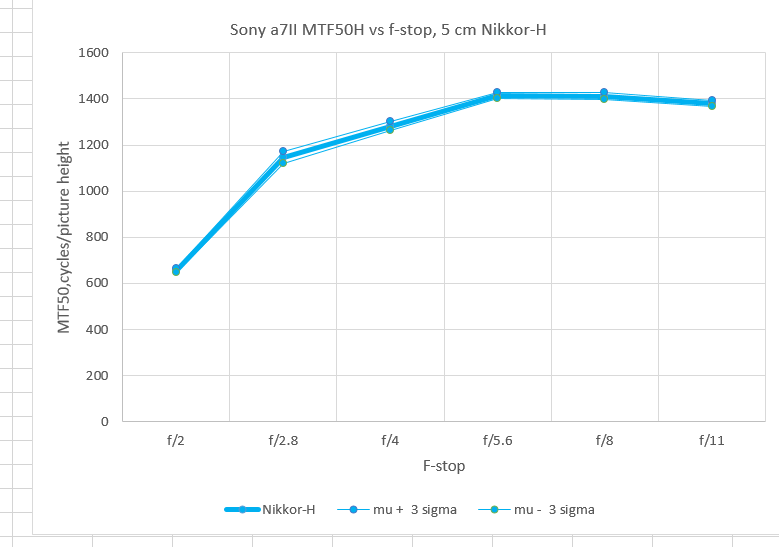 Both on the same graph: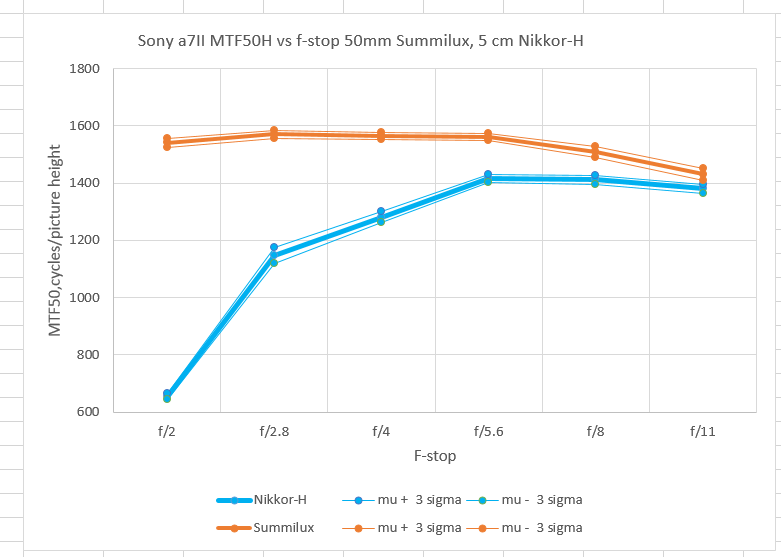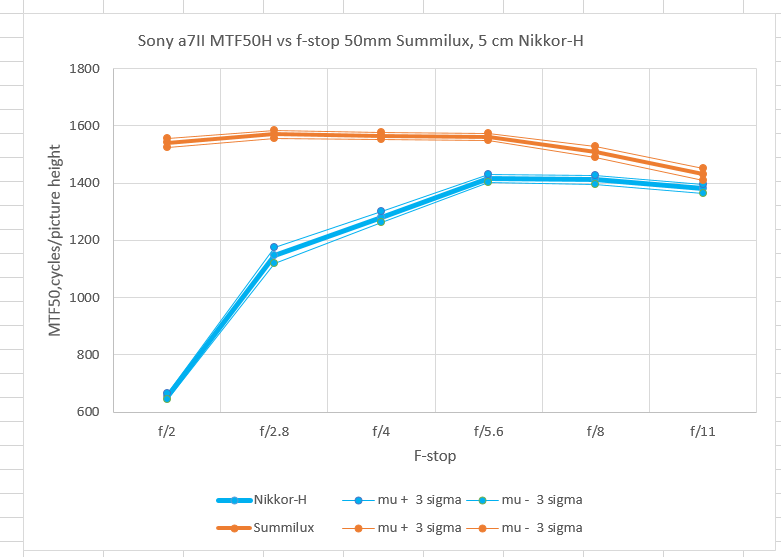 The results for the vertical edges are not as high, since the a7II's anti-aliasing filter in more aggressive from side-to-side than up-and-down, but the relationships are about the same: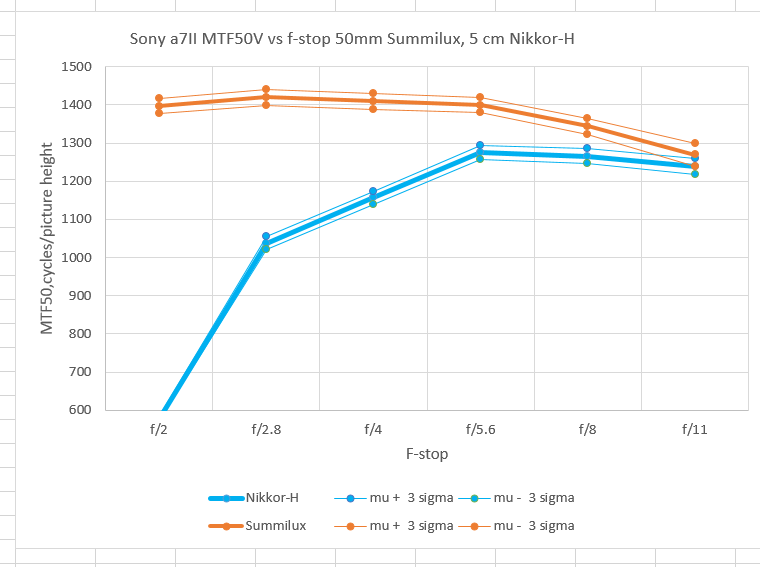 It's clear that, in this case, you get what you pay for. It's also clear that from f/8 on down, there's little difference between the two lenses performance on the a7II. Even at f/5.6, they're not that far apart. Wider than that, the Leica shines; actually, it's a really impressive performance.
When I was using the S2 a lot in the 50s through the 80s, I never thought of the Nikkor-H as a bad lens. It was a bit soft wide open, but that seemed to give a nice look to some pictures. It is clear that the Summilux is in another league.