In the previous post, we saw a pronounced self heating effect in the dark noise of successive 30-second exposures with the Sony a7RII. I repeated the test with the predecessor camera, the a7R.
I set the camera's shutter speed to 30 seconds, which is as long as it will go. I set the shutter mode to single shot.  I figured that's the setup you'd probably use for astrophotography. I set the ISO to 3200, which is higher than I'd use myself, but seems to be some kind of astrophotography standard. I hooked the camera to an intervalometer that was set to 1 second, so that would be the greatest time interval between exposures. I turned off lens corrections. I turned off long exposure noise reduction.  I stopped the lens down to f/22 and firmly affixed the lens cap. I made 140 exposures.
I measured the standard deviation of a central 400×400 pixel sample: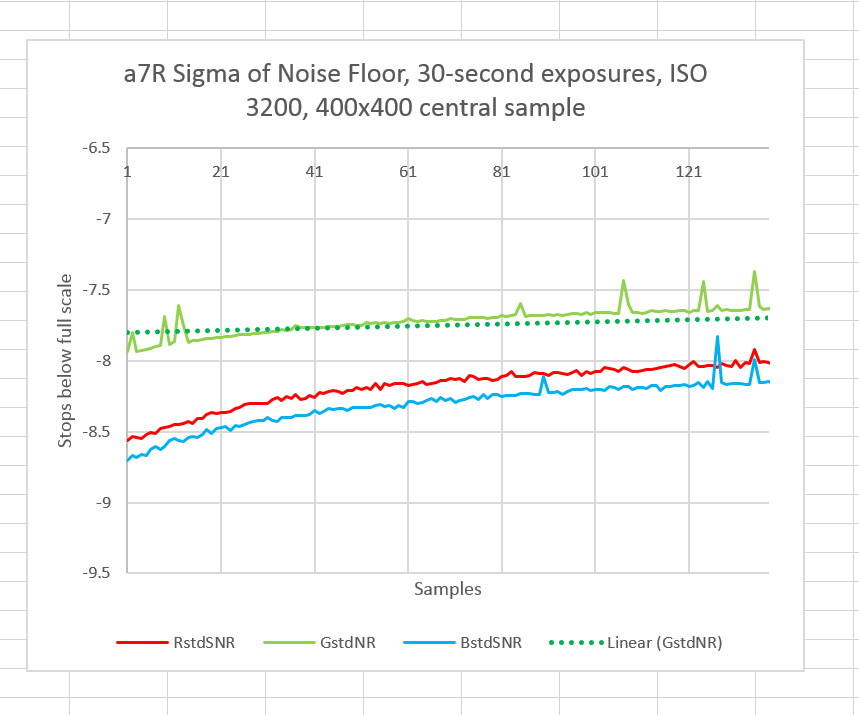 The vertical axis is the same as for the previous 30-second exposure series with the a7RII. The self-heating effect is much less pronounced.