This is a continuation of a test of the following lenses on the Sony a7RII:
Zeiss 85mm f/1.8 Batis.
Zeiss 85mm f/1.4 Otus.
Leica 90mm f/2 Apo Summicron-M ASPH.
AF-S Nikkor 85mm f/1.4 G.
Sony 90mm f/2.8 FE Macro.
The test starts here.
Yesterday, I showed chromaticity shifts among the test lenses with development in Lightroom with simple white balance and exposure compensation. Today I'd like to show some of the statistics for the five test images: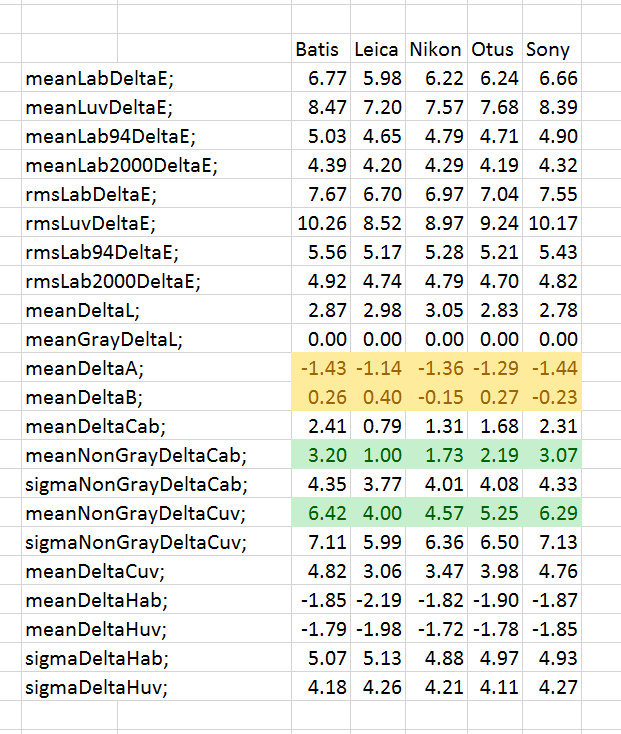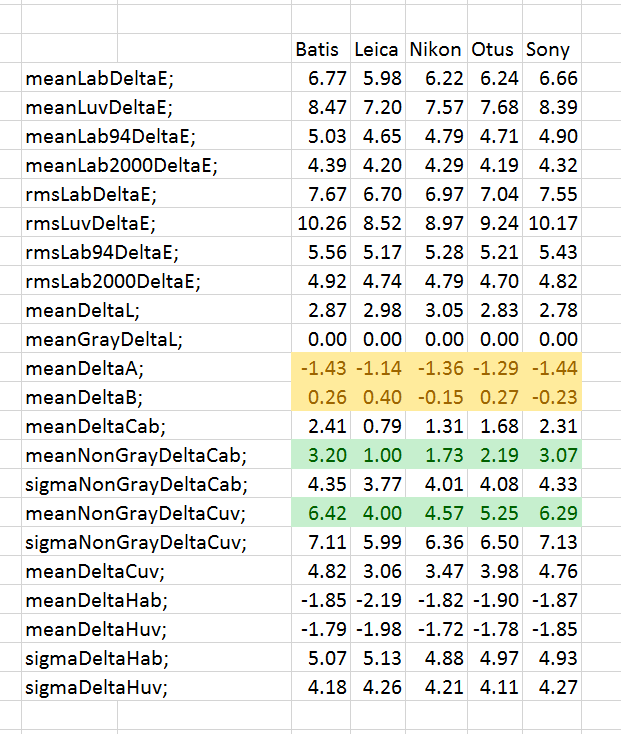 I'm going to ignore all the data except for the four rows shaded in color.
The ocher shading shows aggregate chromaticity shift in a* (cyan-red) and b* (blue-yellow). The white balancing for each image to one of  the gray patches would tend to minimize this, and It looks like the variations are quite small. That means that any overall color cast introduced by any lens is pretty much gone.
The green shaded rows show aggregate chroma shifts in both CIELab (upper) and CIELuv (lower). Positive numbers indicate more chroma.  The Leica results are the least vivid, and the Batis and Sony ones the most vivid. I suspect that this is the result of Lr doing some special processing when developing files with tags in the metadata indicating that they were made with these lenses.
A smoking gun?


Anyway, the effects seem to be small.
One assumption that might make sense is that flare is reducing the chroma in images made with some of the lenses. The problem with that is that the Otus, which has the least flare, is midpack for average chroma.