Vice Versa has a great way to stay abreast of what's happening with your backups. It's especially nice if you have four or fewer profiles. Unfortunately, it's going away.
The Vice Versa folks have written a Windows Gadget that looks like this: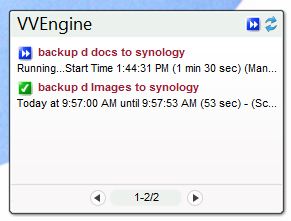 It doesn't take up much screen space, especially if you have a 27″ or 30″ display. It shows you what you need to know, and has a color code so you can see problems with a quick glance. Because it's a Gadget, you'll notice it.
The problem is that Gadgets are going away. Microsoft has decided that they're a security risk, and has recommended that you remove them from your Win 7 computers. There's no support for them in the RTM version of Win 8. There are ways to put them back, but there's no guarantee that Microsoft won't break them in the future.
You could argue that, with all the display ability of Win 8 Metro tiles, we wen't need Gadgets in the future. In the fullness of time, I'd agree with you. However, I'll bet most of us will be looking at the Win 8 desktop for a number of years, and I'll miss the Gadgets.