I posted sharpness test results with and without EFCS with the Zeiss 135mm f/2 APO-Sonnar here. EFCS seemed to make a significant difference at shutter speeds from a few tenths of a second to a hundreth or so.
Some people have reported no improvement with common zoom lenses. I thought I'd try the AF-S Nikkor 70-200 f/2.8 G II ED, a well-respected and good-selling lens.
One important difference between the mounting arrangements of the Zeiss 135mm lens and the Nikon zoom is that the Zeiss is (marginally) light enough not to need a rotating lens collar and tripod foot, where the 70-200 needs — and has — one. In landscape mode, mounting a lens to a tripod head with the collar and foot is more susceptible to shutter shock than mounting the camera body to the head. The reason is that the shutter's motion can be directly resisted by the head and tripod if the camera is clipped in, whereas the shutter's motion takes place at one end of a torsion pendulum if the lens collar provides the attachment point.
The MTF50 results with the 70-200 set to a focal length of 135mm: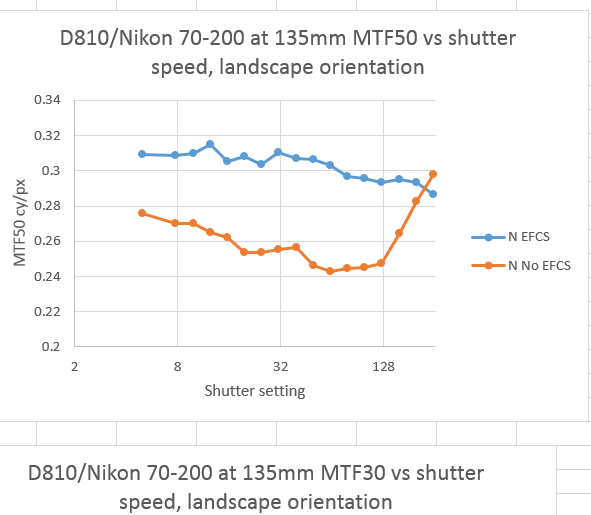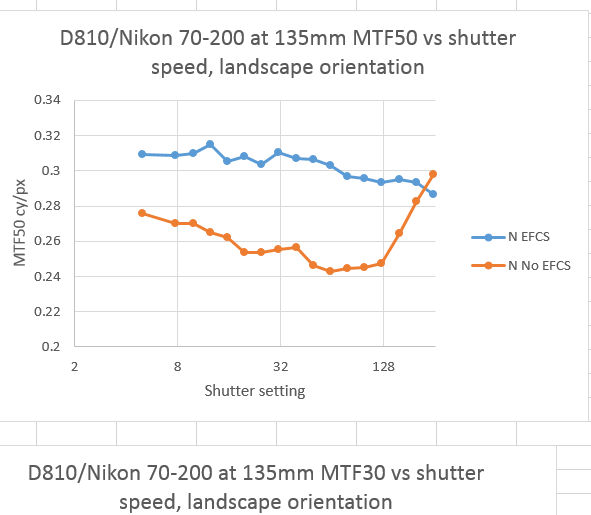 The EFCS helps quite a bit.
The MTF30 graph: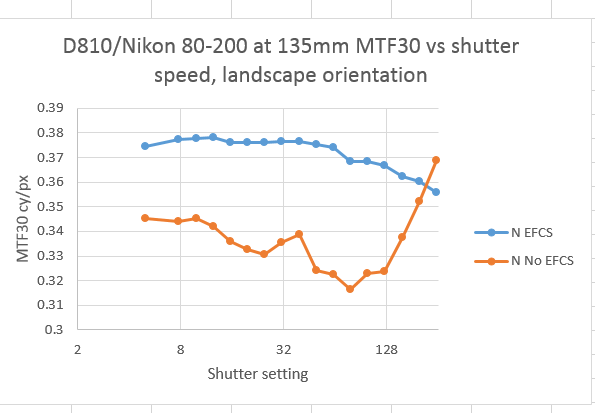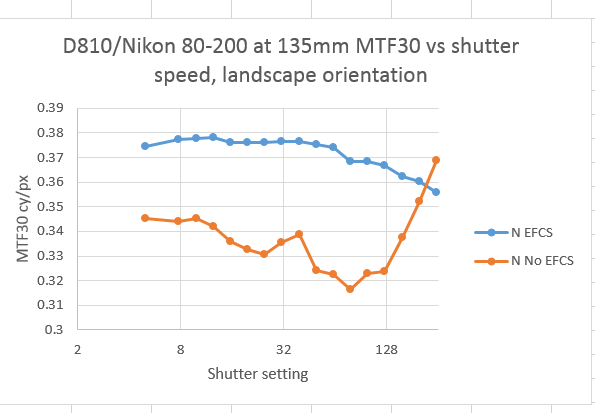 Pretty much the same story.
Why the gradual improvement in the EFCS results as teh shutter duration gets longer? My guess is that we're looking at the effect of the acceleration of the trailing curtain.
Why does the mechanical shutter look better than than the EFCS at 1/250? I think that's just statistical variation.
As usual, don't try to compare the MTF50 and MTF30 values from one post to another. Focusing errors, lighting differences, camera to target distances, etc, make those comparisons invalid.