There are special requirements for keyboards used for photo editing. The main one is that they should be backlit. You do editing in a dark or dim room, and it's hard to see the keytop inscriptions. Not only that, but you're not touch typing a lot of the time; for the most part, you're hitting a shortcut key or entering numerical data. But you don't spend all your keyboard time doing photo editing, nor do you want to swap in a new keyboard when it comes time to write an email or a blog post, so you need a keyboard that's efficient and pleasant to type on. For about 35 years, I've used IBM collapsing spring keyboards almost exclusively. Recently, I decided to see if I could find a backlit keyboard with acceptable feel. You know me; I tried a lot of keyboards. Here's my report on what I found.
It used to be that there weren't very many keyboards with decent feel. Those days are gone, thanks to gamers, who apparently value the feel of mechanical switches, and are willing to shell out more than an order of magnitude more than the price of a cheapie keyboard to get what they want.
Some gaming keyboards don't work very well without special software. I consider that a large black mark. Such software is not guaranteed to be upgraded to work with future releases on your OS, and can lead to strange behavior. I only included two such keyboards in this comparison, the Razers.
I'll present my results in the order of my overall ranking, from worst to best. Prices are current Amazon US ones.
6. (Tie) Razer BlackWidow X Chroma ($160) Heavy metal construction. Moderate stroke length, detent halfway down, and quite pronounced. Nearly all of its features require that you load a large, fairly buggy piece of software. The symbols on the top numbers row are not illuminated, which knocks it out of the running for me, and the need for special software is also a disqualifying flaw for me. If you like the Razer software, and it works for you (it was not reliable when I tested it), then the two Razer keyboards are quite nice, and should be considered to have a higher rank than I gave them.


6. (Tie) Razer BlackWidow X Ultimate ($100). Like the BlackWidow X Chroma, except that the LEDs are green only.


5. Das Keyboard 4 Professional MX Blue (DASK4MKPROCLI) ($161) A very nice keyboard, but with no backlighting. That's strike one. Strike two is very low contrast on the key top markings. It's not strike three, but the feel isn't as good as the IBM keyboards, in my opinion.


4. Azio RGB Backlit Mechanical Gaming Keyboard (MGK1-RGB). $90. Light, but solid. 6 foot, braided, fixed USB cable. Caps and Num lock lights way too bright. Kailh Blue switches. Not bad feel. Average travel. Detent towards the bottom of the stroke. Has a lightshow upon power up that is too cute for words, but which would probably get old. The symbols on the top numbers row are not illuminated, a fatal flaw as far as I'm concerned.


3. IBM/Lexmark 52G9658 Manufactured in 1996. The only beige keyboard in the group. Not backlit. No Windows key. Has PS/2 keyboard connector, and needs conversion for USB use. The feel of this keyboard is completely different than all the others in the test. In the case of the others, there is a point in the keystroke where the force required increases suddenly and then decreases. With the IBM Lexington collapsing spring design, there is no sudden increase; the activation force gradually increases, then decreases. It's delightful to type on. Too bad it's not backlit.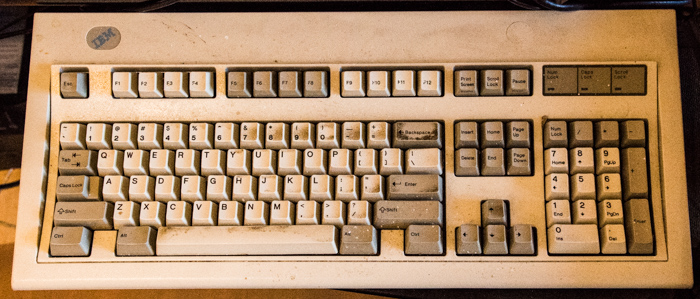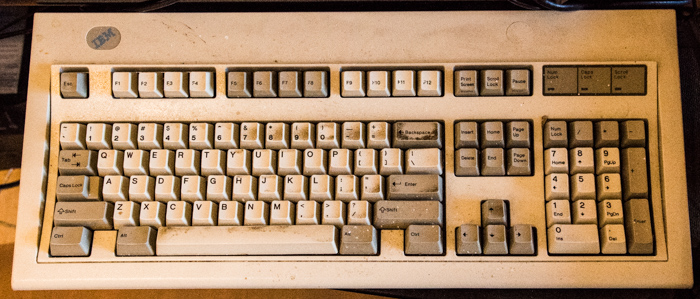 2. WASD Keyboards Code: ($165) Compact, for a full size keyboard. Solid feel. Rubber, replaceable micro USB cable. White backlighting. Fair amount of light spillover underneath keys. Caps and Num lock lights are very small. Navigation options on 10-key pad are not on key tops. All symbols illuminated. Cherry MX Green switches. Good travel. Detent about halfway down. Good feel for a modern keyboard. Noisy if you type hard. The runner-up. Would have come close to tying for first if it were quieter, but would still have lost to the Ducky Shine because it's white light only.


Ducky Shine 5 RGB LED Backlit Blue Cherry MX ($160). Medium weight. Solidly built. Rubber, replaceable micro USB cable. Num Lock key is lit if on, and not if the 10-key pad is in navigation mode. Navigation options on 10-key pad are not on key tops. The Caps Lock light is right on top of the Caps Lock key itself, but I can't tell you how bright it is, because I've defeated that key in the Windows 10 Registry. All symbols illuminated. Moderate key travel, with detent about half way down. Quieter than the WASD keyboard. Lighting is entirely and easily controlled through combinations of keystrokes. Has the best color-selecting mechanism I've seen: Hit Fn-Spacebar, and all the keys light up in different colors. Than it the key whose color you like. Done. That does the whole keyboard; you can also pick what color each individual key is. Lots of light spillover. The winner. Only problem is the silly name.