Yesterday, I published a post showing unusual behavior of out of focus point spread functions (OOF PSFs)  using the Mitakon Zhongyi Speedmaster 50mm f/0.95 on a Sony a7RIII.
In a PM, Brandon Dube had some interesting things to say about the effect.
I don't know why it happens. It could be genuine apodization caused by poor coating performance at extreme ray angles (it is easy to get to e.g. 65 degree angle of incidence in an f/0.95 lens, coatings have major issues above 45 degrees). It could be related to the microlenses, though that seems unlikely since it is nonuniform over the frame. What it could be, and what I would bet more on, is that because it is a budget f/0.95 lens, the pupils are extremely aberrated. The highly defocused image is more similar to the pupil plane than the image plane, so an aberrated pupil makes the OOF PSF change appearance (blur, distort, etc).

A reasonable test would be to take a sequence of images very out of focus, somewhat out of focus, mildly out of focus, almost in focus, etc, and see if the attenuation remains. If it is pupil aberrations, it should conveniently disappear near focus. If it is related to the microlenses or coating issues, it should remain.

A neat example of the pupil aberration thing is that if you take a fisheye and manage to get something very out of focus, it often has severe chromatic aberration on the bokeh. This does not appear in the in-focus image, and is just a byproduct of a fisheye lens more or less necessarily having terrible pupil aberrations.
Here is the result of the test that Brandon suggested, on-axis, using a Heliopan variable ND filter to tame the LED light: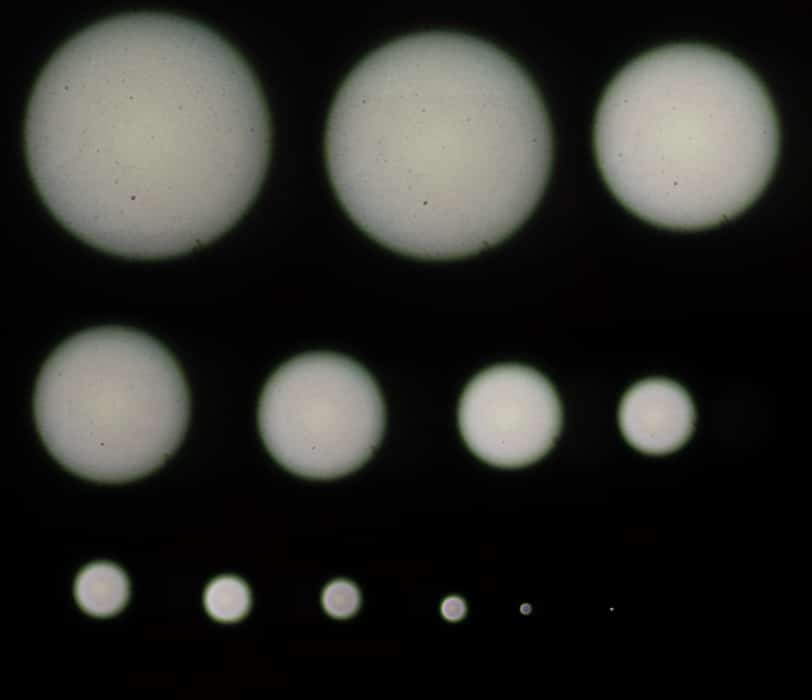 And here's a closeup of some of the smaller PSFs:

It's clear that the characteristics of the PSF change as we get closer to being in focus. The "haystack" cross-section of the PSF develops an annular depression. There's a lot of LoCA, which may have some effect.
Analyzing this further is beyond my pay grade, but I'm posting it so others can comment.