I've been reporting on the modulation transfer function results from some lens/sensor testing that I've been doing. I few days ago, I show you some work that I'd done with the Nikon 70-200 f/2.8 GII ED on the Nikon D810 to the Sony 70-200 f/4 G OSS FE on a Sony a7RII. I've been having some problems getting repeatable results, and I've started looking at the things that could impair repeatability.
Today I want to deal with exposure, both actual photons-hitting-the-sensor exposure and the Lightroom Exposure control.
I took one set of sixteen exposures of the Imatest slanted-edge target made with the Nikkor zoom set to 200 mm and f/4, and attached to the D810. Details: ISO 100, target centered, EFCS on, 5500 K LED illumination, autofocus on a Siemens star, release by intervalometer, developed in Lr with default settings except for white balance on the paper white.
Then I did a series of Exposure pulls in Lr, of the whole set, in 1/3 stop increments from zero to 2 stops, exported them to Imatest, measured the MTF50 using the horizontal edge nearest the focusing point, and plotted the results: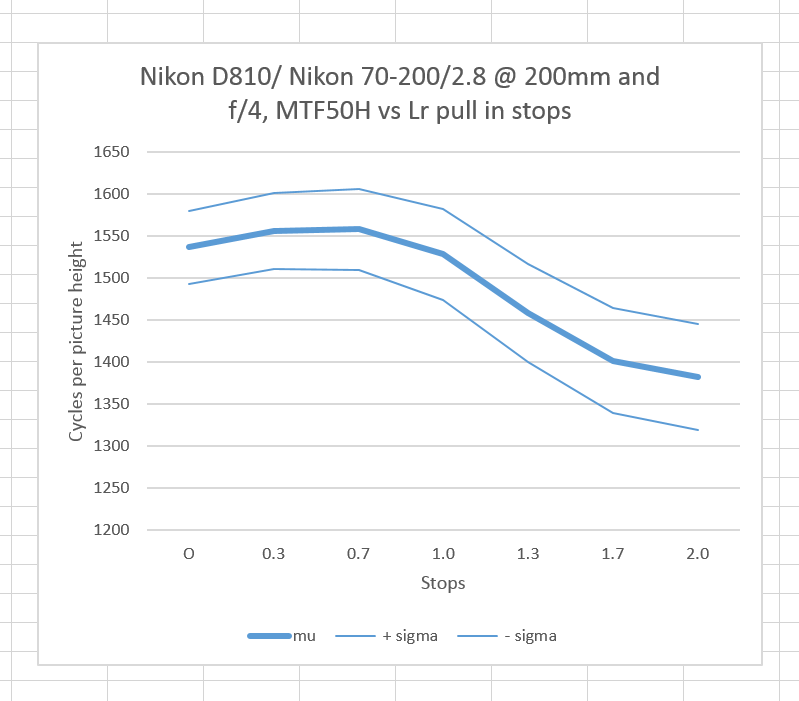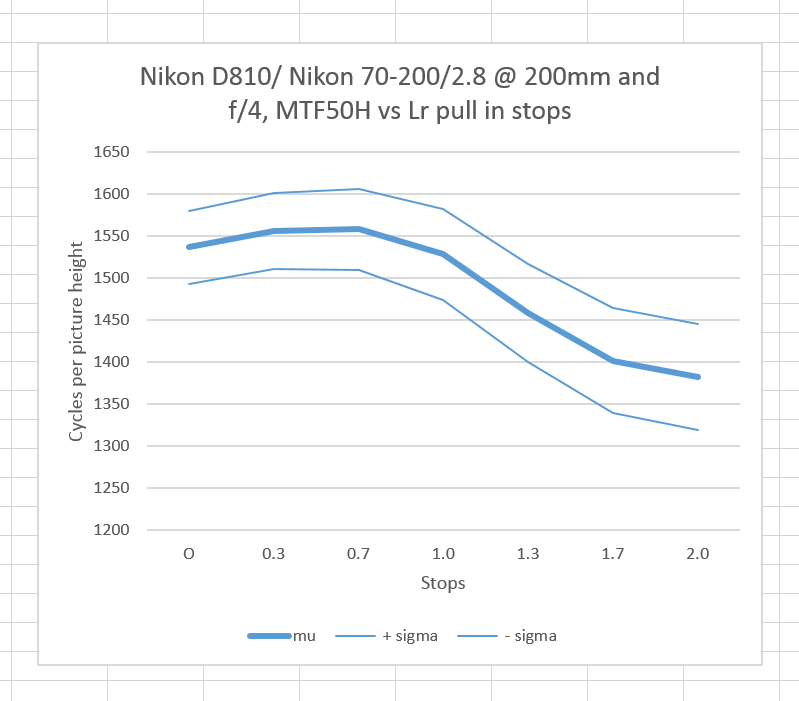 There is quite a large effect on the MTF.  Hmm…
I next ran a series of 16-exposure sets where the actual in-camera exposure was reduced by decreasing the shutter speed in 1/3 stop steps over the same range: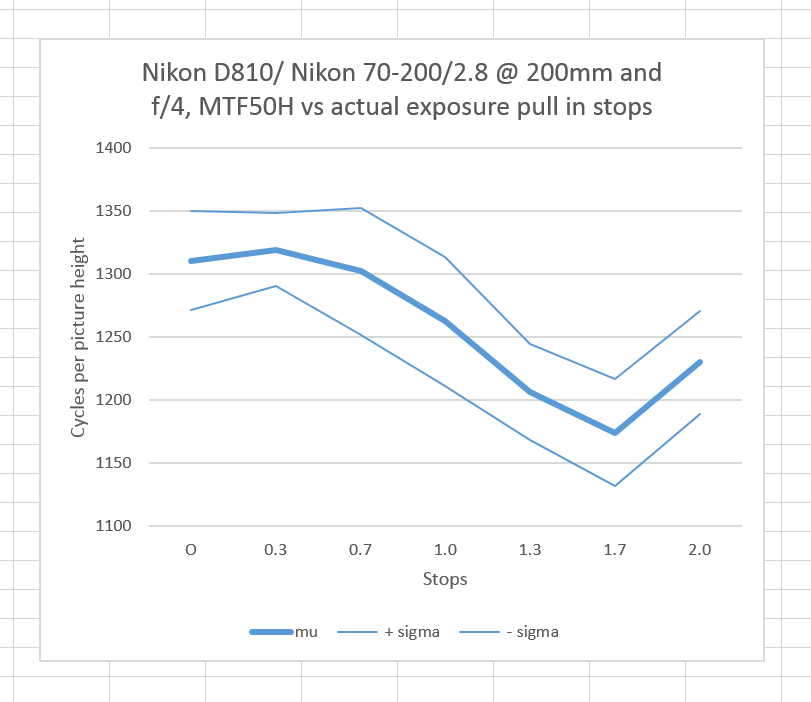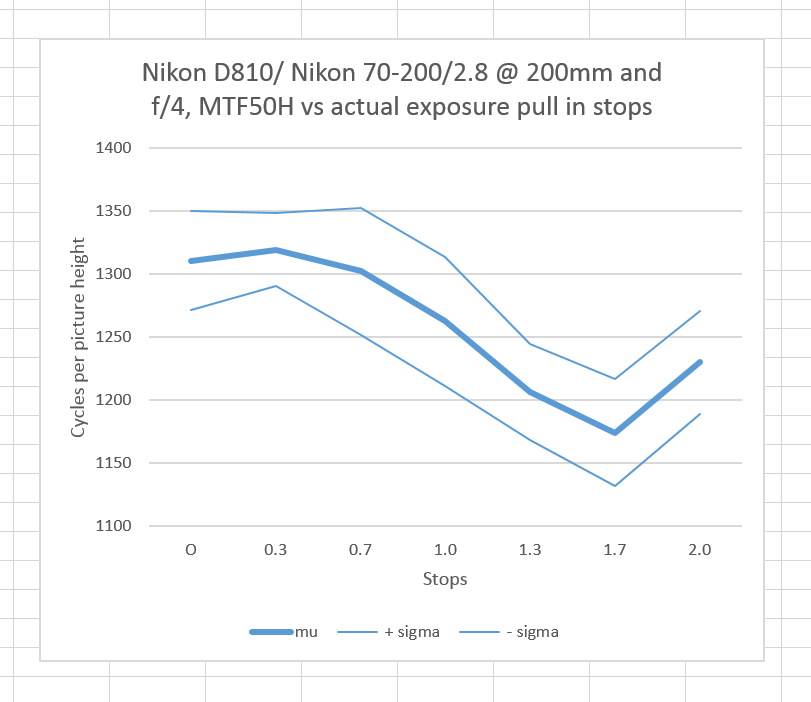 I'm not sure what that jump at the end is all about, but it looks like roughly the same effect occurs with real as well as development pulls.
The obvious question is, "Can we compensate for actual exposure differences with Lightroom development?" Applying successive pushes in Lr in the amount of the pulls in exposure to the above sequence gives us the answer: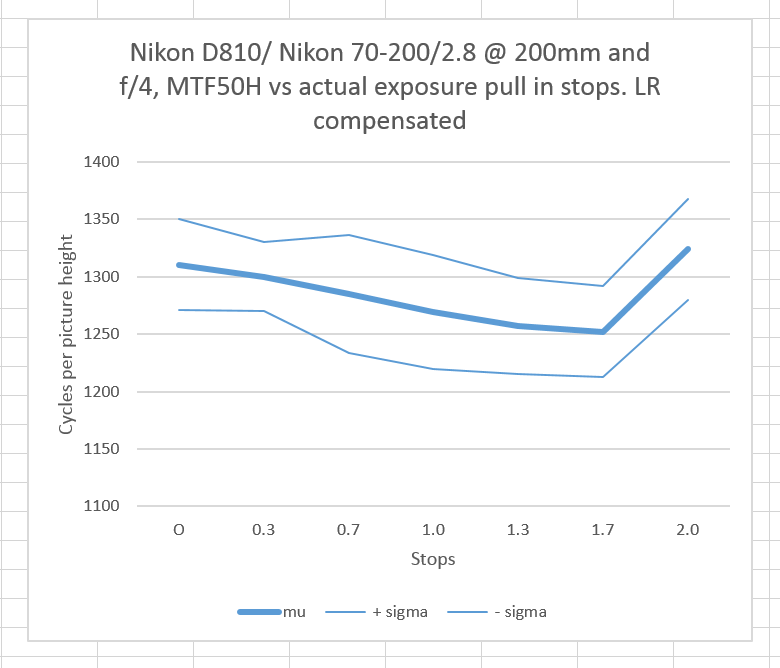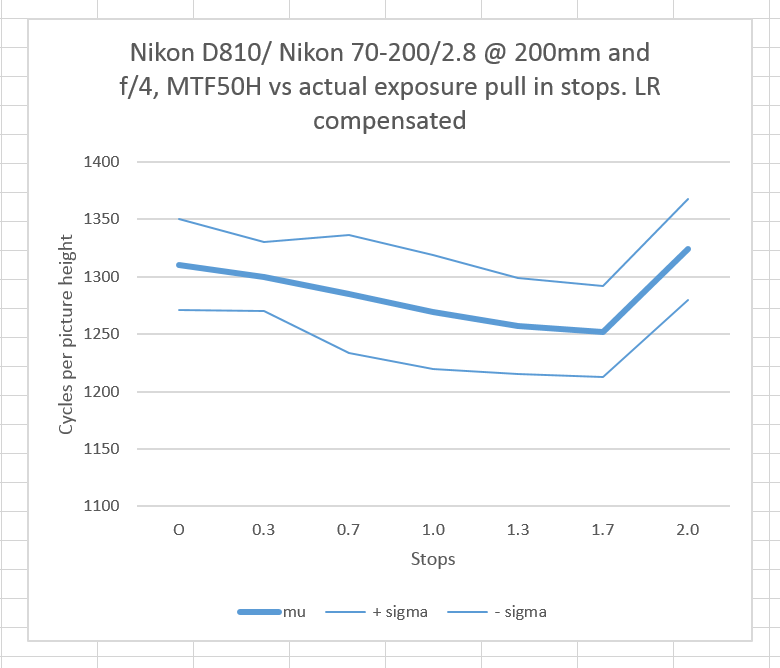 It looks like, to some extent, that post processing pushes (and, I assume, pulls) can largely compensate for uneven target illumination and exposure differences.
This has implication for measuring center and corner sharpness in the presence of lens falloff.