I got my hands on  a Nikon D5 today, and I'll be reporting on how well it tests out over the next week or two. The first thing I do when I get a new camera is test for read noise by making a series of dark field exposures.
Without removing the body cap, I made a series of exposures at all the ISO settings, with the shutter speed set to 1/1000 second, and the raw format set to 140bit lossless compression. I have, at least for now, discarded the three settings below the base ISO, but I've included the settings above the maximum numeric ISO setting on the camera, converted to ISO sensitivity.
First, read noise in a 200×200 central section of the raw file vs ISO setting: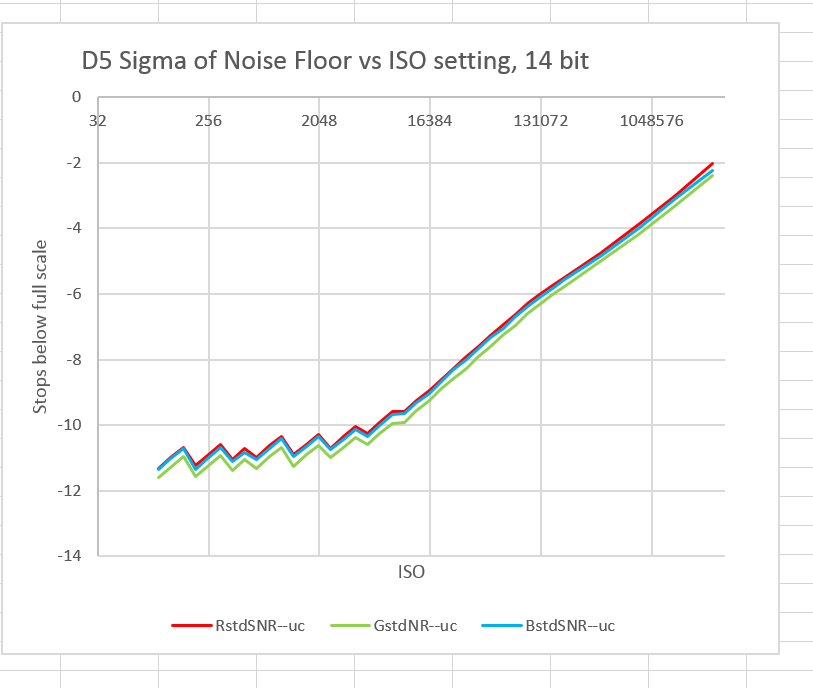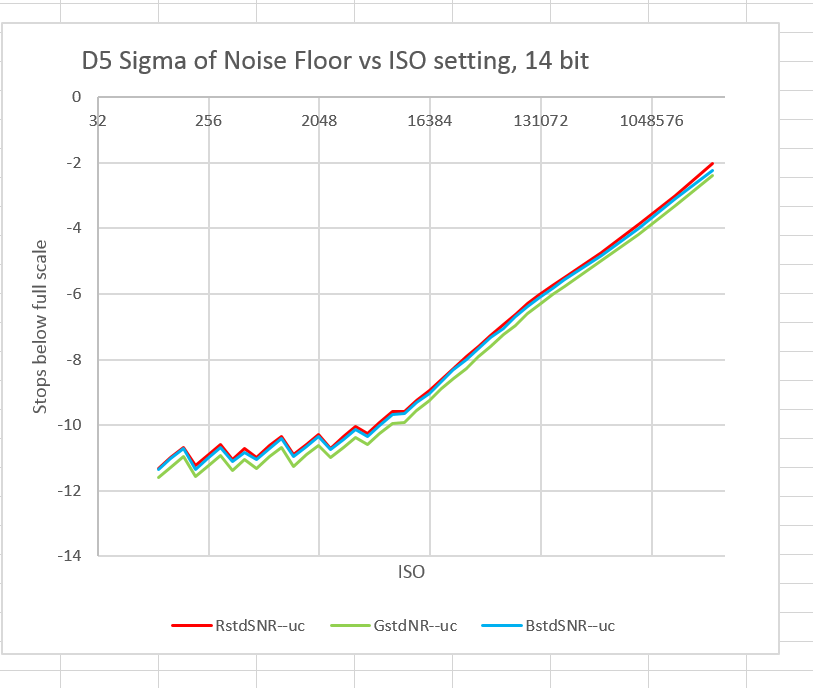 There are a three things that stand out. The first is that sawtooth behavior up through about ISO 3200. That indicates some sensor behavior that's reminiscent of what Canon does, and that is unlike anything I've ever seen in a Nikon sensor before.
The second is the droop in the curve above about ISO 100000. To me, that indicates digital processing of some kind aimed at minimizing noise.
The third is that the green channel seems to have lower noise than the red and blue ones.
Here's a closer look, leaving out ISO settings above 50K: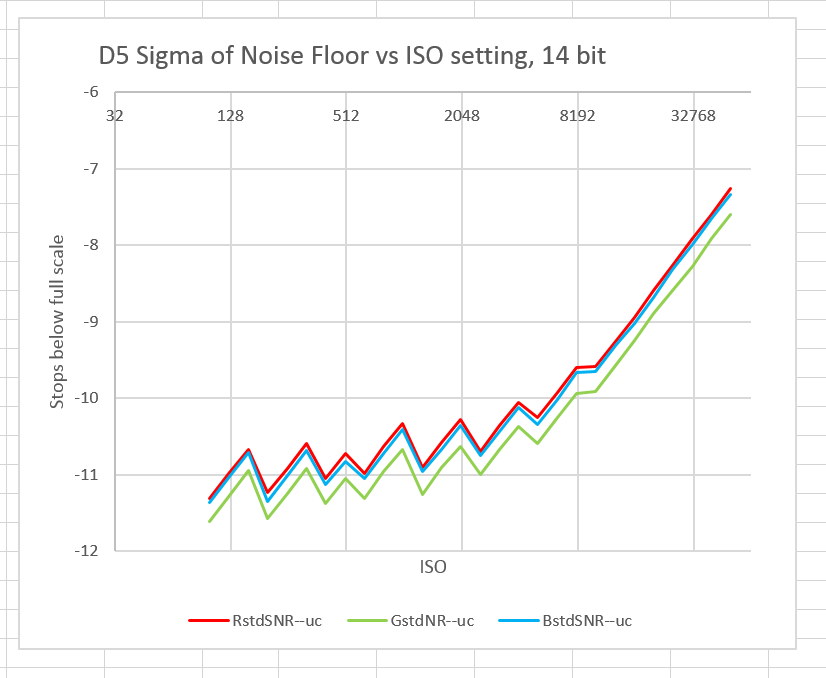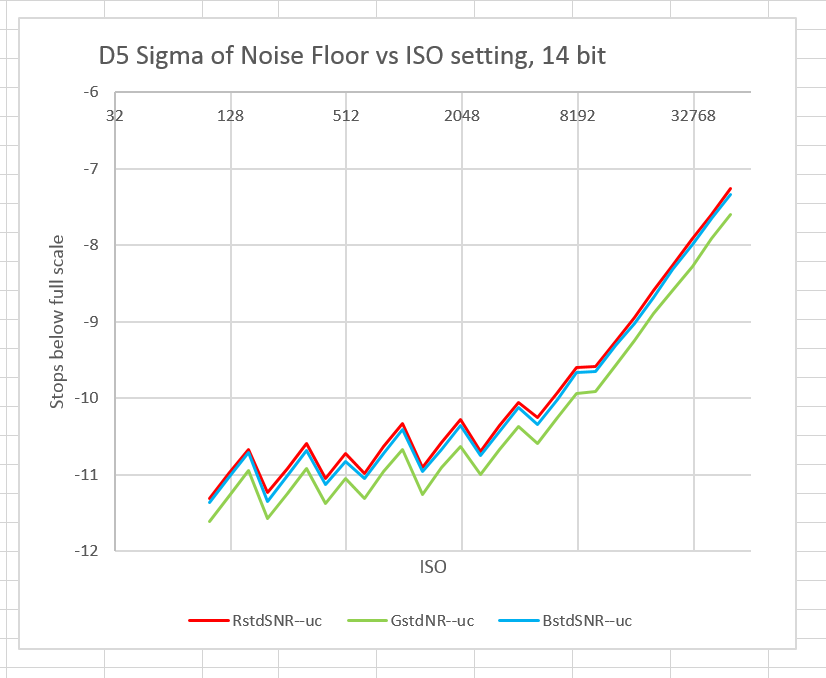 The sawtooth periodicity seems to be one stop, with the exception of the third peak. At present, I don't know what that's about.
Here's the engineering dynamic range, both including and without the really high ISO settings.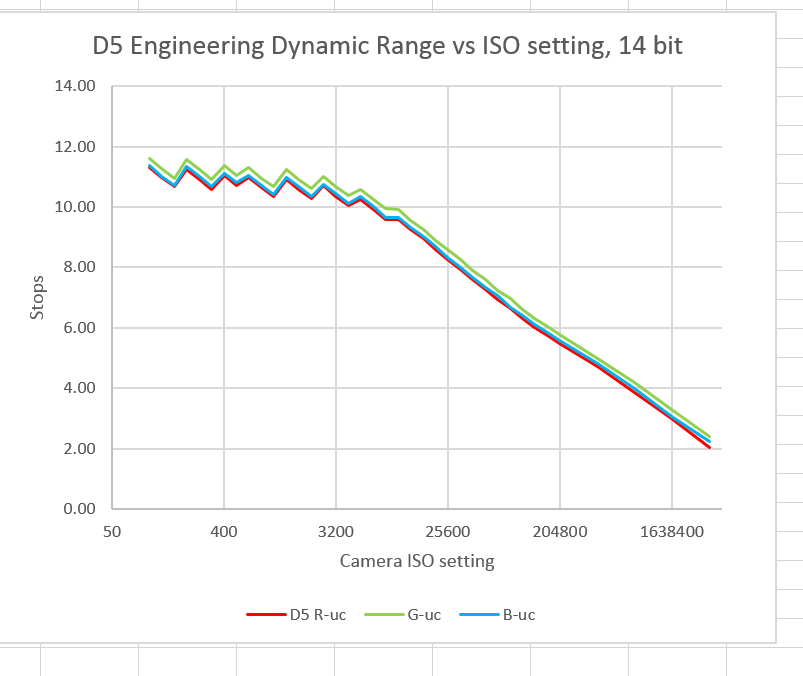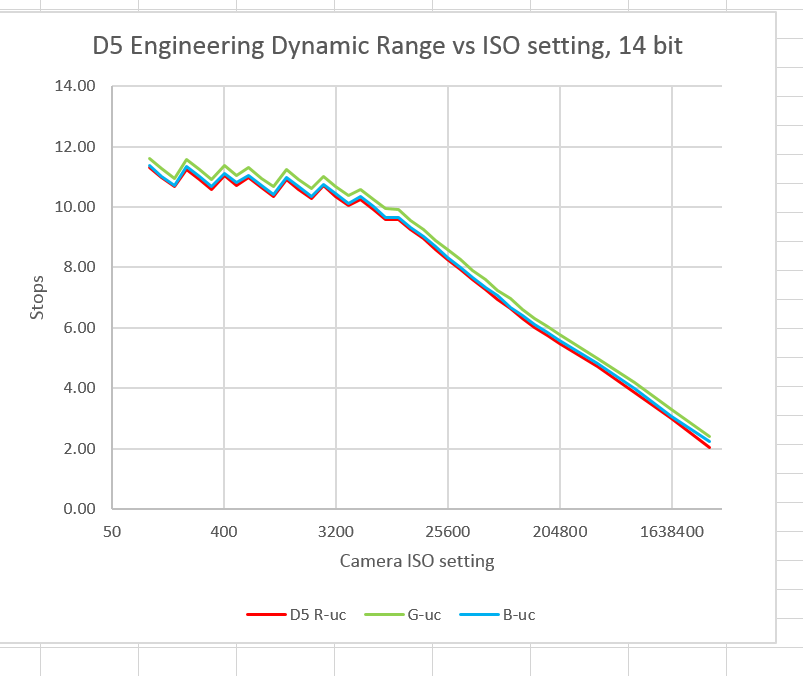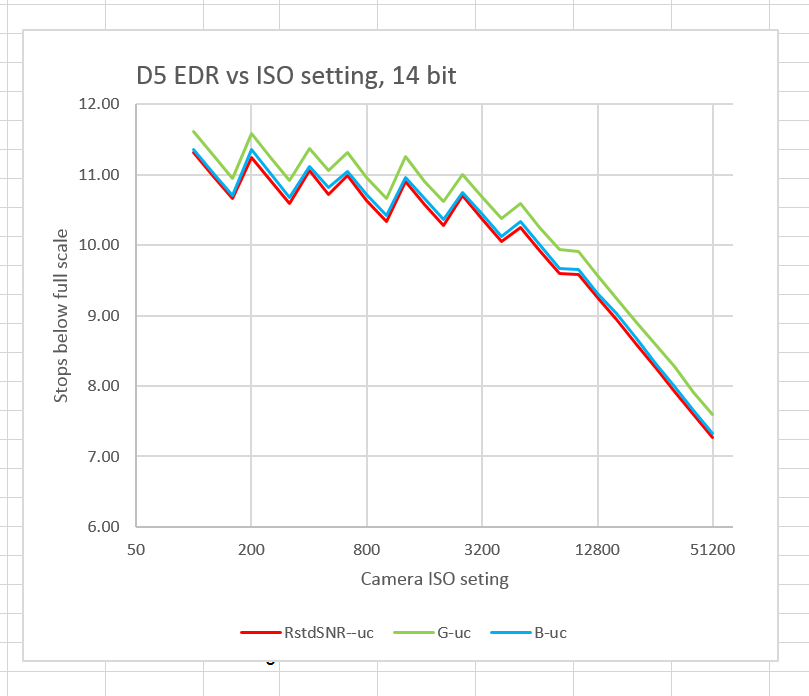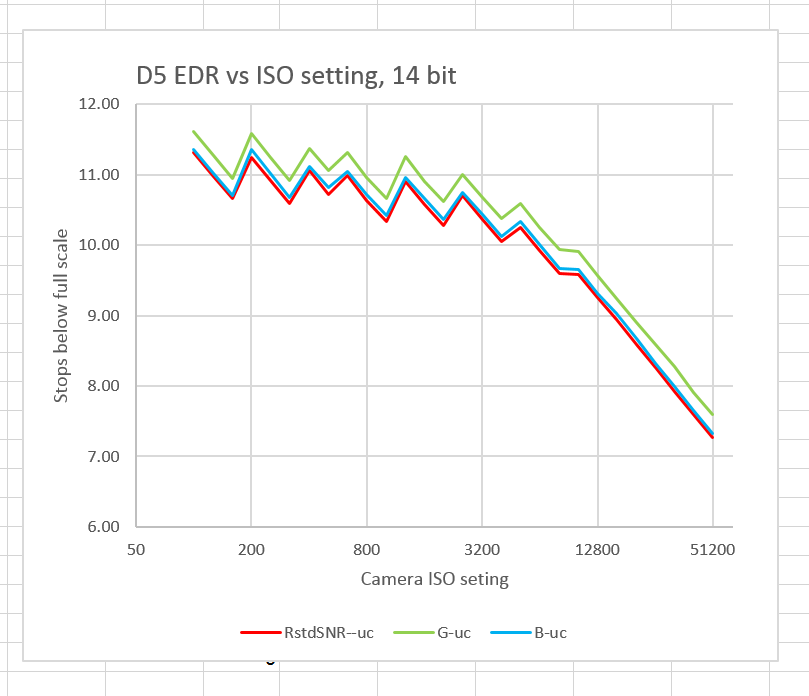 EDR's of around 11 are not terribly impressive these days. However, EDRs that stay above ten until ISO 6400 are pretty nice. I have not corrected these EDR numbers for sensor size.
If we look at the input-referred read noise both for all but the lowest ISOs and with the nosebleed ISOs left out, we can see that there is something unusual going on: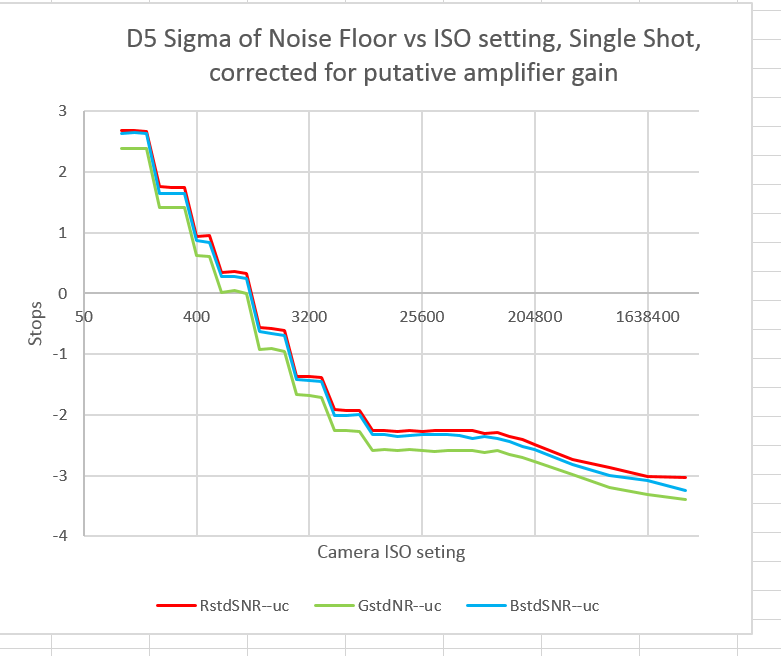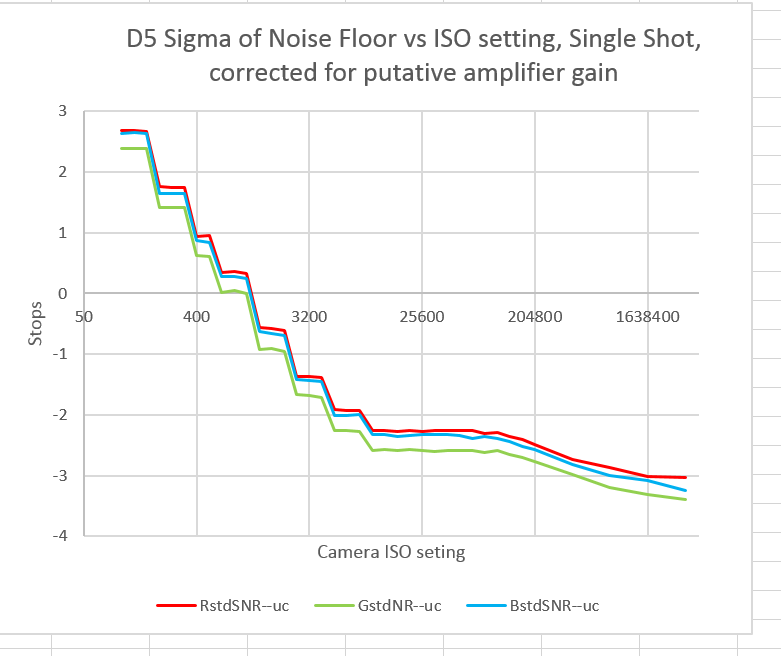 Now it's readily apparent just how strange that high-ISO droop is.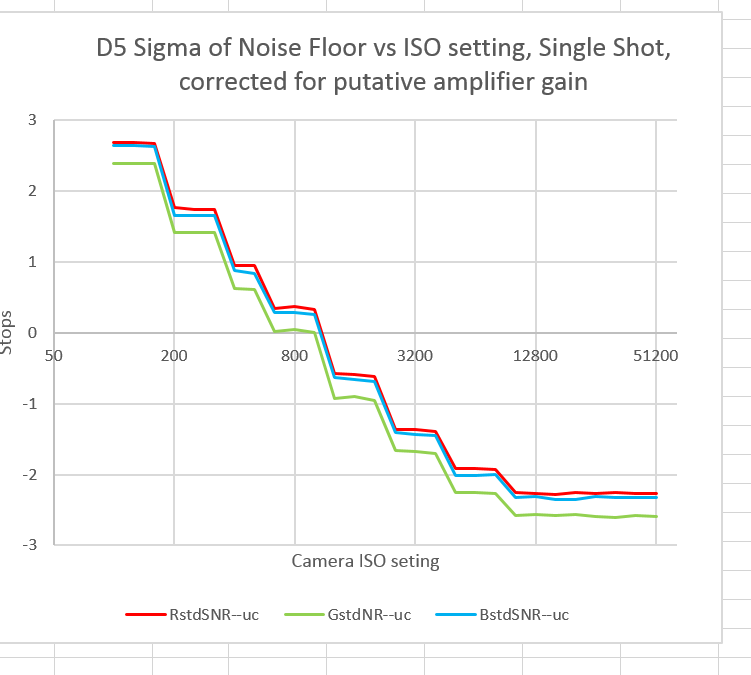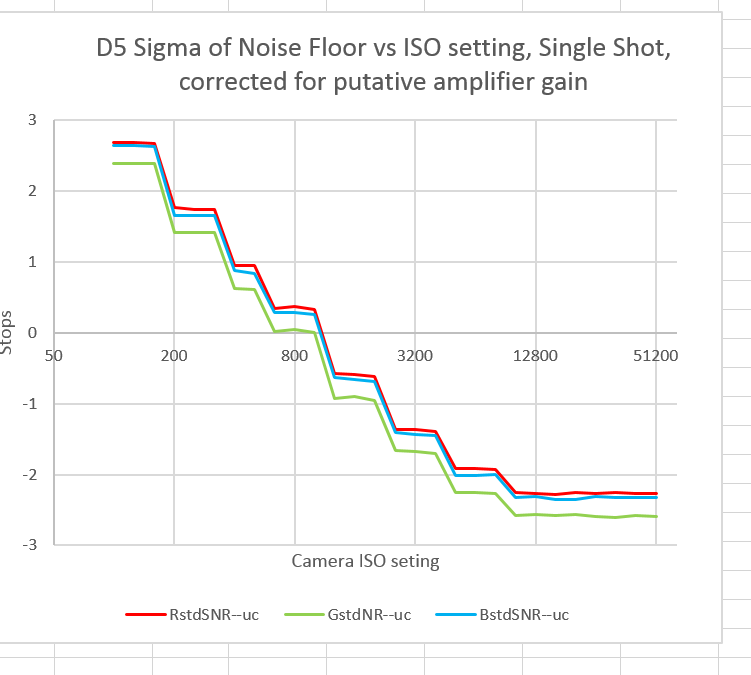 The vertical axis on these last two graphs is just relative stops. In a day or so I'll have full well capacity and I'll be able to present the data in electrons.
Looking at the mean of the black frame selections, we see only moderate indications of color casting at ISO 50K and below.The shadows could go a bit orange above ISO 8000.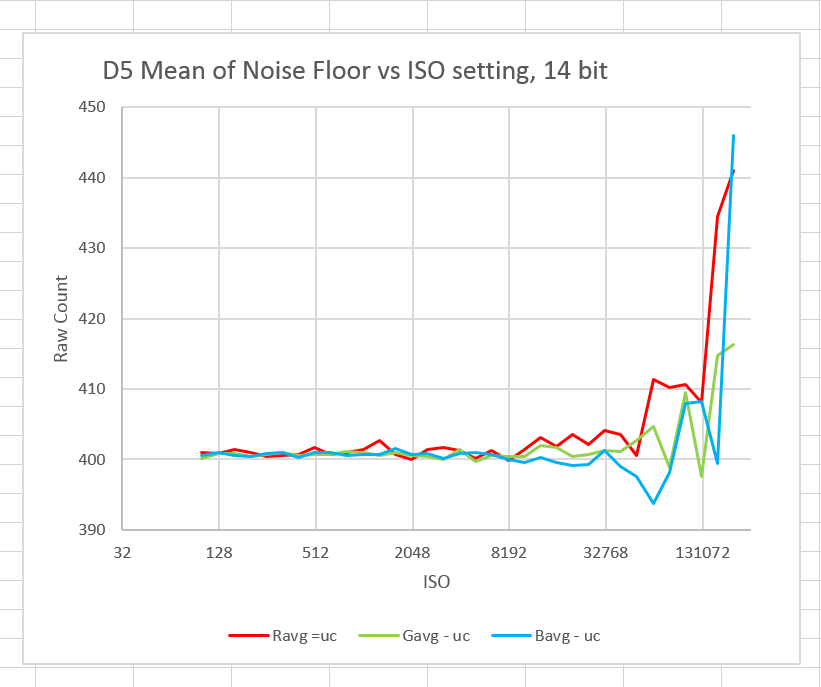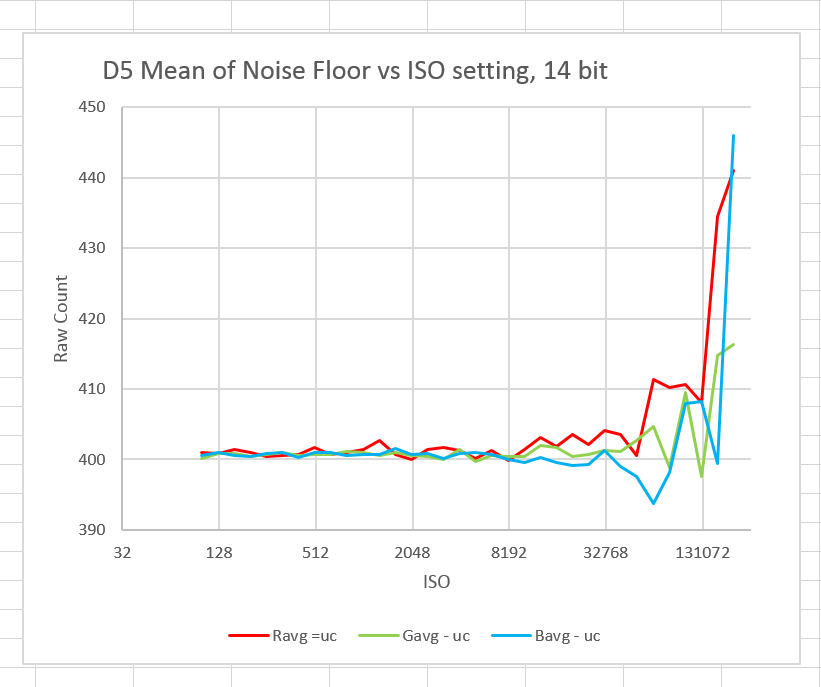 Note that the nominal mean is 400 counts, which is a first for a Nikon that I've tested. The D810 has a nominal black point of 600 counts. The mean does rise at extremely high ISO settings. That's caused by the left side of the histogram clipping. I'll be reporting on that in the next post.
It looks like this camera holds some interesting secrets.