There's a thread on dpr that started with a simple question, which I will paraphrase:
I'm going to Europe for a month and want to travel light. Am I crazy to go with a full frame camera and a 55mm f/1.8 lens?
Most of the respondents answered in the affirmative, citing the need for versatility for not missing any opportunities. A few went along with the single-focal-length idea, but suggested that 55mm was too long.
A small number of people, including your faithful scribe, encouraged the poster to go for it, saying that, for travel photography, operating with one lens for an extensive period trains your eye and will result in better pictures than looking for pictures in general, then deciding what focal length is best.
I cited my experiences in the 80's doing travel photography with the Plaubel Makina (6×7) and its built-in 80mm lens. It is a powerful ability to be able to see like the camera you have in your hand. You look at the world and frame the image in your mind's eye. When you raise the camera to your eye, you just need to make minor adjustments to get good things to happen at the edges, focus, and trip the shutter. If you zone focus, it's even faster.
As the thread evolved, I watched silently. Then it dawned on me that there was probably an unstated difference in assumptions between the two camps. It seemed to be a quality vs quantity issue. The lots of lens options group seemed to be driven by fear of missing a shot. The put yourself in a box and explore that box group was possible looking for the strategy that maximized the chance of getting one or two great shots.
Ansel Adams said that 12 good pictures a year was plenty for him. For the most part, I buy that way of looking at photographic productivity. There are two differences; my bar for picture goodness is lower than Ansel's, and when I'm working in a series, I sometimes want enough good pictures to completer the series, and if the series is seasonal, sometimes I don't want to wait a year.
Before we delve deeper into that, let's consider strategies for making impromptu travel photographs. My assumption is that the photographer has no assistant, no ability to modify the light, and no ability or desire to direct the people in the image, if there are any. I believe that there are two strategies that can be successful, and I have a preference.
The first strategy, which I'll call Magic Moment is to be aware of your surroundings in a hyper-receptive way. This feels like a sort of meditative state. You are aware of the world. You see patterns, relationships and connections that would normally escape you. (By the way, this mental state is in my experience incompatible with any meaningful interaction with people who may be traveling with you. If you can, explain to your traveling companions what you're doing, or better yet, go on these photographic expeditions alone.) You're always seeing in your mind the way the scene will look to the camera. You're zone focusing all the time even though your camera is lowered. When everything clicks and something wonderful happens, you raise the camera to your eye and make the picture. Then you move on.
The second strategy, which I'll refer to as Work the Scene, starts out like the first, and, if something marvelous happens right in front of you, ends there. When you find a promising scene, you start making exposures, even if you're pretty sure they won't be keepers. You move around and try out different ideas to see what works and what doesn't. If you have people in your picture, when you understand the image you want, you hang around waiting for the people to disport themselves the way you want, taking pictures along the way. When you finally see the image you're looking for, you make three quick exposures (for insurance) and move on.
I'm not the only person who prefers the second strategy. Henri Cartier-Bresson talked about looking for, and finding "the decisive moment". I imagined that his contact sheets were populated by individual images carefully chosen in time. Imagine my surprise when I got to see many of his contact sheets at the ICP museum in New York City. In one respect, his contact sheets looked a lot like mine: finding a likely spot, exploring a few ways of dealing with it, running into some dead ends, finding something that works, and either making two or three quick exposures and moving on or making several exposures with essentially the same framing while waiting for people to arrange themselves. (I'm not claiming that my contact sheets look like Cartier-Bresson's in any larger sense, although I wish they did). The contact sheets tell the story of a photographer working out the possibilities while making images, rather than sitting back and contemplating until the image is complete in his head before tripping the shutter.
In 1980, Lustrum Press published a book called Contact: Theory, which, for forty-odd photographers, presents a well-known photograph, the contact sheet from which the negative was picked, and an explanation by the photographer of the thinking involved in the selection. By looking at the contact sheets, you'll see how the photographers get to their images. You'll see some approaches similar to Cartier-Bresson's. You'll see many other techniques. You'll see things that didn't work. You'll see some photographic narration. You won't see any perfect images unrelated to the others on the sheet.
Magic Moment clearly favors using a single focal length. You don't have time to change lenses when the moment happens. You need to be able to think like the camera, and having a single focal length makes that a lot easier. I should note here that it's possible to train your eye to several different focal lengths, so, if you're employing a zoom, you can preset the focal length, raise the camera to your eye, and know exactly what you're going to see. I've done this when carrying two single focal length cameras, and it isn't easy.
Work the Scene is compatible with the ability to choose from several different focal lengths prior to the final framing decisions.
Where does the number of good pictures you're looking for come into this? For someone like me, looking for a handful of good images, the thing that makes or breaks an image's inclusion in the good category is something beyond what appeared in front of the camera. If a dozen other photographers present at the same place and time would have made a dozen similar images, then it's probably going to make the year's top twelve. As a corollary, the thing that's most important to a successful image is not what's going on in front of the camera, but what's going on in the mind of the photographer.
I admit that a great photographer can't make a boffo image out of nothing, but I think amazing images can come from pretty ordinary circumstances.
However, if you're just looking for a bunch of better-than-OK images, sort of a travel diary with good esthetics, then you want to be able to document everything you see, and versatility in your equipment is probably a good idea.
I have argued before than constraining yourself in photography can set up situations that can lead to great outcomes. This has proven to be a controversial position, but the years have made me believe it even more. The one-lens European trip is an example of a constrained photographic experience that I think can have a great outcome. I know it has for me.
Here's an example of the result of a successful working of the scene: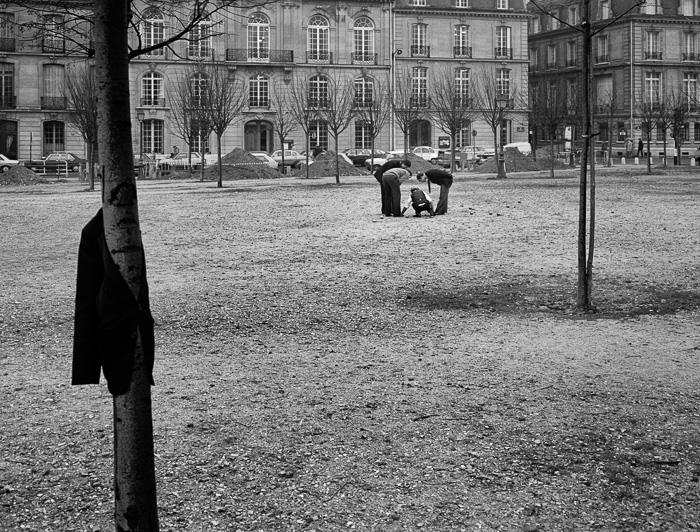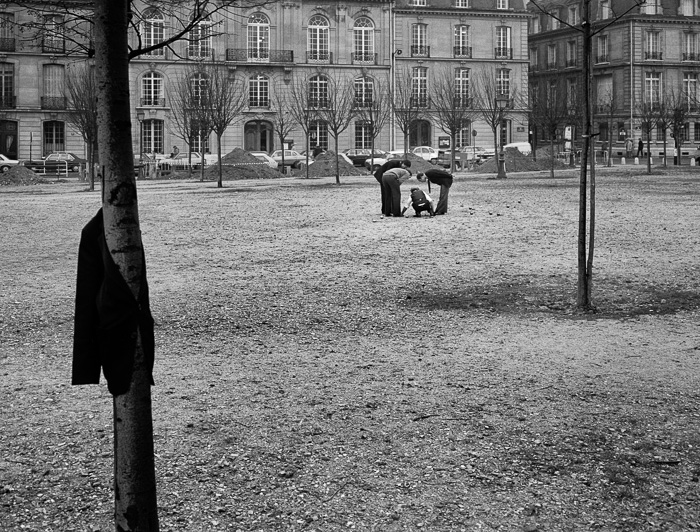 On the same trip, I was presented with this opportunity: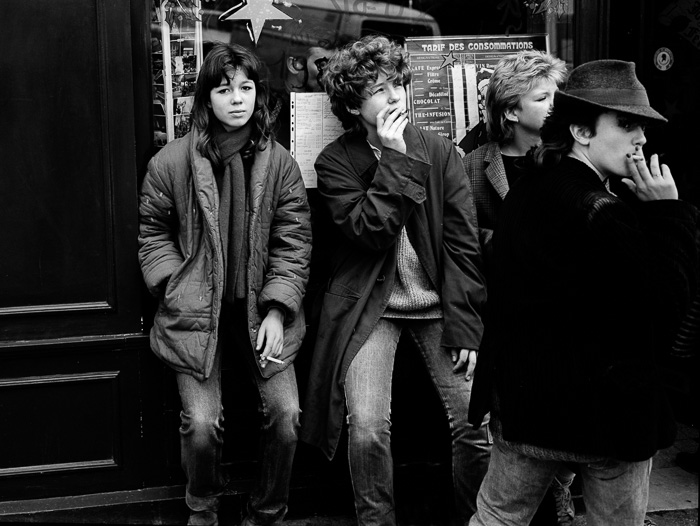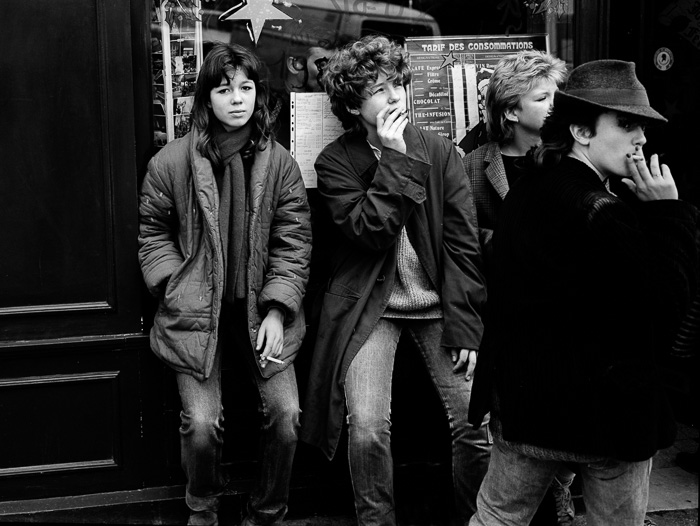 I only had one chance. I did make another exposure, but the girls were all mugging for me, and the magic was gone.
And here's one that just fell into my lap: