Many years ago I interviewed Jack Welpott for the Center for Photographic Art Newsletter, Focus. You can find it and many other interviews here. As was my habit, I made a portrait of Jack to accompany the interview: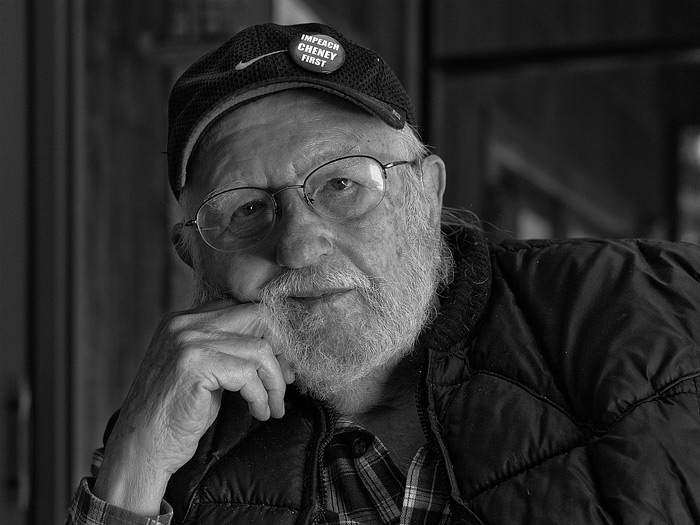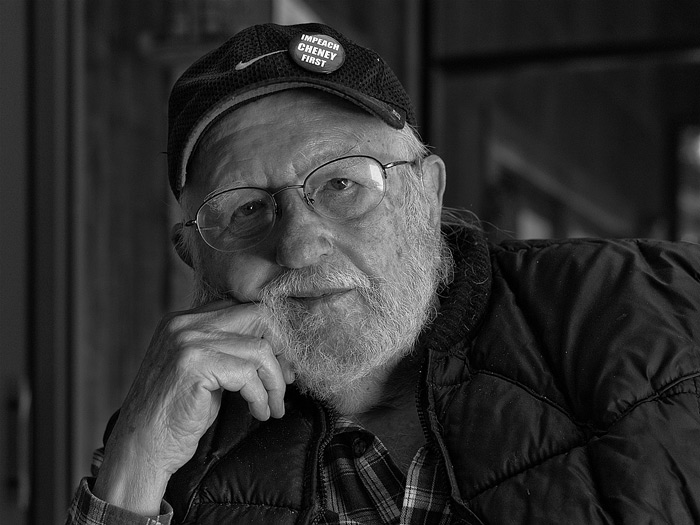 Last week, the CPA posted the portrait on their Facebook page. There was no photo credit. At first, I wasn't sure it was my picture. So I found the original in my archives. Yep, same image. I was unhappy. I sent the CPA an email, and they rapidly fixed things and apologized.
All's well that ends well, right? I agree, and I bear no rancor towards the CPA. But the whole thing got me thinking. Why is having a photo credit attached to my images important to me? Is it important to other people? Is there something generational going on? What are the circumstances in which having no credit is OK?
My experience with photo credits goes back to high school. At the time, I was a photographer for the school newspaper and the yearbook. Neither routinely used photo credits. A polite request got nowhere. All the photographers banded together and demanded that we get photo credits under every image in the newspaper (with one exception, a three-page collage of several hundred images that we did once a year). The staff of the paper agreed. We bowed to esthetics, and asked the yearbook staff for less.
A couple of years later, I was photo editor of the Stanford Chaparral. We had a policy that we'd credit editorial photos, but not ads (most of the advertising photographs were actually made by the magazine's photographers; it helped us sell the ads). That seemed fine to me.
With the exception of a couple of portraits I did when I was at Stanford, and one wedding, I've never made images for money. I photographed sports car races in the late 60's, but the only remuneration I got was film, press passes and introductions to drivers. I think that shaped my feelings about photo credits. They're important to me. If I'd been working for cash, I might feel differently. However, to me the credit is part of the psychic income from the job.
The context makes a difference to me. I've done photographs for brochures, and I hasn't bothered me to not have my name on them, just as I wouldn't expect to get a credit for writing ad copy. And, just as newspapers routinely credit the writers, I think they ought to afford the photographer the same level of respect.
Respect feels like the right word to me. To provide a photo credit means you take the work and the photographer seriously. To omit it means that you think it's fungible. If it's not worth the effort, space, or time to credit the maker of an image, you're saying it doesn't matter who made it. And then there's ego. I'm not too proud to admit that I feel good when I see my name under a photo that I'm proud of.
Put ego and respect together and you have a powerful motivator. Take that away, and there's potential for resentment and feeling used, especially if no money changes hands.
What does it cost to give a volunteer a photo credit? Time is one thing; first you have to figure out who made the picture. Then you need to ask them if you can use their picture. Actually, you should do both those things even if you're not going to run a photo credit, but in today's Internet world, that legal and ethical nicety is not always honored. Space is another, although that's not usually a problem on the 'net, since screen space doesn't cost money. But space costs in other ways, and is especially valuable if you're formatting your web pages for mobile devices. Esthetics is a potential cost; the photo credit may interrupt the flow of your page.
What does it cost not to give a volunteer a photo credit? I've mentioned resentment, and feeling used is not a recipe for getting more work out a volunteer. Not giving credit shows the world you don't honor image makers, although few will notice beside those who create images – or possibly other content.
I'm an old guy, and my thinking on this subject evolved in an era when ink on dead trees was the dominant photographic publishing medium. Is it different for those who grew up with the Internet? I think so, but haven't taken a poll, and couldn't say for sure.
How about you? Do you expect a photo credit under your published work? Are you upset in any way if it doesn't happen?