I repeated the analysis of the Zeiss 105mm f/2 ZF macro lens using DCRAW for raw conversion. To review the test conditions, I made all the exposures in an aperture series using a strobe for illumination. I set up a Nikon D4 with the lens mounted. I focused wide open using live view. I turned off live view. I set the shutter speed to 1/125. I set the f-stop to f/22. I set the strobe for a full dump. I made ten exposures. Then I set the f-stop to  f/16, and the strobe to half power, and made ten more exposures. I continued to do that until I was at f/2 (as far as the lens will open) and 1/128 power (as low as the strobe will go).
Here are the results: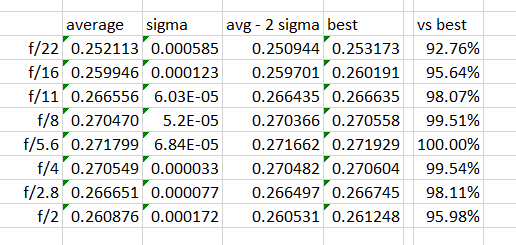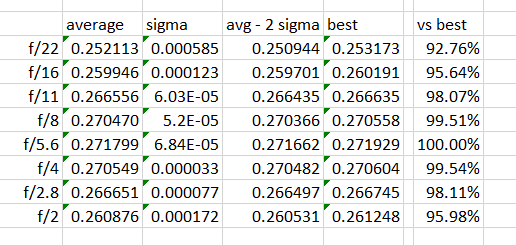 This makes a lot more sense. The odd behavior at large apertures is gone. The standard deviations from exposure to exposure are way down, to the point where I probably don't need to make ten exposures for each data point any more. The lens delivers its best performance at f/5.6, which is quite reasonable. Falloff for two stops on both sides of that is close to symmetrical. f/16, f/22, and wide open should be avoided.
In order to concentrate on high spacial frequency performance, I took the corrected image and passed it through a 100% unsharp masking filter with a 10 pixel by 10 pixel constant kernel. Here are the results of that: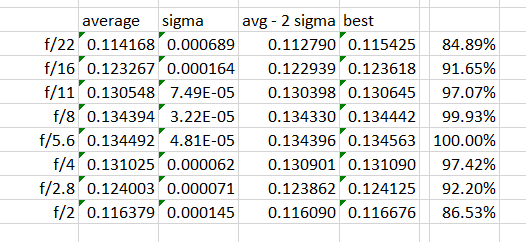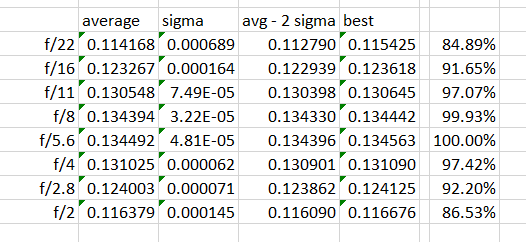 Pretty much the same thing, except that the sharpness falloff as you go away from f/5.6 is no longer symmetrical: it falls off faster as you open up the lens than when you stop it down.
The 105mm f/2.8G Nikon macro (tested on a D800E, so don't compare the absolute values of the numbers) tells a somewhat different story.
First, without unsharp masking: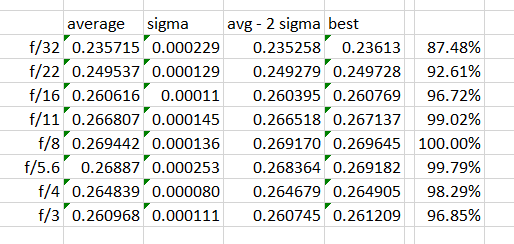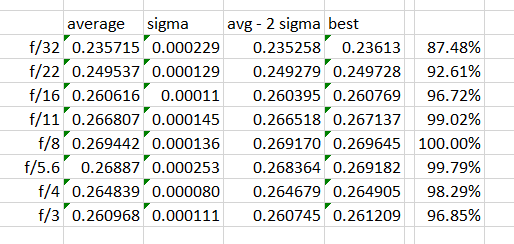 The sharpest aperture is f/8, one stop down from the best Zeiss 100mm aperture. Falloff on both sides is pretty symmetrical.
With the unsharp masking: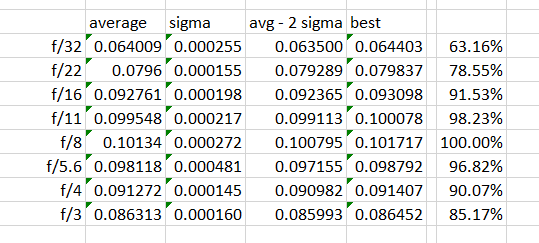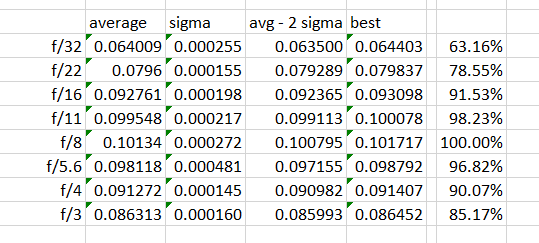 The best aperture stays the same, and falloff is somewhat faster as you open the lens up from that aperture.