Yesterday I wrote about sharpness testing, with emphasis on lighting the target. I've been thinking about the target itself.
I've been using a set of targets of my own design.
Here's a very tight crop of one: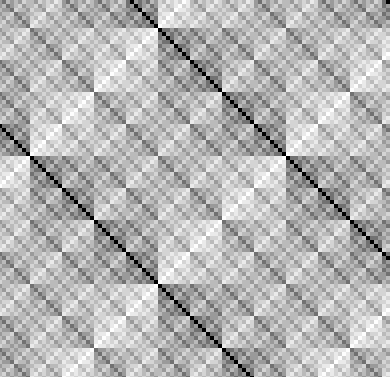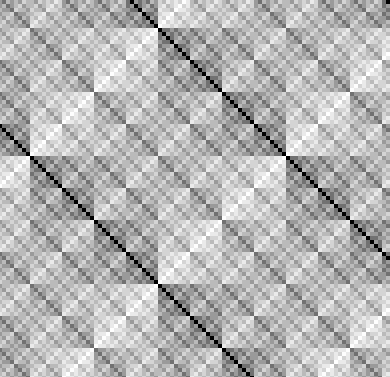 They are characterized by a lot of fairly wide bandwidth high-frequency energy that is uniform across the frame, so that similar measurements may be made at any position. Images of the target are analyzed by computer programs of my own design. This allows
An assessment of overall sharpness across entire image field
Detection of field flatness issues or resolution that varies by location (unfortunately, these cannot be separated) by analysis of slow variations in sharpness across the field
Numerical sharpness results
Tolerance of alignment differences
No feature recognition necessary
Because it has a broad range of high spatial frequencies, distance and magnification aren't critical
The drawbacks of this target are:
It is next to useless for visual analysis.
It is completely non-standard, and that provides a challenge for those who wish to reproduce or extend my experiments
My analyses are likewise non-standard, with the same result
It does not distinguish between tangential and sagittal errors
It is difficult to focus on; this can be fixed by including lower spatial frequencies, but that reduces the signal-to-noise ratio of the highest spatial frequencies
It is difficult-to-impossible to compare results made with sensors of different resolution
It is made up of horizontal and vertical rectangles, which means that the diagonal resolution is about 1.4 times the horizontal and vertical resolution.
For all those reasons, I've started to explore using standard targets like the older ISO 12233 target, and analyses using imatest. The target solves all of the problems with my self-designed target that I mentioned above. However, it has a few drawbacks of its own:
It's too small when used with high-resolution cameras like the Sony a7R. You can fill the field with it, but its resolution will then be far less than the camera's.
It doesn't provide a large range of resolutions, so image size and magnification is important. With Bayer-CFA sensors, it's not that easy to find the magnification that provides a clear, crisp image at the low end and completely smooth, unresolved grayness at the high end.
Nevertheless, I'll be working with it in the next few days and reporting on the experience.