Rishi Sanyal, one of the reviewers on DPR, mentioned that he was seeing parasitic interaction of Sony a7R shutter shock and optically-stabilized (OSS, in Sony-speak) lenses that meant that users were often better off leaving OSS turned off.
I thought I'd do some testing. I mounted a Sony 70-200mm f/4 OSS FE lens on an a7R, and put the combination through the following protocol:
RRS L-plate on camera base. This is not the usual way to mount the 70-200, which has its own collar mount, but has proven to be more resistant to shutter shock than using the collar mount.
RRS TVC-34 heavy-duty carbon fiber tripod.
Arca-Swiss C1 Cube head.
Landscape orientation.
Lens zoomed to 200mm
No filter.
The lighting: a single Fotodiox LED-200WA-56 daylight balanced variable-output flood.
ISO set to 1000, f-stop set to f/8.
Focusing using single shot autofocus. The focus point is a Siemens star on the target.
Drive set to single
Manual exposure mode.
Self-timer set to 2 seconds
OSS set to off
Lamp to full, shutter to 1/1000 second, make 16 exposures with new focusing for each, turn the light down a stop, turn the shutter speed down a stop, make 16 exposures… until you get to 1/60 of a second.
OSS to on.
Repeat exposure sequence.
Develop in Lightroom 5.7.1 with standard settings.
Crop, export as TIFFs, analyze for horizontal edge MTF50 in Imatest.
Export the results to Excel, crunch the stats, and graph.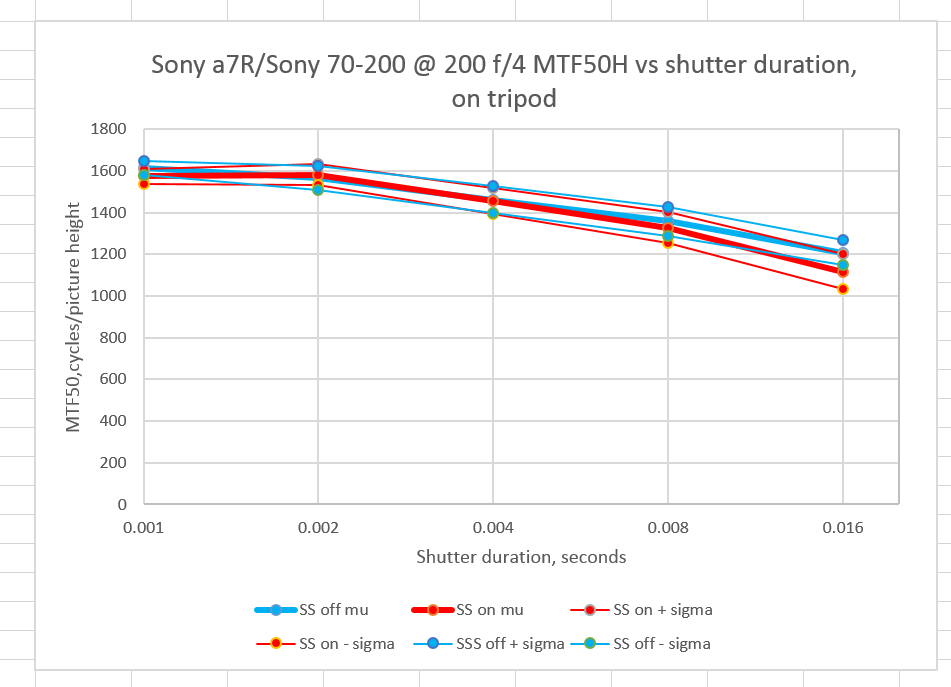 Well, OK. Even though Sony says not to use OSS on a tripod, if the tripod is heavy like the RRS TVC-34, it doesn't make much difference until you get to 1/60 second. Some would argue that it doesn't make much difference even then.
Now for the interesting part. Let's do the whole thing over with the camera handheld using the Pete Sousa grip: left palm under base, left fingers bracing the underside of the front part of the lens, elbows against chest. I use my left eye, which gets the camera a little closer to my body.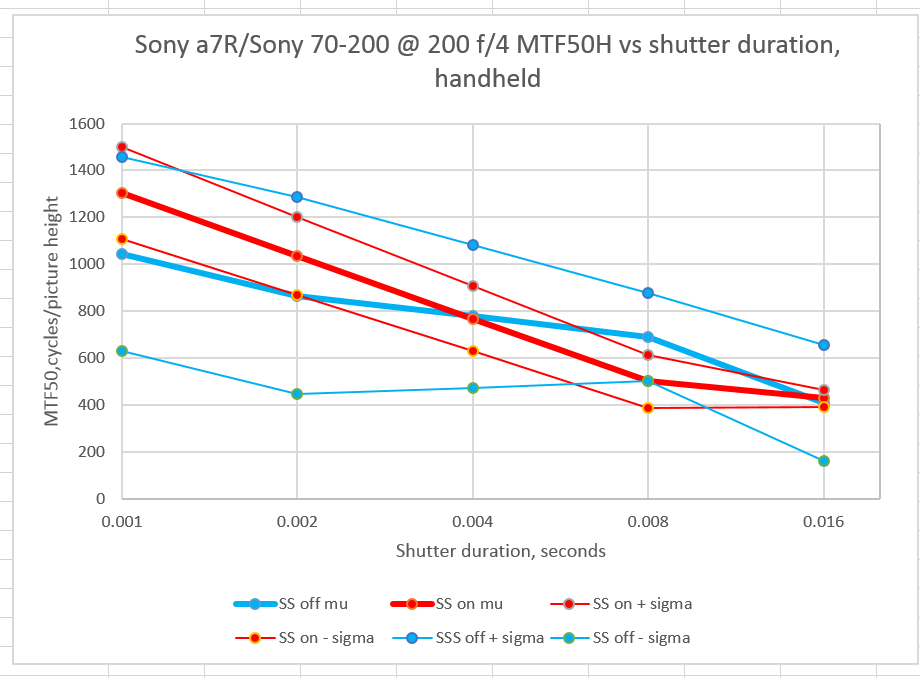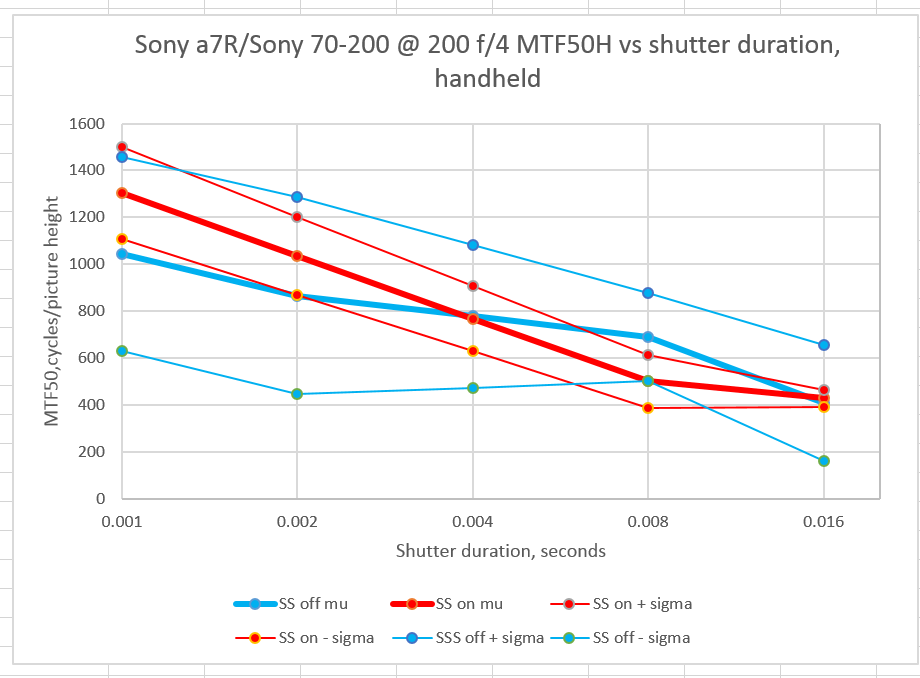 The bold lines are the average (aka mean, aka mu) values. The lighter lines are the average value plus and minus the standard deviations (aka sigma). If the statistics are Gaussian, about two thirds of the expected results will lie between the two pair of lighter lines. Orange is OSS on, and blue is OSS off.
At 1/1000 second (0.001 second) OSS is helping quite a bit, mostly be reducing the probability of blurring frames. At 1/500, it is helping a tad less. But at 1/250 and 1/60, the average with OSS on is the same as with if off, and at 1/125, it's actually, on average, worse to have OSS on! Rishi was right. I should point out that the OSS reduces the statistical spread in all cases, though.