This is a continuation of the tests of the previous post to see how much the a7 suffers from shutter shock with and without the electronic first curtain shutter. Instead of the Zony 55, this time I used a Nikon AF Nikkor 180mm f2.8 ED. It's an older lens, and not as sharp as some of the more modern ones, but has the advantage for this purpose over some of my other longish lenses of being able to take my variable ND filter with a step-up ring.
I mounted the lens to a Novaflex adapter, and attached the Novoflex QR foot to the adapter in landscape orientation, and attached the whole thing to an Arca Swiss C1 head which was attached to a set of RRS TVC-44 legs.
I mounted a Heliopan variable ND filter on the lens. I lit an Imatest SFRPlus target with a Fotodiox 5500K variable output LED source. I set the ISO to 400, focused wide open, and set the aperture to f/5.6. Using the ND filter and the light together to control the, and made a series of exposures of durations from 1/800 second through ¼ second at 1/3 stop intervals. With the light on full and shutter speed set to 1/800 at the start, I controlled the number of photons hitting the sensor with the ND filter until I got to 1/60 second, put the filter back to minimum absorption and set the light level with the Fotodiox control until I got to 1/50 second, then continued on attenuating the light with the ND filter. I changed the protocol for this run because the Fotodiox power unit wouldn't reach to the tripod, and I didn't want to go running back and forth tweaking the Fotodiox on every shot.
I processed the images in Lightroom 5.3 with default settings except for cropping and white balance, then I processed them in Imatest, measuring the MTF30 and MTF50 for both vertical and horizontal edges. I converted the Imatest cycles/pixel data to cycles/picture height, and made plots.
MTF50 for horizontal edges (the a7 curve with the EFCS on is indicated by the E suffix: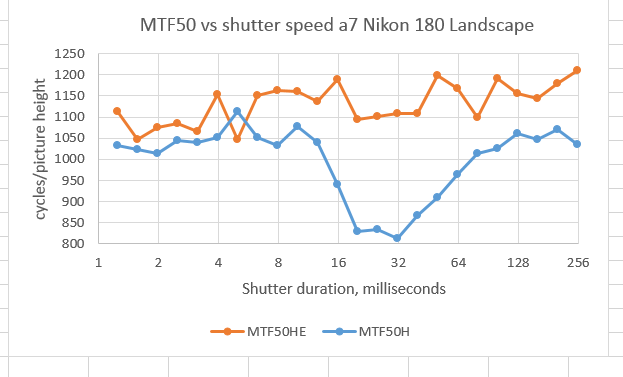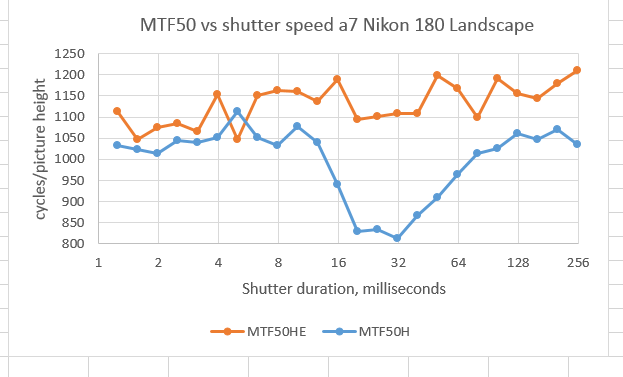 The electronic first curtain gives a big sharpness advantage in the region around 25 milliseconds (1/40 second).
MTF50 for vertical edges: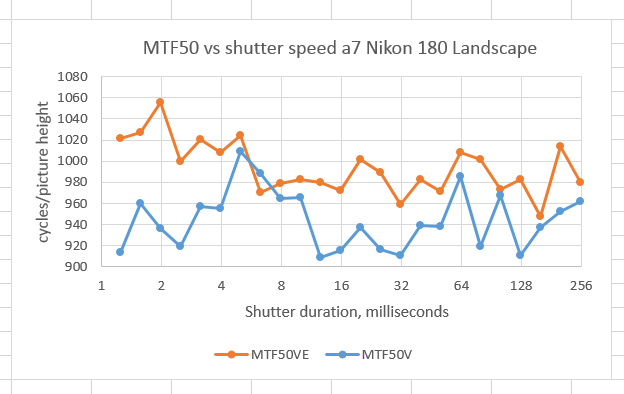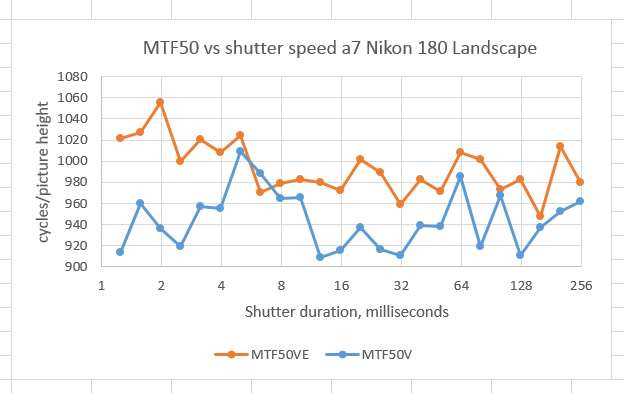 Surprisingly, the EFCS helps a lot at very high shutter speeds as well as those around 25 milliseconds.
MTF30 for horizontal edges: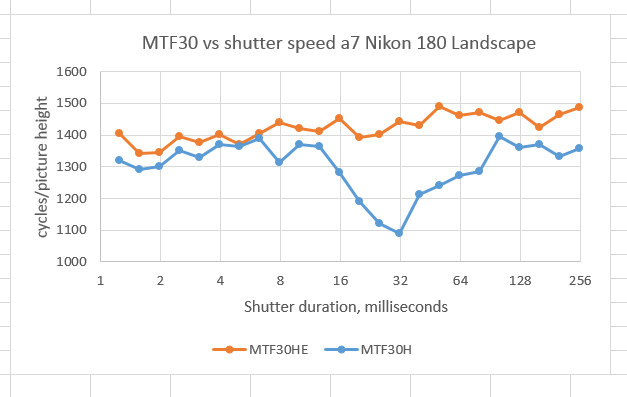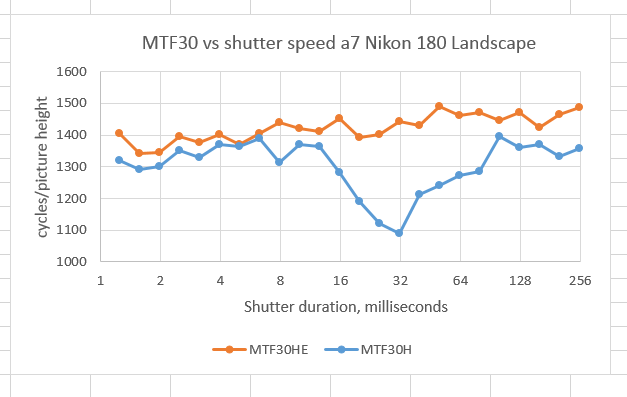 Pretty much the same story as with MTF50.
MTF30 for vertical edges: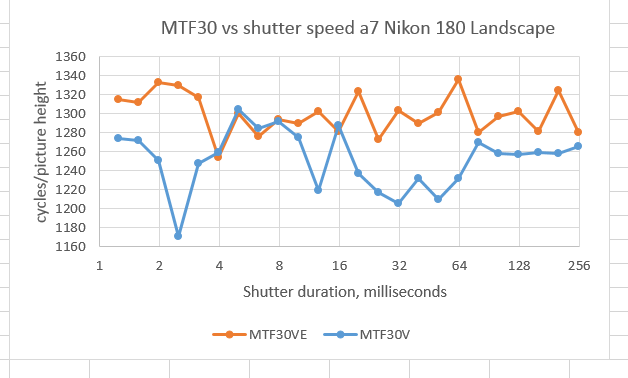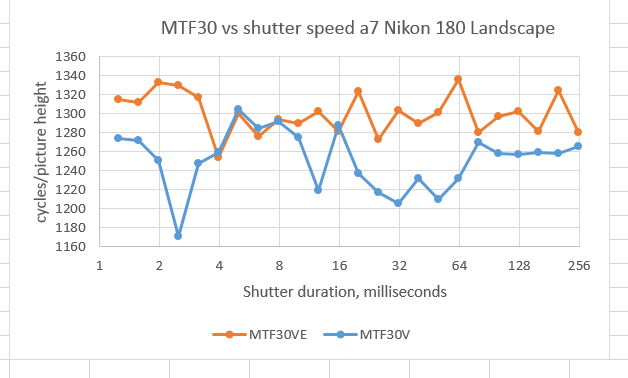 EFCS offers improvement at high shutter speeds, but not the same ones as with MTF50.
Conclusion? When you mount longish lenses with a lens or adapter collar, you're going to want to turn EFCS on.