This is the 53rd in a series of posts on the Fujifilm GFX-50S. The series starts here.
Today the big brown truck brought a Kipon GFX adapter for V series Hasselblad lenses. I had had a total lack of success in stacking the Fuji H-to-G and the Hasselblad V-to-H adapters, and really wanted to test the Zeiss 250 mm f/5.6 Superachromat, so I set the Leica R and M lenses aside.
Here's the scene to evaluate coverage, although I don't expect any problems, since this lens was designed to cover a 56 mm x 56 mm negative. There was a little wind, so I cranked the ISO up to 1600, and kept all the exposures faster than 1/640 second. Developed in Lr with a small exposure tweak, and otherwise default settings..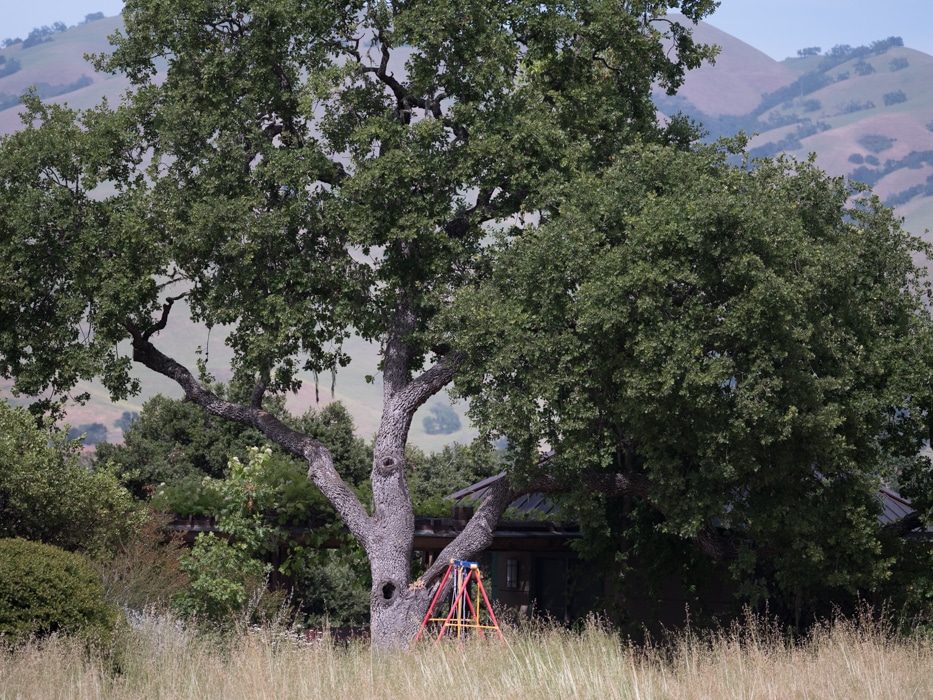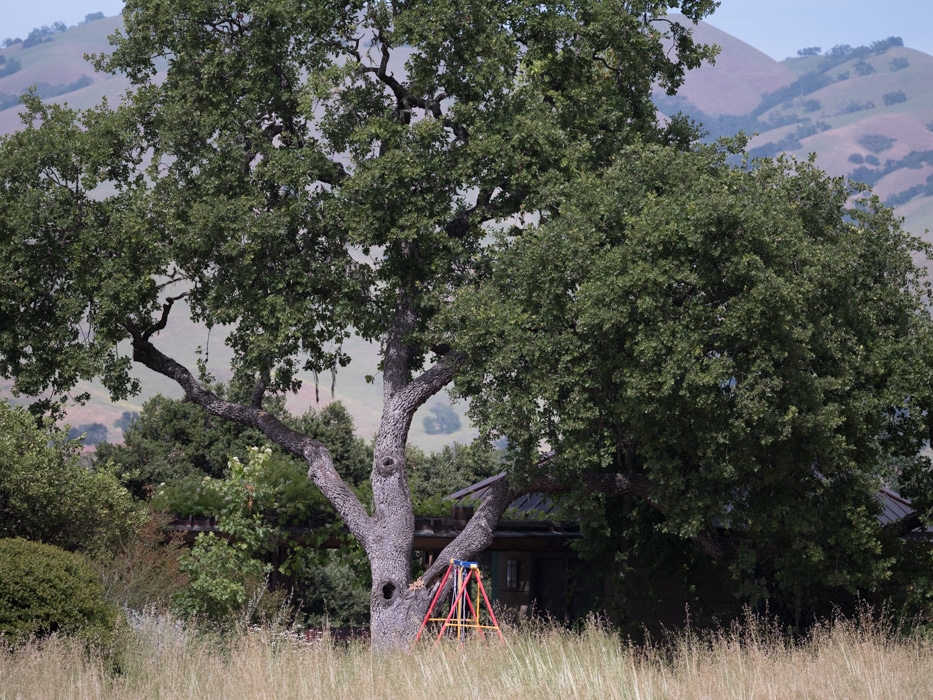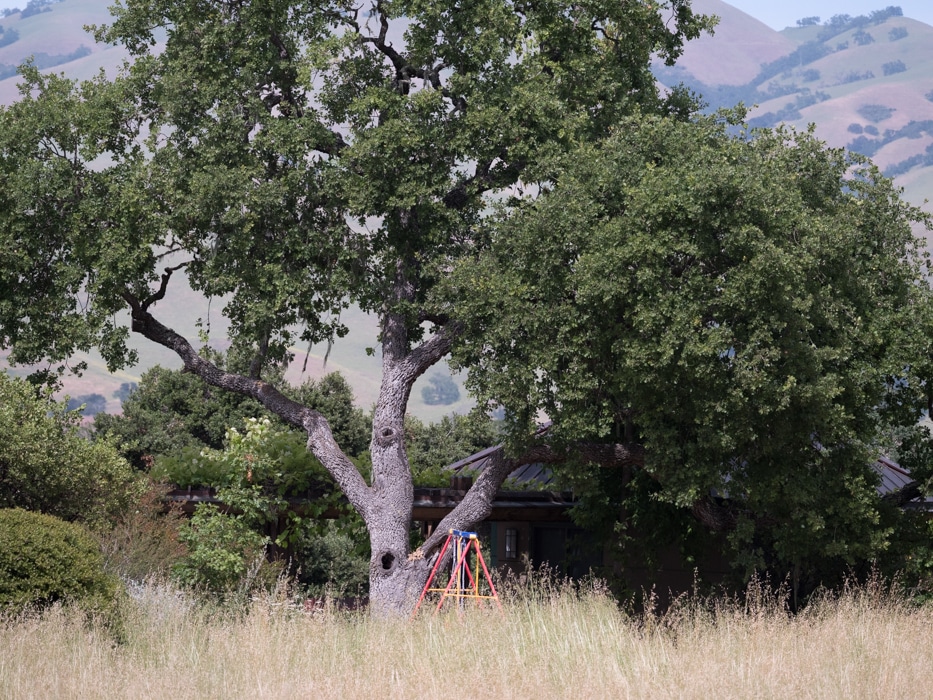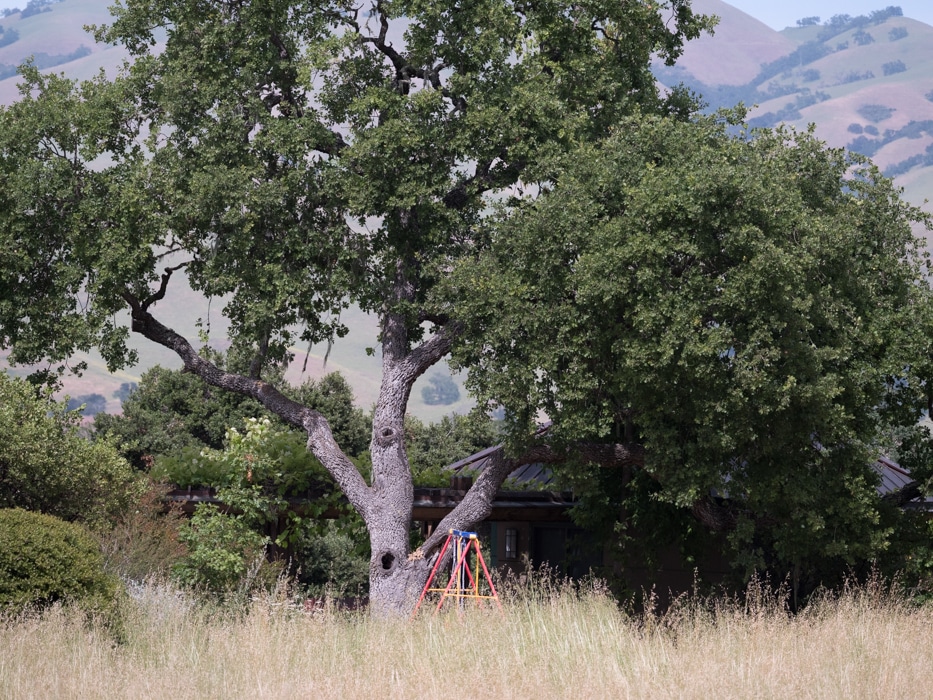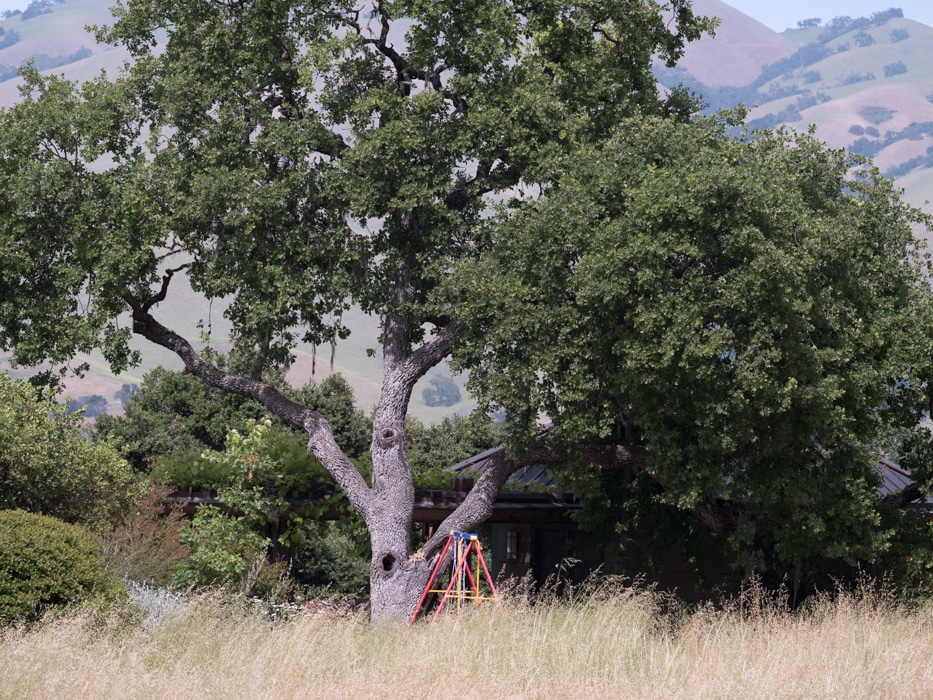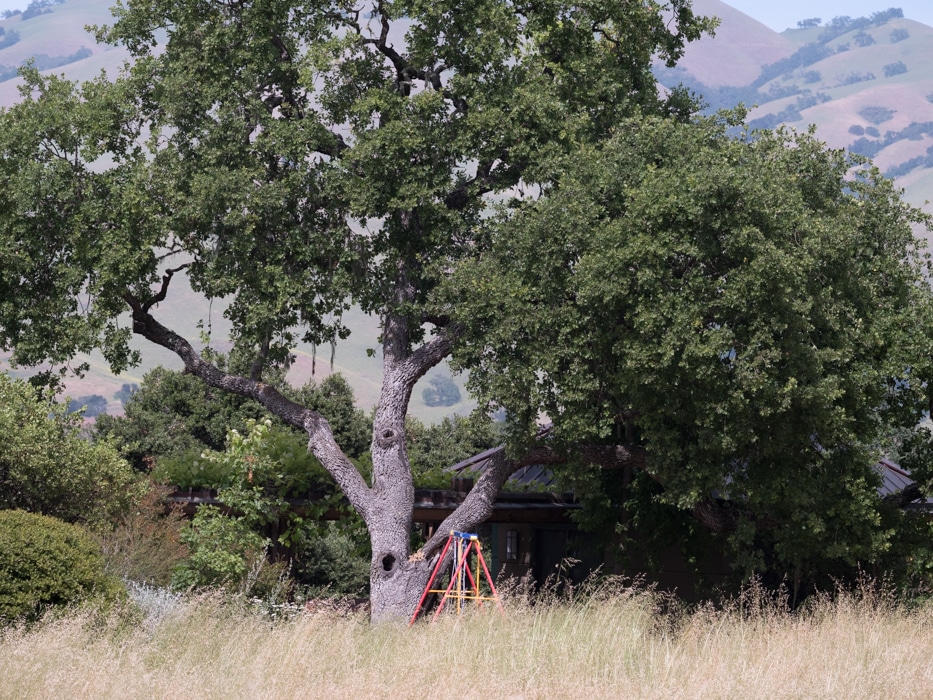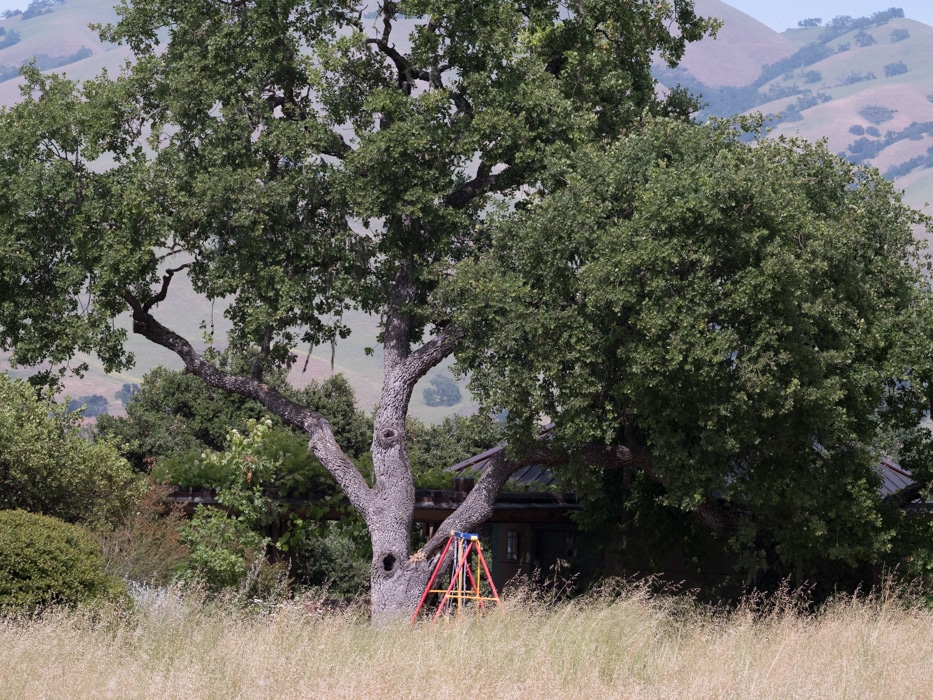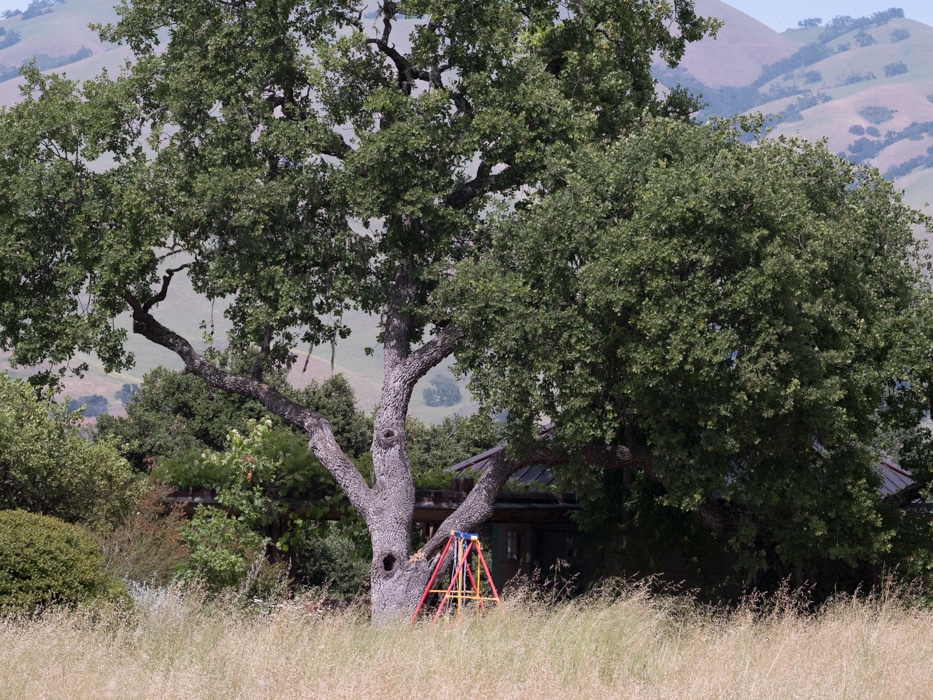 Coverage is nice and even in all cases. I must have jarred the tripod after the first shot. This is the sharpest series of the ones I tried, so that's the one I'm showing you. The best strategy with this lens is to focus wide open; focus shift is no problem. I did have a lot of trouble getting the image steady enough to focus well because of the vibrations introduced by my hand. I wish that the GFX had IBIS, that the lens had a tripod collar, or that the adapter had such a collar. Sadly, no to all. This is a sufficiently serious difficulty to make me think twice about using this lens until I can construct a better mounting arrangement.
I'm going to show you some very tight crops; here's how to use them. The dimensions of the GFX sensor are 8256×6192 pixels. If we make a full-frame print from the GFX on a printer with 360 pixels per inch native driver-level resolution, like the Epson inkjet printers, we'll end up with a 23×17 inch (58×44 cm) print. The 318×246 pixel crop you're looking at will end up 0.8333×0.6833 inches (2.12×1.74 cm). Let's imagine that you or your viewers are critical, and will look at the 22×17 inch print from about 18 inches (conventional wisdom is that the distance would be a little greater than that, or 28 inches (the diagonal), but you did buy a high-resolution camera for a reason, didn't you?).
The next step is dependent on your monitor pitch, which you may or may not know. Turns out, you don't have to know it. Just take the 253% crops and view then at 1:1. How high are they? Get out your ruler and measure, or just guess. Let's say they are 6 inches high. 6 inches is about 7 times 0.8333, so in order to view the crops the way they'd look from 18 inches on the print is to view them from 7 times as far away, or 10.5 feet.
Everything here scales proportionately. If the image on your screen is bigger than 6 inches, increase your viewing distance by the ratio of your image height to 6 inches. If you think your viewers are going to almost get their nose to that print and look at it from six inches, divide that 10.5 feet by 3, and look at the image on the monitor from three and a half feet away.
On a 30 inch 4K display, a 1:1 presentation of these crops will be about 4 inches, so to simulate the effect of viewing the print from 18 inches, you'll want to back up to about seven feet. A couple of feet for a 6 inch print viewing distance. On a 17 inch laptop 4K display, a 1:1 presentation of these crops will be about 2 inches, so to simulate the effect of viewing the print from 18 inches, you'll want to back up to about three and a half feet. A foot for a 6 inch print viewing distance.
In the center: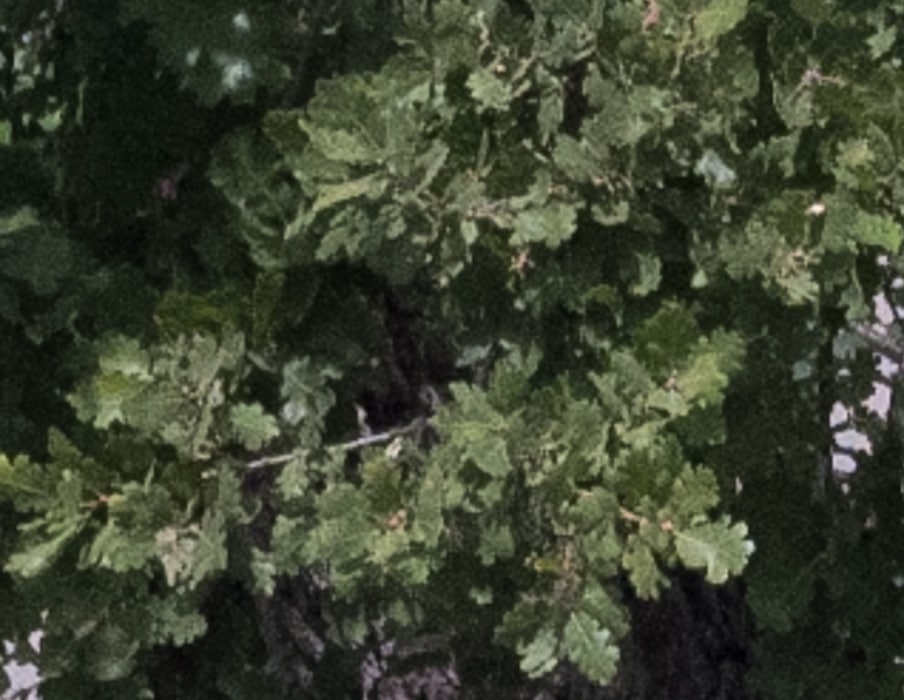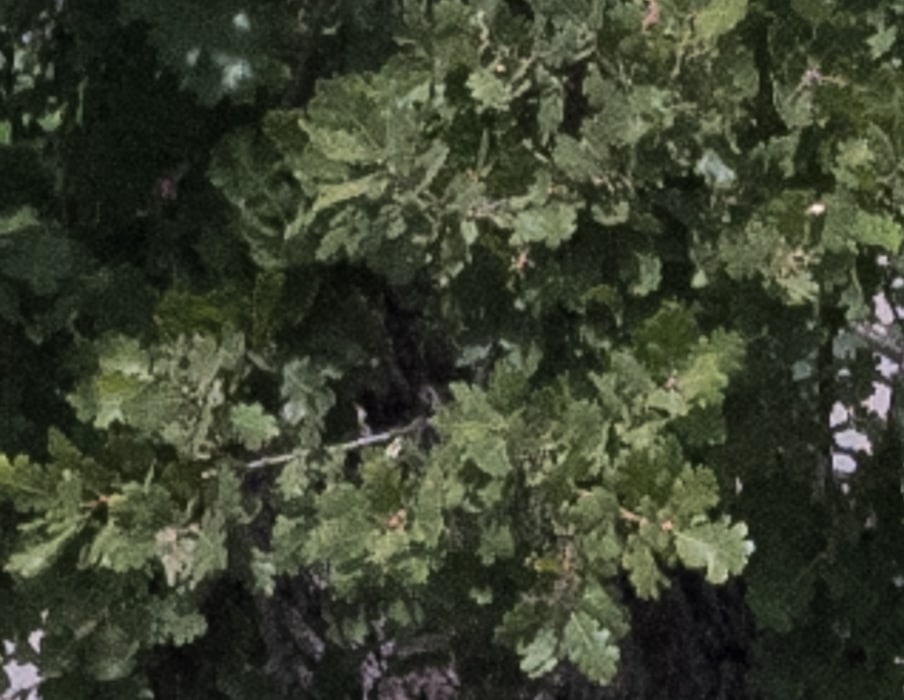 This is excellent.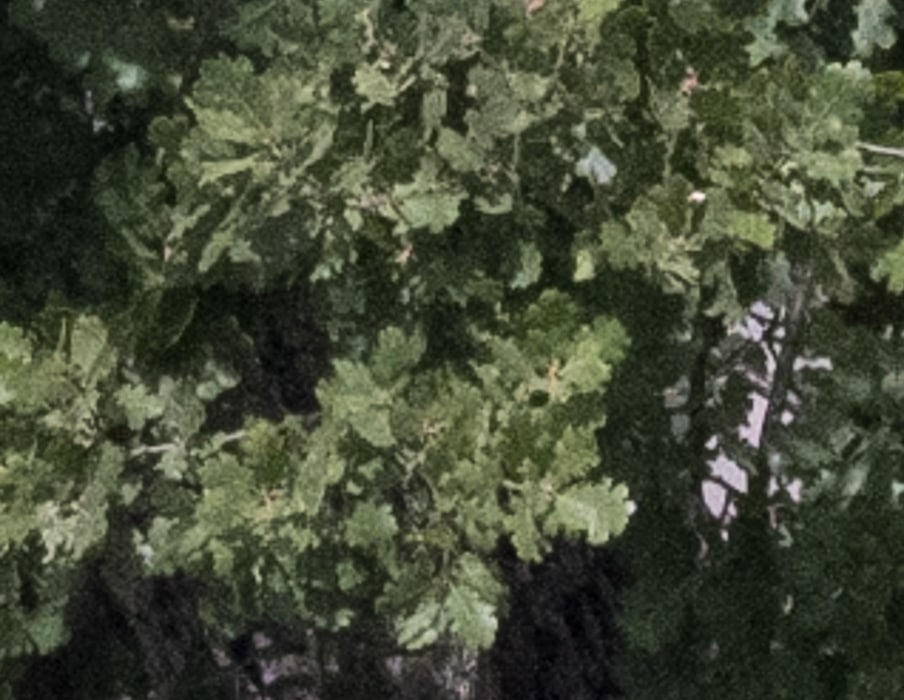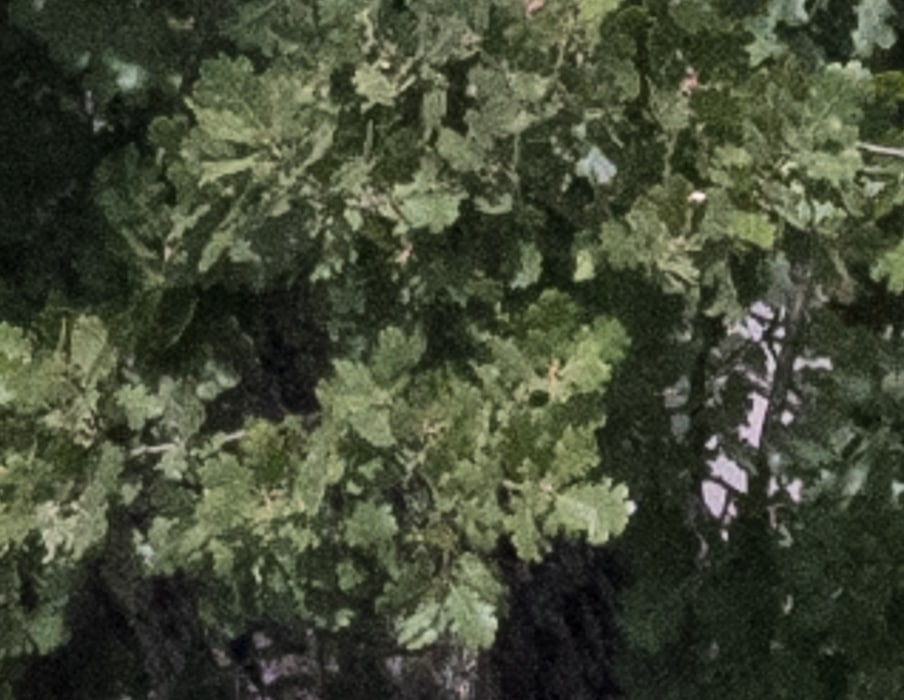 Not quite as sharp.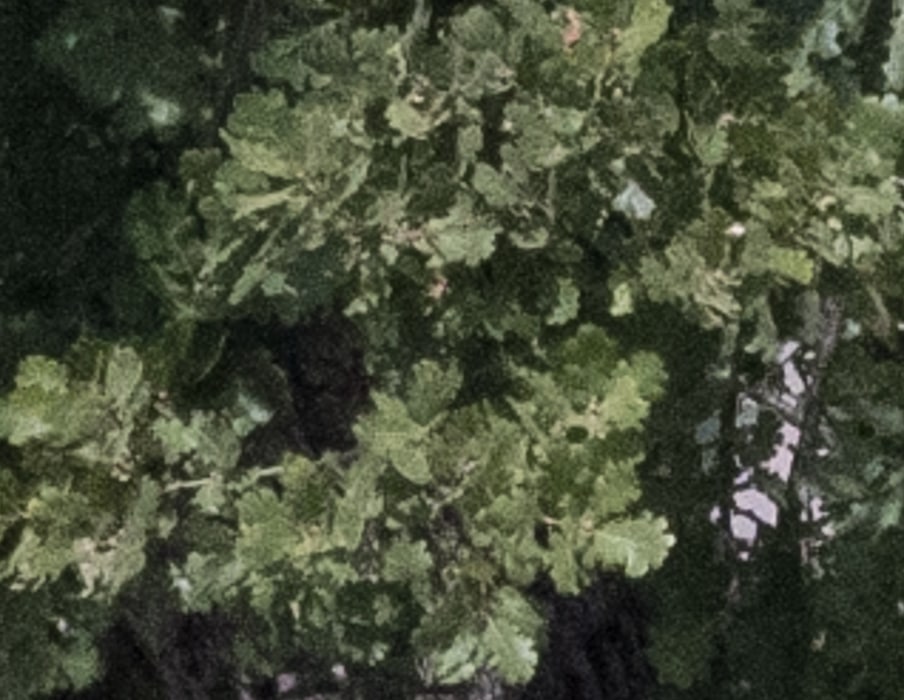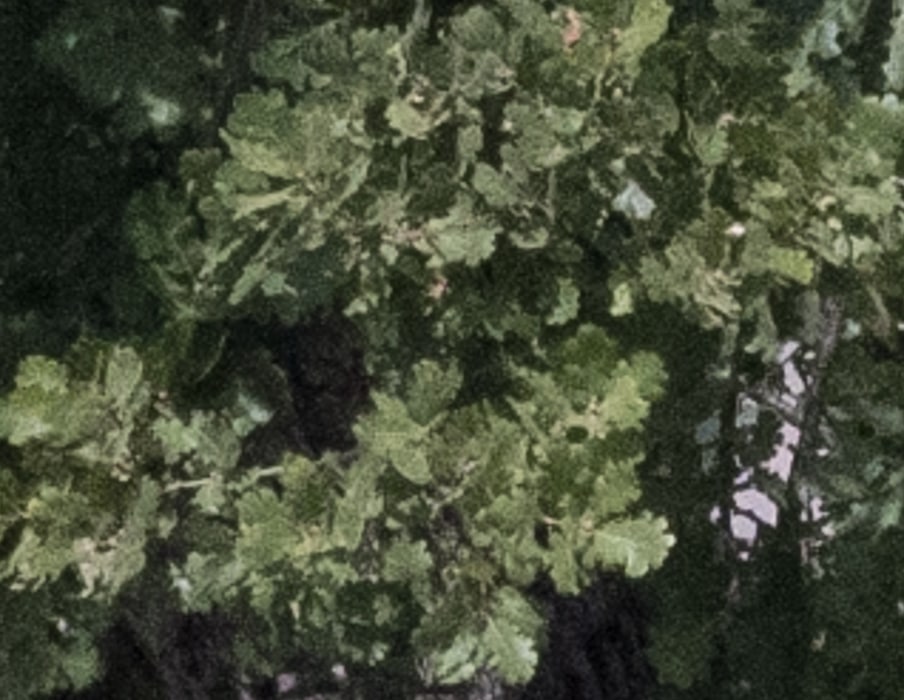 About the same.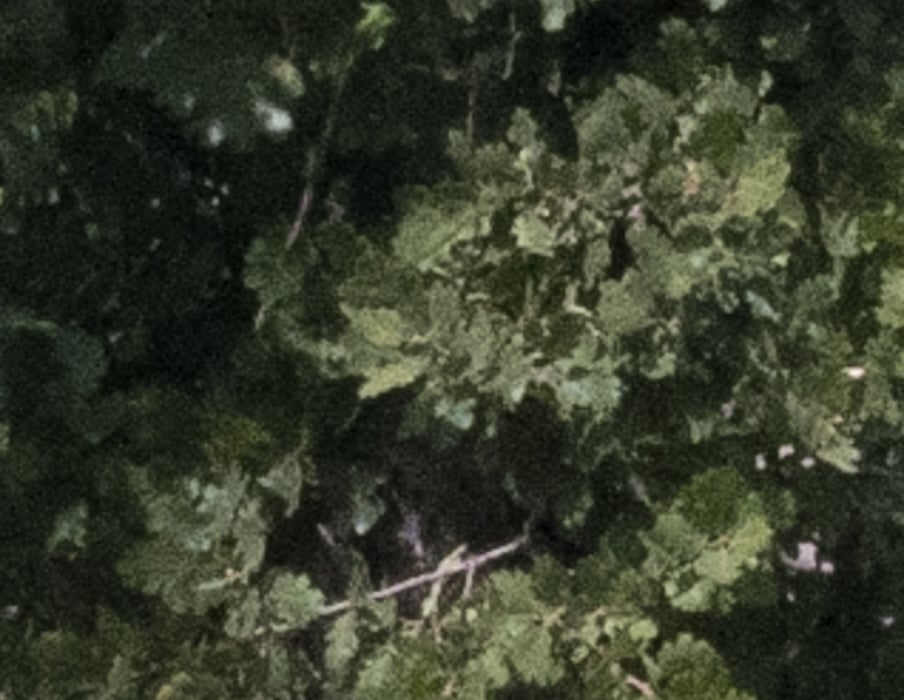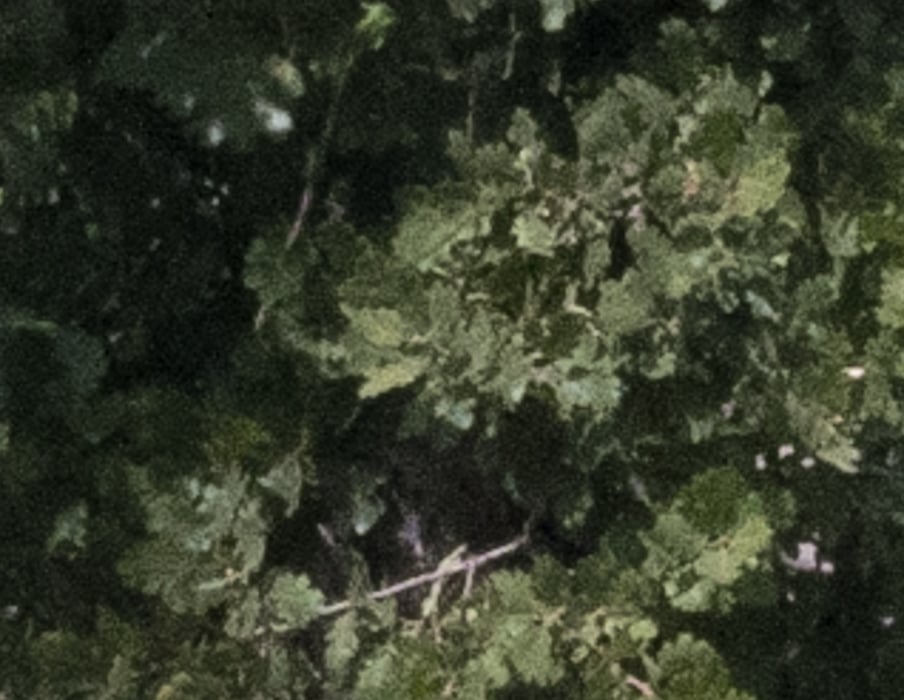 Softer, but not bad.
In the upper left corner: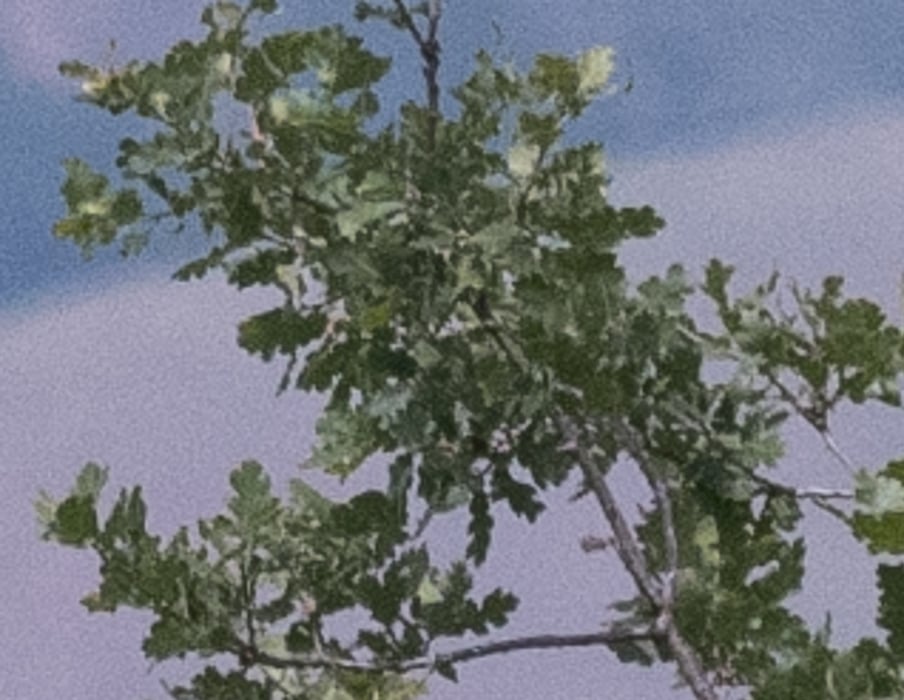 A little light falloff is present; even though I didn't notice it in the full frame images.  The crop is very sharp for a corner wide open; heck, it's sharp by any standards.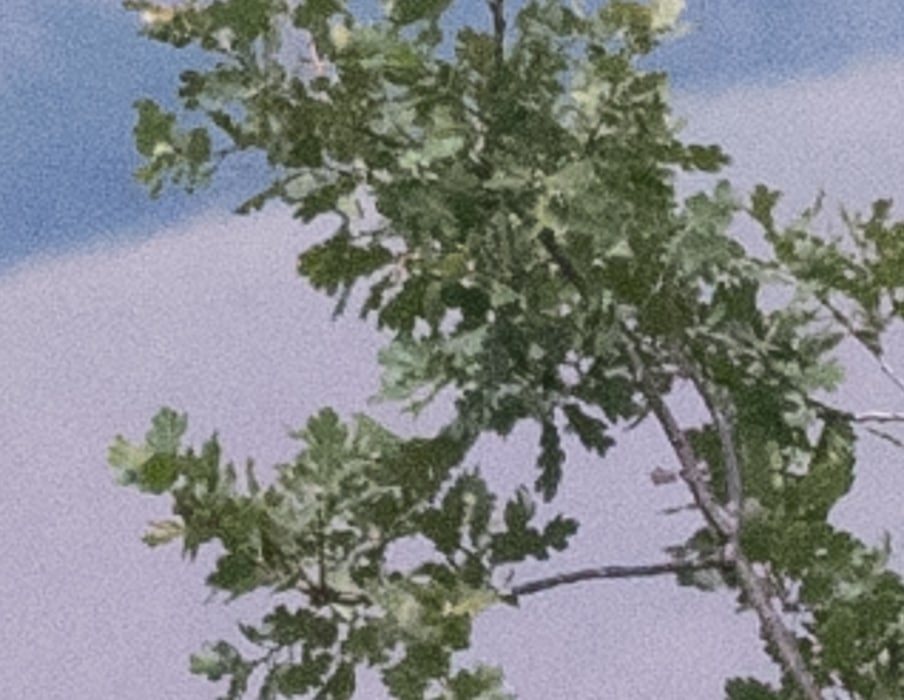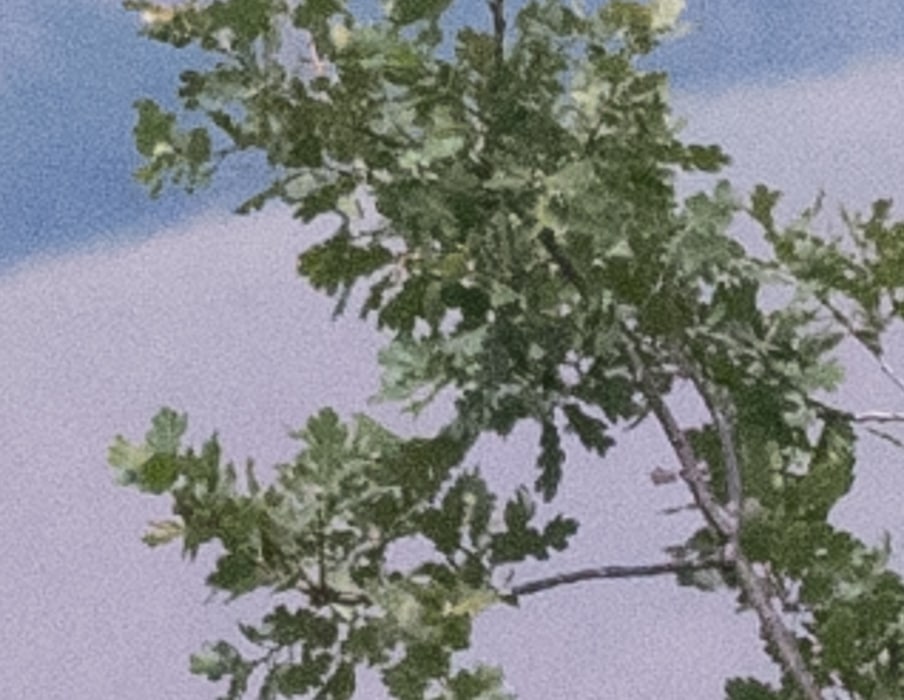 The light falloff is gone, and we've picked u a tiny bit more sharpness.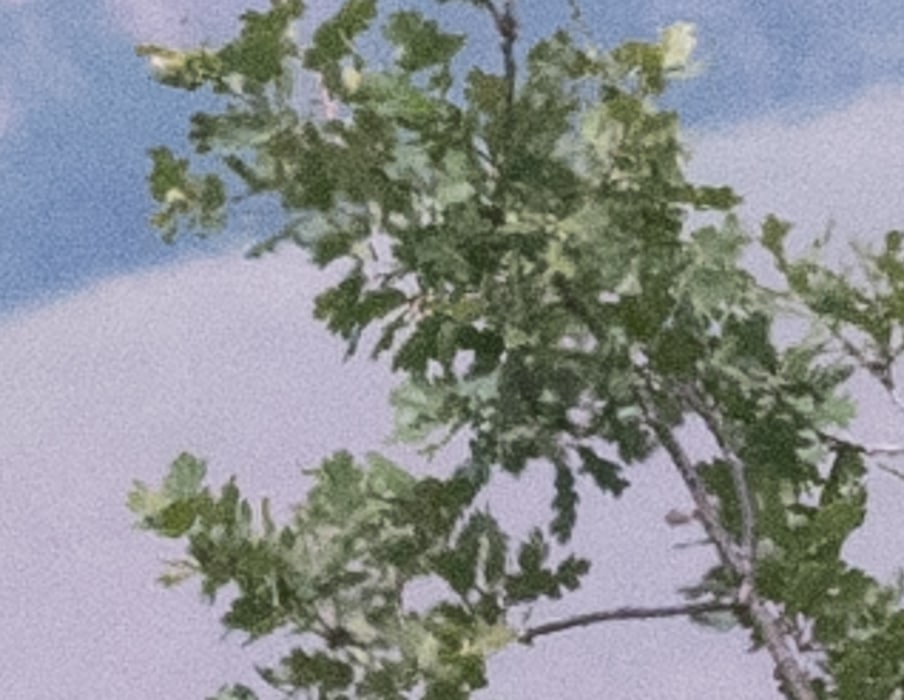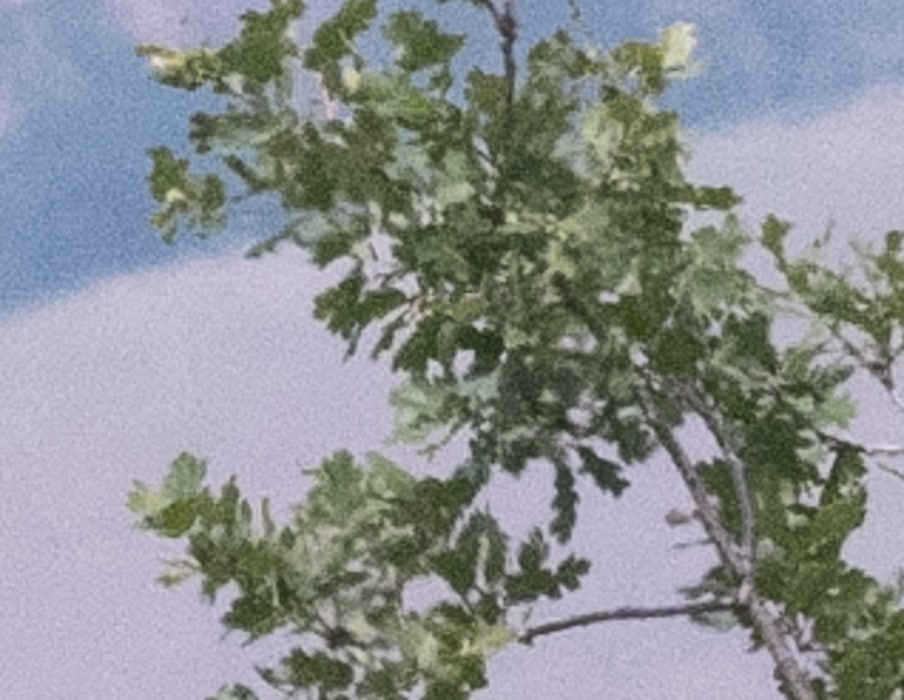 Still very good.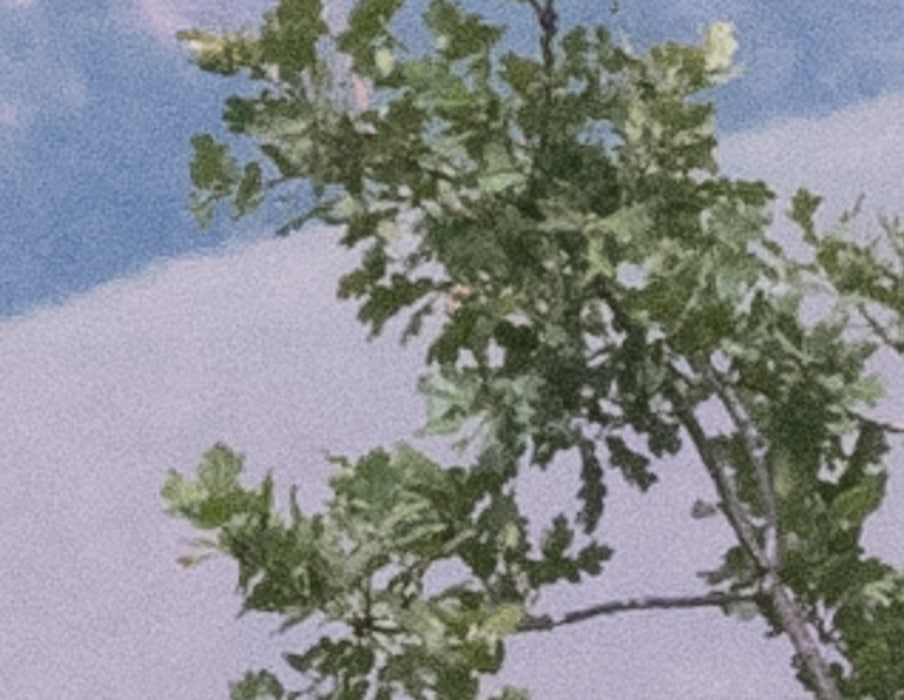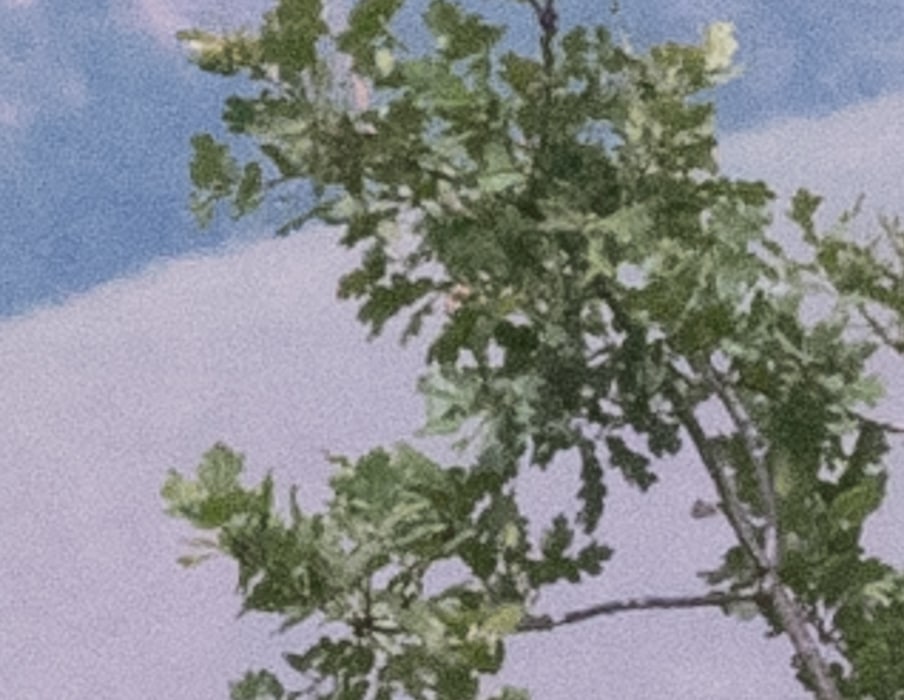 Starting to soften more, but still very good.
After my experiences with HC lenses on the GFX, I wasn't expecting much out of this test. I am pleasantly surprised. More than surprised. I am shocked; especially after testing the Leica 280/4 Apo earlier this afternoon. This is quite a lens on the Fuji 33x44mm sensor camera. However, the ergonomics on the GFX are nowhere near as good as the Leica lens. I've mentioned the lack of a tripod collar. There are other issues. The focus ring is narrow. The focus action is stiff. This lens may produce some excellent images on the Fuji camera, but it's not much fun to use.