This is the seventh in a series of posts on the Hasselblad X2D 100C camera and the XCD lenses. You will be able to find all the posts in this series by looking at the righthand column on this page and finding the Category "X2D".
I ran a series of tests with my slanted edge target: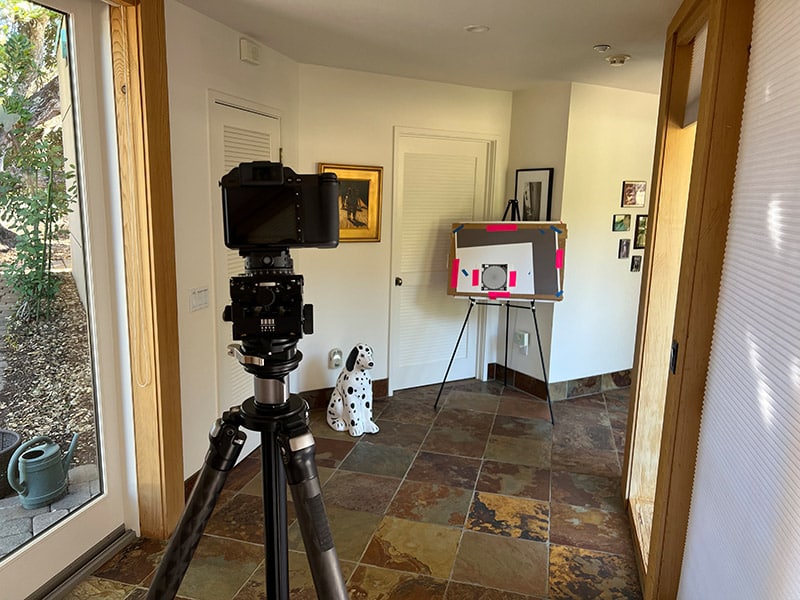 The setup:
X2D with 38 mm f/2.5 XCD lens
GFX 100S with 45 mm f/2.8 GF lens
RRS legs
Arca Swiss C1 head
Low contrast Siemens star for focusing and low contrast slanted edge target
Siemens star petitioned at the center of the image
F/2.8
Base ISO
Electronic shutter
2-second self timer
18 images per setup
Camera distances as per this table: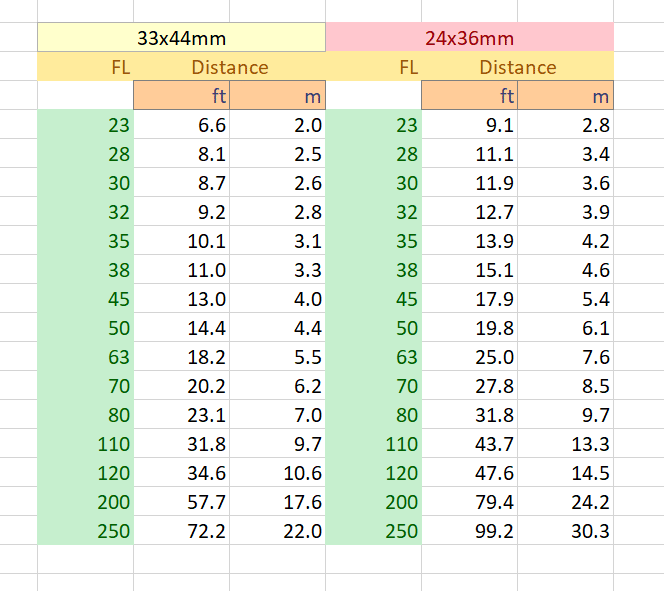 For the GFX, I used manual focusing with maximum magnification and low sensitivity red peaking, and also AF-S with the next to smallest spot size. There is no peaking on the X2D, so I used magnified view for one run and Focus Indicator (aka the meatball) for another. I also did a run with the X2D an AF-S (there is no AF-C) and the small focusing area.
I analyzed the images with Imatest, and measured the MTF50 of both the vertical and horizontal edges. They weren't the same, which I tentatively attribute to the way the target was printed. I averaged the horizontal and vertical edge results for the charts in this post.
Here are the results: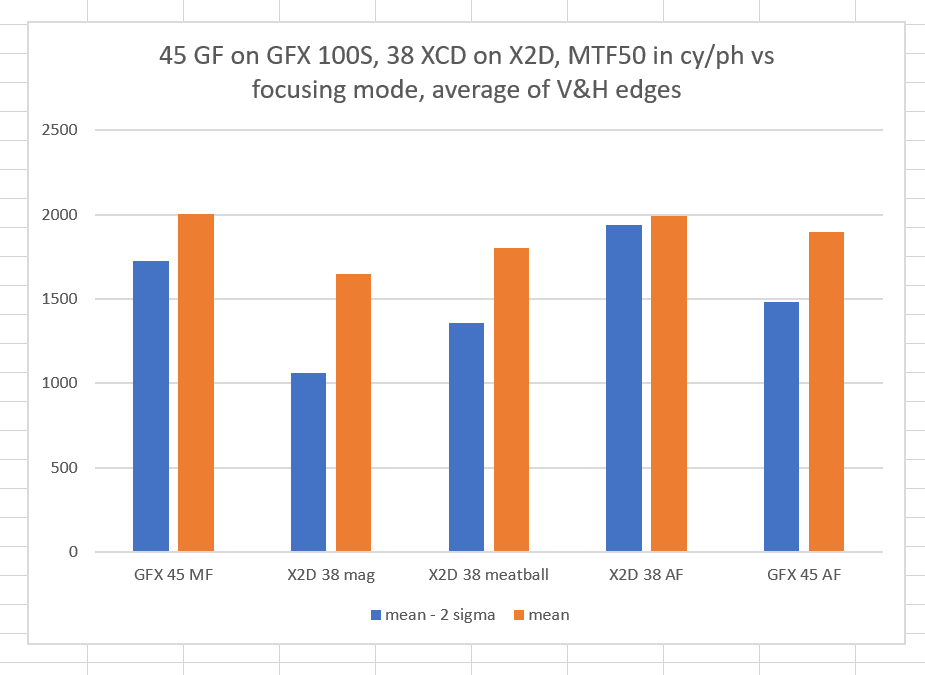 What I've plotted here is the average (mean) of the 18 shots for each test condition, and the average minus 2 standard deviations (aka sigmas). If the numbers had a normal distribution, 3 out of 100 shots would be worse than the average minus 2 sigma (in practice it's a bit worse than that).
Using magnified focusing on the X2D produces much worse results than magnified focusing with peaking on the GFX. Using the Focus Indicator on the X2d produces better results than using magnified focusing on the same camera. Using automatic focusing on the X2D ties the GFX for the mean results, and beats the GFX for the mean minus two sigma results.
Using AF with the GFX doesn't work as well as AF with the X2D. You're better off with MF and peaking, if you can take the time.
Some caveats:
The Siemens star is pretty easy for most AF systems.
The Siemens star is too contrasty to work optimally with the GFX 100S peaking, even with the peaking set to low.
With a three dimensional subject, as opposed to the two-dimensional target I used, the AF system can focus on something other than you want it to focus on.
For now, I'm recommending using AF on the X2D rather than magnified manual focusing. When and if Hasselblad introduces peaking in a futture firmware release, I'll do more testing.