This is the 8th in a series of posts on the Hasselblad X2D 100C camera and the XCD lenses. You will be able to find all the posts in this series by looking at the righthand column on this page and finding the Category "X2D".
I've been testing lenses and focusing systems with the X2D and GFX 100S using this setup: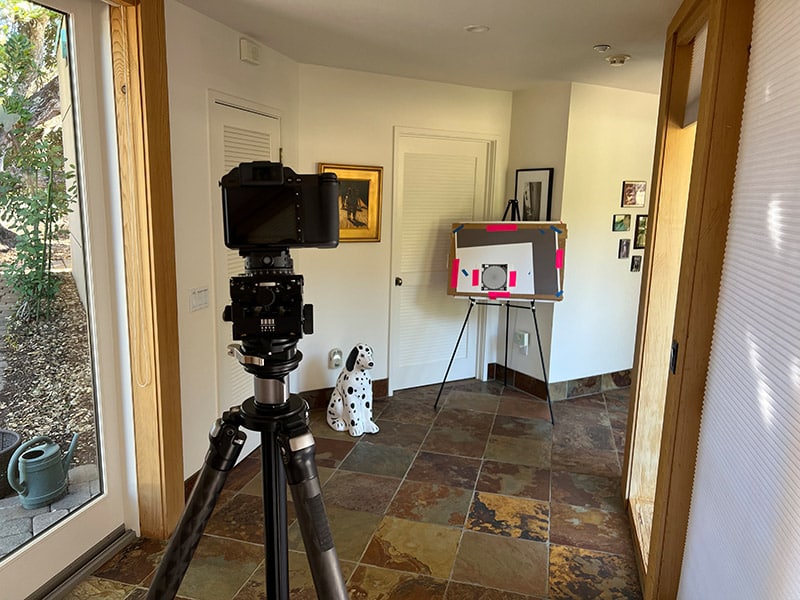 In this test, I used the same lens on both cameras, the Zeiss Otus 55mnm f/1.4. I used the same FOV as with the immediately previous tests, which puts the 55 mm lens on a 33×44 mm sensor at 4.8 meters.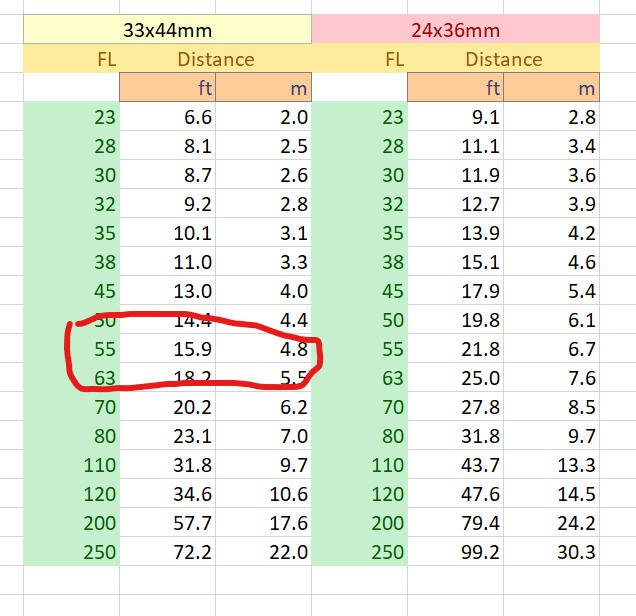 The setup:
X2D with Fotodiox F to X adapter
GFX 100S with Steelsring F to G adapter
RRS legs
Arca Swiss C1 head
Low contrast Siemens star for focusing and low contrast slanted edge target
Siemens star petitioned at the center of the image
F/4
Base ISO
Electronic shutter
2-second self timer
18 images per setup
For the GFX, I used high magnification focusing with low sensitivity red peaking, and — to simulate the X2D focusing screen, low magnification with no peaking. For the XCD I used magnified focusing (the focus indicator doesn't work with adapted lenses).
I analyzed the raw images in Imatest, and told it to look at the first green raw channel.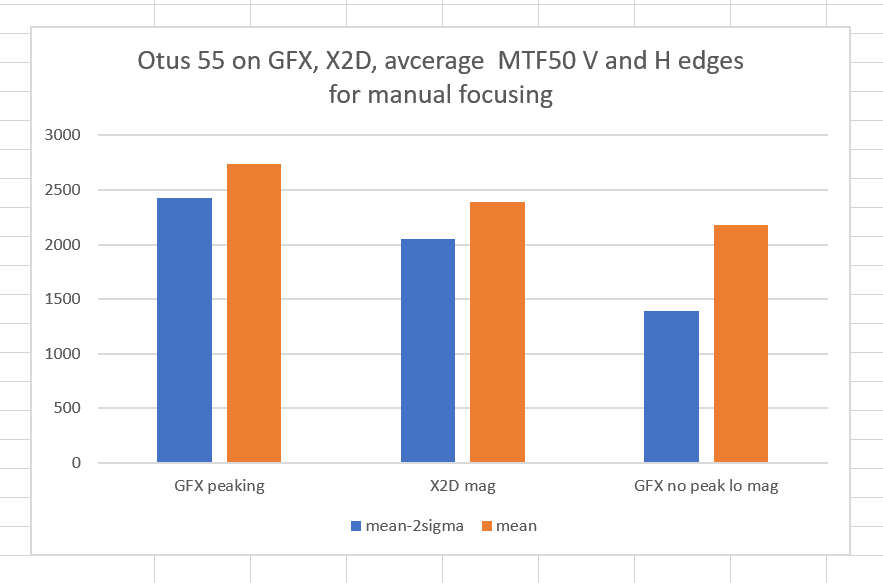 The GFX manual focusing yields the best results. The X2D is next, and the GFX with low magnification and no peaking brings up the rear. My conclusion is that the X2D EVF is better for manual focusing than the GFX 100S EVF, and that the X2D should be able to catch up with the GFX when and if Hasselblad introduces highly magnified manual focusing with peaking in a future firmware release.
Note that the X2D was much closer to the GFX than it was when I tested the XCD 38 against the GF 45. I think that's because the 90-degree focusing rack on the XCD 38 is just too twitch for accurate manual focusing. The Otus focusing ring has more than three times the throw.