This is one in a series of posts on the Nikon Z6 and Z7. You should be able to find all the posts about that camera in the Category List on the right sidebar, below the Articles widget. There's a drop-down menu there that you can use to get to all the posts in this series; just look for "Nikon Z6/7". This post is also about the Sony a7III; it's in the drop-down menu, too.
In the last post, I compared the normalized shadow noise performance of the Nikon Z7 and the Sony a7RIII. Today, I'll do the same for the Z6 and the a7III.
Here are normalized signal-to-noise ratio (SNR) curves for the first raw green channel of two cameras a base ISO.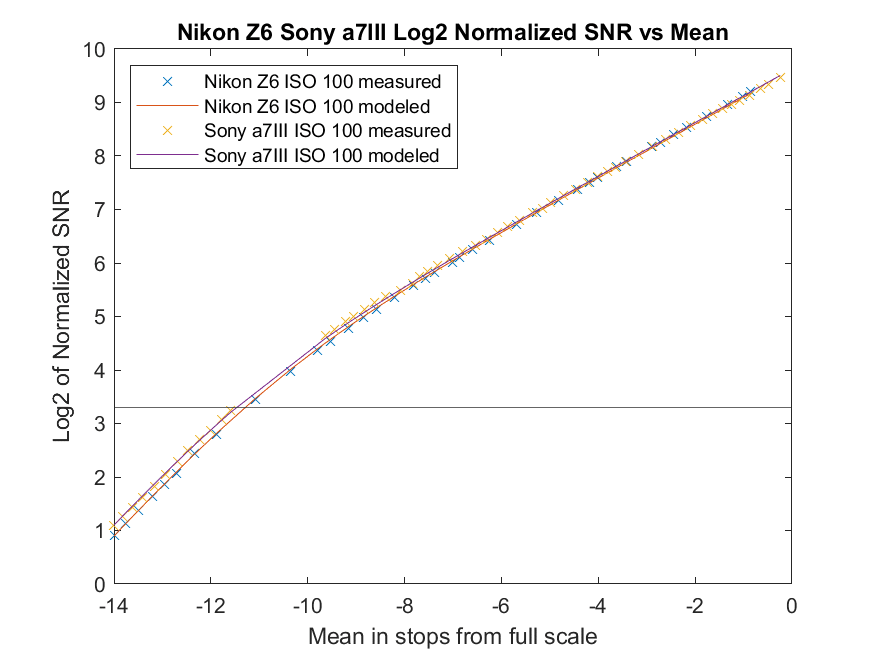 If you don't understand these curves and want to do so, go back to the start of this series. If you don't understand the curves and just want a rough idea of what you're seeing here, there are a few things to consider:
Higher y-axis values are better — they mean less visible noise
The further to the left, the deeper the shadows
All the way to the right is the brightest exposure the camera can handle
Minimally acceptable SNR for small prints (about 8 inches high)   is marked by the horizontal line that intersects the y-axis at 3.3.
Differences in camera resolution are normalized out.
You can see in the plot above that the cameras are very close.
If we set both cameras to ISO 400: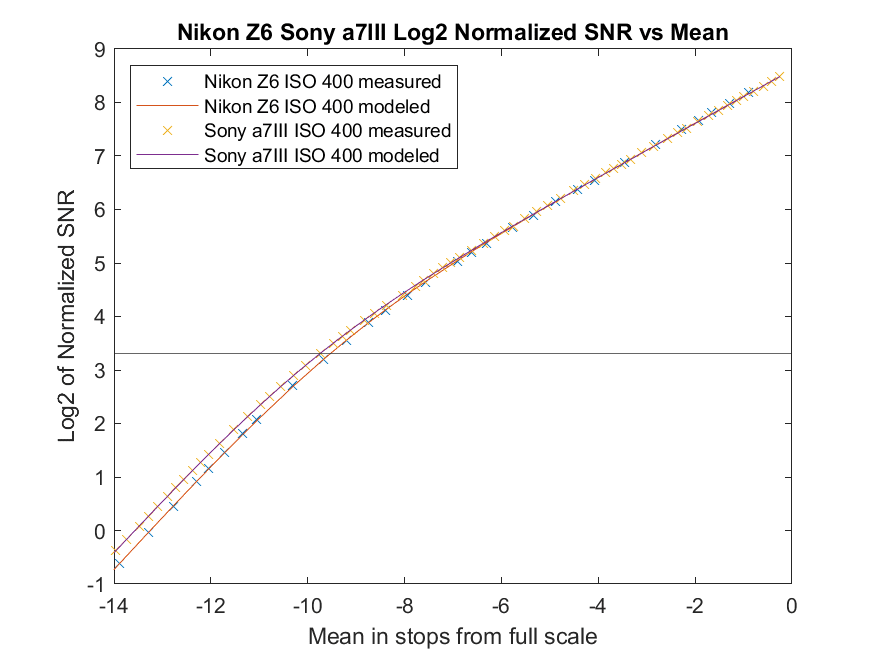 Also close. The a7III switches to high conversion gain at ISO 640, and enjoys an advantage in the deep shadows there: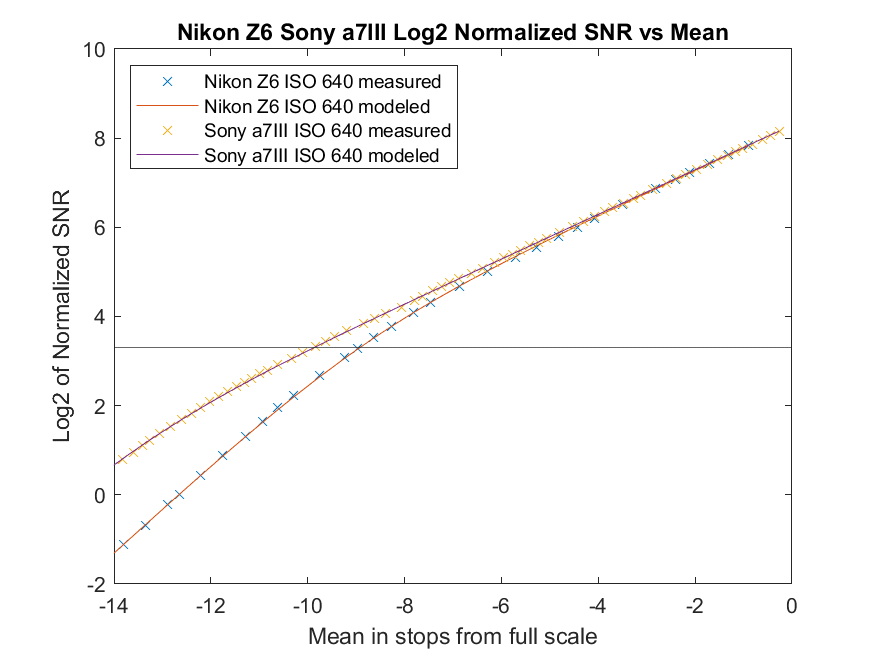 But the Z6 switches at ISO 800, and they're back together: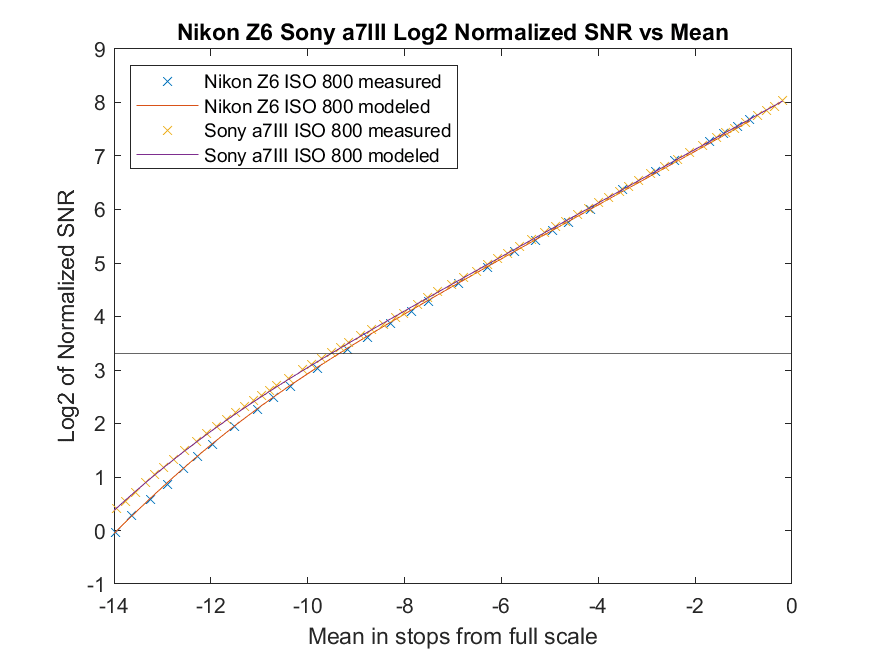 That's the situation all the way to ISO 12800.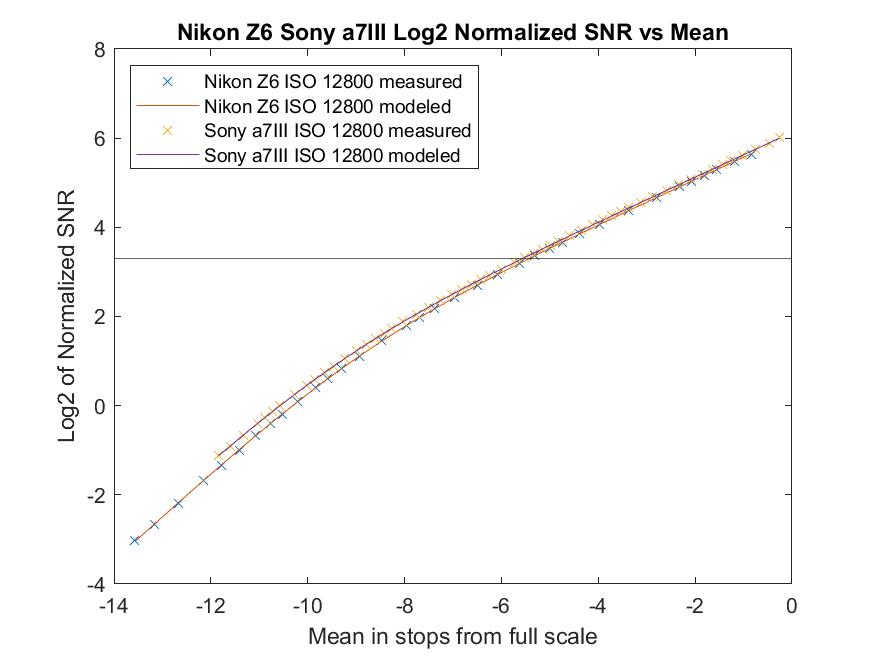 The green channels of the Z6 are about 10% more sensitive than those of the a7III. I'll try to figure out a good way to correct for that and post some more curves.