This is one in a series of posts on the Fujifilm GFX 100S. You should be able to find all the posts about that camera in the Category List on the right sidebar, below the Articles widget. There's a drop-down menu there that you can use to get to all the posts in this series; just look for "GFX 100S". Since it's more about the lenses than the camera, I'm also tagging it with the other Fuji GFX tags.
In previous posts, I tested the off axis performance of the Fujifilm 110 mm f/2, 80 mm f/1.7 , 250 mm f/4, 63 mm f/2.8, 45 mm f/2.8, 50mm f/3.5, 30mm f/3.5, 23mm f/4, and 120 mm f/4 macro GF lenses on a GFX 100S. In the last two posts I summarized some of the measured differences among the lenses, looking mostly at the things that affect sharpness. In most cases, more sharpness is better than more blur.
But not always.
Sometime sharpness leads to aliasing, which is, in IMHO, unphotographic and ugly. I realized in the microcontrast charts, that I had created a tool for measuring the aliasing potential of the GF primes on the GFX 100S.
However, there are two judgement calls. The first is the spatial frequency where aliasing begins. If the GFX 100S had a monochromatic sensor, that would be easy: 0.5 cycles per pixel, or the Nyquist frequency. But the GFX 100S has a Bayer-CFA sensor. If you're a pessimist, aliasing starts there at 0.25 cycles per pixel. I ten to split the difference and say that aliasing starts at 0.33 cycles per pixel.
The second judgement call is how much aliasing is acceptable. In terms of the microcontrast plots that I've been showing you, that means that sensor response below some contrast ratio may be safely ignored. I tend to favor 5%, or 0.05.
Reminder: here's the test protocol:
RRS carbon fiber legs
C1 head
Target distance as per the table below
ISO 100
Electronic shutter
10-second self timer
f/4 through f/11 in whole-stop steps
Exposure time set by camera in A mode
Focus bracketing, step size 1, 120 to 60 exposures
Initial focus well short of target
Convert RAF to DNG using Adobe DNG Converter
Extract raw mosaics with dcraw (I'll change this to libraw and drop the DNG conversion when I get the chance, but the Matlab program  that controls all this is written for dcraw)
Extract slanted edge for each raw plane in a Matlab program the Jack Hogan originally wrote, and that I've been modifying for years.
Analyze the slanted edges and produce MTF curves using MTF Mapper (great program; thanks, Frans)
Fit curves to the MTF Mapper MTF50 values in Matlab
Correct for systematic GFX focus bracketing inconsistencies
Analyze and graph in Matlab
Before I show you the graphs, I'd like to talk a bit about the criteria, and ground that discussion in some images. Have a look. My take is that the aliasing at f/11 is visible, but minimal. Keep that in mind.
Here are all the GF short primes at a spatial frequency of 0.33 cycles/pixel: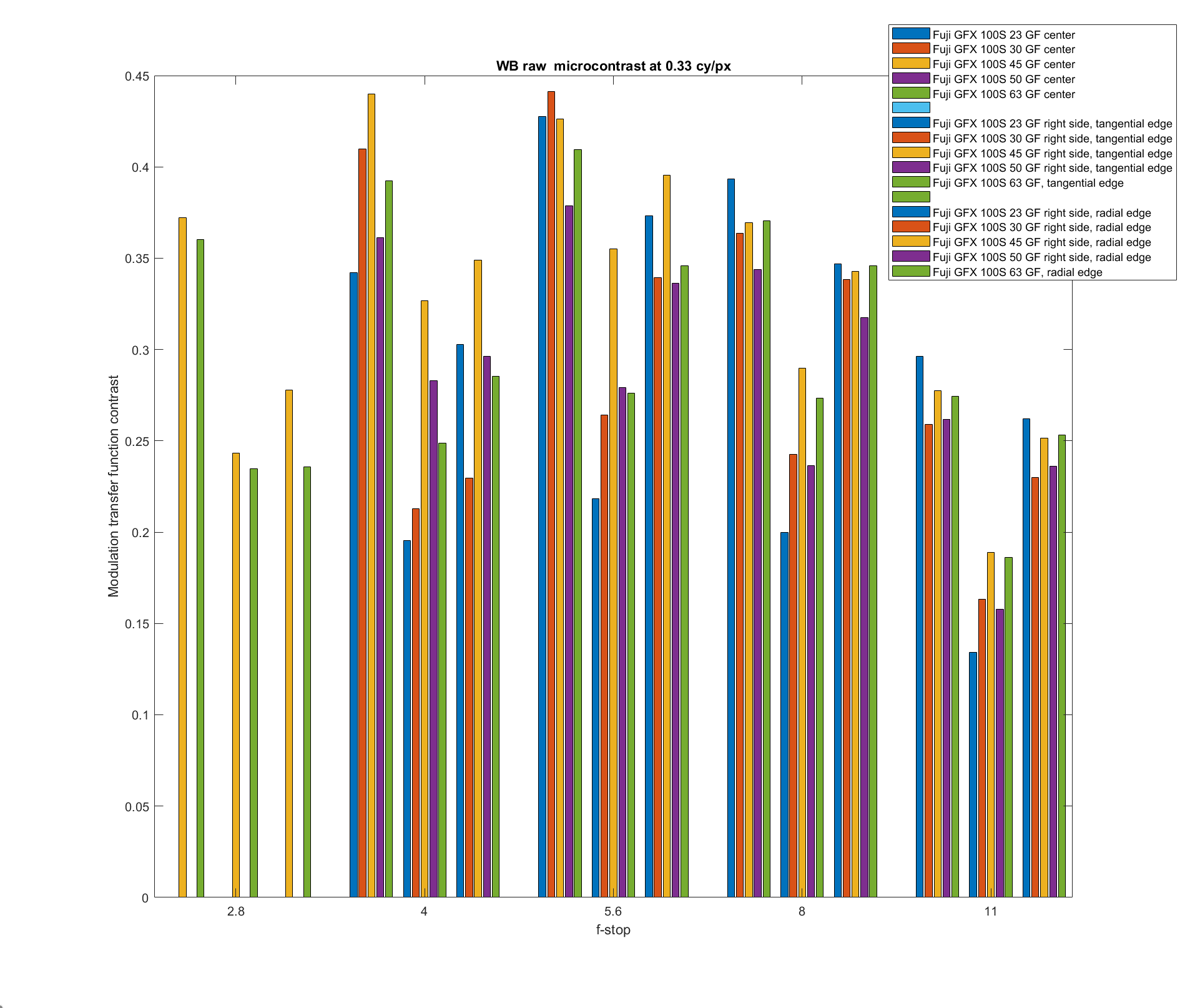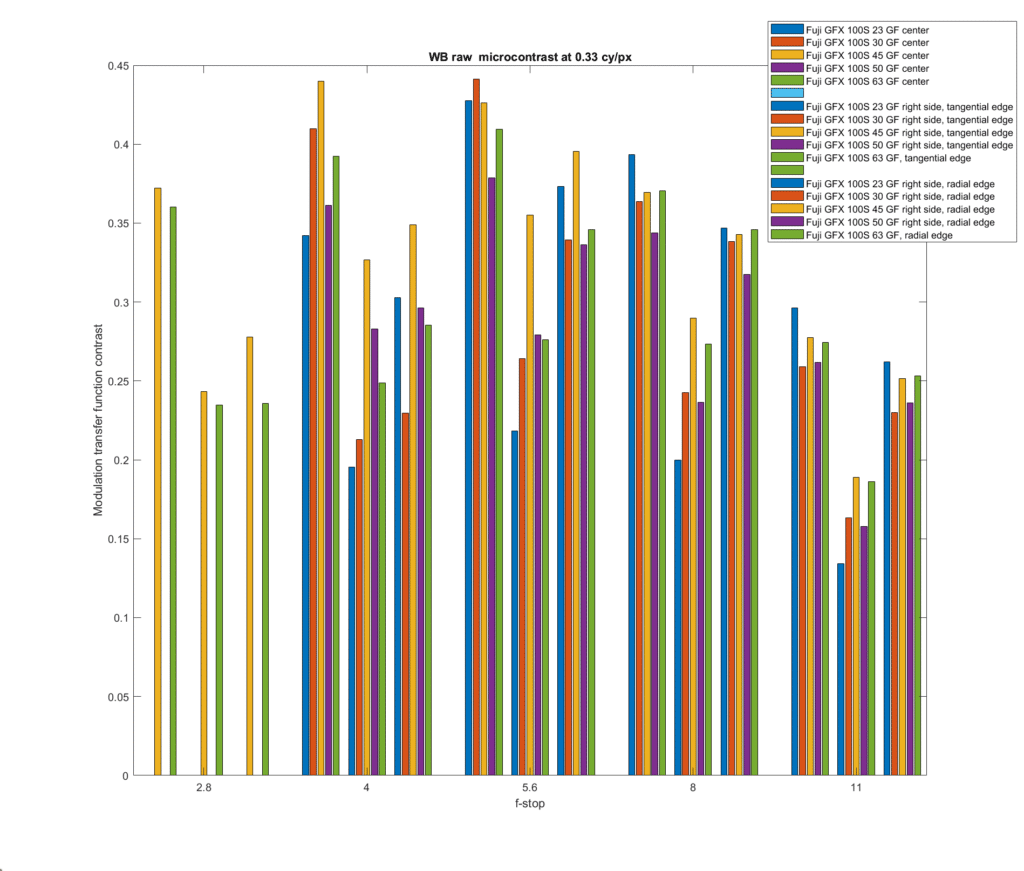 And the long primes: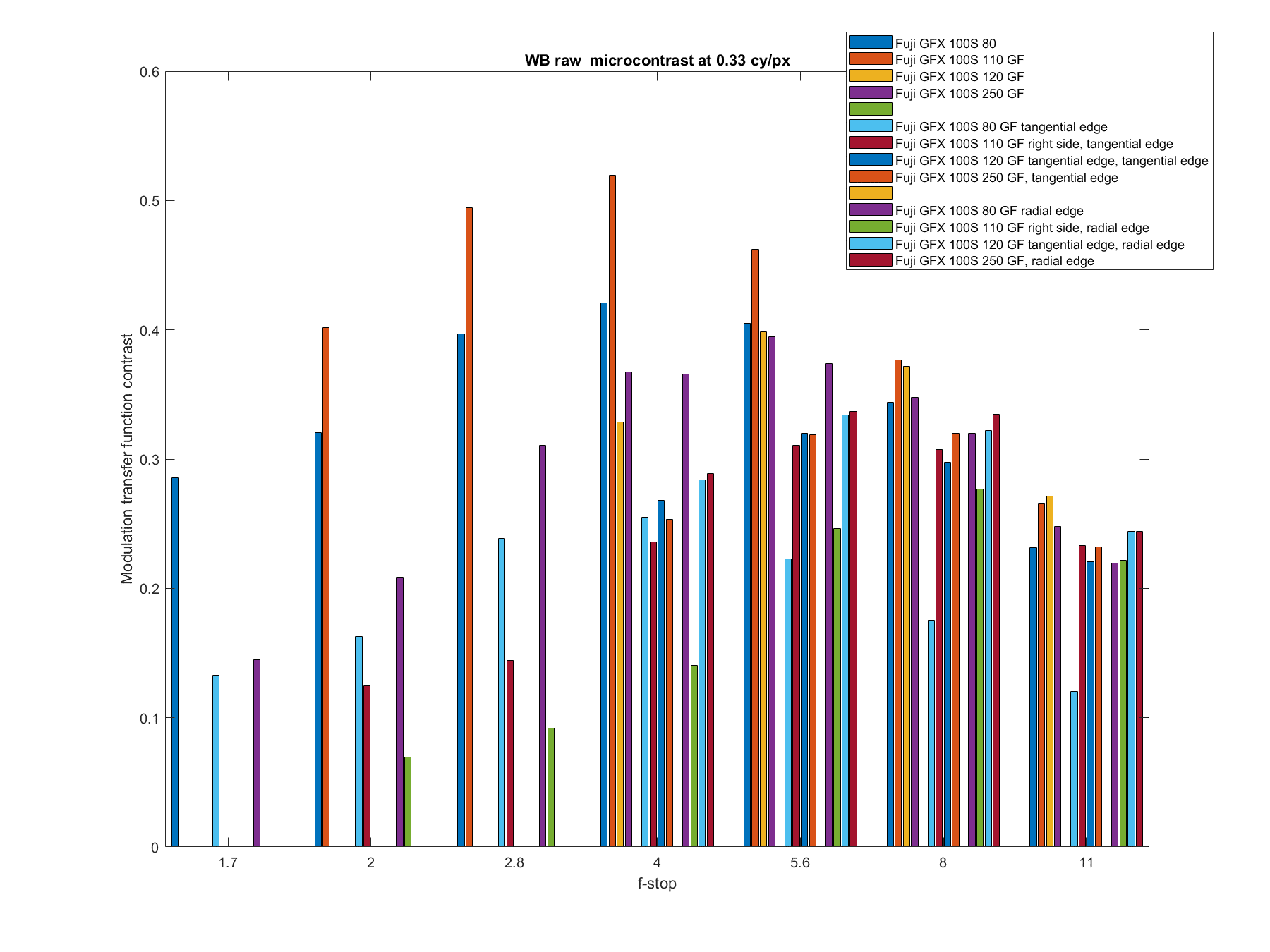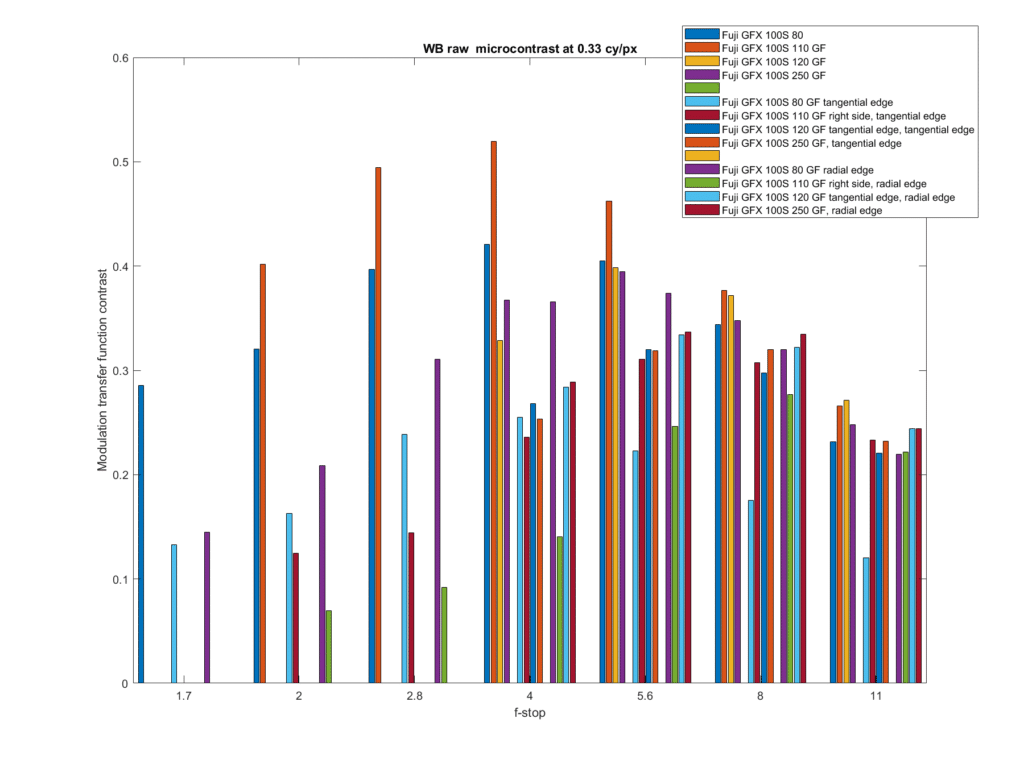 Look at the 110 at f/11, on the lens axis. It has contrast of about 0.27 there. So we can call contrast of 0.27 at 0.33 cycles per pixel to be on the threshold of where visible aliasing disappears. Now note that, at some apertures wider than f/11, and in some orientations, all the lenses tested can exceed that contrast, both on and off the lens axis.
Now looking with a threshold of 0.5 cycles per pixel: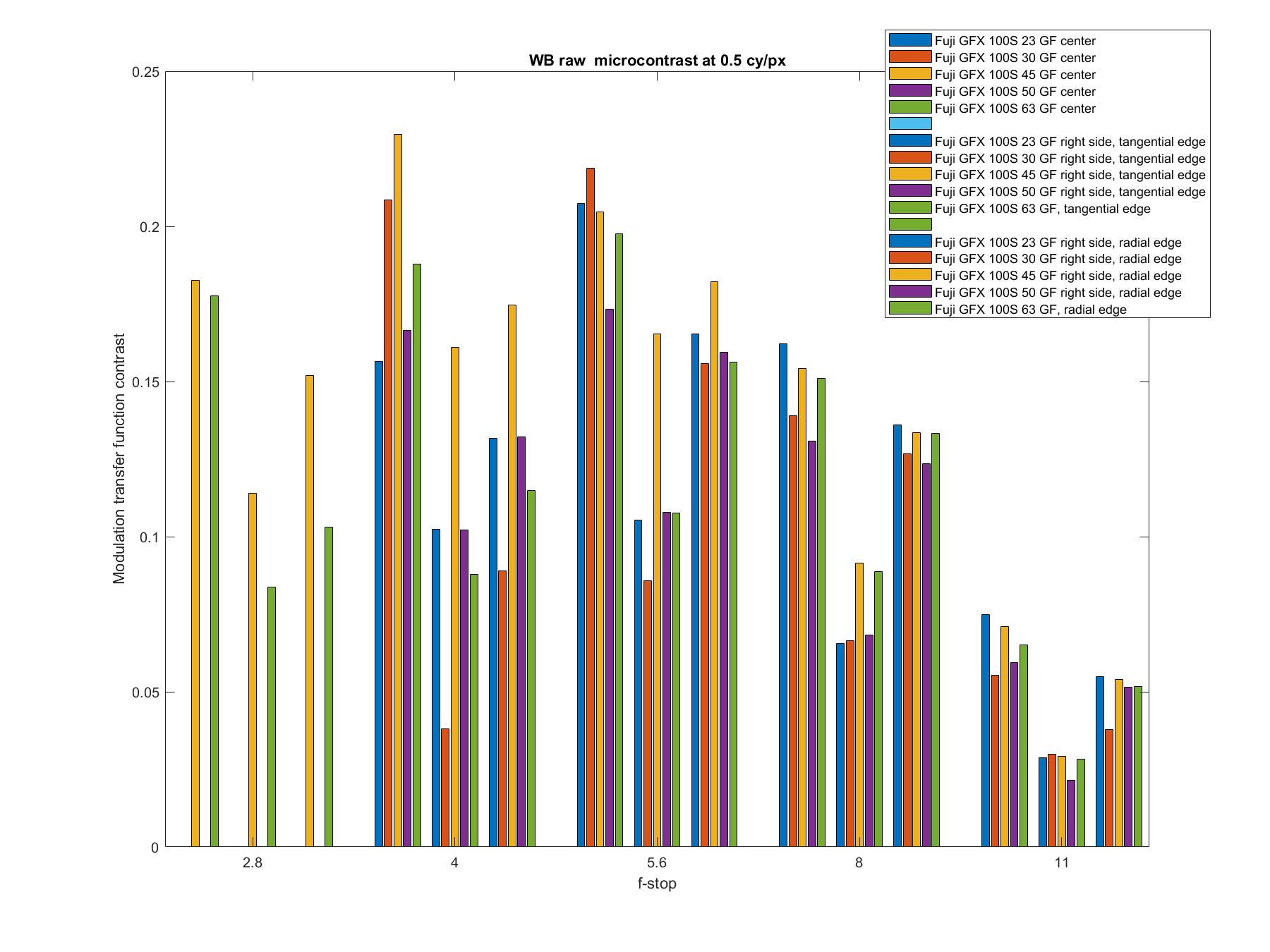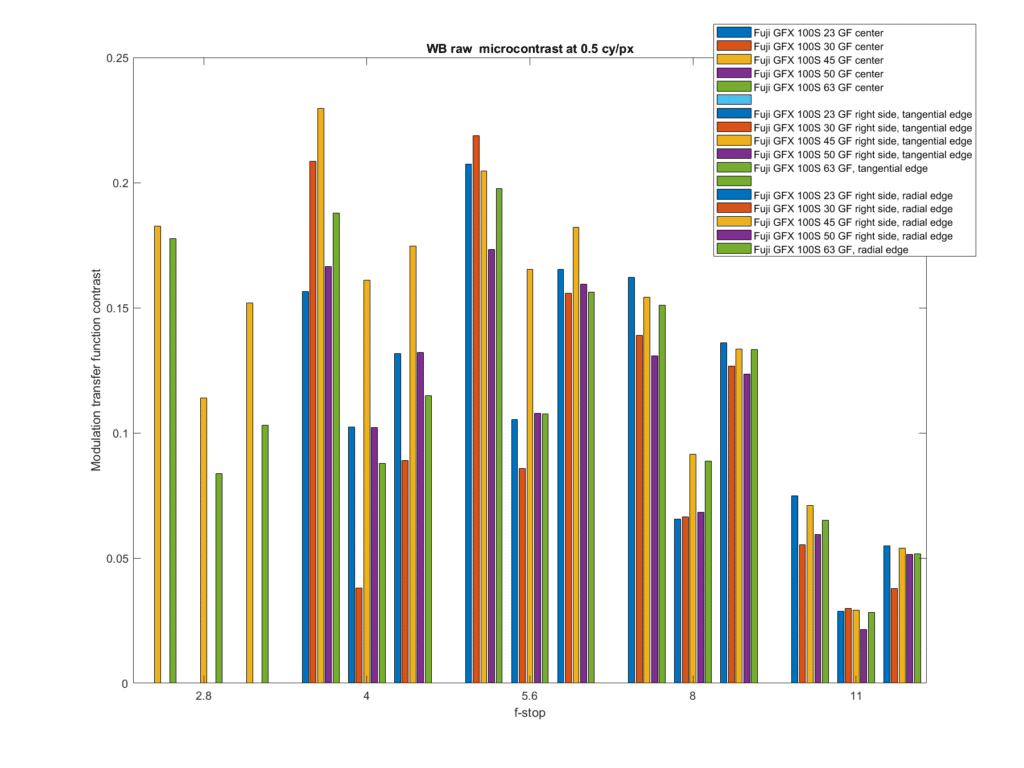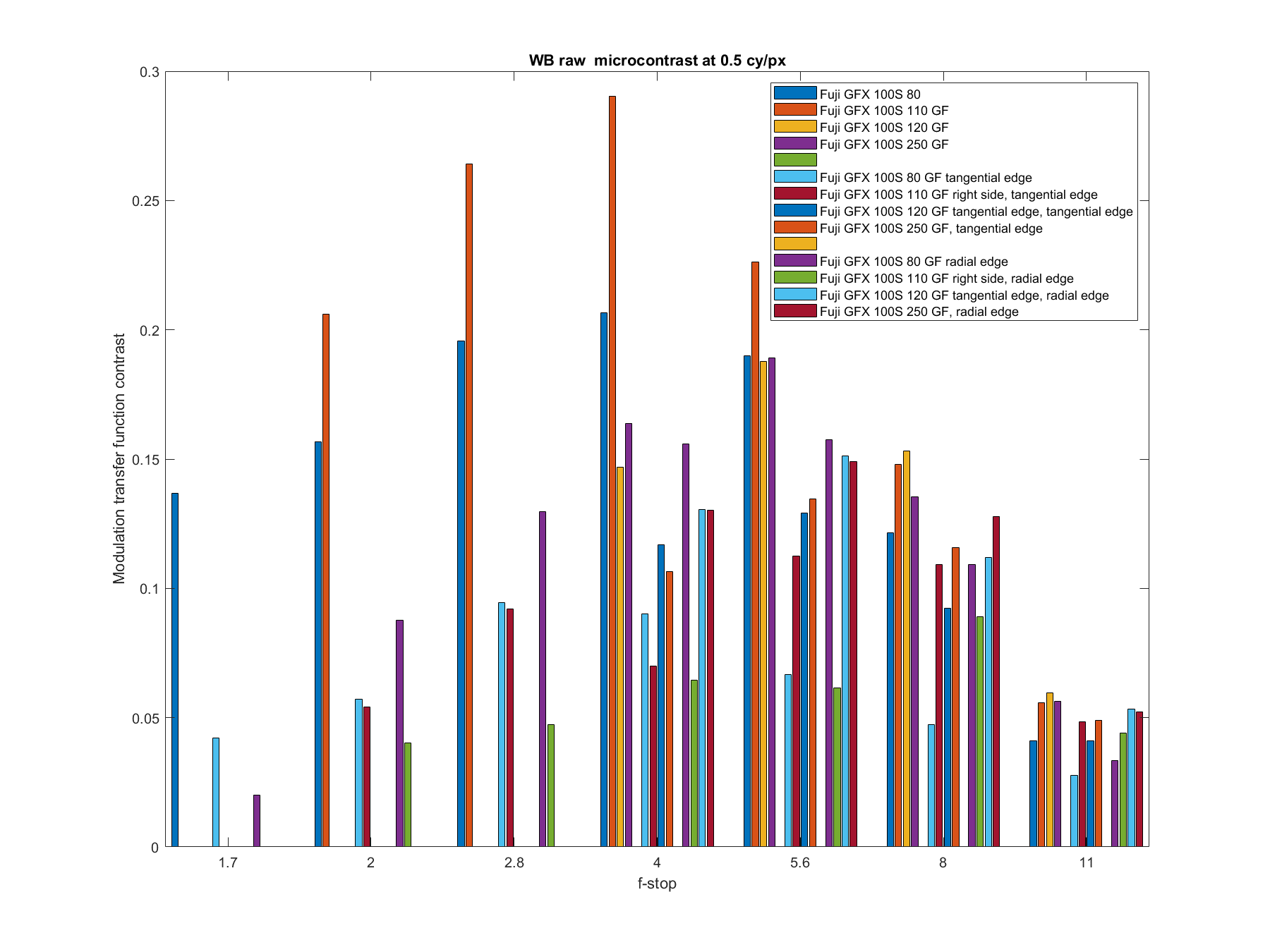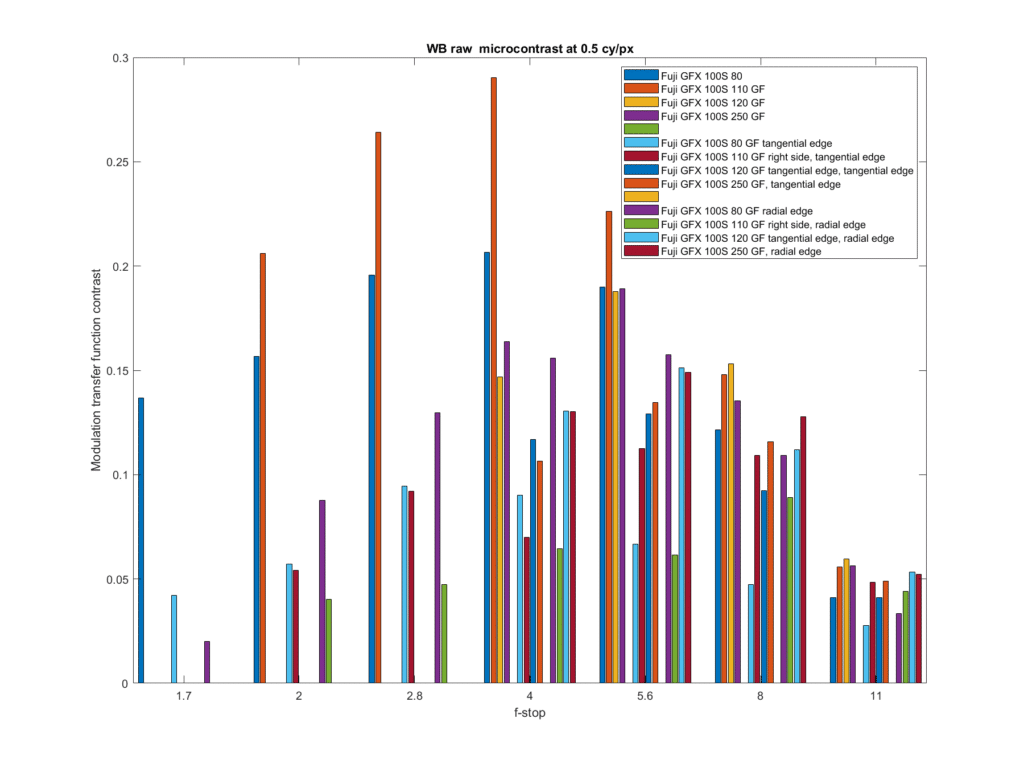 The contrast of the 110 at f/11 on axis is about 0.05. At some wider apertures, all the lenses can generate numbers higher than that, both on and off axis.
My conclusion is that with the GFX 100S, and by extension the GFX 100, you have to watch out for aliasing pretty much anywhere in the frame at f/8 and wider. There is an exception: the f/1.7 and f/2 lenses near wide open off the axis. With the GFX 50S and GFX 50R, the situation is even worse. Of course, you can get lucky and not have a subject with a lot of high spatial frequencies. Or you and your audience may not be sensitive to aliasing.